ANZAC on the Western Front 2024
ANZAC on the Western Front 2024
ANZAC on the Western Front 2024
6 Days Starting and ending in Lille, France
Visiting: Lille, Ypres, Fromelles, Arras, Amiens, Somme, Villers-Bretonneux
Tour operator:
Special diets catered:
Vegetarians
Tour operated in:
English
Trip Styles:
Interests:
Activities:
From:
$1681
$1634 (USD) WINTER SALE @ Tourhub Discount: $47
Tour Overview
From the trenches of Ypres to monuments marking The Somme, our ANZAC tour maps Australian and New Zealand troops' movements in WWI – delving into the stories of the soldiers' involvement in the battles of the Western Front. With poignant visits to cemeteries and national memorials on the agenda, this history-themed journey is perfect for those wishing to learn more about their countrymen who fought and died in the Great War.
Highlights
Have the opportunity to pay your respects at your relatives' graves

Delve into the Australian story on the Western Front at the Franco-Australian Museum

Visit the Wellington Quarries – a network of underground tunnels dug by the New Zealand Tunnelling Company
Itinerary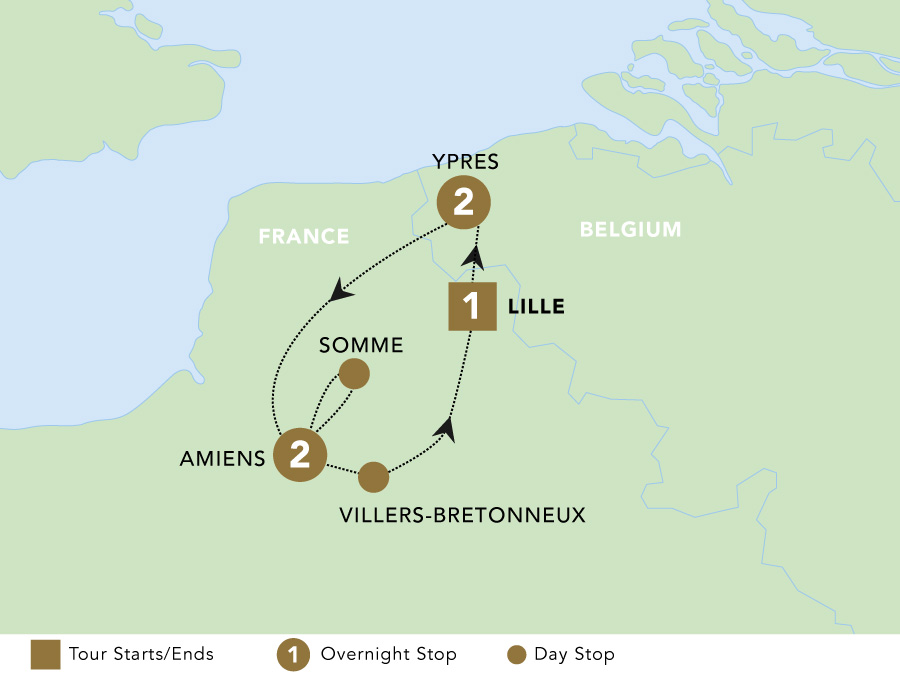 Expand All
Location:
Lille
Accommodation:
Hotel
Accommodation Name:
Hôtel Couvent des Minimes (or similar)
Meals Included:
Dinner
After meeting the group in Lille, we'll kick off our history-laden journey with a delicious welcome dinner.
Day 2 :

Lille – Ypres (Belgium)
Location:
Lille, Ypres
Accommodation:
Hotel
Accommodation Name:
Albion (or similar)
Meals Included:
Breakfast
Today's itinerary will take us from Lille to Ypres via the historic Messines Ridge. Our first stop will be the Passchendaele battlefields – where we'll walk in the footsteps of WWI allied soldiers who fought to break the German line in 1917. Next, we'll pay our respects at Polygon Wood and Tyne Cot Military Cemetery before visiting the shell-scarred Hill 60. This afternoon, there's an opportunity to explore the fascinating Hooge Crater Museum – home to a unique collection of WWI artefacts and reconstructed trenches. We'll enjoy some free time this evening in Ypres – our home for the next two nights.
Location:
Ypres
Accommodation:
Hotel
Accommodation Name:
Albion (or similar)
Meals Included:
Breakfast
Today, we'll continue to delve into the moving stories of the West Flanders Front, beginning with a visit to the In Flanders Fields Museum – a unique institution that commemorates the four-year trench war and conveys a contemporary message of peace. This afternoon, you'll be free to explore Ypres at your leisure. A medieval town that was completely destroyed during WWI and rebuilt anew, there is plenty of history to uncover here. This evening we'll reconvene to attend the playing of the Last Post at the iconic Menin Gate. Whilst renovation to the Gate is ongoing, we'll still be able to experience the ceremony that has been performed here daily for almost 100 years.
Day 4 :

Ypres – Fromelles And Arras – Amiens (France)
Location:
Ypres, Fromelles, Arras, Amiens
Accommodation:
Hotel
Accommodation Name:
Hôtel Le Prieuré (or similar)
Meals Included:
Breakfast
Today it's out of Belgium and across the border. Our destination? Fromelles, the site of the disastrous attack of 19 July 1916 – where we'll pay a poignant visit Pheasant Wood Cemetery and the fascinating exhibition nearby. After, we'll move on to the Wellington Quarries: a network of tunnels built by the New Zealand Tunnelling Company as part of the preparations for the Battle of Arras. We'll remember Australia's role in this battle at Bullecourt with a stop at the Digger Memorial later this afternoon. Concluding the day in lovely Amiens, we'll have the evening to spend as we wish.
Day 5 :

Amiens – Somme – Amiens
Location:
Amiens, Somme, Amiens
Accommodation:
Hotel
Accommodation Name:
Hôtel Le Prieuré (or similar)
Meals Included:
Breakfast, Dinner
The Somme still captivates the soul and it's here that the ANZACs first saw major action in 1916. Today we'll visit Pozières and Mouquet Farm – significant sites for the Australian soldiers, as well as Longueval and Flers, which were similarly monumental to the Kiwis. Before returning to Amiens, we'll also take some time to remember the colossal loss experienced by Great Britain with a visit to the Thiepval Memorial to the Missing of the Somme. Reconvening this evening, we'll reminisce on our unforgettable tour over a farewell dinner.
Day 6 :

Amiens – Villers-Bretonneux– Lille
Location:
Amiens, Villers-Bretonneux, Lille
Meals Included:
Breakfast
As the home of the National War Memorial, Villers-Bretonneux is central to Australian WWI commemoration and memory. Today we'll visit the Franco-Australian Museum, a site paying tribute to the brave Australian soldiers who helped save the town and a monument to international solidarity. We'll make a brief stop at the Sir John Monash Centre before shifting our focus to the last year of the war – with a visit to Le Hamel. Our tour will conclude upon our return to Lille.
What's Included
Accommodation

As detailed in the itinerary

Fully Guided

Meals

As detailed in the itinerary

Entrance Fees

Free Wi-Fi at Accommodation
What's Not Included
Airport Transfers at Destination

Country Entry Visas

Drinks with Meals

International Travel
Check out our Q&As
Will there be an escort accomanying this tour?

A Tour Leader and separate driver will take you on your journey

Is there a supplement for solo travellers?

A Small supplement, but dedicated allocation on every tour

Are the local guides on the tour English speaking?

Yes, All guides are English speaking

Is there a limit to luggage that can be brought on the tour?

Yes there is - 20kg and a max dimension of 158cm (W+D+L)

Is the coach air conditioned?

Yes the Coach is air-conditioned
Will passengers from another country be participating in the tour?

Guests from all over the world could be joining you

Is there any free time to explore places during the tour?

Ample free time due to low drive days

What is the tipping policy?

At the discrection of the guest

Are all entrance fees included in the price

All Entrance fees listed are included

Will I know the names & details of all the accommodation before I depart?

This will be provided on final documentation

Are flights included in this tour?

Are airport transfers included in this tour?

What is the maximum group size?

18 is the maximum on any tour

Can you assist with pre or post accommodation?

Yes, please request at time of booking

Are all of the relevant entry visa's included in the price of the tour?

Please see your local governments for rulings on destination Visa's

Are children permitted to take part in the tour?

What is the standard of the hotels on this tour?

Do you operate a "single share" option and how does it work?

We have solo capacity, however no single share.

What documents will I receive before I travel?

Upon final payments, we will distribute E-Documentation to all of our guests. Dont forget we also have our App to download as an added feature.

Who will be my travelling companions on the tour?

Like-minded travellers awaiting the opportunity to explore the less explored regions. Interests in food, wine, history, art as well as wartimes there will be a great mix of people to connect with on tour.

What policies are in place for Covid-19?

We have our COVID Assurance Policy, Book now and relax knowing you are covered under our new COVID-19 Assurance Policy. At no additional cost to you, new bookings are now 100% refundable in the unfortunate event you are diagnosed with COVID-19 or unable to travel due to government-enforced lock downs prior to your scheduled departure date.

What level of mobility do I need?

You need to be fit enough to get on and off the vehicle on a regular basis, and to walk both to attractions and around towns and villages. You also need to be able to walk up and down stairs in the hotels and use a shower over the bath. We frequently use traditional style hotels and the majority will not have lifts or ground floor rooms.

Who goes on Back-Roads tours?

The majority of our guests come from Canada, the USA, the UK, Australia, New Zealand and South Africa. All tour commentaries are in English. Our tours appeal to those looking for a more relaxing style of travel, and who enjoy culture, good food, meeting like-minded people and exploring destinations in depth.

What is the minimum age for any Back-Roads Touring trip?

The minimum age on all of our trips is 18 years.

Will the accommodation included meet local health and safety regulations?

All Hotels in line with protocols following the World Health Organisation meet and exceed requirements for all Touring with us.

How long has the tour company been trading?

Back-Roads Touring has been operating from the UK for over 30 years.

What happens if I need to change my holiday date once I've booked?

Inline with our booking flexibility policy, you are able to make as many changes as required up to 60 days from departue - with 1 last included up until 30 days out.

Can I join the tour once it has departed?

Generally no, but in extraordinary circumstances it can be looked at.
Reviews of this Operator
Elspeth Chalmers (Google Reviewer)
Wow what an incredible trip! Backroads thought of everything and the staff were incredible. We had an unbelievable experience.
Cindy Black
13 trips and still amazed!
This was my 13th trip with Backroads and it definitely exceeded my expectations, which is harder and harder to do!
Lori Harmon (Google Reviewer)
Backroads is a premium travel/adventure company. They provide structure but also promote making the journey your own. Guides highly trained and totally focused on making each person's experience safe, fun and memorable. They seek out the best opportunities to play hard and rest well. Hands down the best tour company I have experienced.
Roger van den Boogaard (Google Reviewer)
I had a wonderful experience touring Italy, this July 2023, with Backroads. Our tour leader was exceptional in her knowledge of all things around us. Our driver did an amazing job under VERY difficult circumstances. Bravo Luciano. The accommodations were fantastic. The provided meals were delicious.(not to mention the wine tasting🍷 or the 'two a day' gelato rule🍦, so we won't)😁 The scenery as we passed through was astounding, particularly Tuscany and then up into the northern mountains. Breathtaking. Thoroughly enjoyable. Roger.
Debbie Waltermine
First Experience?
This was our first experience with Backroads and it was wonderful!! Your staff at the office and your group leaders are wonderful—you made it so easy to organize and plan all we needed. Truly a 5 star experience!
julie walton (Google Reviewer)
We have just come off a Back Roads Highlights of Britain Tour 2023! Our tour guide and bus driver were amazing! Shabby our guide absolutely created magic for the whole bus! Magnificent itinerary, incredible commentary from young Shabby with music included to pay homage to the districts we were in! 🎶genius! Talk about an experience of a lifetime! A small group means going to the places the big buses can't and time to get to know your fellow adventurers! Loved this tour and Back Roads if you're reading this you have struck gold with your guide Shabby! Highly recommended 👍
Stephanie Breedlove
Commitment to travellers is brilliant!
The Backroads commitment to a personal level of service is apparent and so very appreciated. The genuine interest and execution of so many detailed extras made a significant difference in the experience. Backroads is truly a Small Giant.
Fiona Balsillie (Google Reviewer)
Currently on a Portugal tour, at this moment on the Douro river cruise. Sad to say but truely don't bother. Small little boat we are stuck inside no ventilation limited views and you can't take pictures due to the closed dirty windows
Please note, this tour is not available for booking in your country.
Dates & Availability
Instant Booking Available
Friday - Wednesday
May 10, 2024 - May 15, 2024
Instant Booking Available
Friday - Wednesday
Jul 05, 2024 - Jul 10, 2024
Instant Booking Available
Friday - Wednesday
Aug 16, 2024 - Aug 21, 2024
Instant Booking Available
Friday - Wednesday
Sep 06, 2024 - Sep 11, 2024
Instant Booking Available
Friday - Wednesday
Sep 20, 2024 - Sep 25, 2024
Instant Booking Available
Friday - Wednesday
Oct 11, 2024 - Oct 16, 2024
Book with Confidence
Free Date Changes

Back-Roads Touring allows you to make 10 free date changes, as long as the change is made at least 60 days before the start of the tour.

Transfer as credit to Future Tours

Back-Roads Touring allows you to transfer existing payments to a future tour to avoid cancellation fees if you can't travel and inform back-roads touring, 60 days before departure.

Low Deposit

Back-Roads Touring requires a minimum deposit of 150 GBP per person or the full booking value, whichever is less, with the final balance not due until 60 days before departure.

Cancellation Policy

We don't charge a cancellation fee, here is a summary of back-roads touring charges.

Up to 61 days before tour starts: Forfeit 100% of deposit.

At 60 days before tour starts: Forfeit 50% of booking price.

At 30 days before tour starts: Forfeit 100% of booking price.
Why book with tourhub?
Safe & Secure
Your money is protected in an external trust until you travel.
---
100% Guaranteed Refunds if your trip is cancelled.
---
The safest way to make overseas, multi-currency payments.
Guaranteed Best Value
Industry leading discounts, we won't be beaten on price.
---
No cancellation or amendment fees from tourhub.
(Operator terms may apply)
Expert Knowledge
Reliable & unbiased advice from travel experts.
---
Direct contact with the tour operator via our messaging service.
---
Inspiration & advice from a community of 6000+ real travellers, influencers & content creators.
Trusted Service
Official partners & licensed agents of 1000+ tour operators worldwide.
---
Don't just take our word for it...
"Tourhub: Friendliness, Professionalism & Integrity I would happily give tourhub a 6* review if I could..."
Similar Tours
Travel Guru Features
Our Reviews