Christmas Markets: Czech Republic & Germany 2023
Christmas Markets: Czech Republic & Germany 2023

Christmas Markets: Czech Republic & Germany 2023
7 Days Starting and ending in Prague
Visiting: Prague, Mělník, Dresden, Schloss Wackerbarth, Freiberg, Seiffen, Neuhausen, Annaberg-Buchholz, Karlovy Vary, Pilsen
Tour operator:
Special diets catered:
Vegetarians
Tour operated in:
English
Trip Styles:
Interests:
Activities:
Tour Overview
From the fairytale spires of Prague to the bustling markets of Dresden and the twinkling Christmas lights of Karlovy Vary, this is a tour that explores the festive traditions, history and Yuletide beauty of Germany and the Czech Republic. And with the chance to discover magnificent castles, delicious local produce and scenic railways along the way, it's sure to be a trip to remember.
Highlights
Explore the Striezelmarkt in Dresden – Germany's oldest Christmas market

Discover traditional Ore Mountain Christmas decorations with a handicraft manufacturer

Enjoy the famous spa and thermal springs of Karlovy Vary
Itinerary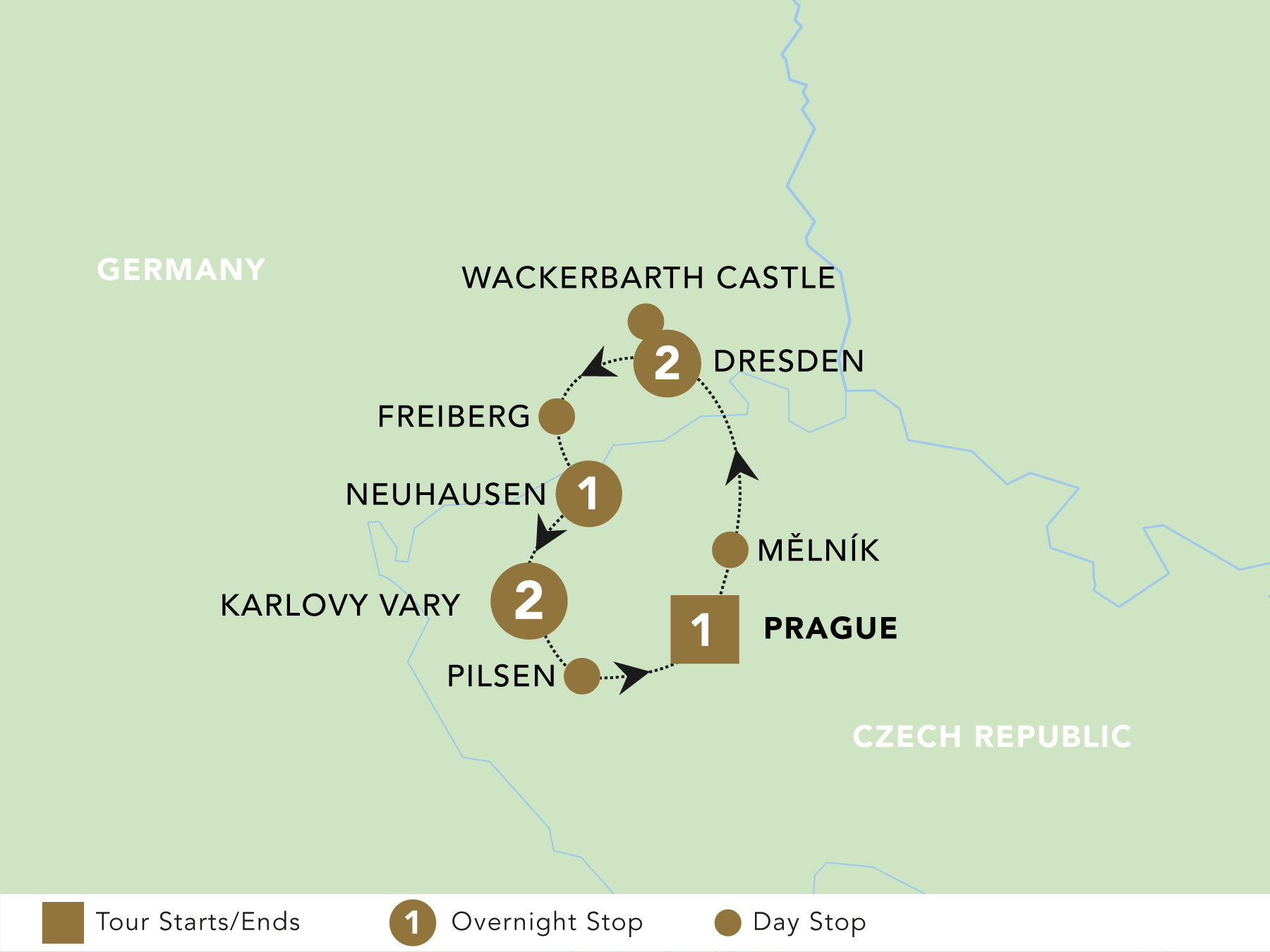 Expand All
Day 1 :

Prague (Czech Republic)
Location:
Prague
Accommodation:
Hotel
Accommodation Name:
Grand Bohemia (or similar)
Meals Included:
Dinner
Our enchanting Christmas journey through Saxony and Bohemia will begin amidst the cobblestone streets of medieval Prague. After settling into our hotel, we'll get to know one another better over a delicious welcome meal. Here's to the incredible adventure ahead!
Day 2 :

Prague – Melník – Dresden (Germany)
Location:
Prague, Mělník, Dresden
Accommodation:
Hotel
Accommodation Name:
INNSIDE Dresden (or similar)
Meals Included:
Breakfast
After a hearty breakfast, we'll begin with a locally guided walking tour of the city – complete with a visit to the festive Christmas market, of course. After taking lunch at our leisure, we'll move on to Melník. Here, we'll dive straight into proceedings with a tour of the hilltop castle – with plenty of time to stroll the grand rooms and browse the 17th-century map collection. The afternoon will see us arriving in historic Dresden, where we'll enjoy a free evening to explore the city's gastronomic delights or relax at our hand-picked hotel.
Day 3 :

Dresden – Wackerbarth Castle – Dresden
Location:
Dresden, Schloss Wackerbarth, Dresden
Accommodation:
Hotel
Accommodation Name:
INNSIDE Dresden (or similar)
Meals Included:
Breakfast
This morning we'll learn more about a Dresden Christmas tradition with a visit to a local Stollen bakery. The delicious seasonal treat is said to date back to 1329 – when the region's bakers entered it into a competition organised by the Bishop of Nauruburg. Later, we'll board a steam engine for a scenic ride along the Lößnitzgrundbahn railway. Our next stop? Wackerbarth Castle, where we'll gain an insight into the winemaking process on a tour of the vineyards and wine cellar – sampling a tipple or two as we go, of course. We'll round off the day back in Dresden, where we'll savour some free time to explore the Striezelmarkt: Germany's oldest Christmas market. With twinkling lights, bustling stalls and the scent of mulled wine in the air, there's no better place to soak up the Christmas spirit.
Day 4 :

Dresden – Freiberg And Seiffen – Neuhausen
Location:
Dresden, Freiberg, Seiffen, Neuhausen
Accommodation:
Hotel
Accommodation Name:
Schlosshotel Purschenstein (or similar)
Meals Included:
Breakfast, Dinner
After breakfast, we'll bid farewell to Dresden and move on to Freiberg – where we'll explore the Cathedral of St Mary on a guided tour. Then: our journey will continue as we make tracks to Seiffen, where there's a visit to a handicraft manufacturer in store. Here, we'll discover the stories and craft techniques behind traditional Ore Mountain folk art figurines – including delightful nutcrackers, Christmas pyramids and candle arches. Tonight, we'll dine together at our hotel in Neuhausen.
Day 5 :

Neuhausen – Annaberg-Buchholz – Karlovy Vary (Czech Republic)
Location:
Neuhausen, Annaberg-Buchholz, Karlovy Vary
Accommodation:
Hotel
Accommodation Name:
EA Atlantic Palace (or similar)
Meals Included:
Breakfast
At Annaberg-Buchholz, we'll spend the morning delving into the area's history at the Ore Mountain Museum – with exhibitions dedicated to mining, early modern art and local crafts. In the museum's courtyard we'll find the entrance to the silver mine – where we'll have the opportunity to gain a unique insight into its fascinating history. After topping up our energy levels with a 'Bergmansschmaus' (a traditional miner's snack), we'll move on Karlovy Vary: our home for the next two nights. This evening, we'll be free to seek out a local restaurant for dinner or relax back at the hotel.
Location:
Karlovy Vary
Accommodation:
Hotel
Accommodation Name:
EA Atlantic Palace (or similar)
Meals Included:
Breakfast, Dinner
Today we'll step out onto the streets of Karlovy Vary on a guided tour before setting our sights on the Hot Spring Colonnade. Home of the gushing Vrídlo geyser, here we'll go underground to see how the thermal water is drawn, distributed and regulated. Then: onwards to the Jan Becher Museum where we'll learn the history behind Becherovka, a famous Czech herbal liqueur. After a tasting session, the rest of the day will be yours to spend as you please (with the chance to use the spa and thermal springs) before we come together for tonight's farewell dinner.
Day 7 :

Karlovy Vary – Pilsen – Prague
Location:
Karlovy Vary, Pilsen, Prague
Meals Included:
Breakfast
After leaving Karlovy Vary behind us, our first stop of the day will be Pilsen. Here we'll be lucky enough to visit the Pilsen brewery: where Pilsner Urquell beer was born 175 years ago. After touring the bottling facility and exploring the three brewhouses, we'll round off our tour in the historic cellars – where we'll have the chance to taste the beer for ourselves. Back in the capital later this afternoon, we'll say our goodbyes.
What's Included
Transport

Premium mini-coach transportation

Accommodation

As detailed in the itinerary

Entrance Fees

Free Wi-Fi at Accommodation

Meals

As detailed in the itinerary

Fully Guided
What's Not Included
Airport Transfers at Destination

Country Entry Visas

Drinks with Meals

International Travel
Check out our Q&As
Will there be an escort accompanying this tour?

A Tour Leader and separate driver will take you on your journey

Are flights included in this tour?

What is the maximum group size?

18 is the maximum on any tour

Are all entrance fees included in the price?

All Entrance fees listed are included

Are all the relevant entry visa's included in the price of the tour?

Please see your local governments for rulings on destination Visa's
Is there a limit to luggage that can be brought on the tour?

Yes there is - 20kg and a max dimension of 158cm (W+D+L)

Are the local guides on the tour English speaking?

Yes, All guides are English speaking

Is there any free time to explore places during the tour?

Ample free time due to low drive days

Are airport transfers included in this tour?

Is there a supplement for solo travellers?

A Small supplement, but dedicated allocation on every tour

What is the standard of the hotels on this tour?

Is the tour coach air conditioned?

Yes the Coach is air-conditioned

Will passengers from another country be participating in the tour?

Guests from all over the world could be joining you

Can you assist with pre or post tour accommodation?

Yes, please request at time of booking

Are children permitted to take part in the tour?

What is the tipping policy?

At the discrection of the guest

Will I know the names and details of all the accommodation before I depart?

This will be provided on final documentation

Do you operate a "single share" option and how does it work?

We have solo capacity, however no single share.

What documents will I receive before I travel?

Upon final payments, we will distribute E-Documentation to all of our guests. Dont forget we also have our App to download as an added feature.

Who will be my travelling companions on the tour?

Like-minded travellers awaiting the opportunity to explore the less explored regions. Interests in food, wine, history, art as well as wartimes there will be a great mix of people to connect with on tour.

What policies are in place for Covid-19?

We have our COVID Assurance Policy, Book now and relax knowing you are covered under our new COVID-19 Assurance Policy. At no additional cost to you, new bookings are now 100% refundable in the unfortunate event you are diagnosed with COVID-19 or unable to travel due to government-enforced lock downs prior to your scheduled departure date.

What level of mobility do I need?

You need to be fit enough to get on and off the vehicle on a regular basis, and to walk both to attractions and around towns and villages. You also need to be able to walk up and down stairs in the hotels and use a shower over the bath. We frequently use traditional style hotels and the majority will not have lifts or ground floor rooms.

Who goes on Back-Roads tours?

The majority of our guests come from Canada, the USA, the UK, Australia, New Zealand and South Africa. All tour commentaries are in English. Our tours appeal to those looking for a more relaxing style of travel, and who enjoy culture, good food, meeting like-minded people and exploring destinations in depth.

What is the minimum age for any Back-Roads Touring trip?

The minimum age on all of our trips is 18 years.

Will the accommodation included meet local health and safety regulations?

All Hotels in line with protocols following the World Health Organisation meet and exceed requirements for all Touring with us.

How long has the tour company been trading?

Back-Roads Touring has been operating from the UK for over 30 years.

What happens if I need to change my holiday date once I've booked?

Inline with our booking flexibility policy, you are able to make as many changes as required up to 60 days from departue - with 1 last included up until 30 days out.

Can I join the tour once it has departed?

Generally no, but in extraordinary circumstances it can be looked at.
Please note, this tour is not available for booking in your country.
Book with Confidence
Free Date Changes

Back-Roads Touring allows you to make 10 free date changes, as long as the change is made at least 60 days before the start of the tour.

Transfer as credit to Future Tours

Back-Roads Touring allows you to transfer existing payments to a future tour to avoid cancellation fees if you can't travel and inform back-roads touring, 60 days before departure.

Low Deposit

Back-Roads Touring requires a minimum deposit of 150 GBP per person or the full booking value, whichever is less, with the final balance not due until 60 days before departure.

Cancellation Policy

We don't charge a cancellation fee, here is a summary of back-roads touring charges.

Up to 61 days before tour starts: Forfeit 100% of deposit.

At 60 days before tour starts: Forfeit 50% of booking price.

At 30 days before tour starts: Forfeit 100% of booking price.
Why book with tourhub?
Safe & Secure
Your money is protected in an external trust until you travel.
---
100% Guaranteed Refunds if your trip is cancelled.
---
The safest way to make overseas, multi-currency payments.
Guaranteed Best Value
Industry leading discounts, we won't be beaten on price.
---
No cancellation or amendment fees from tourhub.
(Operator terms may apply)
Expert Knowledge
Reliable & unbiased advice from travel experts.
---
Direct contact with the tour operator via our messaging service.
---
Inspiration & advice from a community of 6000+ real travellers, influencers & content creators.
Trusted Service
Official partners & licensed agents of 1000+ tour operators worldwide.
---
Don't just take our word for it...
"Tourhub: Friendliness, Professionalism & Integrity I would happily give tourhub a 6* review if I could..."
Similar Tours
Travel Guru Features
Our Reviews