Uyuni Salt Flats & Desert Adventure 3D/2N (Uyuni to Uyuni)
From Uyuni, Bolivia to Uyuni, Bolivia
Visiting:
Villa Candelaria
,
Polques
,
Uyuni
---
---
Tour Operator: bamba Travel
Physical rating: Easy
---
Tour Overview
Embark on an unforgettable expedition in a 4x4 Toyota land cruiser through the vast and blinding-white salt flats of Uyuni and into the desert of southwest Bolivia. Along the way, visit tiny villages, multi-colored lakes with flamingos, geysers, and thermal hot-springs at 4,000 - 5,000m.
Highlights
Marvel at breathtaking red & green colored lakes
Drive through the Bolivian Altiplano's moon-like deserts
Take wacky pictures in the famous Salar de Uyuni
See active volcanoes & relax in therapeutic hot springs
Places You'll See
Countries:
Cities & Attractions:
Itinerary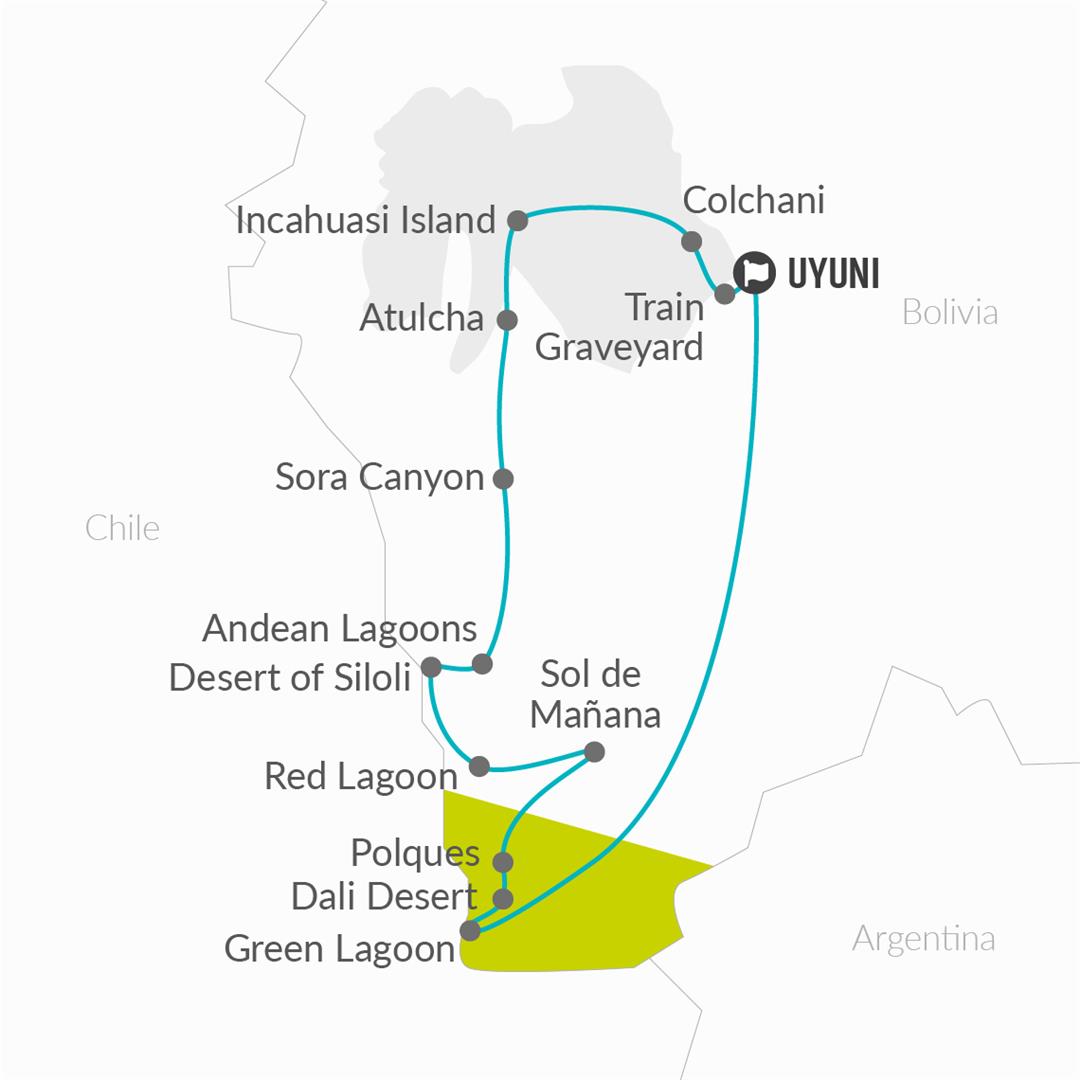 Day 1: Uyuni - Villa Candelaria, Bolivia
Location: Villa Candelaria
Uyuni - Colchani - Incahuasi Island - Pia Pia Island - Candelaria (L/D)
Your tour will begin at 10:30 am, at the meeting point. The first stop will be Uyuni's 'train graveyard', to see the first locomotives in Bolivia. You'll visit the small settlement of Colchani (salt miners' workshops next to the salt flats). Here, you'll see handicrafts made of salt, and textile art made of llama and alpaca fiber. The tour will continue onto the Great Salt Flats of Uyuni. Take photos as you cruise along the vast white expanse of salt, see Los Ojos de Agua Salada ('salt water eyes') and then visit a hotel made completely of salt! This amazing place currently serves as a museum.
Following this jam-packed morning, after lunch, you'll carry on to "Isla Incahuasi" (Fish Island), where you will have time to take a hike to the top of the island to see giant cacti, and rock formations made of petrified coral. Make sure you and your group pose for some fun perspective- and proportion-distorted photos, taken against the backdrop of the striking white surface of the salt flats.
Then, you'll head to Pia Pia island, to see the beautiful sunset over the salt flats. Finish off at the village of Candelaria, and enjoy the unique experience of spending the night in a hotel made almost entirely of salt.
Accommodation:Salt hostel "La Escondida" in VILLA CANDELARIA - double rooms. For Rainy season ( from January to April): Hotel in Culpina or other location (No access to the Salt Hostel during these months). If you want a private room for the 2 nights you have to pay an extra cost of 250 BS/36 USD per person, and it's subject to availability, we recommend you to pre-order.

Day 2: Villa Candelaria - Polques, Bolivia
Location: Polques
Chiguana Desert - Lagoons - Eduardo Avaroa National Reserve - Red Lagoon Sol de Mañana Geyser (B/L/D)
Start the morning off at 7:00 am with breakfast, before going to visit the Chiguana Desert, located on the south side of the Uyuni salt flats. It is surrounded by volcanoes, such as the Ollague Volcano (5840m), one that is still active, and that can be seen from the lookout.
Continue along a rocky road - Pasito Tuntun - to the beautiful Andean lagoons, inhabited by 3 species of Andean flamingos. Marvel at three lagoons on the way: 'Cañapa' where you'll spot the first pink flamingos, 'Hedionda' where lunch will be served, and 'Chiarcota' where you'll see a wider variety of birds and altiplanic fauna.
Enter to the Eduardo Avaroa National Reserve, and visit the Desert of Siloli, at 4550m (the highest and driest desert in the world). Make sure you take a photo next to the 'Rock tree', a lava rock formation. Before arriving to your final destination of the day, make a stop at the viewpoint by the Red Lagoon, where you can spot more pink flamingos in their natural habitat, and admire this intense, red-colored lake. Stay the night at a shared family lodging, "HAYLLAJARA".
Accommodation:"HUAYLLAJARA" basic lodge (dorm of 6 beds shared bathroom. If you want a private room for the 2 nights you have to pay an extra cost of 250 BS/36 USD per person, and it's subject to availability, we recommend you to pre-order). There is no electricity (only for 3 hours, 18:00 hrs to 21:00 hrs)

Day 3: Polques - Uyuni, Bolivia
Location: Uyuni
Dali Desert - Green Lagoon – Uyuni (B/L)
At 5 a.m. (depend on the season), you will have an early breakfast and start your tour day with a visit to Sol de Mañana Geyser. You'll walk alongside fumaroles, and steaming craters filled with boiling pots of mud at 150-200 Cº. Continue to the open air hot springs, and take a bath in 35ºC water.
The first place to visit is the Dali Desert, where Salvador Dali found inspiration for his work from the scattered boulders in the middle of the desert. See the Green Lagoon - toxic copper water at the foot of the big Licancabur volcano, which sits at 6000m, a few kilometers from the Bolivia-Chile border.
Finally, you'll head back to Uyuni, passing beautiful scenery along the way, and eating a picnic lunch next to the roadside. You'll go by the Valley of the Rocks, the Alota settlement, and the San Cristobal Village.
We'll get back to Uyuni by 6:30 pm.

What's Included
Accommodation

1 Night accommodation in Salt Hotel, basic dorm-style rooms w/ shared bathroom (hot shower included in the first night)

Guides

Local driver and English-speaking guide

Extras

Drinks during meals

Experiences

Activities

Active sightseeing adventures

Meals

2 Breakfast(s), 3 Lunch(es), 2 Dinner(s),

Transport

Pick-up available from Uyuni bus station or Uyuni accommodation (must be booked in advance, transfer from airport to accommodation have an extra cost 5 USD)
What's Not Included
Transfer to San Pedro de Atacama, Chile (must be booked in advance)
Want to read it later?
Download this tour's PDF brochure and start tour planning offline
Download