Bahamas Cruise 3D/2N (from Miami)
3 Days Starting and ending in Miami, USA
Visiting: West Palm Beach, Grand Bahama Island, Miami, Bahamas
Tour operator:
Tour operated in:
English
Trip Styles:
Interests:
Activities:
Tour Overview
All aboard! Cruise from Miami to the beautiful Bahamas for a slice of paradise. Enjoy an abundance of onboard entertainment and some of the world's most beautiful beaches on this 3-day adventure.
Highlights
Discover vibrant & friendly Caribbean culture

Have free time to relax on pristine beaches

Enjoy tons of included activities aboard the ship
Itinerary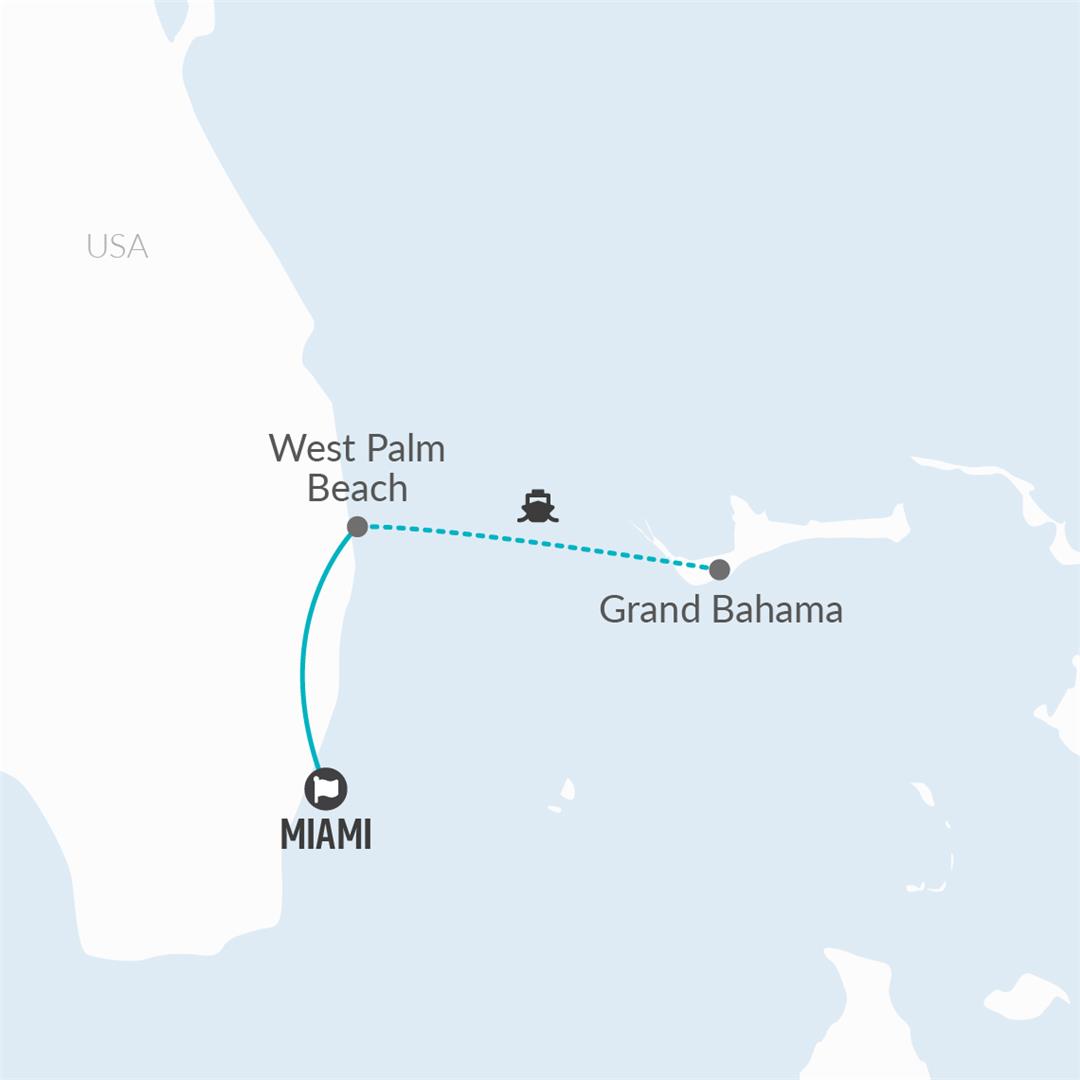 Expand All
Day 1: Miami - West Palm Beach, Usa
Location:
West Palm Beach
Day 1: Miami - West Palm Beach, Usa
Location:
West Palm Beach
Board Cruise Ship, safety drill and activities onboard (L/D)
Board your cruise ship in time for a Welcome Aboard celebration at noon and a buffet lunch. After lunch, enjoy optional activities like a pool party or a ship tour. You will have an orientation meeting as the ship leaves port to brief you on the trip and all of the amazing services available on the ship and a quick safety drill. Spend the rest of your day and evening relaxing in your cabin or enjoying some of the many incredible activities on board, from live music to themed happy hours. Enjoy a buffet dinner and get a good rest for your big day ahead!
NOTE: The schedule of the activities will be provided to the passengers day by day.
The ships sail on a two-night itinerary currently from the Port of Palm Beach, Florida to Grand Bahama Island. Itinerary is subject to change without prior notice. The vessels depart as per our scheduled itinerary with check-in required by 4:00pm. Passengers may check-in beginning at 11:00am the day of sailing and board as soon as the ship has been cleared for embarkation.

Day 2: Grand Bahama Island, Bahamas
Location:
Grand Bahama Island
Bahamas Stopover (B/L/D)
You will arrive at Grand Bahama Island at 8:00 when local officials will take a moment to inspect and clear the boat for arrival. After they've given the signal, you may disembark and say hello to a tropical paradise! One of the last Bahaman Islands to be developed, Grand Bahama is now a popular destination and playground in paradise. Spend the day exploring, laying on the pristine beaches, discovering one of the world's largest underwater cave systems, or partaking in optional activities like jet skiing! Enjoy an included lunch buffet onboard the ship or treat yourself to Caribbean Cuisine ashore.
Return to the boat no later than 18:00 for departure to West Palm Beach. Enjoy another evening of endless entertainment on board, with several different performances, events, and a swimming pool at your disposal.

Day 3: West Palm Beach, Usa
Day 3: West Palm Beach, Usa
Location:
West Palm Beach
Disembark and end of the trip.
All good things must end. Your ship will arrive at West Palm Beach, where you will disembark.

What's Included
Accommodation

See full inclusions for details

Activities

Meals

1 Breakfast(s), 2 Lunch(es), 2 Dinner(s),

Guides

Some of the activities

Extras

Handy extras and accessories

Experiences
What's Not Included
Other meals/drinks

Parking

Fuel surcharge $18 USD

Fuel supplement of $12.00 pp/day

Port fee of $1 USD

Casino & spa entry/services on cruise

Specialty dining on cruise

Bar beverages & soft drinks

Photographs

Phone calls

Shore excursions

Tips and gratuities ($13.95 pp/day)

Adult comedy show on the cruise

Travel Insurance
Reviews of this Operator
Jonas Nesset(Norway)
The company is exceptional. When I had questions, I always got prompt and professional answers. The excursions that Bamba organized were fantastic! Thank you once again for everything!
Shane Alce(United Kingdom)
Marian Reder(Germany)
To this day, this is the best tour we've ever done together as a couple! The fun activities, great hotels and nice guides worth the money! We were always taken care of and they made sure that we had a good time. This tour is definitely worth taking.
Tanja Ottosen(Denmark)
The Bamba Team really made my journey one of the most memorable experiences of my life! Still so nice and supportive! They handled everything and responded to each question within a few minutes. I wholeheartedly recommend it to everyone. Especially if you want to do a lot of activities and travel to a lot of different places without feeling rushed. They've also helped me with specific issues that weren't covered by the tour, as well as answering general questions. Thank you so much for making my journey so enjoyable!
Braiden Rowe(United States)
The tour was fantastic; I was able to visit some of Japan's most beautiful locations, and the accommodations were excellent, with convenient access to the city's best attractions. Also, our tour guide was fantastic. I will pick bamba again and recommend the tour to anyone who wants to see Japan while having a good time!!
Aaron Davies(Australia)
I only have good words about our trip to Kenya. The entire experience was totally magical and I struggle to say how fantastic it was. We were fortunate enough to have a brilliant vehicle for ourselves, but we had great luck with David for our guide too. He was very knowledgeable, courteous and nice. Thank you for helping to create this fantastic safari experience. I Highly recommend this company.
Matteo Hoffmeister(Germany)
Bamba Experience has been the best tour guide I've ever had. Every tour has been a thrilling experience. There are so many things to choose from. Bamba has been extremely helpful in providing us with all of the necessary information for our departures and activities! Bamba has made this a simple and enjoyable experience. I'll certainly tell my friends and family about it! Thank you very much, Bamba!!
Melanie Liu Chang(Australia)
We organized a trip through Thailand, Laos, Vietnam, and Cambodia on the hop-on, hop-off bus. It made the trip so much simpler for us as first-time travelers because we just had to send an email to arrange the bus, which avoided the hassle of looking for the best price and so on! We also had a number of tours included, they were all amazing and saved us the trouble of trying to find the best offers on our own; it also meant we got to see a lot of stuff we wouldn't have seen otherwise. Overall, it was a fantastic experience that I will strongly suggest and use again!
Marius Halvorson(Norway)
Our Bamba tour of Vietnam was fantastic. We had a lot of new experiences and all of the help we needed to make this a stress-free vacation. The well-organized accomodation and transportation were excellent. We will certainly use Bamba in the future.
Alexis Helman(Australia)
I had booked our Uyuni Salt Flats & Desert Adventure 3D/2N (Uyuni to Atacama) tour via an Australian travel agency, but they had made an error and refused to assist us or take responsibility. This was very difficult for us because we wanted to have a stress-free honeymoon. I contacted Bamba and I asked if we could talk on the phone so they made the improvements to our tour reservation that our travel agent declined to make. The quality of service was exceptional and they generously offered to us a complimentary gift because it was our honeymoon. I can't say enough good things about Bamba.
Dates & Availability
Instant Booking Available
Wednesday - Friday
Dec 13, 2023 - Dec 15, 2023
Instant Booking Available
Thursday - Saturday
Dec 14, 2023 - Dec 16, 2023
Instant Booking Available
Monday - Wednesday
Dec 18, 2023 - Dec 20, 2023
Instant Booking Available
Tuesday - Thursday
Dec 19, 2023 - Dec 21, 2023
Instant Booking Available
Wednesday - Friday
Dec 20, 2023 - Dec 22, 2023
Instant Booking Available
Thursday - Saturday
Dec 21, 2023 - Dec 23, 2023
Instant Booking Available
Friday - Sunday
Dec 22, 2023 - Dec 24, 2023
Instant Booking Available
Saturday - Monday
Dec 23, 2023 - Dec 25, 2023
Instant Booking Available
Sunday - Tuesday
Dec 24, 2023 - Dec 26, 2023
Instant Booking Available
Monday - Wednesday
Dec 25, 2023 - Dec 27, 2023
Instant Booking Available
Tuesday - Thursday
Dec 26, 2023 - Dec 28, 2023
Instant Booking Available
Saturday - Monday
Dec 30, 2023 - Jan 01, 2024
Instant Booking Available
Sunday - Tuesday
Dec 31, 2023 - Jan 02, 2024
Book with Confidence
Free Date Changes

Bamba Travel allows you to make 2 free date changes, as long as the change is made at least 60 days before the start of the tour.

Transfer as credit to Future Tours

Bamba Travel allows you to transfer existing payments to a future tour to avoid cancellation fees if you can't travel and inform bamba travel, 60 days before departure.

Low Deposit

Bamba Travel requires a minimum deposit of 20% or the full booking value, whichever is less, with the final balance not due until 30 days before departure.

Cancellation Policy

We don't charge a cancellation fee, here is a summary of bamba travel charges.

Up to 60 days before tour starts: Forfeit 100% of deposit.

At 30 days before tour starts: Forfeit 50% of booking price.

At 15 days before tour starts: Forfeit 100% of booking price.
Why book with tourhub?
Safe & Secure
Your money is protected in an external trust until you travel.
---
100% Guaranteed Refunds if your trip is cancelled.
---
The safest way to make overseas, multi-currency payments.
Guaranteed Best Value
Industry leading discounts, we won't be beaten on price.
---
No cancellation or amendment fees from tourhub.
(Operator terms may apply)
Expert Knowledge
Reliable & unbiased advice from travel experts.
---
Direct contact with the tour operator via our messaging service.
---
Inspiration & advice from a community of 6000+ real travellers, influencers & content creators.
Trusted Service
Official partners & licensed agents of 1000+ tour operators worldwide.
---
Don't just take our word for it...
"Tourhub: Friendliness, Professionalism & Integrity I would happily give tourhub a 6* review if I could..."
Similar Tours
Travel Guru Features
Our Reviews