Beijing to Shanghai Group Adventure 11D/10N
11 Days Starting in Beijing, China and ending in Shanghai, China
Visiting: Beijing, Hangzhou, Shanghai
Tour operator:
Special diets catered:
Vegetarians, Please contact Bamba Travel with any specific dietary requirements
Tour operated in:
English
Trip Styles:
Interests:
Activities:
Tour Overview
Experience different sides of China as you travel from Beijing to Shanghai. Explore bustling cities, spend a night camping at the Great Wall, take Mandarin lessons, try the local cuisine, visit historical sights, and much more!
Highlights
Visit the Great Wall of China

See the highlights of Shanghai and Beijing

Explore Hangzhou
Itinerary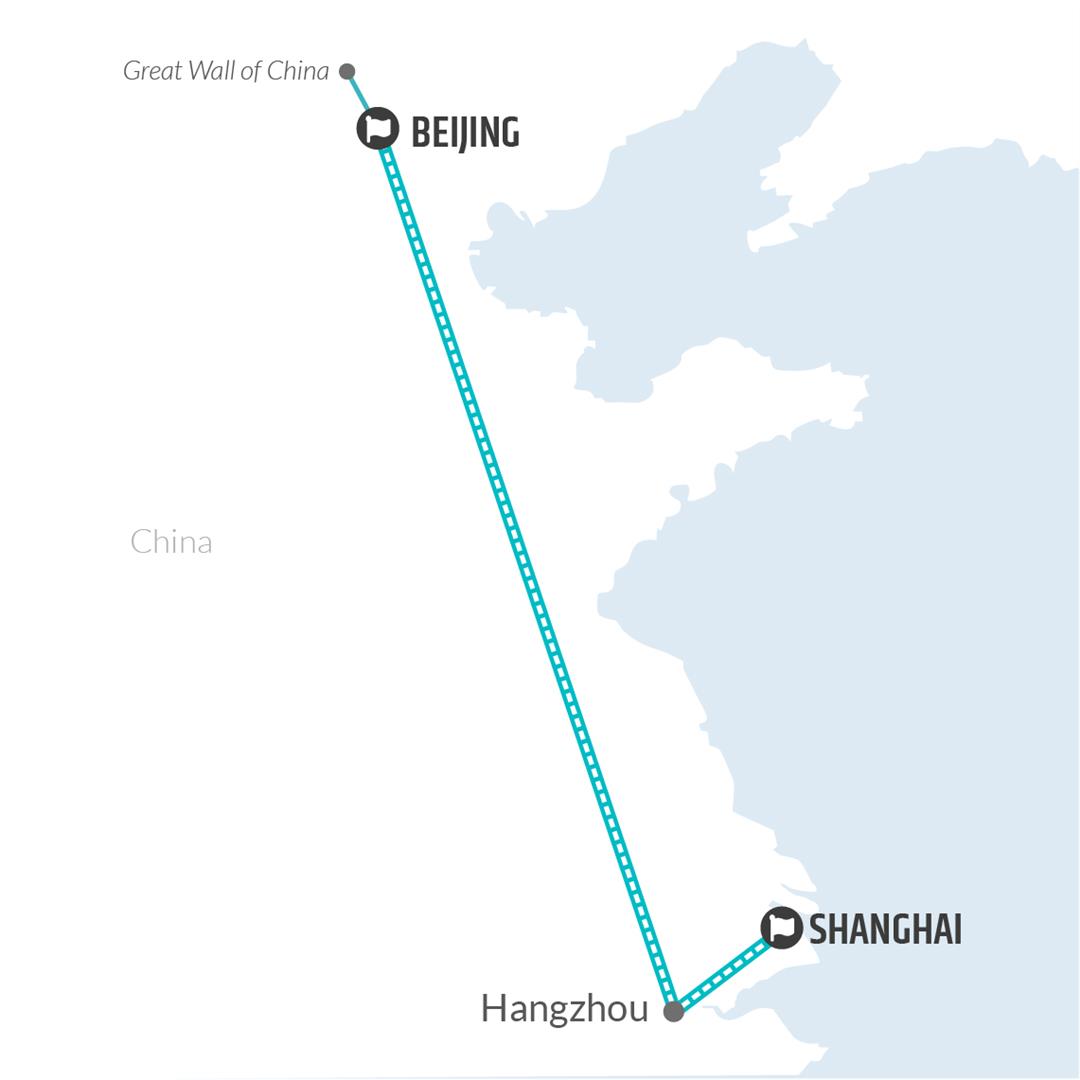 Expand All
Arrival and accommodation check-in
Welcome to Beijing! Check-in at your accommodation. Depending on the time of your arrival, enjoy the rest of the day exploring the city or just get a good night's sleep.

Great Wall of China hike and camping
Meet you adventure guide for a pre-departure briefing and join an optional Mandarin lesson. Relax for a bit before taking the bus to the Great Wall!  Have lunch at a local farm to obtain permission to access the locals only sections of the unrestored Great Wall. Once you arrive, hike along the Great Wall of China and pitch up your tent for a night camping. Enjoy another Mandarin lesson.
Note: due to cold weather before the end of April and after September, you will stay in a nearby guest house

Sunrise at the Great Wall and free day.
Wake up for an unforgettable sunrise on the Great Wall and return to Beijing to visit some of its highlights. Some of the optional activities you can do are taking a walk through Tiananmen Square, visiting the Forbidden City, and going to Jingshan park, to enjoy great views of the city. At night, you can attend a Chinese Acrobatics Performance and try the Peking Roast Duck, the city's signature dish (not included).

Free day to explore Beijing
Enjoy a free day to explore the city on your own. You can go visit the fake good markets and the beautiful Temple of Heaven. During the afternoon, explore the Nanluo district, known for its traditional courtyards. Visit its bars, cafes, and handicrafts shops.

Day 5: Beijing-Hangzhou, China
Free morning. Train to Hangzhou.
Today you have another free day to explore Beijing on your own. You can go to the Summer Palace, the 798 Arts District or any other attraction of the city. At night, board the train to Hangzhou (around 14 hours).

West Lake boat tour and sunset at the Jiuyao Mountain
Arrive in the city and transfer to your accommodation. Have a late breakfast, and head to the West Lake for a boat tour to one of the islands. Check into your hostel and enjoy a couple of free hours to rest or explore sights such as the National Tea Museum or the Hangzhou Silk Museum. In the afternoon hike up to the Jiuyao Mountain to see a breath-taking sunset.

Day 7: Hangzhou - Shanghai, China
Nine Creeks area hike. Bullet train to Shanghai.

Start the day with a hike to Nine Creeks area, meandering through Misty Woods. Return to your hostel to refresh and check-out. Have lunch and transfer to the train station to catch the bullet train to Shanghai. Arrive in Shanghai three hours later and take the metro to get to your hostel. Enjoy the rest of the evening on your own.

Free day to explore Shanghai
Today you have a free day to explore the city. You can visit the city's sights, museums, markets, theme parks, and more

Free day to explore the city
Take an optional Mandarin lesson in the morning, held by professional teachers from Mandarin Garden Language School. Spend the rest of the day visiting places like the Yu Gardens, People's Square, West Nanjing Road, and the Bund. You can also join the Shanghai Drunken Panda Pub Crawl!

Free day to explore the city
Today you can explore the former French Concession, visit a propaganda museum, go shopping at TianZiFang (a local artisan's lane), and see the modern Financial District.

Check-out and end of trip
Check-out from your accommodation, and say goodbye to your new friends! We wish you good luck on your onward travels!

What's Included
Accommodation

10 nights in shared accommodation

Transport

All transportation as per itinerary

Experiences

Activities

Great Wall of China hike and sunset experience

Guides

English speaking tour guides

Extras

Handy extras and accessories

Meals

Airport Transfers at Destination
What's Not Included
Pick-up and drop-off

Meals and drinks

Optional Activities

Travel insurance

Tips
Reviews of this Operator
Jonas Nesset(Norway)
The company is exceptional. When I had questions, I always got prompt and professional answers. The excursions that Bamba organized were fantastic! Thank you once again for everything!
Shane Alce(United Kingdom)
Marian Reder(Germany)
To this day, this is the best tour we've ever done together as a couple! The fun activities, great hotels and nice guides worth the money! We were always taken care of and they made sure that we had a good time. This tour is definitely worth taking.
Tanja Ottosen(Denmark)
The Bamba Team really made my journey one of the most memorable experiences of my life! Still so nice and supportive! They handled everything and responded to each question within a few minutes. I wholeheartedly recommend it to everyone. Especially if you want to do a lot of activities and travel to a lot of different places without feeling rushed. They've also helped me with specific issues that weren't covered by the tour, as well as answering general questions. Thank you so much for making my journey so enjoyable!
Braiden Rowe(United States)
The tour was fantastic; I was able to visit some of Japan's most beautiful locations, and the accommodations were excellent, with convenient access to the city's best attractions. Also, our tour guide was fantastic. I will pick bamba again and recommend the tour to anyone who wants to see Japan while having a good time!!
Aaron Davies(Australia)
I only have good words about our trip to Kenya. The entire experience was totally magical and I struggle to say how fantastic it was. We were fortunate enough to have a brilliant vehicle for ourselves, but we had great luck with David for our guide too. He was very knowledgeable, courteous and nice. Thank you for helping to create this fantastic safari experience. I Highly recommend this company.
Matteo Hoffmeister(Germany)
Bamba Experience has been the best tour guide I've ever had. Every tour has been a thrilling experience. There are so many things to choose from. Bamba has been extremely helpful in providing us with all of the necessary information for our departures and activities! Bamba has made this a simple and enjoyable experience. I'll certainly tell my friends and family about it! Thank you very much, Bamba!!
Melanie Liu Chang(Australia)
We organized a trip through Thailand, Laos, Vietnam, and Cambodia on the hop-on, hop-off bus. It made the trip so much simpler for us as first-time travelers because we just had to send an email to arrange the bus, which avoided the hassle of looking for the best price and so on! We also had a number of tours included, they were all amazing and saved us the trouble of trying to find the best offers on our own; it also meant we got to see a lot of stuff we wouldn't have seen otherwise. Overall, it was a fantastic experience that I will strongly suggest and use again!
Marius Halvorson(Norway)
Our Bamba tour of Vietnam was fantastic. We had a lot of new experiences and all of the help we needed to make this a stress-free vacation. The well-organized accomodation and transportation were excellent. We will certainly use Bamba in the future.
Alexis Helman(Australia)
I had booked our Uyuni Salt Flats & Desert Adventure 3D/2N (Uyuni to Atacama) tour via an Australian travel agency, but they had made an error and refused to assist us or take responsibility. This was very difficult for us because we wanted to have a stress-free honeymoon. I contacted Bamba and I asked if we could talk on the phone so they made the improvements to our tour reservation that our travel agent declined to make. The quality of service was exceptional and they generously offered to us a complimentary gift because it was our honeymoon. I can't say enough good things about Bamba.
Dates & Availability
Instant Booking Available
Friday - Monday
Apr 05, 2024 - Apr 15, 2024
Instant Booking Available
Friday - Monday
Apr 26, 2024 - May 06, 2024
Instant Booking Available
Wednesday - Saturday
May 15, 2024 - May 25, 2024
Instant Booking Available
Friday - Monday
Jun 14, 2024 - Jun 24, 2024
Instant Booking Available
Friday - Monday
Jul 12, 2024 - Jul 22, 2024
Instant Booking Available
Friday - Monday
Aug 09, 2024 - Aug 19, 2024
Instant Booking Available
Friday - Monday
Sep 13, 2024 - Sep 23, 2024
Instant Booking Available
Friday - Monday
Oct 18, 2024 - Oct 28, 2024
Book with Confidence
Free Date Changes

Bamba Travel allows you to make 2 free date changes, as long as the change is made at least 60 days before the start of the tour.

Transfer as credit to Future Tours

Bamba Travel allows you to transfer existing payments to a future tour to avoid cancellation fees if you can't travel and inform bamba travel, 60 days before departure.

Low Deposit

Bamba Travel requires a minimum deposit of 20% or the full booking value, whichever is less, with the final balance not due until 30 days before departure.

Cancellation Policy

We don't charge a cancellation fee, here is a summary of bamba travel charges.

Up to 60 days before tour starts: Forfeit 100% of deposit.

At 30 days before tour starts: Forfeit 50% of booking price.

At 15 days before tour starts: Forfeit 100% of booking price.
Why book with tourhub?
Safe & Secure
Your money is protected in an external trust until you travel.
---
100% Guaranteed Refunds if your trip is cancelled.
---
The safest way to make overseas, multi-currency payments.
Guaranteed Best Value
Industry leading discounts, we won't be beaten on price.
---
No cancellation or amendment fees from tourhub.
(Operator terms may apply)
Expert Knowledge
Reliable & unbiased advice from travel experts.
---
Direct contact with the tour operator via our messaging service.
---
Inspiration & advice from a community of 6000+ real travellers, influencers & content creators.
Trusted Service
Official partners & licensed agents of 1000+ tour operators worldwide.
---
Don't just take our word for it...
"Tourhub: Friendliness, Professionalism & Integrity I would happily give tourhub a 6* review if I could..."
Similar Tours
Travel Guru Features
Our Reviews