Buenos Aires to Lima (via Salta) Travel Pass
Start: Buenos Aires, Argentina Finish: Lima, Peru
Visiting:
Buenos Aires
,
Puerto Iguazu
,
Salta
,
San Pedro de Atacama
,
Uyuni Salt Flats
,
Uyuni
,
Potosi
,
Sucre
,
La Paz
,
Copacabana
,
Puno
,
Luquina
,
Cuzco
,
Arequipa
,
Colca Canyon
,
Nazca
,
Huacachina
,
Paracas
,
Lima
---
---
Tour Operator: Bamba Travel
---
Tour Overview
Embark on an unforgettable journey from Buenos Aires to Lima passing through the breathtaking Iguazu Falls, the blinding-white salt flats of Uyuni  the breathtaking Lake Titicaca and the oasis of Huacachina.
Highlights
Visit famous sites and hidden gems in Lima
Admire awe-inspiring views of Lake Titicaca 
Trek through one of the world's deepest canyons
Take wacky pictures in the famous Salar de Uyuni
Places You'll See
Cities & Attractions:
Itinerary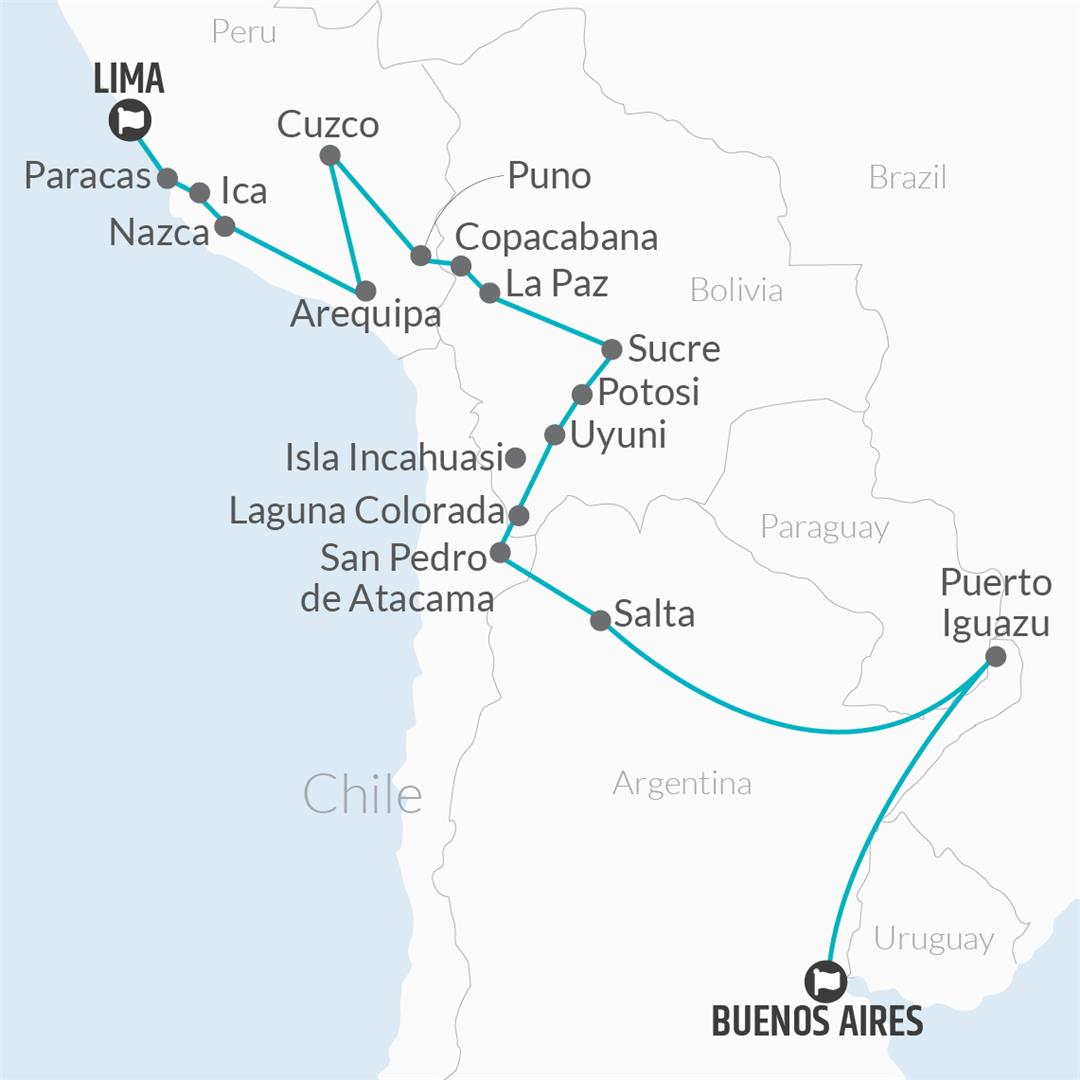 Day 1: Buenos Aires, Argentina
Location: Buenos Aires
El Viejo Almacen offers a magical Tango Show experience with talented artists and musicians in Buenos Aires. El Viejo Almacen has hosted Tango shows since 1969 in its traditional location in San Telmo and maintains the classic characteristics of the Tango 'Golden Age'. Your dinner will be served in a building reminiscent of San Telmo's immigrant times, which has been renovated to give you an authentic and unforgettable tango experience in Buenos Aires. You'll enjoy a tasty typically Argentine three course meal accompanied by the best wines Argentina has to offer. After the meal it's time to sit back and admire the breathtaking Tango performance at this classic venue in San Telmo, which includes a traditional tango orchestra, two singers, four dancing couples and an Andean music group. All of those involved in this Tango show will put on the best Tango night in Buenos Aires. Prepare your senses for a classic Tango evening at the best show in town!
NOTE: If you want to opt for a special treat, you can also upgrade your Tango show with dinner at El Viejo Almacen to VIP option and have exclusive seats, menu and service, making the most of your Tango dinner show in Buenos Aires.

Day 2: Buenos Aires, Argentina
Day 3: Puerto Iguazu, Argentina
Day 4: Puerto Iguazu, Argentina
Location: Puerto Iguazu
A visit to the Argentinean side of Iguazu Falls is a completely different experience than the Brazilian and deserves a whole day's worth of your time. Walk along the man-made platforms and bridges that follow the contours of the river taking you right up next to hundreds of waterfalls covering a 4 kilometer stretch.
Iguazu falls were created approximately 200 thousand years ago by a geological fault where the Iguazu and Parana Rivers come together creating an 80-meter high cascade named "Garganta del Diablo" or Devil's Throat. The falls stretch over 3 kilometers wide making them taller than Niagara Falls in North America and wider than Victoria Falls in Africa. The average flow of water passing over the falls is 1,500 cubic meters per second and depending on the water levels you can observe anywhere from 160 - 260 falls. The intensity of the falls produces a permanent fog, where sunbeams form multiple rainbows of incredible beauty.
Start off by walking down around the Circuito Inferior where several bridges take you right up next to the falls where you can stand and be soaked by the spray in seconds. Take the train to the "Devil's Throat" main falls where a man-made walkway leads you out over the river to experience the once-in-a-lifetime thrill of looking down into the Devil's Throat itself, a 90-meter-high cascade over which 13,000 cubic meters plunge per second.
Taking an optional boat trip (you may purchase this additional activity upon arrival), rafting or hiking in the park is another way to enjoy the day in nature and appreciate the falls from a different perspective.Don't forget to take your camera, rain gear and sunblock. Bring your own snacks and water to avoid paying high prices in the park.
If time allows on your way back to Puerto Iguazu, you may have a chance to stop at the 3 frontiers overlook point where you can see Paraguay, Argentina and Brazil at the convergence of the Iguazu and Parana Rivers. A blue, green and yellow obelisk represents the national colors of all 3 countries. This is also a great place to grab some last minute souvenirs from Iguazu Falls.

Day 5: Salta, Argentina
Day 6: Salta, Argentina
Day 7: Salta, Argentina
Day 8: Salta, Argentina
Location: Salta
Enjoy a full-day tour of the province of Salta in the beautiful north of Argentina, visiting the famous colonial city of Cafayate and tasting the excellent wines produced in this region. This tour is an incredible opportunity to get to know the stunning and arid landscapes of the north and get in touch with Salta's wine culture! The Full Day Cafayate Tour begins with the trip from Salta, passing through the historic cities, the Calchaquíes Valleys and the Quebrada de las Conchas. Arriving in Cafayate, you will participate in a fantastic wine tour and visit a winery in the region where the Torrontés wine is produced. The Torrontés grape is considered to be the only truly Argentinian native grape and adapts very well to altitude. The Torrontés de Cafayate wine is undoubtedly the best in Argentina! The tour also includes a tour guide who will explain everything about the fauna, flora, geography, history and local culture. After tasting a lot of wine and enjoying the beauty of the city, you will be taken back to Salta at the end of the tour.

Day 9: San Pedro de Atacama, Chile
Location: San Pedro de Atacama
Day 10: San Pedro de Atacama, Chile
Location: San Pedro de Atacama
This trip is going to take you to see the salt and clay formation in the ¨Three Marias¨ area, where you can witness unique natural shapes created in the desert in one of the world´s driest zones, the Atacama Desert. Here you will be able to observe and appreciate the powerful and delicate forces of nature that have carved and molded this landscape over thousands of years from the Mirador Cordillera de la Sal. Take amazing photographs and contemplate life as you explore this remote desert on a nature walk through Valle de la Muerte.
Enjoy an exciting excursion through salt caves where you will see new and different salt formations hidden in this mountain range. Visit Tres Marias and Gran Duna, some of the most spectacular places on Earth. Watch the awe-inspiring sunset in the Valle de la Luna over the desert sands with the Licancabur Volcano in the distance as the landscape turns brilliant shades. This trip is an experience that will surely be one of the most amazing highlights of your trip.
We recommend bringing drinking water, sunblock, sun hat, hiking shoes and jacket to wear after sunset.

Day 11: Uyuni Salt Flats, Bolivia
Location: Uyuni Salt Flats
San Pedro de Atacama-Green Lagoon-Dali Desert-Sol de Mañana geysers - Red Lagoon (B/L/D)
Depart San Pedro de Atacama at 6:30 am by minibus for an exciting 3-day excursion. Cross into Bolivia, passing by the Chile and Bolivia immigration offices. Once on the Bolivian side, at 4400m above sea level, we change vehicles to a 4WD Jeep with a maximum capacity of 6 people. We start off in the Bolivian high plains, visiting places like the Green Lagoon (toxic copper water) and Laguna Blanca, located at the foot of the big Licancabur volcano at 6000m. Continue on to Dali Desert, where Salvador Dali found his inspiration from boulders sprinkled in the middle of the desert. There you can admire surrealistic landscapes, thermal water pools, the Sol de Mañana geysers –intermittent springs coming up at a 100º C. Walk carefully next to fumaroles and steaming craters filled with boiling pots of mud at 150-200 Cº. The journey ends up at Laguna Colorada, an intense red-colored lake which acts as the main nesting center for thousands of flamingos of 3 different species.
NOTE: You need to arrive to Atacama one day before the trek departs

Day 12: Uyuni Salt Flats, Bolivia
Location: Uyuni Salt Flats
Siloli Desert-Chiguana Salt Flat  (B/L/D)
Have an early breakfast and depart around 8:00 am this morning. Pass by the Siloli Desert at 4,550 meters (the highest and driest in the world) where there are a set of rock formations as a result of wind erosion. Take a photo next to a huge lava rock formation in the shape of a tree. Continue on to high plain lagoons also known as coloured lagoons; Laguna Honda, Chiarcota and Cañapa. Then we make our way to Chiguana salt flat, on the south side of Uyuni salt flat and surrounded by volcanoes. The night is spent at the Salt Hotel (a hotel made of salt), in double or triple rooms.

Day 13: Uyuni, Bolivia
Location: Uyuni
Uyuni Salt Flats-Uyuni (B/L)
Depart at 8:00 am and cruise along the vast white expanse of salt today. Visit Inca Wasy (Fish Island), located in the middle of the salt flat, with beautiful cactus and rock formations made of petrified coral. Take time to organize your group for fun perspective and proportion-distorted photos on the blinding white surface of the salt flats. Pass by piles of salt at the small village of Colchani, a salt miners workshops next to the salt flats. End your unforgettable trip in the town of Uyuni around 3:00 pm and say goodbye to your new friends. We hope to see you soon for your next adventure!

Day 14: Potosi, Bolivia
Day 15: Potosi, Bolivia
Day 16: Sucre, Bolivia
Day 17: Sucre, Bolivia
Location: Sucre
Sucre, the capital city of Bolivia, provides a warm welcome to all visitors who want to get to know this beautiful city. A memorable experience awaits you! A local guide will accompany you during this walking tour, sharing his/her knowledge with you as you make these following stops:
1 -Main Square Plaza 25 de Mayo: You will see the main buildings around the square and your guide will explain to you the history of each place and why it is called May 25th square.
2 -After our visit to the main square, we will go to the local market where we will have a traditional and delicious "Tojori" breakfast (a very traditional drink made out of corn, it is hot and filling).
3 -Following our visit we head towards the Obelisk and then to the Bolivar park, a beauty among the plazas. It was once a private garden of the richest man in Sucre and it is now public and considered as the most beautiful plaza in Sucre.
4 -"Kinder Park": This is a place where you will have an experience that you'll never forget. Sucre is known for having dinosaur tracks all over the place, it is so trendy to name everything after a dinosaur that this park is all about dinos.
5 -After our visit to the Park, we will take local transport to go to a viewpoint from where you can see the majestic Sucre. Overlooking the city of Sucre, La Recoleta is also a place where history and tradition blends.
6 - Now time to take a cab that will take us to an unusual place: the cemetery. "Today us, tomorrow you" reads in the incriptions at the entrance gate. The most beautiful place of all Sucre, this is a unforgettable experience in which our visitors can see how rich people were back in the 1800's in South America.
7 - Your walking tour will come to an end in the main square.

Day 18: Sucre, Bolivia
Day 19: La Paz, Bolivia
Day 20: La Paz, Bolivia
Location: La Paz
Get into the heart of La Paz with your experienced local guide who will take you around to the best highlights of the city and show you what real life is like for most Paceños (La Paz residents). Begin the day at Plaza Murillo with its beautiful architecture for a perfect introduction into Bolivia's history and culture. Learn about the current social and political situation in Bolivia as we walk by Murillo Square with the Presidential Palace and House of Parliament. We will be stopping to sample a traditional mid-morning snack.
Next, we will visit the outside of San Pedro Prison from the book "Marching Powder" with your local guide who will explain why this prison is so famous and will also share a few strange bone-chilling stories about this infamous prison. After walking by the prison walls we will then head towards several local markets to learn about Bolivian staple foods and exotic fruit from the rainforest which you will get to taste.
Next, you will jump into a local transportation to head towards an unknown, but spectacular viewpoint. Take a moment here, to enjoy the life happening bellow you in La Paz, enjoy the slow rhythm of the place you are at the moment. And once you have taken all the photos you want you will jump back in the local transport to reach the local witch market. Take a walk through the market and maybe you can find a magic spell you have been longing for!
You will have an exciting return back to La Paz on a cable car; be sure to capture the views! We will be stopping by another market where you will have time to buy last minute souvenirs if you wish. Your exploration of La Paz will end upon our return to Plaza Murillo (around 12:30pm). We wish you safe travels onwards!

Day 21: Copacabana, Bolivia
Day 22: Copacabana, Bolivia
Day 23: Puno, Peru
Day 24: Luquina, Peru
Location: Luquina
Depart Puno for the Uros Floating Islands, Taquile Island & Luquina Homestay (D)
You will be picked up from your hostel between around 7:10 am and transferred to the port of Puno, where you will meet your guide and board the motorboat. The first stop will be the Uros Floating Islands, where you will spend about one hour. There are more than 90 floating islands and you will get the chance to visit two of them. On the first floating island, your guide will explain to you about the people who live on the floating islands. Then you will have some free time to walk around, visit the small huts made from reeds, take some pictures and buy a souvenir to support the people of these islands if you wish.
After this visit, you will continue on with a boat ride to Taquile Island. The people who live on this island are very famous because they are considered "the best weavers of Peru". There, you will go on a beautiful hike for about one and a half hours to admire the panoramic of the lake. On your way, you will get the chance to visit a local family home where you will learn more about the famous textile from the island. You will then head towards the town square of Taquile and visit the handicraft shops to see the typical weaving. The square is also the highest point of the hike (3950 m or 12960 feet). You will finish the hike going to the second part of the island and take off in a boat (35 minutes of navigation) that will lead you to the Luquina community where you will overnight. Your host families will wait for you at the port of Luquina and will take you to their house. You will enjoy a delicious dinner with the local family before going to bed.

Day 25: Puno, Peru
Location: Puno
Luquina community & Return to Puno (B)
Start the day quite early with a tasty breakfast with the family before getting the opportunity to participate in their daily activities such as sheep grazing, working in the crops, or even learning how to milk a cow. You will then enjoy a delicious lunch before saying goodbye to the family and leave the community. You will take the motorboat back to Puno, finishing the tour around 3:45 pm.

Day 26: Cuzco, Peru
Day 27: Cuzco, Peru
Day 27: Cuzco, Peru
Location: Cuzco
Located in the central square of the Incan capital, it features the only gin bar in the city as well as on-site restaurant— a culinary hotspot for locals and travelers alike. Head to San Pedro Market, just a 5 minute walk away and browse alpaca sweaters, palo santo, and rare medicinal herbs. Back at Selina, enjoy daily yoga, meditation, and aromatherapy at our wellness center. Plus, make the most of our fully-equipped common kitchen, read up about Incan history in the library room or unwind with a Pisco sour at the bar.

Day 28: Cuzco, Peru
Day 29: Cuzco, Peru
Day 30: Arequipa, Peru
Day 31: Colca Canyon, Peru
Location: Colca Canyon
Arequipa - Colca Canyon Trekking (B/L/D)
We will pick you up from your hotel between 3:00 a.m. to 3:30 a.m. and transfer you to Chivay where you will have breakfast. We will then head towards the Cruz del Condor to (Condor Crossing) to see majestic condors flying through the canyon before continuing our way to Cabanaconde. We will begin our hike at around 10:00 am by walking down to the village of San Juan de Chuccho. (3 ½ hours walking). Upon arrival at the village, you will have time for lunch and relax. Settle into your lodging and enjoy the scenery of the impressive canyon for the afternoon. Have dinner and get a good night's sleep.

Day 32: Colca Canyon, Peru
Location: Colca Canyon
Colca Canyon Trekking (B/L/D)
Wake up early and have a hearty breakfast before continuing your trek along the other side of the canyon, passing through the villages of Cosñirhua and Malata, before reaching Sangalle, located at the lowest altitude point of the canyon (3 hours walking). We will arrive around midday, depending on our pace, and have lunch. We will have the rest of the afternoon to rest up, relax in the pool and enjoy another day in the midst of the Colca Canyon. Overnight in Sangalle.

Day 33: Arequipa, Peru
Location: Arequipa
Colca Canyon Trekking - Arequipa (B)
Today, we will get an early start at about 5:00 am and begin trekking up to Cabanaconde town where we will have breakfast (3 hours steep uphill hike). Take the bus back to Chivay and visit Maca village and tourist viewpoints on your way. Upon arrival to Chivay, we will have lunch and have the opportunity to visit the relaxing hot springs in town (30-40 minutes), the perfect remedy for our tired muscles. On your way to Arequipa, you will stop to see the National Park and get beautiful views of volcanoes and native animals such as alpacas and vicuñas. Relax and enjoy the scenic ride back to Arequipa arriving around 06:00 pm.

Day 34: Nazca, Peru
Day 35: Huacachina, Peru
Day 36: Huacachina, Peru
Location: Huacachina
Welcome to the quaint, quiet and cute oasis of Huacachina with its tranquil lagoon and backdrop of amazing sand dunes anywhere you turn to look. Get ready to cruise to the tops of 500 meter high sand dunes and go rocketing down the slopes in the sand buggy. A roller coaster ride of 360's, sharp turns and steep hills will get your adrenaline pumping before you take your first shot at sand boarding. Strap yourself in tightly, throw your hands in the air and scream away as you are carried over sand dunes in the middle of the expansive desert.

You will have the opportunity to sandboard on 3-4 different dunes so you can try your luck. You will take thrilling rides on a basic sandboard by laying face first on the board and letting yourself fly down the dune to see how far (and fast) you can go. Cheer on your mates and don't let anyone shy away from this unforgettable experience. Lastly, you will admire the breathtaking sunset over the vast desert landscape and have the chance to take photos in the golden twilight before racing back to Huacachina.

Day 37: Paracas, Peru
Day 38: Paracas, Peru
Location: Paracas
As you cruise west from the tiny beach town of Paracas, you won't be able to miss the Candelabra geoglyph, a 150m high and 50m wide figure of a candlestick etched into the mountain, rumored to have been an ancient guide for sailors or a connection to the Nazca lines. A short description and time for photos is given before cruising on to the famous Ballestas Islands.
Ballestas islands is an excellent opportunity to see large families of over 100 sea lions sleeping on the shores, basking in the sun on the rocks or some barking loudly in efforts to protect their territory. Spot cormorants, the Peruvian booby and Peruvian pelican as well as other impressive varieties of sea bird species and Humboldt penguins nesting together in small groups. Feeling lucky? Watch the waters for dolphins.
Apart from the abundant marine and bird life found here, the Ballestas Islands are also very well known for the guano (seabird droppings) deposited on the island over thousands of years which creates a natural reserve of nitrogen-rich fertilizer over 50 meters deep in some areas. The guano came to be Peru's #1 export in the mid-19th century however today the extraction of guano has been regulated to every 10 years.
The return trip to Paracas is a quick, very windy, direct boat ride to the dock. You should have some time to take photos of the friendly pelicans that hang out on the shore line beside the dock, do some souvenir shopping or grab a snack before heading on to your next destination.

Day 39: Lima, Peru
Day 40: Lima, Peru
Location: Lima
Today you'll uncover urban life in the capital city of Lima where your local guide will lead you on foot and by public transport to experience the city through its markets, landmarks, and history.
The walking tour starts with a bus ride to downtown Lima where the first stop will be the Bolivar Hotel before making our way through the City of the Kings where you will explore the pedestrian avenue while your guide points out the city's hidden gems.
Next, you'll uncover the fresh produce in the market as your guide takes you through the stalls full of local Peruvian foods. Afterwards, continue your tour of Lima's historical landmarks where you'll visit Plaza Bolivar and the catacombs of the UNESCO World Heritage site Monasterio San Francisco.
Your day of exploring comes to an end with a tasting of the national drink, Pisco Sour, at the place where it was supposedly invented.

What's Included
Extras

Handy extras and accessories

Accommodation

See full inclusions for details

Activities

9 Excursion

Guides

Some of the activities

Meals

7 Breakfast(s), 7 Lunch(es), 6 Dinner(s),

Experiences

Transport

14 Transfer
What's Not Included
Ballestas Islands and Paracas National Reserve entrance fees (18 Soles)

Meals & other drinks

Other meals & drinks

Entrance fees

Tips

Optional transport on mules

Tips for guide and driver (In Peru & Bolivia it is common to tip your tour guide if you feel he/she provided you with good service. It is not obligatory but it would be a nice gesture)

Entrance to the hot springs (5 USD)

Entrance fee Colca National Park (23 USD)

Access to toilets in the way (6 Bolivianos)

Gratuites

Entrance fees to parks (186 Bolivianos per person): National Reserve of Andean Fauna Eduardo Abaroa (150 Bolivianos), Termas de Polques (6 Bolivianos), Isla Incahuasi (30 Bolivianos)

Airport transfers

Meals and drinks

Lunch (between 30-70 Bs = $4-10 USD)

Bottled water

Other Meals/Drinks

Tips for guide

Transfers from hotels located out of the city (Libertador, Eco Inn, Casa Andina Private Collection, Posada del Inca, Mirador del Titicaca, Taypikala, Yacht, Jose Antonio)

Lunch (please bring a box lunch or extra money to buy lunch along the way)

Torch/Flashlight to use while trekking

Lunch (You will have approximately one hour to buy lunch and stroll around the town, before moving on to the winery.)

Personal expenses

English-speaking guide (180 USD per person)

Sleeping bag (available at an extra cost)

Small gift for the host family to show appreciation (can be purchased in Puno on the morning of departure)

Lunch

Lunch (Bring extra cash to purchase lunch in the park or take a box lunch or snacks with you)

Evening refreshment (7 Bs = $1 USD)

Local transport & taxi to cemetery (please bring about 18-20 Bolivianos to cover these costs)

Tips for guides

Tips & transfers

Last lunch in Chivay (3rd day)

Transfers to/from bus stations

Other meals and drinks

Travel insurance

Border tax (15 Bolivianos per person)

Taxi from Ica to Huacachina
Book with Confidence
Low Deposit

Bamba Travel requires a deposit of 20% to secure a place on this tour, and the final balance is not due till 30 days before departure..

Free Date Changes

Bamba Travel allows you to make 2 free date changes, as long as the change is made at least 60 days before the start of the tour.

Transfer as credit to Future Tours

Bamba Travel allows you to transfer existing payments to a future tour to avoid cancellation fees if you can't travel and inform Bamba Travel, 60 days before departure.

Cancellation Policy

If you need to cancel your tour, here is a summary of Bamba Travel charges.

| | |
| --- | --- |
| Up to 60 days before tour starts: | 100% of deposit |
| At 30 days before tour sarts: | 50% of tour cost |
| At 15 days before tour sarts: | 100% of tour cost |

Secure payments

All payments to TourHub are deposited into an externally regulated Trust account.
---
Travel, Your Way
Good reasons for travelling privately
Personalise your trip

Make changes to the itinerary, accommodation, or transport method

Increased safety during COVID

Spend the majority of time amongst your group to reduce exposure to others

Travel more exclusively

Your tour guide can focus all their attention on your group

Travel for a special occasion

Celebrate an important event by only travelling with your friends or family
Learn more