Ruta 40 Adventure Ways (from Buenos Aires)
Start: Buenos Aires, Argentina Finish: Ushuaia, Argentina
Visiting:
Buenos Aires
,
Bariloche
,
Perito Moreno
,
El Chalten
,
El Calafate
,
Ushuaia
---
---
Tour Operator: Bamba Travel
---
Tour Overview
Marvel at incredible landscapes while you follow a leg of one of the largest routes in the world, the Ruta 40. Get some stunning views of giant glaciers, breathtaking glacial lakes and large snow-capped mountains. Visit the only Argentine National Park that combines sea, mountains, and forests and admire the abundant fauna and flora.
Highlights
Travel along the magnificent Nahuel Huapi Lake
Marvel at the impressive Perito Moreno Glacier
Visit the famous Tierra del Fuego National Park
Places You'll See
Countries:
Cities & Attractions:
Itinerary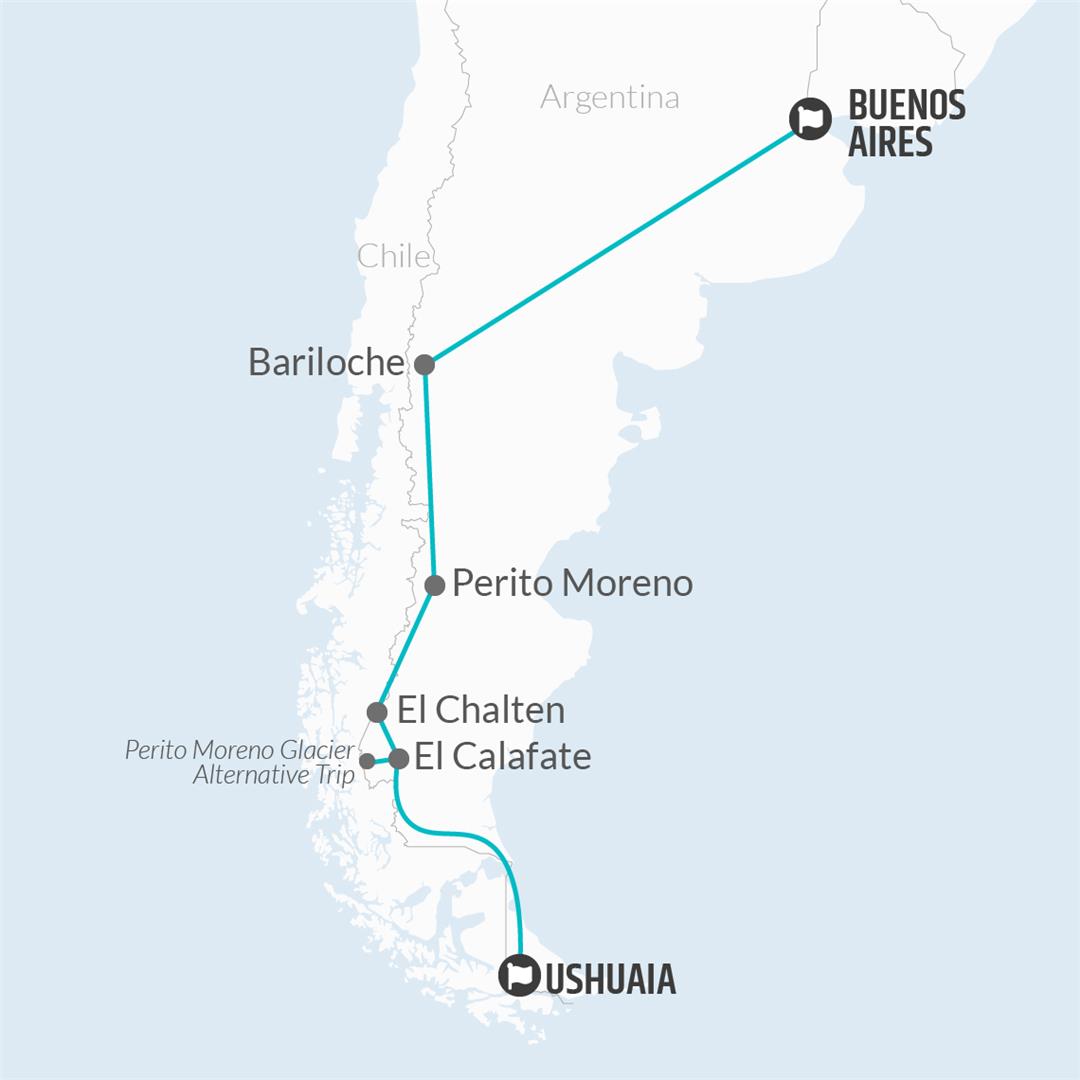 Day 1: Buenos Aires, Argentina
Location: Buenos Aires
The night starts with a tango lesson, where a professional instructor will teach you the traditional steps of this historically rich and sensual dance. Afterwards, you will enjoy a delicious traditional Argentinean dinner with an open bar while watching a thrilling and interactive Tango Show.
Tango is undeniably Buenos Aires' and Argentina's most recognised contribution to music. Its most famous melodies and the life of the Porteño (the traditional name for a Buenos Aires inhabitant) are impossible to separate. That is why we invite you to discover its essence and charm with us. Our course will cover the sounds and icons of the first black tangos in the 1850s, to the most modern expression of Argentina's popular culture and the people's renewed interest in tango in the streets today.

Day 2: Bariloche, Argentina
Day 3: Bariloche, Argentina
Day 4: Bariloche, Argentina
Location: Bariloche
Discover the beautiful surroundings of the charming mountain town, Bariloche on this scenic half-day excursion. Travel along the magnificent glacial Nahuel Huapi Lake and head towards the west visiting some of Patagonia's must-see attractions like " López "Bay and the "Punto Panorámico" viewpoint. Reach the Mount "Campanario" at the 17 km of the Bustillo Avenue from where you can enjoy spectacular views of "The Andes" Mountain Chain. Then, pass through the famous "Llao Llao" Hotel, "San Eduardo" Chapel and "Pañuelo" Port. You will find a large variety of regional products as you travel through these awesome landscapes.

Day 5: Perito Moreno, Argentina
Day 6: El Chalten, Argentina
Day 7: El Calafate, Argentina
Day 8: El Calafate, Argentina
Location: El Calafate
We will depart El Calafate and begin our journey to the glacier on an alternative route, making stops along the way to take photos of the incredible scenery and to see the local flora and fauna. We will also be passing next to one of the most emblematic 'estancia' and some of the biggest estancias of Patagonia. We will make a stop at the hotel of Don Echeverrias, an important 'gaucho' of the region. This hotel has an authentic Patagonian feel. There, you can enjoy some 'mates' or coffee (not included). As we continue our journey towards Los Glaciares National Park, we will begin to notice a change in the scenery, awing at the impressive views around us.
Prepare to be amazed when you see the Perito Moreno glacier growing bigger as we drive closer to the park entrance. This is a unique opportunity to get spectacular views of the glacier from natural and wild spots, away from the crowds. You will have the chance to enjoy the glacier almost by yourself, observing the crisp, cool air and listening to big chunks of ice breaking off and crashing into the water of Lago Argentino. Your guide will be there to answer any questions you may have about the glacier, its formation, its location, its evolution...
Then you can enjoy some free time to walk along the conventional man-made bridges and stairways to admire from a different angle the immensity of this giant sheet of ice towering over you. Take in the wonderful scenery and photograph yourself in front of this majestic glacier. If you would like, you can go buy something at the snack bar before we begin our return trip to El Calafate using the conventional paved road. All the way back, share stories about your experience with your new friends. We will be back in El Calafate around 17:30 pm.

Day 9: Ushuaia, Argentina
Day 10: Ushuaia, Argentina
Day 11: Ushuaia, Argentina
Location: Ushuaia
The entrance to Tierra del Fuego National Park is at about 12 kms from Ushuaia. It is the only Argentine National Park that combines sea, mountains and forests. It occupies a surface of 63.000 hectares where we can find firebushes, beech trees, ñires, boxleafed barberries, and flowers such as orchids, violets and other species. You will have the opportunity to admire Lapataia Bay and the coast of the Beagle Channel, with an incredible flora and fauna including red foxes, woodpeckers, steamer ducks, condors, eagles, beaver dams and peat bogs. All of which cohabit in a spectacular setting. You will be picked up around 8:00 am in Ushuaia. We will drive out of the city passing by Susana Mount and witnessing the work of the prisoners of the old prison, where the Southern Fuegian Railway is now located. You will be able to go on an optional tour there. We will continue through the valley towards Ensenada Bay, where we will be able to contemplate the Redonda and Estorbo Islands. On the other side of the Beagle Channel, you can admire the snow-white Mountains of the Sampaio Chain (Chile). We will go back to the National Road #3 passing by the Fuegian forest until Roca Lake, where we will take a walk by the lake and the Lapataia river. From this point we can see the Cóndor Hill, a natural border with Chile. Then we will go towards the other end of the park, where the National Road N. 3 comes to an end, at Lapataia Bay. Along the way, we will have a nice view of Laguna Verde and Laguna Negra. We will have the opportunity to see peat bogs and beaver dams before arriving to Lapataia Bay. Breathe in the fresh clean air before returning to Ushuaia around 14:00 pm, where our trip will come to an end.

What's Included
Transport

5 Transfer

Experiences

Meals

1 Dinner(s),

Activities

4 Excursion

Accommodation

This trip does not include accommodation

Extras

Handy extras and accessories

Guides

Some of the activities
What's Not Included
Tips & transfers

Optional navigation in front of the glacier

Lunch

Entrance fees to National Park

Glacier walk

Accommodation enroute not included

Personal expenses

Travel insurance

Tips for guide

Meals/Drinks

Please note that rates may change without prior notice
Book with Confidence
Low Deposit

Bamba Travel requires a deposit of 20% to secure a place on this tour, and the final balance is not due till 30 days before departure..

Free Date Changes

Bamba Travel allows you to make 2 free date changes, as long as the change is made at least 60 days before the start of the tour.

Transfer as credit to Future Tours

Bamba Travel allows you to transfer existing payments to a future tour to avoid cancellation fees if you can't travel and inform Bamba Travel, 60 days before departure.

Cancellation Policy

If you need to cancel your tour, here is a summary of Bamba Travel charges.

| | |
| --- | --- |
| Up to 60 days before tour starts: | 100% of deposit |
| At 30 days before tour sarts: | 50% of tour cost |
| At 15 days before tour sarts: | 100% of tour cost |

Secure payments

All payments to TourHub are deposited into an externally regulated Trust account.
---
Dates & Availability