Annapurna Trails & Chitwan - Premium Adventure
13 Days Starting and ending in Kathmandu
Visiting: Kathmandu, Boudhanath Stupa, Pokhara, Phewa Lake, Modi, Annapurna, Modi Khola Hydro Power Plant, Machhapuchhare, Ghandruk, Landruk, Landruk Petrol Pump., Gurung Cottage, Dhampus, Phedi, Mugling, Rapti River, Bharatpur
Tour operator:
Physical rating:
Low, Moderate
Special diets catered:
Vegans, Vegetarians
Tour operated in:
English
Trip Styles:
Interests:
Tour Overview
The lovely lakeside town of Pokhara and the Annapurna foothills to the north holds Nepal's most beautiful mountain scenery. Rice terraces and rhododendron forests lead the eye to the timeless peaks of Machupuchare, also known as fishtail mountain, and the high Annapurnas. Our moderate 6 day trek takes us through the villages of prettiest villages of the region, including Birethanti and Gangruk. Linked by 5 lovely mountain lodges, built in the local style, but with the creature comforts not normally found on Himalayan treks.Moving on to the tropical lowlands, in Chitwan you'll stay in Barahi Lodge's boutique eco-cottages sandwiched between the jungle and the Rapti River. Glimpse wildlife from the infinity pool, spot birdlife and crocodiles as you float downstream by traditional dugout canoe, and encounter the endangered Indian one-horned rhinoceros on a jeep safari. Return to Kathmandu by flight to round off your adventure.
Highlights
6 days trek in the fabuolous Annapurna foothills, staying in luxury trekking lodges with superb mountain views and a daily happy hour

Pokhara, nestled on the shore of Lake Phewa in the shadow of the Annapurna Range

Two nights full-board in river-facing boutique eco-cottages at Barahi Lodge - observe Chitwan's wildlife.

Dugout canoe ride down Chitwan's Rapti River in search of crocodiles, jeep safari to encounter rhinos, and walking safari to spot birdlife

Stay the famous Yak & Yeti, in a converted palace hotel in a quiet corner of Kathmandu
Itinerary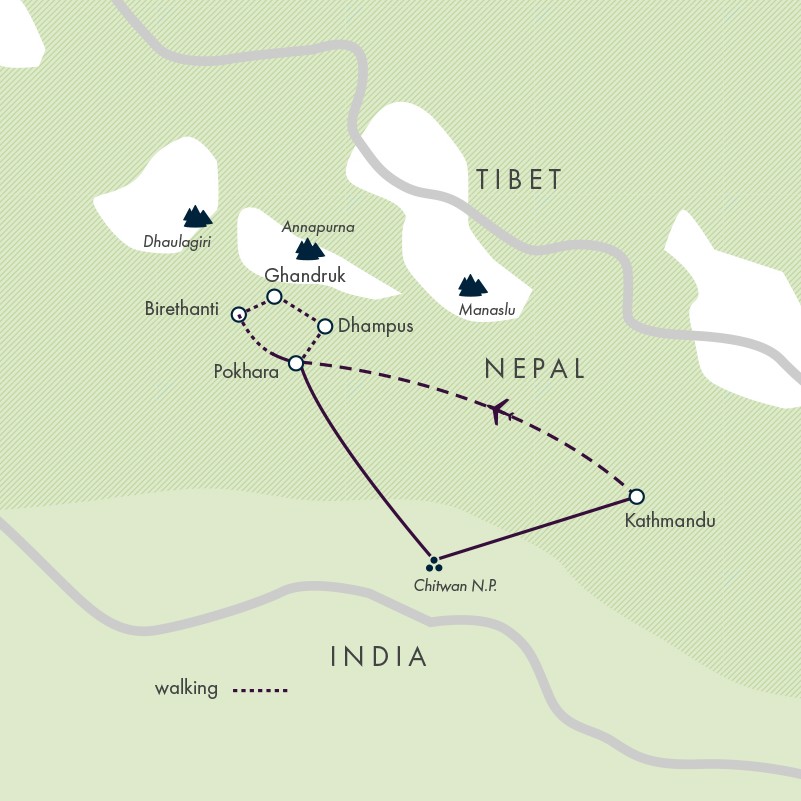 Expand All
Location:
Kathmandu
Accommodation:
Hotel
Accommodation Name:
Hotel Yak & Yeti, Kathmandu (5 star)
Meals Included:
No Meals
The tour starts at our hotel in Kathmandu this afternoon. Free arrival transfers are available for any flight, provided you have supplied Exodus with your flight details in advance and have requested one. This evening there will be a full trip briefing.
Day 2 :

Kathmandu Sightseeing Tour Including Durbar Square And Boudhanath Stupa
Location:
Kathmandu, Boudhanath Stupa
Accommodation:
Hotel
Accommodation Name:
Hotel Yak & Yeti, Kathmandu (5 star)
Meals Included:
Breakfast
For those who wish, there is the chance to do an optional Everest sightseeing flight early this morning; this can be booked locally through your leader on day 1.
We will leave the hotel late morning for our Kathmandu sightseeing tour. First, we drive to the UNESCO World Heritage Site of Boudhanath to see the famous Buddhist stupa with its huge mandala; one of the largest spherical stupas in Nepal and indeed in the world. We have lunch nearby and then continue to Kathmandu Durbar Square (which also has UNESCO status), one of three royal palace squares in the Kathmandu Valley. Although the Kathmandu Durbar Square was heavily damaged in the 2015 earthquake the many palaces, temples and courtyards in the Newari style are interesting. There will be a full trip briefing today.
Day 3 :

Drive To Pokhara; Orientation Walk
Location:
Pokhara, Phewa Lake
Accommodation:
Resort, Resort
Accommodation Name:
Atithi Resort & Spa, Pokhara (4 star)
Meals Included:
Breakfast
We leave Kathmandu early this morning and drive to Pokhara - traffic leaving Kathmandu can prolong the journey but once out of Kathmandu city, the journey usually takes around 6 hours depending on the road and traffic conditions. In the afternoon your leader will take you for an orientation walk along the shore of Phewa Lake. Pokhara is a pretty lakeside resort at the foot of the Annapurna Range.


Day 4 :

Walk Through Farmland And Forest Down To The Modi River Valley To Sanctuary Lodge, Offering Fine Views Of The Sacred 'Fishtail' Mountain
Location:
Modi
Accommodation:
Lodge
Accommodation Name:
Ker and Downey Lodge (Sanctuary Lodge, 1,025m)
Meals Included:
Breakfast, Lunch, Dinner
We have a short drive to our trek start point, from where we follow a ridgeline in the lower foothills of the Annapurnas with surrounding views of the Pokhara Valley. This route then drops to the Modi River Valley, where Ker & Downey's Sanctuary Lodge is located. The lodge has magnificent views of the sacred and unclimbed Fishtail Mountain, or Machhapuchhare, as it is locally known. A picnic lunch is provided today.


Day 5 :

Picturesque Trek Through Villages, Padi Rice Fields And Forest To Himalaya Lodge In Ghandruk
Location:
Annapurna, Modi Khola Hydro Power Plant, Machhapuchhare, Ghandruk
Accommodation:
Lodge, LodgeLodgeLodge
Accommodation Name:
Ker and Downey Lodge (Himalaya Lodge, 2,012m)
Meals Included:
Breakfast, Lunch, Dinner
After breakfast, you will leave the lodge to start the trek through the scattered small farms. Following the Modi Khola and with constant views of Mt. Machhapuchhre ahead, you will soon climb the valley towards the mountains. It is quite a long climb up stone steps passing through the rice fields and forest, but we take plenty of stops. Finally, we arrive at Himalaya Lodge in Ghandruk in the early afternoon to a late lunch that is served on arrival as you enjoy the spectacular views of Annapurna Massif.



Day 6 :

Descend To Cross The River By Suspension Bridge, Then Climb To La Bee Lodge In Landruk
Location:
Landruk, Landruk Petrol Pump.
Accommodation:
Lodge, Lodge
Accommodation Name:
Ker and Downey Lodge (La Bee Lodge, 1,565m)
Meals Included:
Breakfast, Lunch, Dinner
Although we can see Landruk across the valley we have to descend to the river and climb up the other side to get there! Leaving the Ghandruk village, the trek descends steeply to the banks of Modi River. Crossing the suspension bridge, we trek up a stone staircase to Landruk village, enjoying the views of the Annapurna Range and passing under the cliffs where honey hunters climb up on the ropes to harvest the wild bee honey. Lunch will be ready as we arrive at our lodge. After lunch, you may either rest and enjoy the spectacular views of the mountains, or go on a sightseeing tour in the village with your guide.


Day 7 :

Gentle Walk To Gurung Or Mala Lodge At Majgaon; Afternoon Free To Relax In The Garden Or Explore The Village
Location:
Gurung Cottage
Accommodation:
Lodge
Accommodation Name:
Ker and Downey Lodge (Gurung / Mala Lodge, 1,400m)
Meals Included:
Breakfast, Lunch, Dinner
You will start your trek passing through the village and farmlands with views of the Annapurnas behind. Today is an easier walk to Majgaon with no steep up or downhills. We will arrive at the lodge by lunchtime and in the afternoon you can enjoy the views of the mountains from your room itself or spend time in the garden. There is also the option of a guided village walk


Day 8 :

Trek Through Sub-Tropical Forests To Basanta Lodge At Dhampus, With Spectacular Views Of The Entire Annapurna Range
Location:
Dhampus
Accommodation:
Lodge, Lodge
Accommodation Name:
Ker and Downey Lodge (Basanta Lodge, 1,525m)
Meals Included:
Breakfast, Lunch, Dinner
Starting your trek today, you continue trekking towards Patlekhet, a small village on the way towards Pothana. Pothana is used by Tibetan traders to sell their souvenirs and gifts to the tourists trekking up and down the trails to Annapurna Base Camp. As you reach your lodge in Dhampus, you get spectacular views of the entire Annapurna range. Once at the lodge you will be served hot lunch after which you can take a short walk into Dhampus village.


Day 9 :

Short Descent Through Wooded Hillside To Phedi; Transfer To Pokhara; Free Afternoon (Optional Boat Trip On Lake Phewa)
Location:
Phedi, Pokhara
Accommodation:
Resort
Accommodation Name:
Atithi Resort & Spa, Pokhara (4 star)
Meals Included:
Breakfast
After breakfast, we depart along the ridge & descend on a stone staircase through the wooded hillside and terraced farmland to the valley floor. Trek time 1.5-2hrs hours. We then transfer by vehicle to the hotel in Pokhara (1hr). The afternoon is free to explore Pokhara. You may want to visit the interesting mountain museum or you can go for a boat ride on Phewa Lake or hire a bike for a cycle along the lakeshore. Or you may simply want to relax by the hotel pool or wander along the lakeside browsing in the shops. Your leader will brief you on the various options available.



Day 10 :

Drive To Barahi Jungle Lodge In Chitwan; Take An Ox-Cart Ride Around Tharu Village And Witness A Traditional Tharu Dance
Location:
Mugling
Accommodation:
Lodge, Lodge
Accommodation Name:
Barahi Jungle Lodge, Chitwan (5 star)
Meals Included:
Breakfast, Lunch, Dinner
We drive from Pokhara to Barahi Jungle Lodge in Chitwan, which will take about 4 hours. On a clear day look to the left as we leave Pokhara for the magnificent panoramic views of the Annapurna Range. The road takes us back to Mugling, from where we turn south to the lowlands of Nepal and our jungle lodge in Chitwan. We should arrive by lunchtime and after lunch, we'll meet our naturalist guide who will go over the programme of activities. In the late afternoon, we take an ox-cart ride around Tharu village and witness a traditional Tharu dance.

The knowledgeable staff from the lodge will accompany us on all the excursions.


Day 11 :

Explore The Jungle On A Bird-Watching Walk, Take A Dugout Canoe Ride Down The Rapti River In Search Of Crocodiles And Try To Spot Rhinoceroses On A Jeep Safari
Location:
Rapti River
Accommodation:
Lodge
Accommodation Name:
Barahi Jungle Lodge, Chitwan (5 star)
Meals Included:
Breakfast, Lunch, Dinner
Activities may be offered in a different order but usually, the programme will include an early morning bird-watching walk before breakfast. Before lunch there will be another activity, normally a trip along the Rapti River in a dugout canoe, looking for crocodiles and observing the many birds. Then before dinner, we set out on a jeep safari. If we are lucky we may encounter the Indian one-horned rhinoceros or some of the several species of deer found here.


Day 12 :

Morning Flight To Kathmandu; Free Time
Location:
Bharatpur
Accommodation:
Hotel
Accommodation Name:
Hotel Yak & Yeti, Kathmandu (5 star)
Meals Included:
Breakfast
For those who wish, there is a bird-watching walk early this morning. We then transfer to Bharatpur airport and catch a flight to Kathmandu.


Location:
Kathmandu
Meals Included:
Breakfast
The trip finishes after breakfast. Those travelling on the group flights to
London will transfer to the airport for their flight back to the UK.

What's Included
All breakfasts, 8 lunches and 7 dinners

Happy hour drinks in the Ker & Downey lodges

All accommodation

Tips for local staff

Named tour leader, chosen for their expertise and great customer feedback

All transport and listed activities

One internal flight

Flights from London (if booking incl. flights)

Arrival and departure transfers

Trek Pack including a daypack, walking stick, rain poncho, sun hat and scarf
What's Not Included
Tip for the tour leader

Travel Insurance

Single accommodation (available on request)

Visas or vaccinations
Food
All breakfasts, 8 lunches and 7 dinners are included.The Ker and Downey lodges and Barahi Jungle Lodge in Chitwan are on a full board basis. There is a daily happy hour in the K&D lodges, serving complimentary drinks. Accommodation in Kathmandu and Pokhara is on a bed and breakfast basis. Please allow between £20 and £25 (approx. US$30-40) per day for meals not included in Kathmandu and Pokhara.Dhal bhat is the staple diet in Nepal and comes in many different forms but generally comprises some curried lentil dhal and meat or vegetables, some rice, and a pickle/chutney. Another popular snack is momos; a type of Nepalese dumpling, fried or steamed, filled with meat or vegetables.Meals in the lodges range from traditional Nepalese food to Chinese and western dishes. The food served is of good quality and is usually buffet style. You will be provided with safe drinking water whilst on trek.
Accommodation
Unwind at the end of each day in our expertly curated, handpicked accommodations on this Premium Adventure. Each property has been chosen for its excellent location, its comfort and style, and its unique characteristics.

Kathmandu: Hotel Yak & Yeti

[caption id="attachment_79045" align="alignnone" width="300"] Hotel Yak & Yeti, Kathmandu[/caption]

Five-star, heritage hotel
Centrally located in Thamel, a hot-spot of activity, offering great connectivity with local attractions including Hanuman Dhoka, Durbar Square and Thamel Chowk
30 minutes from Kathmandu International Airport
Facilities include a gym, garden pool, spa & wellness centre
Multiple restaurants catering to local and international cuisine

Pokhara: Atithi Resort & Spa


[caption id="attachment_116289" align="alignnone" width="373"] Atithi Resort & Spa, Pokhara[/caption]

Located a 5-minute walk from Lake Fewa
Outdoor swimming pool and a rejuvenating spa
Mountain views

Annapurna trekking: Mountain Lodges of Nepal luxury lodges

[caption id="attachment_116311" align="alignnone" width="337"] Dhampus Lodge[/caption]

Premium lodges situated in the Annapurna foothills with magnificent mountain views – the best accommodation available in the area
Interior décor is in a traditional Nepalese Gurung-style, local to the region
Welcome drink on arrival
Down jackets, warm hats and gloves and room crocs are provided in each bedroom

Chitwan: Barahi Jungle Lodge

[caption id="attachment_119991" align="alignnone" width="329"] Barahi Lodge, Chitwan[/caption]

Standalone river-facing boutique eco-cottages with private balconies overlooking Chitwan National Park
Swimming pool overlooking the Rapti River and Tiger's Den Bar – perfect for 'sundowners'
Rated 'Outstanding' by TOFT (a certification in recognition of the lodge's nature and eco-friendly practices).

The accommodation shown has been booked and agreed in advance; however, we may need to make changes to a property of a similar or higher standard after you have booked. We endeavour to inform you of any changes in advance, which could, on rare occasions, be at late notice.

Extra accommodation

If you require any additional accommodation in Kathmandu either before or after the tour, we can book this for you (subject to availability), please enquire with your sales representative.

Single accommodation

If you prefer your own room, we offer a single supplement for the hotel nights in Kathmandu, Pokhara and Chitwan (subject to availability). While in the Mountain Lodges, single rooms are very limited and cannot be guaranteed so these have not been included in the single supplement price paid in advance. However, if a single room is available on arrival to a Mountain Lodge, you can pay locally on a day-by-day basis.
Check out our Q&As
Is there a supplement for solo travellers?

If you would like to be paired with a tour member of the same gender, there is no additional charge. A single supplement can be requested if you would like your own room.

Can you assist with pre or post tour accommodation?

We are happy to assist with pre and post tour accommodation. Please enquire for detailed information.

Are the local guides on the tour English speaking?

Yes, our local guides are English speaking.

Who is Exodus Travels?

At Exodus Travels, we've been exploring the world for nearly 50 years. From Walking and Trekking, Cultural and Cycling, Responsible Wildlife, to Polar and our new Premium Adventures, we are proud to offer award-winning small group and self-guided tours to 100+ countries worldwide.

Are flights included in this tour?

International flights are not included with this tour.
Are children permitted to take part in the tour?

The minimum age for this tour is 16 years old.

What happens if I need to change my holiday date once I've booked?

If you wish to make any changes to your booking, particularly if you need to alter any flights booked through us, please let us know as soon as possible. There is a booking or flight amendment fee of £40 per change and flight amendments often incur extra airline costs depending on the changes to be made and if the ticket has been issued or not.

How long has the tour company been trading?

Exodus has been trading since 1974

What documents will I receive before I travel?

Your final joining instructions and flight details, if booked with us, will then be sent out 2 to 3 weeks before departure. If you would like a hard copy posted, or if you require these any earlier, please contact the customer operations team. We advise that if you are booking connecting travel before receiving these, please ensure you leave plenty of time.

Do you operate a "single share" option and how does it work?

Travellers are welcome to opt to share a room with a tour member of the same gender for no additional charge. If you'd like your own room, we can request a single supplement so that you will have your own room throughout.

Can I join the tour once it has departed?

You are welcome to meet the group after the tour has departed however there is no reduction in rate for joining a tour after the departure date.
Reviews from Travellers on this Tour
An amazing holiday!
A holiday of contrasts -the hubbub of Kathmandu, the magnificence of the Annapurna range and the luxury of the Bahari Jungle Lodge in Chitwan. We had a superb tour guide in Kathmandu who was happy to answer any question and who took us to see the living goddess! Our original hotel was very average but we were moved to the much more upmarket Yak and Yeti for the final night, which was the original hotel when we booked the trip and is now advertised for future trips. I really enjoyed the trekking experience, the scenery was spectacular, the lodges were very comfortable, the food really good and the staff excellent. Our guide and porters were amazing, it was very sad bidding them farewell. Chitwan was a complete contrast, much warmer, very luxurious. We were kept busy there. The jeep safari was my favourite, fortunately we did this early in the morning when the park inhabitants are more lively. To get to the National Park we simply took a boat across the river from the lodge, so easy! We didn't see a tiger but saw several one horned rhinos, including a mother and calf whom we observed for some time. It would have been great to have one more day there to chill, to enjoy a dip in the pool, to sit on our balcony of our lovely 'hut'. Our last full day, the 'approximately 5 hours' on a coach turned into about 8 hours on a holiday, a day when traffic is much quieter than normal. We did not arrive in Kathmandu until about 4pm, it left little time to do anything before our farewell meal. I would have preferred to pay a little extra to fly! It was a disappointing end to our holiday.
Dates & Availability
Instant Booking Available
Tuesday - Sunday
Apr 02, 2024 - Apr 14, 2024
Instant Booking Available
Tuesday - Sunday
Oct 15, 2024 - Oct 27, 2024
Instant Booking Available
Tuesday - Sunday
Nov 12, 2024 - Nov 24, 2024
Instant Booking Available
Tuesday - Sunday
Nov 19, 2024 - Dec 01, 2024
Instant Booking Available
Tuesday - Sunday
Dec 03, 2024 - Dec 15, 2024
Book with Confidence
Transfer as credit to Future Tours

Exodus allows you to transfer existing payments to a future tour to avoid cancellation fees if you can't travel and inform exodus, 43 days before departure.

Low Deposit

Exodus requires a minimum deposit of 25% or the full booking value, whichever is less, with the final balance not due until 90 days before departure.

Cancellation Policy

We don't charge a cancellation fee, here is a summary of exodus charges.

Up to 42 days before tour starts: Forfeit 100% of deposit.

At 20 days before tour starts: Forfeit 100% of booking price.
Why book with tourhub?
Safe & Secure
Your money is protected in an external trust until you travel.
---
100% Guaranteed Refunds if your trip is cancelled.
---
The safest way to make overseas, multi-currency payments.
Guaranteed Best Value
Industry leading discounts, we won't be beaten on price.
---
No cancellation or amendment fees from tourhub.
(Operator terms may apply)
Expert Knowledge
Reliable & unbiased advice from travel experts.
---
Direct contact with the tour operator via our messaging service.
---
Inspiration & advice from a community of 6000+ real travellers, influencers & content creators.
Trusted Service
Official partners & licensed agents of 1000+ tour operators worldwide.
---
Don't just take our word for it...
"Tourhub: Friendliness, Professionalism & Integrity I would happily give tourhub a 6* review if I could..."
Similar Tours
Travel Guru Features
Our Reviews