Atlas Descent
8 Days Starting and ending in Agadir
Visiting: Agadir, Tafraoute, Ait Mansour, Tizi Mlil, Tiznit, Tikki, Imouzzer Ida Ou Tanane
Tour operator:
Physical rating:
Challenging
Special diets catered:
Please inform Exodus of specific dietary requirements
Tour operated in:
English
Trip Styles:
Interests:
Tour Overview
Over the years we've ridden every trail through the Anti Atlas Mountains in order to create the best off road cycling tour. This trip has everything from fast singletrack through palm trees, to ancient hairpinned muleteer's routes and remote, rocky jeep tracks. As well as the amazing trails, there is epic scenery, delicious food and one of the warmest welcomes in North Africa. On this tour you will pass through areas untouched by mass tourism, but also get a chance to interact with local people and really experience the culture of some of the indigenous Berber people who populate this area.
Highlights
Ride remote and rugged mountain biking trails 

Stay in traditional Moroccan Riads

Immerse yourself in vast mountain scenery 
Itinerary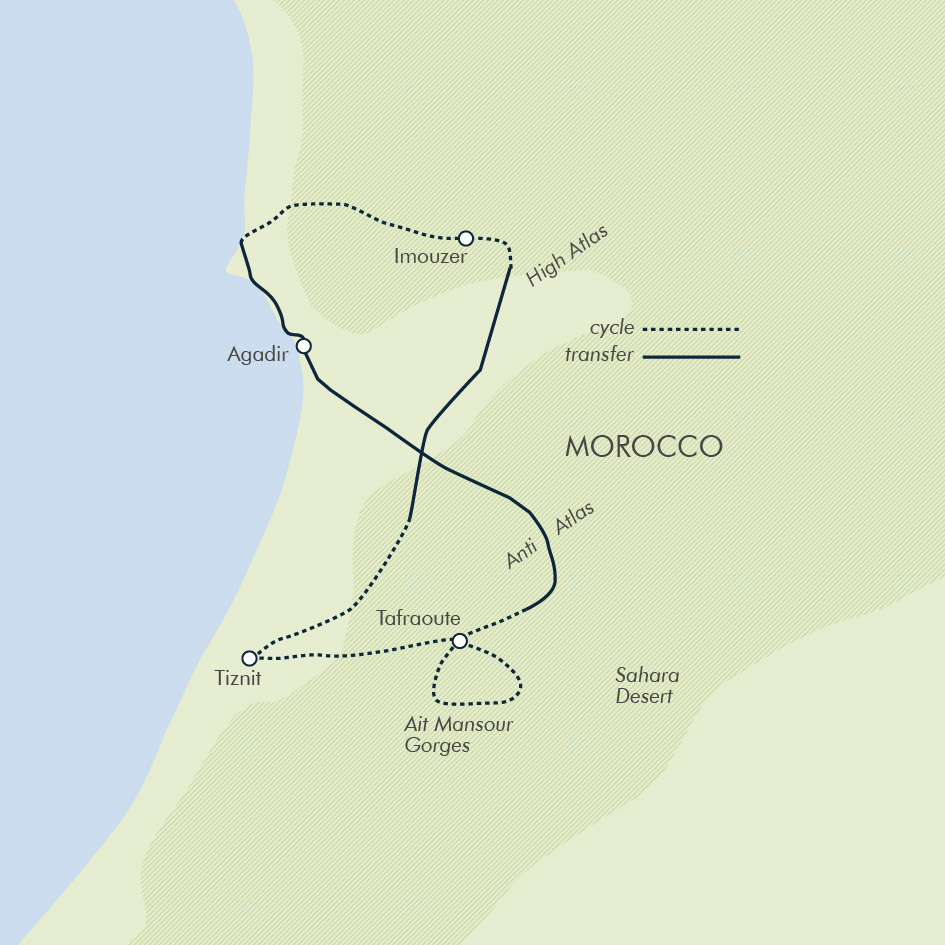 Expand All
Location:
Agadir
Accommodation:
Hotel
Accommodation Name:
Tulip Inn Oasis or similar – Agadir
Meals Included:
No Meals
The tour starts at our hotel in Agadir. Depending on arrival time you can go
for a wander around the town, spend some time relaxing by the hotel pool or
take a walk down to the beach which is just 5 minutes from the hotel.  The
trip briefing will either take place this evening or on the morning of Day 2,
depending on arrivals times of all clients.


Day 2 :

Transfer To Tafraoute In The Heart Of The Anti Atlas Mountains. Introductory Ride Through A Lunar Landscape, Passing The Famous Painted Blue Rocks.
Location:
Tafraoute
Accommodation:
Hotel
Accommodation Name:
Auberge Chez Amaliya or similar – Tafraoute
Meals Included:
Breakfast, Lunch, Dinner
Setting off from Agadir in our four wheel drive vehicles, we drive across the
plains of the Souss Valley. We climb into the heart of the Anti Atlas range,
reaching the high mountain Pass of Tizi Mlil, above the old garrison town of
Tafraoute (3 hour transfer). From here we get on our bikes and descend on a
rocky, vehicle width track down to Aguerd Oudad where we meet the vehicles
before heading on to the gritty pistes through the extraordinary boulder
strewn moonscape to the famous painted blue rocks. Following non-technical
gravel tracks across the high altitude plains, we return to Tafraoute on a
mix of good tarmac and sections of sweeping singletrack through the beautiful
palmeries. Today's ride is a relatively easy introduction to prepare us for
the days to come.


Day 3 :

Spectacular Ride Through Impressive Gorges And Lush Palmeries Around Ait Mansour. A Rough And Rocky Day With 35Km Descent And Optional Tarmac Climb Towards The End.
Location:
Ait Mansour
Accommodation:
Hotel
Accommodation Name:
Auberge Chez Amalia or similar – Tafraoute
Meals Included:
Breakfast, Lunch, Dinner
Today's ride follows a spectacular route through impressive gorges and lush
palmeries around Ait Mansour. After a short transfer high into the mountains
behind Tafraoute to Tizi Tasrite, we begin our 75km ride descending through
the landscape that contrasts so dramatically with what we saw yesterday. The
scenery is breathtaking as the ride descends through impressive gorges,
following dry river beds in places and passing through small berber villages.
25km is off road and 50km is on tarmac, including some massive downhill
sections (and one long optional climb on tarmac) we return to the hotel on
bikes. Back in Tafraoute we can relax by the hotel bar and pool or go for a
walk into town where we can visit a local carpet shop before dinner at the
hotel.


Day 4 :

Transfer To Tizi Mlil Pass For An Exhilarating Descent And A Great Ride Back To Tafraoute.
Location:
Tizi Mlil, Tafraoute
Accommodation:
Hotel
Accommodation Name:
Auberge Chez Amalia or similar – Tafraoute
Meals Included:
Breakfast, Lunch, Dinner
A short transfer takes us back to the high pass of Tizi Mlil (start of day 2
ride). From here we take a 20km high mountain trail above Tafraoute leading
to Tizi Tasrite. Stunning views of our previous ride are clearly visible far
below. Before the village of Tasrite there is a short optional single track
section which leads onto the start of a superb 10km switchback off road
descent. The first 4km of the trail are rough and rocky (and ridden without a
support vehicle), then the trail gets smoother and the flowing gritty pistes
return. After lunch we take a short section of tarmac to the village of Fisli
and then ride on an old piste over the plains back to Tafraoute where we re
join our single track through palmeries back to the hotel. Once back in
Tafraoute there will be time to visit the town or relax by the hotel pool.


Day 5 :

Ride Down To The Old Walled Town Of Tiznit. Optional Visit To Silver Markets And Traditional Hamman.
Location:
Tiznit
Accommodation:
Hotel
Accommodation Name:
Hotel Idou Tiznit or similar – Tiznit
Meals Included:
Breakfast, Lunch, Dinner
We drive for about an hour southwest from Tafraoute to the start of today's
ride. After a short off road climb to a high col, there is a choice of a
steep technical singletrack descent (followed by a short climb), or a more
leisurely piste trail with stunning views. We then take a superb switchback
piste trail, nearly 20km down off the mountain and pass a number of
traditional villages en route to Anezi. A short tarmac stretch offers a break
from the stony terrain, but the piste soon returns winding its way through a
scenic valley and crossing riverbeds. At the end of the ride, we transfer
approx 30 minutes to Tiznit, an old walled medina town famous for its silver
markets. There is a traditional hammam (steam bath) here that we can visit in
the late afternoon, explore the town or you can relax by the hotel pool.
Day 6 :

Drive Into High Atlas Mountains Where The Landscape Is Very Different; Ride Through Pine Forests And Mountain Villages Of The Tiqqi Gorge To Imouzzer.
Location:
Tikki
Accommodation:
Hotel
Accommodation Name:
Hotel des Cascades Ecolodge or similar – Immouzer
Meals Included:
Breakfast, Lunch, Dinner, breakfastlunchdinner
After an early breakfast and morning transfer (approx. 3.5 hours) we arrive
at the small village of Tiqqi in the foothills of the High Atlas. The
landscape here is very different, with pine and cedar forests and remote
mountainside villages dominating the area. Initially, our track leads past
several untouched Berber villages. Mud houses are perched precariously under
cliff edges, with locals looking on as we cycle through. After lunch the
track becomes slightly rockier as we come to a spectacular gorge, there is
time to admire the views and contemplate the two afternoon climbs, before our
final fast flowing cross-country ride down to tarmac. Rejoining the tarmac we
cycle downhill for the last few kilometres to our hotel in Immouzer.


Day 7 :

The Ultimate Off Road Finale, Through Remote Villages Down To The Atlantic Ocean For A Swim; Drive To Agadir.
Location:
Imouzzer Ida Ou Tanane, Agadir
Accommodation:
Hotel
Accommodation Name:
Tulip Inn Oasis or similar– Agadir
Meals Included:
Breakfast, Lunch
The ultimate off road trail and a fitting finale to this biking adventure!
Riding directly from the hotel, we take the short scenic tarmac road through
the village of Immouzer, before ascending a rough track which gradually
climbs for 6km onto a high mountain pass. From here the blast down to the
coast begins with a spectacular 40km mountain descent. The trail is rough and
rocky in places as it contours and gradually descends, offering amazing views
over the mountains and to the coastline. Poor weather may make this
particular route impassable, in which case we will make our way out of the
mountains through the Paradise Valley. This route follows a spectacular
winding tarmac road, dropping from the ridges around Immouzer, deep into a
narrow gorge, abundant with palm trees and small oases. After a swim or
stroll on the beach, we load the bikes onto the support vehicles for the last
drive into Agadir (approx. 30 minutes), arriving in time for an optional,
relaxing Berber massage and a farewell dinner.

Location:
Agadir
Meals Included:
Breakfast
After breakfast the trip ends in Agadir.
**


What's Included
Local bike hire

Arrival & departure transfers

All transport and listed activities

 7 breakfasts, 6 lunches, 5 dinners

All accommodation (see below)

Tour leader throughout

Flights from London (if booking incl. flights)
What's Not Included
Visas or vaccinations

Travel insurance

Single accommodation (available on request)
Food
All breakfasts, 6 lunches and 5 dinners are included. Moroccan food is excellent, though not particularly varied. Breakfasts usually consist of bread, croissants and jam with tea or coffee and freshly squeezed orange juice. Lunch will be prepared by the drivers and served on the bonnet of a 4x4, it normally consists of pasta, rice, bread, salad, tuna and Nutella for desert. The meal on the last night will be eaten out in Agadir, there is a good selection of restaurants including French, Italian and of course Moroccan. The guide can recommend the best ones, dinner will normally cost between 200 – 300 Dirhams per person (about 15 - £20). The hotels in Tafraoute, immouzer and Agadir all have bars serving alcohol, a beer will cost about 20 Dirhams (£1.50) and a bottle of wine will be around 120 Dirhams (£9).
Accommodation
We stay in a combination of three- and four-star hotels (local rating) throughout this trip, each with a swimming pool (remember to bring your swimwear). Below are the accommodations we typically use.

Agadir: Oasis Hotel and Spa (nights 1 and 7)



We begin and end our adventure at the Oasis in Agadir, where there's a sandy beach and promenade within walking distance. The city centre is close too, for restaurants, cafes and markets. The hotel itself has a pool area with loungers, a bar, and a gym with plenty of machines.

Tafraoute: Hotel Les Amandiers (nights 2-4)



Perched on a rocky hillock, Les Amandiers overlooks the valley and is surrounded by pink granite mountains. The property has a pool with mountain views and a lounge where you can relax.

Tiznit: Hotel Idou Tiznit (night 5)



We will have clocked up plenty of time on the saddle when we reach Tiznit, so Hotel Idou Tiznit provides a welcome space to relax. There's a swimming pool (with a poolside snack bar) and a cocktail bar, where the group can gather for a drink or two.

Imouzzer: Hotel des Cascades Ecolodge

After our day of riding, Hotel des Cascades is the perfect place to unwind. There's an outdoor pool for a post-cycle dip and sun loungers if you just want to relax. Best of all, however, might be the views, which stretch over the surrounding Atlas peaks.
Check out our Q&As
Who is Exodus Travels?

At Exodus Travels, we've been exploring the world for nearly 50 years. From Walking and Trekking, Cultural and Cycling, Responsible Wildlife, to Polar and our new Premium Adventures, we are proud to offer award-winning small group and self-guided tours to 100+ countries worldwide.

Is there a supplement for solo travellers?

If you would like to be paired with a tour member of the same gender, there is no additional charge. A single supplement can be requested if you would like your own room.

Are flights included in this tour?

International flights are not included with this tour.

Are children permitted to take part in the tour?

The minimum age for this tour is 16 years old.

Are the local guides on the tour English speaking?

Yes, our local guides are English speaking.
Can you assist with pre or post tour accommodation?

We are happy to assist with pre and post tour accommodation. Please enquire for detailed information.

What happens if I need to change my holiday date once I've booked?

If you wish to make any changes to your booking, particularly if you need to alter any flights booked through us, please let us know as soon as possible. There is a booking or flight amendment fee of £40 per change and flight amendments often incur extra airline costs depending on the changes to be made and if the ticket has been issued or not.

How long has the tour company been trading?

Exodus has been trading since 1974

What documents will I receive before I travel?

Your final joining instructions and flight details, if booked with us, will then be sent out 2 to 3 weeks before departure. If you would like a hard copy posted, or if you require these any earlier, please contact the customer operations team. We advise that if you are booking connecting travel before receiving these, please ensure you leave plenty of time.

Do you operate a "single share" option and how does it work?

Travellers are welcome to opt to share a room with a tour member of the same gender for no additional charge. If you'd like your own room, we can request a single supplement so that you will have your own room throughout.

Can I join the tour once it has departed?

You are welcome to meet the group after the tour has departed however there is no reduction in rate for joining a tour after the departure date.
Reviews from Travellers on this Tour
Never gets old
12 years from first doing the Atlas descent in 2007 I am embarked for a third journey on this wonderful expedition. The variety of scenery and landscapes combined with the off-road journey makes this a wonderful trip
ATLAS DESCENT
One of the best short trips i have been on.Very well organised and run right from the start.Support crew took care of everything for you and nothing was a problem for them.Bikes were great and needed to be.
Excellent trip, with spills and thrills!
I was new to mountain biking and saw that this trip was challenging, however, I foolishly assumed it meant physical only. It hadn't really occurred to me that the biking itself might be technical (I know, naive!) The first two days saw we go over the top of my handlebars three times and it could be hairy at times but by day three, it was the descents were less rocky and I was getting a feel of the bike. My enthusiasm wasn't dented though. Like others in the group we walked a few short challenging parts and cycled everything else and it was a lot of fun. The ascents (which is what I had assumed the Challenging related to before I went) were frequent enough to be great exercise and to not make it all a gravity based ride but not so frequent as to make it a slog. I enjoyed these ascents overall as they always give me a sense of achievement. We had 10 in the group which was a great number. Small enough to know everyone and big enough to have variety. Great people and all decent cyclists without any being killers! The guides were exceptional - kind, funny, warm, attentive and very professional. It was always a relief to arrive at lunch after a long ride and see their tale stacked with grub. A couple people were on the trip for the second time and whilst I doubt I would do any trip two times, I can see that this is one that would lend itself to this as it is more about the cycling and not visiting well-worn sites and places to but souvenirs you'll never need! Great trip! Thank you everyone involved.
Atlas Descent
A fantastic way of getting to know Morocco from a saddle. The holiday was far better than anticipated and has reignited my sense of adventure.
ATLAS DESCENT
A brilliant trip with a brilliant leader - the group got on well and the weather held up except for one day.  Awesome scenery and some fantastic trails :)
ATLAS DESCENT
A fantastic break with lots of opportunities to see the Morocco countryside. The mountain biking was always fun, sometimes technical and while mostly downhill it was still a good test of fitness. 
ATLAS DESCENT
An excellent holiday.  A great mix of technical tracks, stunning views and chances to meet local people.
ATLAS DESCENT
Get in some good hill climbing practice before you go as some of the climbs are extremely tough and make sure you are not afraid of heights as some of the sheer drops off of tracks, piste and road went down vertically for hundreds of metres !
Atlas Descent--fun off-road riding with moments of terror
Ditto other reviews--lots of fun double track and old roads, beautiful views, lots of camaraderie, many challenges. But I'd like to make others aware that I found some of the technical sections beyond my abilities. I realize that "technical" is a subjective term but I found the riding far more technical than I had expected. Luckily I was able to walk the shorter ultra-technical sections, which were either very steep with large, loose rocks and tight turns or short sections with rocks sticking up 6-8 inches. The others in my group (of ages ranging from 29 to 65) were able to ride these sections so I was definitely the weakest rider--the reviewer who said this is serious mountain biking nailed it. But I just suggest that if anyone is concerned about the difficulty of this tour they contact Exodus and ask detailed questions about the trails. I'm still very glad I went and but did have some days of pure terror mixed with incredible fun.
Dates & Availability
Instant Booking Available
Saturday - Saturday
Apr 13, 2024 - Apr 20, 2024
Instant Booking Available
Saturday - Saturday
Oct 05, 2024 - Oct 12, 2024
Instant Booking Available
Saturday - Saturday
Oct 12, 2024 - Oct 19, 2024
Instant Booking Available
Saturday - Saturday
Nov 09, 2024 - Nov 16, 2024
Instant Booking Available
Saturday - Saturday
Nov 23, 2024 - Nov 30, 2024
Instant Booking Available
Saturday - Saturday
Dec 21, 2024 - Dec 28, 2024
Book with Confidence
Transfer as credit to Future Tours

Exodus allows you to transfer existing payments to a future tour to avoid cancellation fees if you can't travel and inform exodus, 43 days before departure.

Low Deposit

Exodus requires a minimum deposit of 25% or the full booking value, whichever is less, with the final balance not due until 90 days before departure.

Cancellation Policy

We don't charge a cancellation fee, here is a summary of exodus charges.

Up to 42 days before tour starts: Forfeit 100% of deposit.

At 20 days before tour starts: Forfeit 100% of booking price.
Why book with tourhub?
Safe & Secure
Your money is protected in an external trust until you travel.
---
100% Guaranteed Refunds if your trip is cancelled.
---
The safest way to make overseas, multi-currency payments.
Guaranteed Best Value
Industry leading discounts, we won't be beaten on price.
---
No cancellation or amendment fees from tourhub.
(Operator terms may apply)
Expert Knowledge
Reliable & unbiased advice from travel experts.
---
Direct contact with the tour operator via our messaging service.
---
Inspiration & advice from a community of 6000+ real travellers, influencers & content creators.
Trusted Service
Official partners & licensed agents of 1000+ tour operators worldwide.
---
Don't just take our word for it...
"Tourhub: Friendliness, Professionalism & Integrity I would happily give tourhub a 6* review if I could..."
Similar Tours
Travel Guru Features
Our Reviews