Canada's Remote Arctic: Northwest Passage to Ellesmere and Axel Heiberg Islands
Canada's Remote Arctic: Northwest Passage to Ellesmere and Axel Heiberg Islands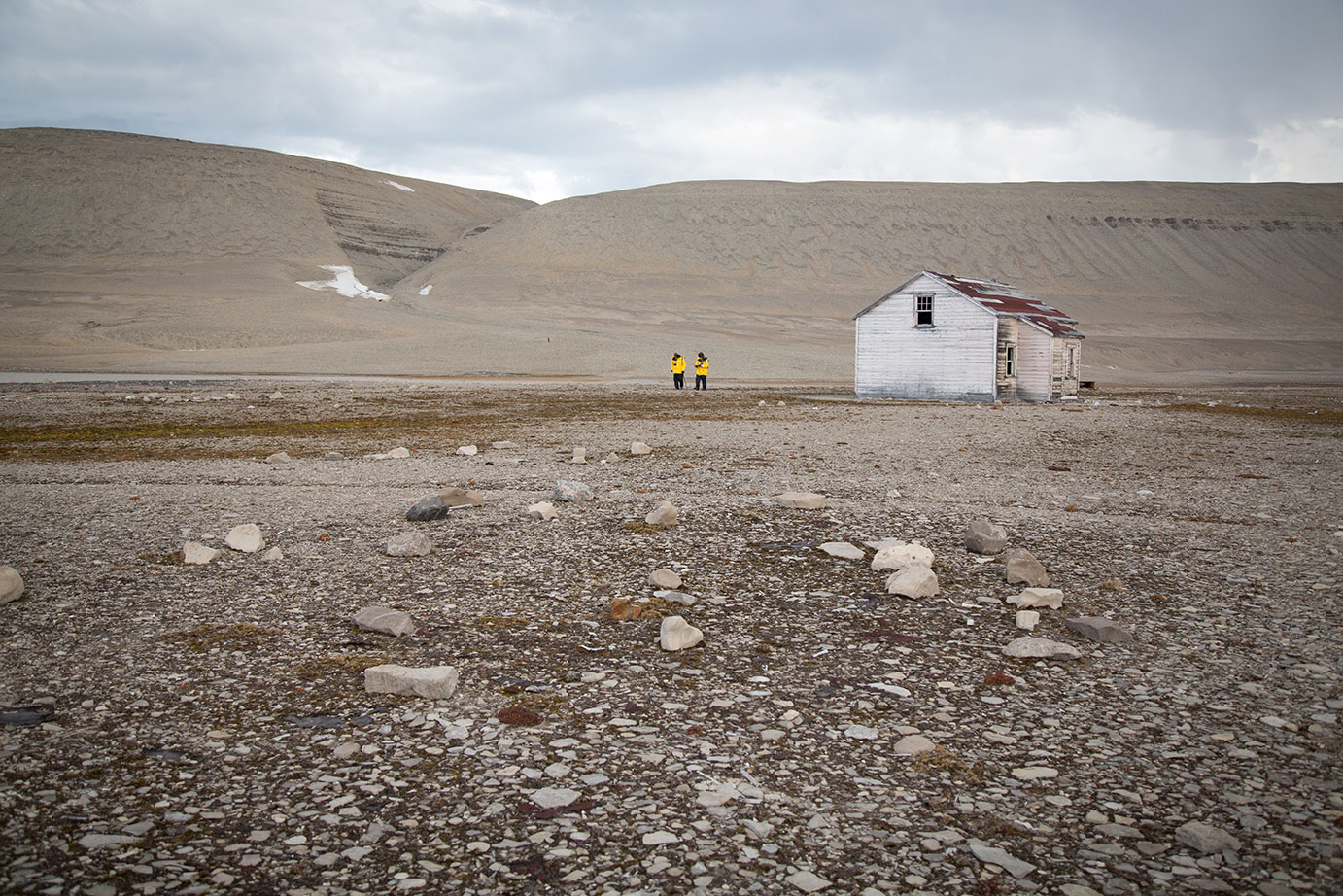 Canada's Remote Arctic: Northwest Passage to Ellesmere and Axel Heiberg Islands
12 Days Starting and ending in Toronto
Visiting: Toronto, Resolute, Canadian High Arctic Reseach Station, Hell Gate, Grise Fiord, Coburg Island, Devon Island, Beechey Island, Croker Bay, ሀመር።
Tour operator:
Physical rating:
Leisurely
Special diets catered:
Please inform Exodus of specific dietary requirements
Tour operated in:
English
Trip Styles:
Interests:
Activities:
Tour Overview
Here, at the top of the world, nature has created unique wonders in astonishing variety. Our new expedition vessel Ultramarine, equipped with two twin-engine helicopters and 20 quick-launching Zodiacs, enables you to explore this breathtaking environment from brand new perspectives. You'll experience the same sense of wonder felt by early explorers as they navigated the region's formidable bays, inlets and channels.On this exciting itinerary, we follow the natural guides of sea and ice to showcase the region's cultural, historic and geographic treasures, aiming to approach the farthest stretches of this rugged, rarely visited landscape. Ultramarine's unprecedented range of adventure options, including activities such as helicopter flightseeing, gives you an unrivalled Polar experience. You'll be able to view the magnificent wildlife that make their home in this forbidding region, including Polar bears, whales, seals, walrus, Musk ox and possibly the elusive Arctic wolf. From soaring cli­ffs to mummified forests, spectacular glacial formations to stunning alpine vistas, expansive waterways to sheltered shores, Canada's Remote Arctic provides the definitive experience of a mysterious, magical region few ever get to see. . .
Highlights
Learn about indigenous culture from Inuit guides onboard and ashore

Search for iconic Arctic wildlife, such as Polar bears and Musk ox

Channel your inner explorer as we set out to reach Canada's most northerly islands: Axel Heiberg and Ellesmere Island

Travel in a small expedition vessel

Enjoy flightseeing and heli landings with Ultramarine's two onboard helicopters

Accompanied by extremely qualified Expedition Staff

Zodiac cruise along the face of an active glacier
Itinerary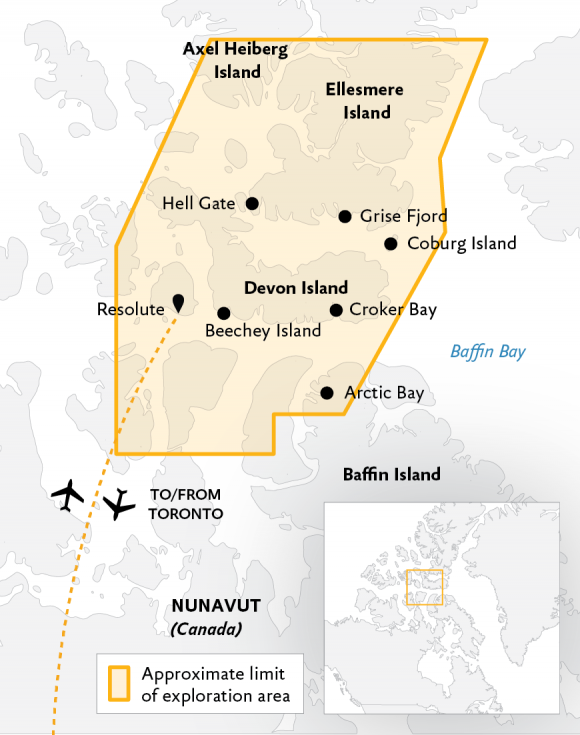 Expand All
Day 1 :

Start Toronto, Canada
Location:
Toronto
Accommodation:
Hotel
Meals Included:
No Meals
Your Arctic expedition begins in Toronto. Explore this vibrant city on your
own before spending the night at your well-appointed hotel.


Day 2 :

Fly To Resolute And Embark
Location:
Resolute
Meals Included:
Breakfast, Dinner
This morning, board your charter flight to Resolute, Nuvanut. Upon arrival,
you may have a chance to check out some of the town's sites before being
transferred to your ship via Zodiac or helicopter (depending on ship location
and weather conditions).


Day 3

-

10 : Exploring Canada's High Arctic
Location:
Canadian High Arctic Reseach Station
Meals Included:
Breakfast, Lunch, Dinner
Cruising around the remote islands of the Canadian High Arctic aboard
Ultramarine, the newest ship in our fleet, you'll navigate the same icy
inlets, channels and bays that fascinated legendary explorers of long ago.
Designed to give Polar adventurers unprecedented access to the hardest-
to-reach places on the planet—and equipped with two onboard twin- engine
helicopters for unparalleled access to areas only Quark Expeditions can bring
you—this one-of-a-kind ship, in its inaugural year, will take you beyond
the familiar in Polar exploration. Throughout your journey, your Expedition
Team will keep an eye toward immersing you in the best the Arctic has to
offer, including reaching Canada's most northerly islands: Axel Heiberg
Island and the rarely visited Ellesmere Island, at the top of the world.

Remember that no two Polar voyages are alike, since each expedition presents
new opportunities and different weather and ice conditions. While this voyage
has no fixed itinerary, our objective is to visit as many of the incredible
highlights this season has to offer, using the opportunities provided by the
weather and ice to give you the best experience. Each day, your highly
skilled Expedition Team will read the conditions and choose the best course
to set, but despite their extensive expertise in these areas, each visit
brings something new to discover. That said, our expeditions will have some
elements in common, including daily Zodiac cruising, land excursions, a
robust education program, a community visit and wildlife viewing
opportunities. And thanks to our onboard helicopters, you'll also discover
the ultimate Polar expedition experience: As stunning as Polar landscapes are
from your ship, they're even more striking from the air! Conditions
permitting, you'll enjoy ultra-immersive activities like flightseeing
(short sightseeing flights around your ship and surrounding areas) and
heli-landings (flying to places we could not otherwise access for shore
excursions), two breath-taking options that are unique to Ultramarine and
give you an awe-inspiring Polar experience like no other.

While this waterway is known to European cultures as the Northwest Passage,
this area has nurtured and sustained the Inuit and their predecessors who
have called these shores home for almost 5,000 years. Moving through these
remote landscapes you will be travelling through the ancestral homelands of
this ancient culture, illuminated in person by Inuit guides onboard and
ashore. Nunavut is an Inuktitut word meaning "our land" and the
Nunavummiut (the people of Nunavut) are renowned for their incredible
resourcefulness, hospitality, good humour, and a deep knowledge of the land
and animals that has allowed them to thrive in the far north for millennia.

Ultimately, your Expedition Team will keep its eye northward, hoping to
follow in the footsteps of the lucky few Polar adventurers who have transited
through the famous Hell Gate to reach the top of the world, the spectacular
Ellesmere Island. If conditions are right, the soaring, ominous snow-capped
peaks of this polar desert will come into focus as we approach. The
northernmost island in the Canadian Arctic Archipelago, Ellesmere is one of
the most remote places on the planet, a land of deep fjords, jagged mountains
and massive ice shelves. If we're fortunate enough to reach here, you will
be among the rarest of Polar explorers.

One of this expedition's objectives, weather and ice conditions allowing,
is to visit the famous fossil forest on Axel Heiberg Island, Canada's
second most northerly island. Dating back more than 30 million years, the
large mummified stumps were discovered in 1985 after erosion swept them
clean. The original forest that was here flourished, with some trees reaching
as high as 115 feet (35 metres) and growing for 500 to 1,000 years. Birders
will want to have their binoculars and cameras at the ready, as the island
also affords opportunities for sightings of Snow buntings, ptarmigans,
jaegers and Arctic terns, among others.

Wildlife sightings are almost guaranteed, as many of the areas we hope to
explore are home to a surprising number of birds and mammals that thrive in
this challenging environment. It's likely that you'll see Polar bears,
muskoxen and several bird species, such as gyrfalcons and dovekies (Little
auks). If you're lucky, you may even spot the elusive narwhal or Arctic
wolf, though sightings of these iconic creatures in the wild are rare, even
in these areas where we have the highest chances of encountering them.

Coburg Island, for instance, is a wildlife reserve for such birds as Snowy
owls and Peregrine falcons, while the impressive vertical cliffs of Prince
Leopold Island are dotted with nesting seabirds like Northern fulmars and
Black guillemots. The sheltered shores and steep cliffs of Arctic Bay, a
hamlet located off of Admiralty Inlet, provide an ideal nesting habitat for
various High Arctic birds such as Snow geese, Thick-billed murres
(Brünnich's guillemots) and kittiwakes. Occupied by Inuit and Thule
cultures for almost 5,000 years, this traditional community is also an ideal
spot to go ashore and learn more about the Inuit culture, sampling the local
cuisine and mingling with artists, perhaps picking up carvings or other
handicrafts as a memento of your Polar adventure.

Devon Island is another possible locale for wildlife encounters, as walrus,
Polar bears and Musk ox inhabit the area, which is also the location of the
remains of a Royal Canadian Mounted Police outpost, established at Dundas
Harbour in 1924 to curb foreign whaling and other activities. Nearby is a
small cemetery, one of Canada's most northerly, still maintained by the
RCMP to this day. Another exciting excursion your Expedition Team might
offer, conditions permitting, is the opportunity to fly up to explore the
Devon ice cap, one of the largest in the Canadian Arctic. History buffs will
also be intrigued by the chance to visit an abandoned Hudson's Bay Company
trading post at Fort Ross, at the southern end of Somerset Island, and pay
their respects to the ill-fated Franklin expedition of 1845–46 at the
gravesite of three crew members on Beechey Island, one of Canada's most
significant Arctic sites.

You may have the opportunity to cruise in a Zodiac along the face of an
active glacier near Croker Bay and possibly even witness the wonders of
calving ice, at a safe distance. Listen closely for the steady crackle and
loud roars as pieces of ice break off and crash into the water below.
You'll also want to be on the lookout for the walrus that are often seen in
the area.

There is no shortage of natural beauty, wildlife and history in Canada's
High Arctic. Each day, you'll discover something new and inspiring, whether
it is admiration of the tundra flora to survive the rugged environment, a
rare bird species soaring overhead, a Polar bear on the hunt in its natural
habitat, or the remains of a century-old hut.


Day 11 :

Disembark In Resolute, Fly To Toronto
Location:
Resolute
Meals Included:
Breakfast, Lunch, Dinner
After disembarking in Resolute, you'll be transferred to your charter
flight to Toronto, where you'll spend the night at your included hotel.


Location:
Toronto
Meals Included:
Breakfast
Today, make your way to the airport to catch your homeward flights, or spend
the day exploring this fascinating city.


What's Included
Meals
4 breakfasts, 2 lunches, 3 dinners.

We can include flights from the UK.  Please contact us for a quote.

All meals while on the ship

All accommodation

All transport and listed activities

Beer and house wine during dinner

Full complement of qualified Expedition Staff
What's Not Included
Mandatory transfer package (including return charter flights between Toronto and Resolute) which is £1700 per person (or equivalent in booking currency) paid on booking

Single accommodation (available on request)

Visas or vaccinations

Travel insurance
Accommodation
The Canada's Remote Arctic: Northwest Passage to Ellesmere and Axel Heiberg Islands is offered on the Ultramarine which is a Polar Adventure ship. Full board accommodation on the ship, generally on a twin share basis in a variety of cabin types, all with en suite facilities. Polar Adventure Ships These are small ice rated vessels well qualified for Polar waters. Intimate adventures are always more enjoyable with like-minded passengers and staff, so these voyages are for people who like flexible itineraries and plenty to keep them busy. Activities include frequent Zodiac excursions, trekking and many hours on deck in areas that other ships only dream about accessing. Food and staff are superb and every guest benefits from the technical advances of this superb fleet. Rest assured our Polar Adventure Ships enable any traveller to maximize their experience sensitively in the Poles.
Food
All meals while on the ship included. *Typical Meals* The ships galley offers good quality service and cuisine throughout, with excellent chefs preparing international menus including vegetarian dishes, accompanied by a wide variety of drinks from around the world on sale. *Breakfast:* Buffet style – unlimited tea and coffee, a selection of fruit juices, hot options including bacon and eggs or omelettes, a selection of bread and toast and jam/honey/marmalade, fruit and cereal. *Lunch:* Three course set meal or buffet, or the occasional BBQ. *Dinner:* Three or four courses with a starter of soup and/or salad, a choice of mains with at least one vegetarian option and a dessert, with tea and coffee. Vegetarians and vegans can be well catered for on this holiday - please do inform us before departure of any special dietary requests so that our local team can be well prepared.
Check out our Q&As
Are the local guides on the tour English speaking?

Are flights included in this tour?

We can include flights from the UK. Please contact us for a quote.

Are children permitted to take part in the tour?

18+ age people can go on this tour.

Are airport transfers included in this tour?

Are vaccinations required for this tour?

There are no specific health risks.
What happens if I need to change my holiday date once I've booked?

If you wish to make any changes to your booking, particularly if you need to alter any flights booked through us, please let us know as soon as possible. There is a booking or flight amendment fee of £40 per change and flight amendments often incur extra airline costs depending on the changes to be made and if the ticket has been issued or not.

How long has the tour company been trading?

Exodus has been trading since 1974

What documents will I receive before I travel?

Your final joining instructions and flight details, if booked with us, will then be sent out 2 to 3 weeks before departure. If you would like a hard copy posted, or if you require these any earlier, please contact the customer operations team. We advise that if you are booking connecting travel before receiving these, please ensure you leave plenty of time.

Do you operate a "single share" option and how does it work?

Travellers are welcome to opt to share a room with a tour member of the same gender for no additional charge. If you'd like your own room, we can request a single supplement so that you will have your own room throughout.

Can I join the tour once it has departed?

You are welcome to meet the group after the tour has departed however there is no reduction in rate for joining a tour after the departure date.
Dates & Availability
ULTRAMARINE - Price includes Mandatory transfer package (including return charter flights between Calgary and Resolute)
Thursday - Monday
Aug 15, 2024 - Aug 26, 2024
ULTRAMARINE - Price includes Mandatory transfer package (including return charter flights between Calgary and Resolute)
Saturday - Wednesday
Aug 24, 2024 - Sep 04, 2024
ULTRAMARINE - Price includes Mandatory transfer package (including return charter flights between Calgary and Resolute)
Tuesday - Saturday
Sep 09, 2025 - Sep 20, 2025
Book with Confidence
Transfer as credit to Future Tours

Exodus allows you to transfer existing payments to a future tour to avoid cancellation fees if you can't travel and inform exodus, 43 days before departure.

Low Deposit

Exodus requires a minimum deposit of 25% or the full booking value, whichever is less, with the final balance not due until 90 days before departure.

Cancellation Policy

We don't charge a cancellation fee, here is a summary of exodus charges.

Up to 42 days before tour starts: Forfeit 100% of deposit.

At 20 days before tour starts: Forfeit 100% of booking price.
Why book with tourhub?
Safe & Secure
Your money is protected in an external trust until you travel.
---
100% Guaranteed Refunds if your trip is cancelled.
---
The safest way to make overseas, multi-currency payments.
Guaranteed Best Value
Industry leading discounts, we won't be beaten on price.
---
No cancellation or amendment fees from tourhub.
(Operator terms may apply)
Expert Knowledge
Reliable & unbiased advice from travel experts.
---
Direct contact with the tour operator via our messaging service.
---
Inspiration & advice from a community of 6000+ real travellers, influencers & content creators.
Trusted Service
Official partners & licensed agents of 1000+ tour operators worldwide.
---
Don't just take our word for it...
"Tourhub: Friendliness, Professionalism & Integrity I would happily give tourhub a 6* review if I could..."
Similar Tours
Travel Guru Features
Our Reviews