Coastal Walks of Western Sicily
8 Days Starting in Scopello and ending in Trapani
Visiting: Scopello, Monte Monaco, San Vito Lo Capo, Riserva Naturale Orientata dello Zingaro, Ingresso Sud, Riserva Naturale Orientata Monte Cofano, Trapani, Levanzo, Erice
Tour operator:
Physical rating:
Leisurely / Moderate
Special diets catered:
Please inform Exodus
Trip Styles:
Interests:
Tour Overview
Sicily has long been known for its delightful year-round climate and excellent hikes, with coastal and mountain walks aplenty. Hike up Monte Monaco for fabulous views over the turquoise waters of the Tyrrhenian Sea and explore Zingaro Natural Reserve's hidden coves and refreshing swimming spots. A stay in the historic port city of Trapani will reveal a fascinating history and culture influenced by its proximity to Tunisia, and we will head to the picturesque island of Levanzo for a memorable hike away from the crowds. A trip to western Sicily wouldn't be complete without a visit to the 12th-century hilltop town of Erice, overflowing with historical charm, outstanding views and an air of mystery.
Highlights
Discover hidden coves and pristine beaches at Zingaro Natural Reserve

Explore the pretty port city of Trapani, where Arabic and Italian influences converge

Escape the crowds on the car-free Aegadian island of Levanzo

Step back in time at the ancient hilltop town of Erice
Itinerary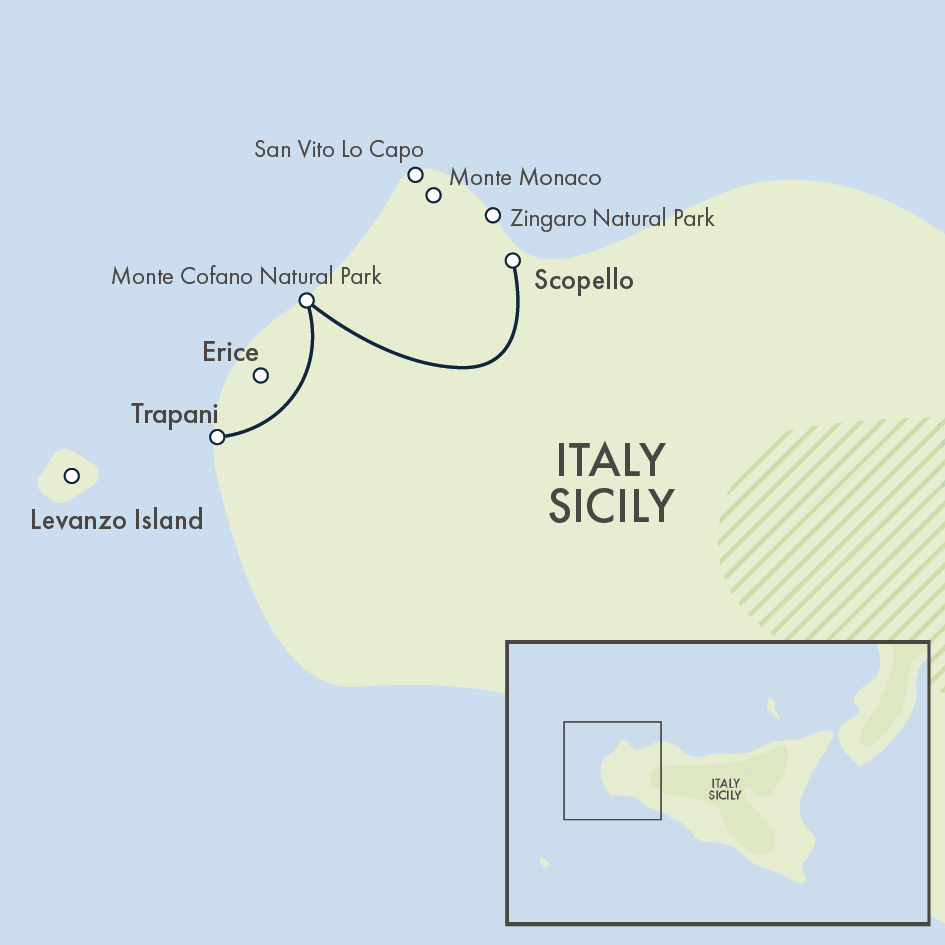 Expand All
Location:
Scopello
Meals Included:
dinner
We start in the charming village of Scopello on Sicily's north-western coast. A welcome dinner is included this evening.
Overnight in Scopello.
If you have extra time, we recommend adding 1-2 nights in Palermo at the start or end of your trip to enjoy its cultural melting pot of architecture, history and cuisine.
Day 2 :

Monte Monaco And San Vito Lo Capo Beach
Location:
Monte Monaco, San Vito Lo Capo
Meals Included:
breakfast
For our first walk of the week, we transfer to the white-washed town of San Vito Lo Capo, formerly a hub of fishing activity. Dominating the village's skyline is Monte Monaco, so named for its peculiar form that is reminiscent of a monk in prayer. On reaching the summit, we will be rewarded with wonderful views over the Tyrrhenian Sea. After our descent, there's time to stroll through the pretty centre of San Vito Lo Capo or enjoy the long, sandy beach for which the town is known before we transfer back to Scopello.
Overnight in Scopello.
Day 3 :

Zingaro Natural Reserve
Location:
Riserva Naturale Orientata dello Zingaro, Ingresso Sud
Meals Included:
breakfastlunch
Today we will hike in the fabulous Zingaro Natural Reserve, renowned for its many idyllic coves and paradisaical beaches. This is a haven for hikers, nature lovers and birdwatchers, and is home to over 650 plant species, as well as falcons and eagles. We will follow a coastal path to make the most of the outstanding views and enjoy a picnic en route. Remember to bring your swimwear, as we may have time for a refreshing dip in the sea along the way (weather permitting).
Overnight in Scopello.
Day 4 :

Monte Cofano Natural Reserve
Location:
Riserva Naturale Orientata Monte Cofano
Meals Included:
breakfastdinner
Our private transfer will take us to the starting point of our hike at Monte Cofano Natural Reserve. Located half-way between San Vito Lo Capo and Trapani, the reserve is known for its verdant Mediterranean vegetation that surprisingly thrives in the harsh mountain environment. We will come across Paleolithic caves and the Torre della Tonnara, a 16th-century fortress that was built to defend the land against pirates. Bring your swimming gear again today, and keep your eyes peeled for peregrine falcons, kestrels and buzzards that dwell in the reserve.
After the hike, we will be transferred to the pretty port city of Trapani, our home for the next 4 nights, in time for a group dinner.
Overnight in Trapani.
Day 5 :

Free Day In Trapani
Location:
Trapani
Meals Included:
breakfast
Today is free for you to explore Trapani and the surrounding area at your own pace. Wander the narrow streets of the old town or savour a delicious gelato on the seafront.
We recommend a visit to the Saline di Trapani and Paceco Nature Reserve, an area protected by WWF Italy where nature conservation coexists with ongoing salt production, and flamingos are often spotted, amongst other species.
Overnight in Trapani.
Location:
Levanzo
Meals Included:
breakfast
In the morning, we take the hydrofoil boat (30-40 minutes) to Levanzo, the smallest of the inhabited Aegadian islands. Cars are not permitted on the island (only licensed 4x4s), which allows it to retain an old-world charm not often found in European destinations. We head to the Grotta del Genovese cave (subject to availability) to see the prehistoric rock paintings, enjoying scenic coastal views on the way there. After the visit, we will follow one of the many quiet hiking trails, coming across hidden coves, rocky lookouts and lush vegetation. We return to Trapani in the afternoon.
Overnight in Trapani.
Day 7 :

Hilltop Town Of Erice
Location:
Erice
Meals Included:
breakfast
For our final walk, we will ascend to the fortified town of Erice, just a short drive from Trapani. It is believed that the town dates back to around 1100BC and was originally a settlement of Sicily's ancient Elyrir people. Conquered by the Normans in the 12th century, the town has been carefully preserved and retains an air of mystery that is heightened when mists often swirl in.The panoramic views out to sea and over the surrounding countryside are ample reward for the uphill hike. After time to enjoy the special surroundings, we will take the cable car down to Trapani. Your final afternoon is free to spend as you wish.
Overnight in Trapani.
Location:
Trapani
Meals Included:
breakfast
The trip ends in Trapani on the morning of Day 8.
What's Included
All breakfasts, 1 picnic lunch, 2 dinners

All accommodation

Tour leader throughout

Entrance tickets to Zingaro Natural Reserve and Grotta del Genovese

Hydrofoil boat to and from Levanzo island

Cable car ticket from Erice

Group arrival and departure transfers available
What's Not Included
Travel insurance

Single accommodation (available on request)

Visas or vaccinations

Local city taxes (approx. €15)
Food
All breakfasts, 1 picnic lunch and 2 dinners are included.

The food of western Sicily is heavily influenced by its proximity to Tunisia, with oranges, pistachios, dates and spices often featuring on menus. Snacks such as arancine (deep-fried rice balls) and panelle (chickpea fritters) can often be found at street stalls in towns such as Trapani. Please note that the diet in this part of Sicily is heavily dependent on fish and meat. However, vegetarian options are widely available.

Breakfast is usually a continental style buffet and for lunch, we will either have a picnic or visit a local café. When dinners are not included, your tour leader will make restaurant suggestions so that you can sample the best local cuisine available.
Accommodation
For this walking trip in western Sicily, we split our time between two hotels: Baglio dello Zingaro in Scopello and Hotel Punta Tipa in Trapani.

Scopello: Baglio dello Zingaro (nights 1-3)



Built using materials faithful to the local architecture, Baglio dello Zingaro is traditional in style and close to the 17th-century town of Scopello. Our groups often gather around the kidney bean-shaped outdoor pool, around which you'll find loungers and can enjoy coastal views. There's also a green space at the top of a mini-amphitheatre, where you can spend a peaceful moment or two.

Trapani: Hotel Punta Tipa (nights 4-7)



Right by the bay after which it was named, Hotel Punta Tipa has an enviable spot on the beach and is just a 15-minute coastal walk from Trapani old town. The property has an outdoor infinity pool, 59 contemporary rooms, and two restaurants: one indoors with sea views and the other on the beach. Food is typical Sicilian and Trapani fare.

Worth knowing

At Baglio dello Zingaro, balcony rooms are allocated on a 'first-come, first-served' basis.
Check out our Q&As
Are the local guides on the tour English speaking?

Are children permitted to take part in the tour?

Minimum 16 years old people can go on this tour

What is the maximum group size?

Is there a supplement for solo travellers?

If you would like to be paired with a tour member of the same gender, there is no additional charge. A single supplement can be requested if you would like your own room.

Can you assist with pre or post tour accommodation?

We are happy to assist with pre and post tour accommodation. Please enquire for detailed information.
Who is Exodus Travels?

At Exodus Travels, we've been exploring the world for nearly 50 years. From Walking and Trekking, Cultural and Cycling, Responsible Wildlife, to Polar and our new Premium Adventures, we are proud to offer award-winning small group and self-guided tours to 100+ countries worldwide.

Are flights included in this tour?

International flights are not included with this tour.

Do you require a visa for this holiday?

No visa required for British passport holders.

Are vaccinations required for this tour?

There are no specific health risks.

What happens if I need to change my holiday date once I've booked?

If you wish to make any changes to your booking, particularly if you need to alter any flights booked through us, please let us know as soon as possible. There is a booking or flight amendment fee of £40 per change and flight amendments often incur extra airline costs depending on the changes to be made and if the ticket has been issued or not.

How long has the tour company been trading?

Exodus has been trading since 1974

What documents will I receive before I travel?

Your final joining instructions and flight details, if booked with us, will then be sent out 2 to 3 weeks before departure. If you would like a hard copy posted, or if you require these any earlier, please contact the customer operations team. We advise that if you are booking connecting travel before receiving these, please ensure you leave plenty of time.

Do you operate a "single share" option and how does it work?

Travellers are welcome to opt to share a room with a tour member of the same gender for no additional charge. If you'd like your own room, we can request a single supplement so that you will have your own room throughout.

Can I join the tour once it has departed?

You are welcome to meet the group after the tour has departed however there is no reduction in rate for joining a tour after the departure date.
Reviews From Travellers On This Tour
Stunning walk in Sicily
This trip was filled with beautiful coastal walks with stops on some of the most beautiful beaches I've seen. You visit several different spots around Sicily during the week and taste some great food along the way. One of the highlights was our Guide Benoît's fabulous picnics that we had during our walks. We had a great group and were lucky to see lots of flora and fauna along the walks.
Cave painted
Enjoyable and interesting trip.
Spectacular wildflowers, coastal views and seafood
This was our fourth walking trip with Exodus (all graded Leisurely/Moderate) and the first occasion on which Exodus had run this particular holiday. Exodus and their local partner had arranged five days of walking based in the small coastal village of Scopello and the busy town of Trapani, plus a free day in Trapani. We had a full week of glorious weather and the walks (sometimes involving steep and quite sustained ascents and descents on quite rough tracks) showcased spectacular displays of wild flowers and rugged Sicilian coastal scenery to great effect. Our knowledgeable guide Benoit and Giorgia from Exodus' local partner made some minor adjustments to the itinerary and timetable to take account of the (not unusual) range of walking speeds in the group and spared no effort to make the trip a real success. Benoit arranged two great picnics and Giorgia and Benoit selected excellent restaurants for the party every evening (super Sicilian seafood), making for a very convivial holiday. The hotel in Scopello was well located and very welcoming; the location of the hotel in Trapani was less satisfactory and had no refreshment facilities other than at breakfast. This was the only blemish on an otherwise excellent and memorable trip. Thoroughly recommended!
Dates & Availability
Instant Booking Available
Saturday - Saturday
Apr 20, 2024 - Apr 27, 2024
Instant Booking Available
Saturday - Saturday
May 04, 2024 - May 11, 2024
Instant Booking Available
Saturday - Saturday
May 11, 2024 - May 18, 2024
Instant Booking Available
Saturday - Saturday
Jun 01, 2024 - Jun 08, 2024
Instant Booking Available
Saturday - Saturday
Aug 31, 2024 - Sep 07, 2024
Instant Booking Available
Saturday - Saturday
Sep 07, 2024 - Sep 14, 2024
Instant Booking Available
Saturday - Saturday
Sep 21, 2024 - Sep 28, 2024
Book with Confidence
Transfer as credit to Future Tours

Exodus allows you to transfer existing payments to a future tour to avoid cancellation fees if you can't travel and inform exodus, 43 days before departure.

Low Deposit

Exodus requires a minimum deposit of 25% or the full booking value, whichever is less, with the final balance not due until 90 days before departure.

Cancellation Policy

We don't charge a cancellation fee, here is a summary of exodus charges.

Up to 42 days before tour starts: Forfeit 100% of deposit.

At 20 days before tour starts: Forfeit 100% of booking price.
Why book with tourhub?
Safe & Secure
Your money is protected in an external trust until you travel.
---
100% Guaranteed Refunds if your trip is cancelled.
---
The safest way to make overseas, multi-currency payments.
Guaranteed Best Value
Industry leading discounts, we won't be beaten on price.
---
No cancellation or amendment fees from tourhub.
(Operator terms may apply)
Expert Knowledge
Reliable & unbiased advice from travel experts.
---
Direct contact with the tour operator via our messaging service.
---
Inspiration & advice from a community of 6000+ real travellers, influencers & content creators.
Trusted Service
Official partners & licensed agents of 1000+ tour operators worldwide.
---
Don't just take our word for it...
"Tourhub: Friendliness, Professionalism & Integrity I would happily give tourhub a 6* review if I could..."
Similar Tours
Travel Guru Features
Our Reviews