Costa Rica Adventure Family Holiday
15 Days Starting and ending in San Jose
Visiting: San José, La Paz Waterfall, Tortuguero, Cahuita, Puerto Viejo de Sarapiqui, La Fortuna, Parque Nacional Volcán Arenal, Parque Nacional Manuel Antonio
Tour operator:
Special diets catered:
Please inform Exodus of specific dietary requirements
Tour operated in:
English
Trip Styles:
Interests:
Activities:
Tour Overview
Costa Rica is a natural paradise, complete with volcanoes, rainforest, waterfalls, wildlife and beaches. Start your Costa Rica family holiday by travelling into the steaming jungle and explore the waterways of Tortuguero by boat, in search of monkeys, toucans and other colourful birds. Visit the Sloth Sanctuary and meet some of its famous inhabitants, stars of their own Animal Planet TV show. Enjoy a night walk in the rainforest, try white water rafting (optional) and splash around in thermal pools at a waterpark near Arenal Volcano. There's beach time too as we head to both Cahuita on the Caribbean coast and Manuel Antonio on the Pacific, where jungle cascades down to white sandy beaches.
Highlights
Meet the residents of Costa Rica's famous Sloth Sanctuary

Flexible itinerary with plenty of optional activities to choose from: zip-lining, white water rafting, chocolate tour and catamaran excursion! 

Discover abundant wildlife – monkeys, sloths, birds and frogs are easy to spot! 

Visit the beaches and waterways of Tortuguero, an important nesting site for Green turtles

Comfortable accommodation throughout, most with swimming pools to cool off at the end of the day 

Discover the beaches of both the Caribbean and Pacific Coast
Itinerary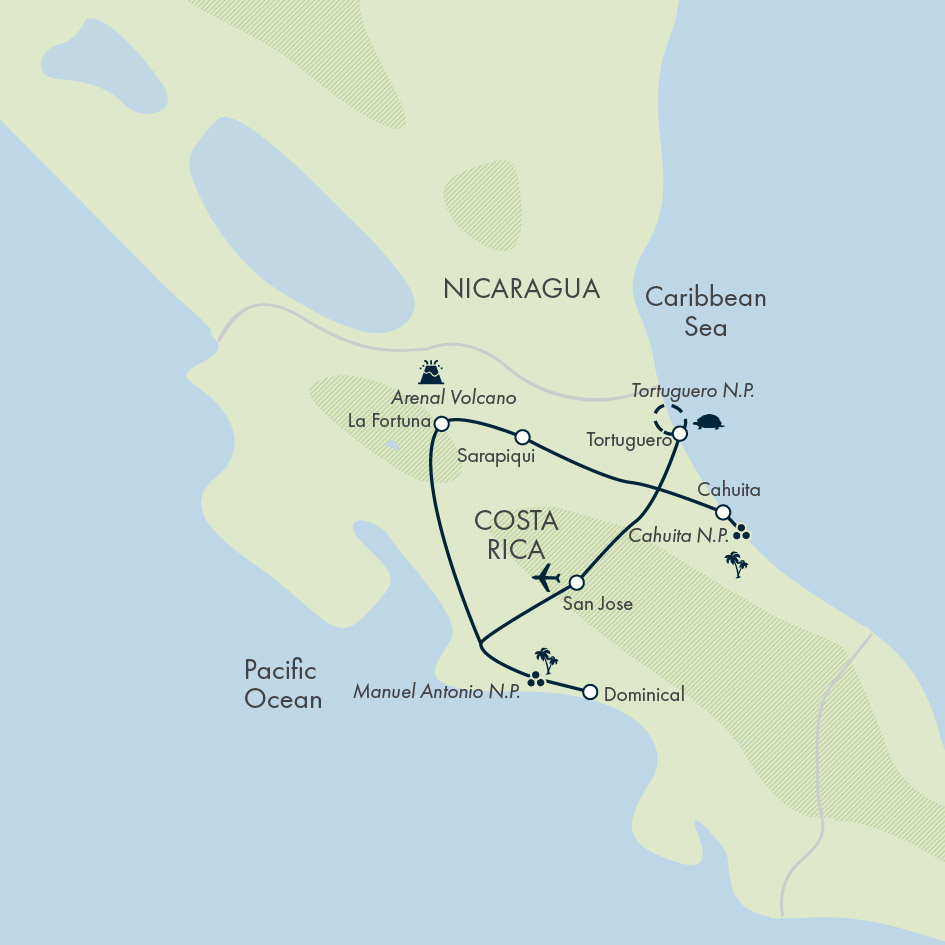 Expand All
Location:
San José
Accommodation:
Hotel
Accommodation Name:
Country Inn & Suites (or similar)
Meals Included:
No Meals
The group flight usually arrives into San Jose this evening. Land Only
clients should aim to arrive at the hotel this afternoon/evening. This
evening's welcome briefing is the perfect opportunity to meet your guide and
get to know your fellow travellers.
Day 2 :

Morning Visit To La Paz Waterfall Gardens; Relax By The Hotel Swimming Pool.
Location:
La Paz Waterfall
Accommodation:
Hotel
Accommodation Name:
Country Inn & Suites (or similar)
Meals Included:
Breakfast
After breakfast, you will meet your guide at 9:00am in the hotel lobby for a
short drive to La Paz Waterfall Gardens. Located within the transitional
forest between the Central Valley and the Northern Lowlands, La Paz Waterfall
Gardens hosts a wide variety of plants and bird life amongst stunning
scenery. A short walk along a trail within the rainforest brings us to a
great viewpoint from which to watch the cascading falls. Entrance to the
gardens includes a visit to the petting zoo, frog exhibit, aviary and
butterfly observatory. In addition monkeys, sloths and toucans also inhabit
this area, providing a great introduction to the incredible diversity of
Costa Rica. The afternoon is free to relax and enjoy the hotel swimming pool,
or explore San Jose at your own pace.
Day 3 :

To Tortuguero N.P.
Location:
Tortuguero
Accommodation:
Pachira Lodge (or similar)
Meals Included:
Breakfast, Lunch, Dinner
We have an early departure this morning, leaving San Jose behind as we travel
to the north-east of Costa Rica to Tortuguero National Park in the Caribbean
Lowlands. Accessible only by boat or light aircraft, Tortuguero's vast
network of waterways, canals and swamps is remarkably tranquil, unspoilt and
devoid of noise pollution. On reaching the pier we board a small motorboat
for the one hour fifteen minute journey to our lodge, which is nestled on a
small strip of land between the Caribbean Sea and the main lagoon. Our
afternoon is spent in Tortuguero village, where it's possible to visit the
Sea Turtle Museum (a donation will be requested at the entrance). Tortuguero
is probably most famous as a nesting site for the endangered Green turtle,
which can be seen arriving onto the beach to lay eggs from late July to
October (as part of an optional excursion). Hawksbill, Loggerhead and Giant
Leatherback turtles also nest in this region, and during November to January
baby turtles start to hatch and make their way towards the ocean.
Day 4 :

Boat Tour Of Waterways In Tortuguero N.P.
Location:
Tortuguero
Accommodation:
Pachira Lodge (or similar)
Meals Included:
Breakfast, Lunch, Dinner
A morning boat trip enables us to discover the extraordinary flora and fauna
of Tortuguero, passing serenely along the waterways. At this time of day,
wildlife is usually at its most active and with the help of our expert guide
we are likely to encounter monkeys, caiman, iguanas, butterflies and many of
the 300+ bird species recorded here. We return to the lodge for a hearty
breakfast by the river. The lodge is a tranquil spot to relax this afternoon
if you want to take some time out to enjoy the facilities, or alternatively
you can join a second boat trip, visit the beach or follow a short walking
trail through the forest.
Day 5 :

To Cahuita On The Caribbean Coast; Relax On The Beach.
Location:
Cahuita
Accommodation:
Atlantida Lodge (or similar)
Meals Included:
Breakfast, Lunch
We leave Tortuguero the same way we arrived by taking a small boat to the
pier. Our bus will be at the pier waiting to drive us to the region of
Cahuita on the Caribbean coast, where we check into our hotel and have the
rest of the afternoon to enjoy the pool, beach or discover our new
surroundings. Caribbean culture pervades this part of Costa Rica and is
reflected in the music, food and laid-back lifestyle. Cahuita's famous
white-sand beach is fringed by tall palms behind which the dense, wet
tropical forest of Cahuita National Park can be found.
Day 6 :

Visit Costa Rica's Famous Sloth Sanctuary; Discover Cahuita N.P.
Location:
Cahuita
Accommodation:
Atlantida Lodge (or similar)
Meals Included:
Breakfast
After breakfast we drive to Aviarios del Caribe, Costa Rica's famous Sloth
Sanctuary. This rescue and rehabilitation centre conducts research into
sloths and works tirelessly with the goal of releasing sloths back into their
natural habitat. It was recently the subject of an Animal Planet TV show
called 'Meet the Sloths'. You'll learn all about these fascinating animals on
a two hour tour of the sanctuary, where you'll take a boat tour along the
river to see sloths, monkeys, butterflies and birds in the wild. This
afternoon we return to Cahuita and visit the National Park, following a
coastal trail through the rainforest. Cahuita National Park has 2711 acres
of land and 600 acres of coral reef, which forms Costa Rica's largest reef
system.
Day 7 :

To Sarapiqui; Night Walk In Tirimbina Biological Reserve.
Location:
Puerto Viejo de Sarapiqui
Accommodation:
El Bambu Hotel or Quinta Sarapiqui (or similar)
Meals Included:
Breakfast
We depart for Sarapiqui, a region blessed with abundant vegetation and the
beautiful Sarapiqui River. Sarapiqui is one of the main areas of banana
production in Costa Rica, although coffee, cardamon, cacao, corn and other
fruits are also grown here. This region is also gathering a reputation as a
great spot for adventure seekers with plenty of optional activities to keep
you entertained! In the evening we take a night walk through Tirimbina
Biological Reserve to have a different perspective on the rainforest and its
many inhabitants.
Day 8 :

Free Day In Sarapiqui
Location:
Puerto Viejo de Sarapiqui
Accommodation:
El Bambu Hotel or Quinta Sarapiqui (or similar)
Meals Included:
Breakfast
There are various optional excursions to try today: join a chocolate tour in
Tirimbina Biological Reserve, take a safari floating trip down the Sarapiqui
River, have a go at white water rafting on grade II and III rapids or join a
canopy tour and zip-line through the forest. Alternatively, there are a
number of nature walks to enjoy in the beautiful surroundings.
Day 9 :

To La Fortuna Near Arenal Volcano; Free Afternoon For Optional Activities.
Location:
La Fortuna
Accommodation:
Arenal Montechiari or Los Lagos Hotel (or similar)
Meals Included:
Breakfast
We transfer to the area surrounding Arenal Volcano. Following a massive
eruption in 1968, Arenal was Costa Rica's most active volcano until recently
when it entered a resting phase. As well as the volcano, this region has
plenty to offer with thermal waters, waterfalls and Lake Arenal waiting to be
discovered.
The rest of the day is free to explore the area either at your own pace or on
one of the optional excursions available. You could take the Sky Walk (canopy
walk) or Sky Trek adventure (which has an optional zip-wire through the
canopy) or enjoy some time at the hotel swimming pool! 
Day 10 :

Guided Nature Walk In Arenal N.P.; Visit Thermal Springs.
Location:
Parque Nacional Volcán Arenal
Accommodation:
Hotel
Accommodation Name:
Arenal Montechiari or Los Lagos Hotel (or similar)
Meals Included:
Breakfast
This morning we have a guided nature walk through Arenal Volcano National
Park. The park has a great system of trails passing through secondary forest
and near lava fields created by previous eruptions. In the late afternoon we
visit Kalambu Hot Springs as a group to enjoy a hot thermal bath from the
volcanic spring water and have a chance to splash around – a refreshing
end to the day. Please note that on weekends or Mondays we will visit an
alternative hot springs called Ecotermales.
Day 11 :

To The Pacific Coast.
Location:
Parque Nacional Volcán Arenal
Accommodation:
Hotel
Accommodation Name:
Villas Rio Mar in Dominical (or similar).
Meals Included:
Breakfast
We travel southeast along the coast, following the Pan-Am Highway to
Dominical, passing African oil palm and teak plantations on the way. Our
hotel is on the coast near Dominical, around 50 minutes south of Manuel
Antonio. The hotel is set in lush gardens overlooking the river and just a
short (20 minute) walk to the beach. We spend the next three nights in
Dominical. Depending on our time of arrival we should have some time to enjoy
various optional activities this afternoon, visit the beach or enjoy the
hotel swimming pool.
Accommodation: Villas Rio Mar in Dominical (or similar). Occasionally we stay
in Cuna de Angel or Vista Ballena in Uvita instead. 
Occasionally we stay in Cuna de Angel or Vista Ballena in Uvita instead.
*Comfortable Hotel*


Day 12 :

Explore The Beautiful Trails And Beaches Of Manuel Antonio N.P.
Location:
Parque Nacional Manuel Antonio
Accommodation:
Hotel
Accommodation Name:
Villas Rio Mar in Dominical (or similar).
Meals Included:
Breakfast
Today we drive to Manuel Antonio National Park. This park consists of a vast
marine reserve as well as 1,700 acres of mangrove swamp, primary and
secondary rainforest. The forest vegetation stretches as far as the high-tide
line and provides a stunning backdrop to the expansive sandy beaches,
forested islands and dramatic rocky headlands. We have a guided nature walk
today which should enable us to have some very close wildlife encounters.
White-faced Capuchin monkeys play in the trees and are frequently sighted on
the beaches, whilst noisy Howler monkeys are usually heard moving through the
trees and calling to each other before they are seen. The endangered Titi
monkey (Squirrel monkey) are fewer in number but can sometimes be spotted in
this area. Iguanas, agouti and two and three toed sloths are also commonly
sighted in the national park. Manuel Antonio's beaches are considered to be
some of the most beautiful in the country. In the late afternoon we return to
our hotel.
Occasionally we stay
in Cuna de Angel or Vista Ballena in Uvita instead. 
*Comfortable Hotel*


Day 13 :

Free Day To Relax, Enjoy The Beach Or Optional Activities.
Location:
Parque Nacional Manuel Antonio
Accommodation:
Hotel
Accommodation Name:
Villas Rio Mar in Dominical (or similar).
Meals Included:
Breakfast
Today has been left free for you to relax – make the most of the hotel
swimming pool, visit the beach or explore the local area. There are a few
optional activities available in the Dominical area, such as a whale and
dolphin watching boat trip (seasonal, from mid-July to October and
mid-December to March) or visit the indigenous territory of Boruca.   
Occasionally we stay
in Cuna de Angel or Vista Ballena in Uvita instead. 
*Comfortable Hotel*


Day 14 :

To San Jose; Relax By The Hotel Swimming Pool Or Visit San Jose
Location:
San José
Accommodation:
Hotel
Accommodation Name:
Country Inn and Suites (or similar)
Meals Included:
Breakfast
Today we return to San Jose. If you wish to travel into the downtown area by
taxi you will have some time to see the modern capital and pick up some
souvenirs. Alternatively you can relax by the hotel swimming pool.

Location:
San José
Meals Included:
Breakfast
The trip comes to an end today after breakfast and it's time to bid Costa
Rica and the rest of the group goodbye. Transfers to San Jose airport are
available to all clients on group flights today.
**


What's Included
Flights from London (if booking incl. flights)

All breakfasts, 3 lunches and 2 dinners

All accommodation

Tour leader throughout

All transport and listed activities
What's Not Included
Visas or vaccinations

Single accommodation (available on request)

Travel insurance
Food
All breakfasts, 3 lunches and 2 dinners are included in the price of the tour, allowing you plenty of flexibility for non-included meals to be taken as a family or with the group.  Costa Rican specialities include 'Gallo Pinto', a black bean and rice dish considered to be a staple part of the local diet. Soups, stews and fresh fish are also common, and most hotels offer International menu's as well. There is a lot of fresh fruit in the tropics - you may need to share your bananas with monkey's from the hotel gardens!   Please inform us before departure of any special dietary requests, vegetarians can usually be well catered for. 
Accommodation
For this Costa Rican adventure, we've picked family-friendly hotels and lodges, all of which have swimming pools. Below are the accommodations we typically use.

San José: Country Inn & Suites (nights 1-2 and 14)

Just 10 to 15 minutes' drive from the airport, this Country Inn & Suites is the ideal place to begin and end our adventure. The rooms are comfortable with a modern international hotel style and there's even two swimming pools for a post-flight dip.

Tortuguero: Evergreen Lodge (nights 3-4)

Within Tortuguero National Park, this 66-room resort provides an away-from-it-all experience within the jungle. There's a turtle-shaped swimming pool (this is green turtle country after all) and dining rooms where you can tuck into Caribbean cuisine with views of a tranquil waterway. Residents you might spot include sloths, toucans and iguanas, and we stay in rustic wooden bungalows with comfortable beds and ceiling fans.

Cahuita: Atlantida Lodge (nights 5-6)

It's one of the simpler accommodations we use on this trip, but with a pool wrapped by tropical foliage and Playa Negra beach just a short walk away, one that your family is likely to enjoy. The bar knocks up a pretty great cocktail too.

Sarapiqui: El Bambu (nights 7-8)

This family-run hotel is surrounded by rainforest, where tropical birds flit between the green. Our families tend to gather by the pool, where there are sun loungers, tables and chairs. Or you may prefer to head to the restaurant, which serves Mediterranean and Costa Rican cuisines, including traditional chifrijo and ceviche.

Arenal: Arenal Montechiari Hotel (nights 9-10)

A short walk from downtown La Fortuna and with views of Arenal volcano, this hotel is in an ideal location. There are also tropical gardens full of plants and birds, plus a small swimming pool for a post-adventure splash. We stay in rustic and simple wooden lodges.

Dominical: Villas Rio Mar (nights 11-13)

In a rainforest setting, Villas Rio Mar combines Costa Rican wilderness with plenty of amenities. There's a large palm tree-wrapped swimming pool, tropical gardens, and a rainforest trail to explore. There's also a focus on ecofriendly practices, with solar power running the air conditioning in the bungalows, vegetables for the restaurant grown in their greenhouse, and a monthly clean-up of Playa Dominical beach (which is just a 10-minute walk away).

Worth knowing

Where triple rooms are booked, these usually consist of one double and one single bed, so these rooms are suitable for two adults and one child. We generally don't recommend three children in one triple room unless two of the children are comfortable sharing a double bed.
Some of the properties have ceiling fans rather than air conditioning. 
One or several of the named properties might be substituted for similar alternatives to secure hotel availability. Please discuss with your customer operations executive if you require more details regarding your specific departure date.
Check out our Q&As
Are the local guides on the tour English speaking?

Are vaccinations required for this tour?

There are no mandatory vaccination requirements, however, if you have travelled to a country at risk of Yellow Fever prior to arriving in Costa Rica you will be required to have a valid Yellow Fever Certificate with you. Recommended vaccinations are: Hepatitis A.

Do you require a visa for this holiday?

Holders of British, US, Canadian, Australian, New Zealand and most EU passports can enter Costa Rica for a stay of 90 days without a visa.

Are children permitted to take part in the tour?

Minimum 9 years old people can go on this tour

What is the maximum group size?
What happens if I need to change my holiday date once I've booked?

If you wish to make any changes to your booking, particularly if you need to alter any flights booked through us, please let us know as soon as possible. There is a booking or flight amendment fee of £40 per change and flight amendments often incur extra airline costs depending on the changes to be made and if the ticket has been issued or not.

How long has the tour company been trading?

Exodus has been trading since 1974

What documents will I receive before I travel?

Your final joining instructions and flight details, if booked with us, will then be sent out 2 to 3 weeks before departure. If you would like a hard copy posted, or if you require these any earlier, please contact the customer operations team. We advise that if you are booking connecting travel before receiving these, please ensure you leave plenty of time.

Do you operate a "single share" option and how does it work?

Travellers are welcome to opt to share a room with a tour member of the same gender for no additional charge. If you'd like your own room, we can request a single supplement so that you will have your own room throughout.

Can I join the tour once it has departed?

You are welcome to meet the group after the tour has departed however there is no reduction in rate for joining a tour after the departure date.
Reviews from Travellers on this Tour
COSTA RICA ADVENTURE
As an ex trolley dolly I would consider myself a seasoned traveller used to travelling independently.  Taking my 11 year old daughter on this trip of a lifetime gave me back my sense of adventure and has inspired her to globe trot.  I met an American on a rickety boat in Thailand 20 years ago - he told me to visit Costa Rica as it was beautiful - well he was wrong, it is the most beautiful and magical country I have ever visited!!!!!!!!!!
Fantastic adventure
An amazing adventure holiday that the whole family loved. It was a perfect balance of wildlife adventure and opportunity for my 9 year old to play at the hotel pools and beaches. she enjoyed the wildlife adventure part just as much as the pools and beach. I thought we managed to get so many things into two weeks including a few of the options. We all thoroughly enjoyed the adventure and would recommend it to anyone interested in nature.
Perfect Costa Rica Family Adventure
An amazing adventure that exceeding expectations. The travel guide, Johnny and driver Wilbur were superb and made the holiday
Absolutely brilliant family Christmas trip
We went on this trip as a family of four with children aged 12 and 14, over Christmas 2022. We had an absolutely brilliant time and the memories will stay with us forever. Costa Rica just has everything- amazing wildlife, great weather, beautiful scenery, beaches, friendly people, felt very safe and just a wonderful and easy place to be. Without exception the activities were all brilliant especially the hot springs and rafting. Johnny and Victor looked after us incredibly well and really went the extra mile to make sure we had a great time. Johnny clearly has a genuine love for his country and is exceptionally knowledgeable regarding the wildlife. The travelling was all very pleasant and the only bad thing was that the trip had to end! Cannot recommend this trip highly enough if you want a great experience with loads of amazing wildlife, fun and adventure.
Costa Rica family adventure - fantastic
The trip was an excellent way to see a sample of the best bits of Costa Rica. We had an excellent guide (Jorge) , who managed to find loads of animals and birds for us to watch.
Brilliant family adventure
We travelled with children aged 11 and 14 and found ourselves in a lovely group of 4 families from across the UK. We totally lucked out with our amazing coach (and driver, Ohman) and our wonderful guide, Gustavo. Every day was different and we learned so much about where our food comes from, nature, and all types of wildlife. Accommodation was slightly basic at times but we coped and all pools were lovely. The 14 KM white water rafting is not to be missed and we also enjoyed the night walks and boat trips. Had an amazing trip on a catamaran and swam with tropical fish and the kids jumped off the boat back into the blue sea. We always felt very safe and well looked after with Exodus.
Family holiday in the rainforest
The holiday was superb. Lots of lovely animals to see and of great interest to both kids and adults alike. Our guide and driver Antonio and Theodore were superb. Antonio super knowledgeable and a top bloke. Company of the fellow travellers and kids also made the trip-superb bunch of people. Animals,scenery and wildlife was great to see. Kids are still talking about the things they have seen
Adventures, Monkeys, Birds and Frogs
Travelling with young children for an adventure across central America may be considered as too much stress and anxiety for some or downright irresponsible by others. Our family holiday to Costa Rica could not be further from the truth. Travelling through the waterways of Tortuguero exploring extraordinary flora, spotting amazing spiders, astonishing birdlife and catching a glimpse of a caiman or crocodile the children could not have been more inspired. The excitement of being woken by a barking howler monkey troop, the fun had chasing off cheeky white-faced capuchin breakfast thieves or the thrill of the sight of smartly dressed anteaters, oddly shaped armadillos and raiding racoons before bedtime added to the magic. Adrenaline flowed through the entire family with grins as wide as the Panama canal white water rafting down the Sarapiqui river and zip-lining through the Monte Verde cloud forests. Night hikes opened a whole new world of weird nocturnal creepy crawlies, with strange headlight click beetles, striking venomous snakes, industrious leaf cutter ant colonies, poisonous dart frogs and glowing scorpion exoskeletons. Banana crossing! As we travelled through active volcanic landscapes, rested on idyllic beaches and explored tropical rainforest with new friends and families met on the trip the stories flowed, vocabulary grew and imaginations ran wild. Even the frequent pit stops for the obligatory small child toilet break were supplemented by encounters with giant iguanas, crocodile swamped river beds, cactus flower ice-cream, unspoilt natural views, delicious cakes and, of course, incredible coffee. Our energetic tour guide (Eddie) and reliable driver (Hernan) judged our group perfectly and were tuned in to exactly what we would appreciate when to make the most of our time in their country. At the end of adventure packed days and encounters with stunning wildlife the entire family cooled off in serene swimming pools or thermal hot spring bars and weary little heads slept comfortably dreaming of the next adventure. It seems no other tropical country has made such concerted effort to protect its natural environment and as Costa Rica's tourists account for the largest sector of their national economy we have unprecedented power to protect this amazing country's natural beauty and remarkable wildlife – spend wisely, avoid business that threaten their future and enjoy this enchanting, magical adventure!
COSTA RICA FAMILY ADVENTURE
This was a really memorable holiday. Costa Rica is an extraordinary country with a plethora of fantastic birds, animals, and flowers to see - and the big appeal of it when travelling with children is that on any expedition you ALWAYS see something. Hotel gardens themselves are places where anything can happen - I had one of the most exciting bird sightings (a trogon) in the garden of our hotel in Dominical - where we also saw a boa constrictor in the stream by the hotel. It really did feel like an adventure - the itinerary packs so many experiences into a short space of time. It was great for our 11 year old daughter to have other children in the group to make friends with - that made her braver and more tolerant of some of the long journeys and physical challenges of so much torrential rain. What makes it all work is the style of the tour - yes, there is a busy itinerary but our guide always sought to offer choices of places to eat and things to do, so it felt quite organic and we never felt over-managed or regimented. Her deep local knowledge, and that of the driver made a huge difference. Costa Ricans are friendly, efficient and proud of their country and that made this trip special too.
Costa Rica Adventure Family Holiday
Incredible wildlife viewing opportunities. We saw such a lot- mammals, birds, reptiles, and insects. The experience of being in the rainforest is unique and totally different to anything we had experienced before.
Dates & Availability
Instant Booking Available
Saturday - Saturday
Dec 23, 2023 - Jan 06, 2024
Instant Booking Available
Saturday - Saturday
Jul 13, 2024 - Jul 27, 2024
Instant Booking Available
Saturday - Saturday
Jul 20, 2024 - Aug 03, 2024
Instant Booking Available
Wednesday - Wednesday
Jul 24, 2024 - Aug 07, 2024
Instant Booking Available
Saturday - Saturday
Jul 27, 2024 - Aug 10, 2024
Instant Booking Available
Wednesday - Wednesday
Jul 31, 2024 - Aug 14, 2024
Instant Booking Available
Saturday - Saturday
Aug 03, 2024 - Aug 17, 2024
Glenda Araya -Exodus Tour Leader of the year 2020-22
Wednesday - Wednesday
Aug 07, 2024 - Aug 21, 2024
Instant Booking Available
Saturday - Saturday
Aug 17, 2024 - Aug 31, 2024
Instant Booking Available
Saturday - Saturday
Dec 21, 2024 - Jan 04, 2025
Book with Confidence
Transfer as credit to Future Tours

Exodus allows you to transfer existing payments to a future tour to avoid cancellation fees if you can't travel and inform exodus, 43 days before departure.

Low Deposit

Exodus requires a minimum deposit of 25% or the full booking value, whichever is less, with the final balance not due until 90 days before departure.

Cancellation Policy

We don't charge a cancellation fee, here is a summary of exodus charges.

Up to 42 days before tour starts: Forfeit 100% of deposit.

At 20 days before tour starts: Forfeit 100% of booking price.
Why book with tourhub?
Safe & Secure
Your money is protected in an external trust until you travel.
---
100% Guaranteed Refunds if your trip is cancelled.
---
The safest way to make overseas, multi-currency payments.
Guaranteed Best Value
Industry leading discounts, we won't be beaten on price.
---
No cancellation or amendment fees from tourhub.
(Operator terms may apply)
Expert Knowledge
Reliable & unbiased advice from travel experts.
---
Direct contact with the tour operator via our messaging service.
---
Inspiration & advice from a community of 6000+ real travellers, influencers & content creators.
Trusted Service
Official partners & licensed agents of 1000+ tour operators worldwide.
---
Don't just take our word for it...
"Tourhub: Friendliness, Professionalism & Integrity I would happily give tourhub a 6* review if I could..."
Similar Tours
Travel Guru Features
Our Reviews