Costa Rica Adventure
15 Days Starting in San Jose and ending in San Jose Airport
Visiting: San José, Parque Nacional Tortuguero, Puerto Viejo de Sarapiqui, La Fortuna, Parque Nacional Volcán Arenal, Monteverde, Rincón de la Vieja Volcano, Puerto Carrillo
Tour operator:
Physical rating:
Leisurely / Moderate
Special diets catered:
Please inform Exodus of specific dietary requirements
Tour operated in:
English
Trip Styles:
Interests:
Activities:
Tour Overview
Two weeks to fall in love with Costa Rica's vibrant beauty from the Caribbean to the Pacific coast. Take in Tortuguero's wildlife rich waterways, marvel at the rainforest on a night walk, hike amongst unique vegetation in Arenal Volcano National Park and visit the bubbling mud pools and hot springs of Rincon de la Vieja. We focus on the natural side of Costa Rica and try plenty of activities to discover the heart of this tropical country. Have a go at zip-lining and take a boat trip to see dolphins off Carrillo beach, as well as choosing from multiple optional activities. The holiday ends with a few days on the Pacific coastline, where the sandy bay is shaded by coconut palms and the water perfect for swimming.
Highlights
Boat tour of Tortuguero's tranquil waterways 

Lunch at an organic farm and visit a pineapple plantation 

Zip-lining excursion included - soar above the cloud forest! 

Discover Rincon de la Vieja with its bubbling mud pools and hot springs 

Boat trip to see dolphins and evening turtle nesting tour  

Relax on the Pacific Coast with 3 nights staying in a hotel overlooking Carrillo Beach

Choose from included canyoning, tubing or horse-riding 
Itinerary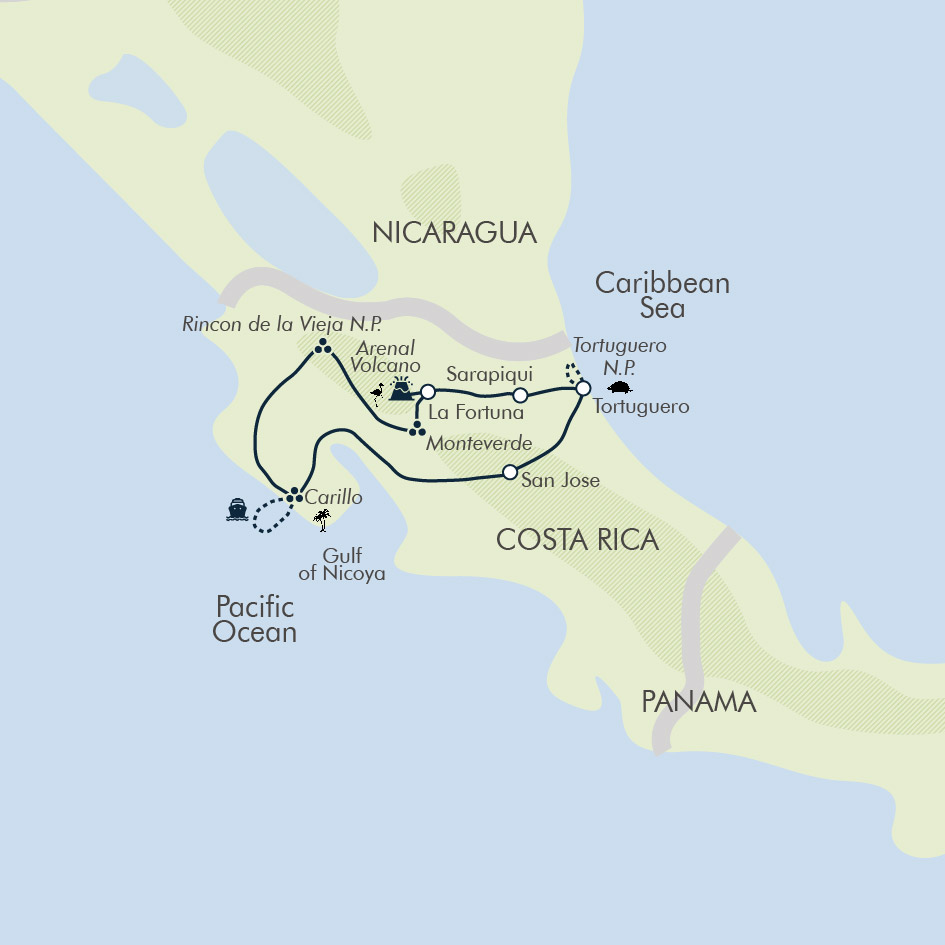 Expand All
Location:
San José
Accommodation:
Hotel
Accommodation Name:
Studio Hotel (or similar)
Meals Included:
No Meals
The group flight usually arrives into San Jose this evening. Land Only
clients should aim to arrive at the hotel this afternoon/evening. Meet your
fellow travellers and guide who will give you a warm welcome to Costa
Rica. 
Day 2 :

To Tortuguero N.P.
Location:
Parque Nacional Tortuguero
Accommodation:
Evergreen Lodge (or similar)
Meals Included:
Breakfast, Lunch, Dinner
Our adventure begins early this morning, leaving San Jose behind as we travel
to the north-east of Costa Rica to Tortuguero National Park. Accessible only
by boat or light aircraft, Tortuguero's vast network of waterways, canals and
swamps are remarkably tranquil, unspoilt and devoid of noise pollution. On
reaching the pier we board a small motorboat for the one hour fifteen minute
journey to our lodge, which is a short distance from the main lagoon. Our
afternoon is spent in Tortuguero village, where it's possible to visit the
Sea Turtle Museum. Tortuguero is probably most famous as a nesting site for
the endangered Green turtle, which can be seen arriving onto the beach to lay
eggs from late July to October (as part of an optional excursion). Hawksbill,
Loggerhead and Giant Leatherback turtles also nest in this region, and during
November to January baby turtles start to hatch and make their way towards
the ocean. Today's travel time will be in the region of six hours including a
break for breakfast.
Day 3 :

Boat Tour Around Tortuguero Waterways.
Location:
Parque Nacional Tortuguero
Accommodation:
Evergreen Lodge (or similar)
Meals Included:
Breakfast, Lunch, Dinner
Just after sunrise we board a small boat, enabling us to discover the
extraordinary flora and fauna of Tortuguero as we pass serenely along the
waterways. At this time of day wildlife is usually at its most active and
with the help of our expert guide we are likely to encounter monkeys, caiman,
iguanas, butterflies and many of the 300+ bird species recorded here. We
return to the lodge for a hearty breakfast near the river. The lodge is a
tranquil spot to relax for the rest of the day if you want to take some time
out to enjoy the facilities, or alternatively you can join a second boat trip
(included but optional) or follow a short walking trail through the forest.
Day 4 :

To Sarapiqui; Night Walk To Experience The Rainforest In The Dark! 
Location:
Puerto Viejo de Sarapiqui
Accommodation:
La Quinta Sarapiqui (or similar)
Meals Included:
Breakfast, Lunch, Dinner
We leave Tortuguero the same way we arrived, by taking a small boat to the
pier. Our bus will be at the pier waiting to drive us to the region of
Sarapiqui, stopping for lunch en route. The region of Sarapiqui is blessed
with abundant vegetation and the beautiful Sarapiqui River. This is one of
the main areas of banana production in Costa Rica, although coffee, cardamon,
cacao, corn and other fruits are also grown here. In the evening we take a
night walk through Tirimbina Biological Reserve, crossing a suspension bridge
to have a different perspective on the rainforest and its many inhabitants:
see how many eyes you can spot staring back at you! Our guide will focus on
nocturnal species, such as insects, frogs and nocturnal mammals, who are
active in the dark. 
Day 5 :

Pineapple Plantation Tour; To La Fortuna Near Arenal. 
Location:
La Fortuna
Accommodation:
Arenal Manoa or Arenal Paraiso (or similar)
Meals Included:
Breakfast
After breakfast at the hotel, we check out and make our way towards an
organic pineapple plantation, located in La Virgen de Sarapiqui. This area is
well known for its rich soil and excellent growing conditions. During our
morning's tour we have the opportunity to discover the organic philosophy of
the farm, learning about crop rotation, companion planting and the concept of
rural agri-tourism. This is a great introduction to Costa Rican heritage.
Afterwards we transfer to the area of La Fortuna near Arenal arriving around
lunchtime. We have some free time to enjoy the hotel's facilities or there
are some optional excursions for this afternoon/evening.  
Day 6 :

La Fortuna Waterfall Walk; Farm To Table Culinary Experience At An Organic Farm.    
Location:
La Fortuna
Accommodation:
Arenal Manoa or Arenal Paraiso (or similar)
Meals Included:
Breakfast, Lunch
Arenal was once Costa Rica's most active volcano until recently when it
entered a resting phase. There is a lot of geo-thermal activity in this area,
with natural hot springs, waterfalls and Lake Arenal. This morning we visit
La Fortuna Waterfall, a 65 metre cascade of water plunging into an emerald
pool below. A short trail through the rainforest brings us to a relatively
steep set of steps that we must descend to reach the waterfall and then
ascend to the exit - this takes around 20-30 minutes and can be rewarded with
a swim in the emerald pool below, if you wish. It is possible to visit the
lookout point and wait for the group here if you prefer. Keep an eye out for
colourful toucans in the rainforest! 

Afterwards we have a farm to table culinary tour at an organic farm. This is
a fun and interactive experience to discover some of the typical produce
grown in this area. On arrival we'll be greeted with fresh fruits and coffee
whilst we learn about the farm's history. We usually select some of the
produce to be harvested that day (destined for our lunch menu) and have a
tour of the greenhouse to see how some of Costa Rica's staples are grown.
This is a great experience to see an authentic farm set in wonderful
surroundings - look out for the family of sloths living in the neighbouring
trees! 
Day 7 :

Hike At Arenal Volcano N.P.; Free Afternoon For Optional Activities.
Location:
Parque Nacional Volcán Arenal
Accommodation:
Arenal Manoa or Arenal Paraiso (or similar)
Meals Included:
Breakfast
After lunch we take a short scenic hike within Arenal National Park, walking
through secondary rainforest and passing some of the lava fields from past
eruptions. Walking on the base and flanks of the volcano gives extraordinary
views, as our guide explains about the history, recent activity and points
out some of the landmarks that have been left over the years. The high
vantage points on this walk also allow great views overlooking Lake Arenal,
and the birdlife is plentiful. This afternoon is free to join one of the
optional activities available in this region. 
Day 8 :

Boat And Transfer To Monteverde In The Tilaran Mountains. 
Location:
Monteverde
Accommodation:
Hotel
Accommodation Name:
Monteverde Country Lodge or El Establo Mountain Hotel (or similar)*
Meals Included:
Breakfast
From Arenal we travel to the Tilaran Mountain Range in the Central Highlands
for a taste of the Costa Rican cloud forest. Reaching Monteverde involves a
fast boat across Lake Arenal which is incredibly scenic and will take roughly
half an hour. Our journey is then completed by private minibus as we ascend
the hills towards Monteverde, a forest-cloaked region whose name literally
means 'Green Mountain'. The high altitude supports a complex eco-system where
plants thrive, particularly orchids of which there are some 400+ different
varieties here. Our total journey time will be in the region of 3.5 hours,
including the lake crossing.
Day 9 :

Zip-Line Adventure Through The Tree Tops; Visit The Hanging Bridges And Butterfly Garden. 
Location:
Monteverde
Accommodation:
Hotel
Accommodation Name:
Monteverde Country Lodge or El Establo Mountain Hotel (or similar)
Meals Included:
Breakfast, Lunch
Today we visit Selvatura Park which has 850 acres of protected land dedicated
to nature and adventure. We begin with the hanging bridges excursion, which
is a system of treetop walkways through the forest designed to let you
experience the beauty of the cloud forest and observe its many inhabitants.
We'll also visit the butterfly garden which has one of the largest
exhibitions of butterflies in the world, and the hummingbird garden where
more than 14 species of hummingbird will amaze you with their aerial
manoeuvres. After this it's time to try out some aerial manoeuvres of our
own on a zip line adventure through the tree tops! Before you fly down the
zip-lines, guides will teach you the proper technique, including how to
position yourself and hold the cable correctly, enabling you to safely embark
on this adrenaline pumping adventure suspended above the trees.
Day 10 :

To Rincon De La Vieja; Choose Between A Canyon Canopy Tour, Tubing Or Horse Riding.  
Location:
Rincón de la Vieja Volcano
Accommodation:
Hacienda Guachipelin (or similar)
Meals Included:
Breakfast
After breakfast at the hotel we check out and transfer to Rincon de la
Vieja, an area that combines dry forest with enchanting waterfalls and is
best known for its bubbling mud pots, steaming vents in the earth, hot
springs and a whole host of wildlife. There are three activities to choose
between today: a canyon canopy tour, tubing or horse riding. The cost of
joining one activity is included, so it is up to you to decide which you
would like to do! The canyon canopy tour is a zip line adventure involving
rappelling, climbing, a tarzan swing and hanging bridges over a narrow river
canyon. Tubing takes place on the Rio Negro, with individual inner tube rafts
across 5km of class II and III rapids. The horse riding excursion follows a
forest trail leading to a rainforest waterfall. Experience is not needed for
any of these activities and you can decide which you prefer once you're in
Costa Rica.
Day 11 :

Hiking In Rincon De La Vieja N.P.; Visit The Mud Baths And Hot Springs. 
Location:
Rincón de la Vieja Volcano
Accommodation:
Hacienda Guachipelin (or similar)
Meals Included:
Breakfast
Today we get to discover Rincon de la Vieja National Park and its network of
trails during a hike through the exotic dry tropical forest on the Las Pailas
Trail. This loop walk twists through jungle around the base of the volcano,
passing natural fumaroles spitting steam, and hopefully encountering wildlife
on the way: toucans, Spider monkeys and lizards are found here as well as
many bird species. Afterwards we visit a hot springs. Heated naturally by
the Rincon de la Vieja Volcano, these hot springs feed directly from the Rio
Negro and are mineral rich with therapeutic properties. There are 10 man-made
pools created to capture the steaming mineral water, surrounded by thick
forest. Smooth volcanic clay over yourself, let it dry and wash off with a
cool shower or jump in the river before soaking again in the hot pools! 
Day 12 :

To Carillo Beach On The Pacific Coast; Afternoon At Leisure To Enjoy The Beach. 
Location:
Puerto Carrillo
Accommodation:
Hotel
Accommodation Name:
Nammbu Hotel (or similar)
Meals Included:
Breakfast
We travel to the region of Samara on the Pacific Coast, one of the best kept
secrets in Costa Rica! The broad, shady bay is backed by coconut palms and
the water is calm and safe for swimming thanks to a coral reef just out to
sea on which the normally large, Pacific waves break before reaching the
beach. There are plenty of facilities in this area but there's a noticeable
absense of big resort hotels, which makes for a nice atmosphere. Our hotel
faces onto Carrillo beach in the neighbouring bay to Samara. We have a free
afternoon here to enjoy the facilities and discover the area.
Day 13 :

Boat Trip To See Dolphins Offshore From Carrillo Beach; Have A Go At Snorkelling.
Location:
Puerto Carrillo
Accommodation:
Hotel
Accommodation Name:
Nammbu Hotel (or similar)
Meals Included:
Breakfast
Today we take a private boat trip around 2 – 10 nautical miles offshore
from Carrillo beach in search of dolphins. You could be lucky enough to see
Spotted dolphins, Central American Spinner dolphins or Common Bottlenose
dolphins which all inhabit this area year around. Feel the ocean breeze and
enjoy the scenery of the coastline as we search for these playful animals who
love to swim in the bow wave of the boat! As we make our way back along the
coast, we will anchor near the shores of Isla Chora, a delightful white sand
beach full of hermit crabs and iguanas. This is a great spot for a refreshing
swim and a chance to observe the underwater world by wearing a mask and
snorkel. Beneath the surface teems a lively, colourful world with huge marine
diversity. In total today's excursion will last around 4 hours, with the
rest of your time at leisure to enjoy the area.
Day 14 :

Free Day To Enjoy The Pacific Coast; Evening Turtle Nesting Tour. 
Location:
Puerto Carrillo
Accommodation:
Hotel
Accommodation Name:
Nammbu Hotel (or similar) 
Meals Included:
Breakfast
Today has been left free for you to enjoy the Pacific coast, Carrillo beach
and the hotel's facilities.

This evening we take a turtle nesting tour on nearby Camaronal beach, where
an extensive wildlife refuge has been created to protect the Olive ridley,
Leatherback and Hawksbill turtles who all lay their eggs in the reserve's
sands. These endangered species nest all year round at Caramonal, but in
bigger numbers from June to January. This tour takes place at nightime with a
ranger and we hope to have the opportunity to visit the beach when turtles
are nesting, to see the incredible moment that a turtle digs a hole and
starts to lay her eggs. Sometimes you may be lucky and find yourself present
during hatchings too, which means baby turtles scrabbling through the sand to
get to the water! This unforgettable experience only happens in the dark, so
the tour usually starts around 7pm and may last up to 4 hours depending on
sightings.
Day 15 :

 To San Jose; End San Jose
Location:
San José
Meals Included:
Breakfast
A four hour journey takes us back to San Jose, where those on group flights
will be transferred to the airport in time for their return flight. Land only
clients end in San Jose and are advised not to book a flight leaving San Jose
before 4pm today, as arrival at the airport will be timed to co-incide with
the group flight.


What's Included
Flights from London (if booking incl. flights)

All breakfasts, 5 lunches and 3 dinners

All accommodation 

Tour leader throughout

All transport and listed activities
What's Not Included
Visas or vaccinations

Travel insurance

Single accommodation (available on request)
Accommodation
We spend 14 nights in hotels and lodges, most have swimming pools.

In San José, we stay at the modern four-star Studio Hotel, conveniently near the airport for an easy arrival transfer at the start of the trip.

In Tortuguero, we usually stay at Evergreen Lodge, just a few minutes by boat from the Tortuguero National Park entrance. This magical area is surrounded by vegetation and our accommodation has a rustic feel with wooden bungalows, comfortable beds and ceiling fans. There is a lovely pool area and the property is set in jungle.

In Sarapiqui, we usually stay at La Quinta Sarapiqui, a lodge with bungalow-style accommodation looking out onto gardens filled with flowers and birdlife. Occasionally we stay at Selva Verde instead.

In Arenal, our accommodation is normally Arenal Paraiso Hotel. This property is close to Arenal Volcano and has large natural grounds with wonderful views of the volcano. Rooms are comfortable and well equipped. There are several natural pools fed by spring water to relax in.

In Monteverde, we normally stay at the Monteverde Country Lodge, a cosy hotel perfectly positioned to discover the cool of the cloud forest. We also use the El Establo Mountain Hotel, which has expansive views of the Gulf of Nicoya and is well located for discovering the misty cloud forest. There is an outdoor swimming pool and spa.

In Rincon de la Vieja, our accommodation is either the Hacienda Guachapelin or the BuenaVista del Rincon.

By the Pacific Coast, we plan to stay either at the Nammbu Hotel, a beachfront property overlooking Carrillo Beach or at the Villas Playa Samara, a beachfront property on Samara Beach.
Food
All breakfasts, 5 lunches and 3 dinners are included. Hotel breakfasts are normally buffet style, and lunches and dinners at Tortuguero are also buffet style. Vegetarians are well catered for but please inform us before departure of any special dietary requests. Costa Rican specialities include 'Gallo Pinto', a black bean and rice dish considered to be a staple part of the local diet. Soups and stews are also common, and fresh fruit is abundant and will no doubt be one of the highlights of your time in the tropics.
Check out our Q&As
What is the maximum group size?

Are vaccinations required for this tour?

There are no mandatory vaccination requirements, however, if you have travelled to a country at risk of Yellow Fever prior to arriving in Costa Rica you will be required to have a valid Yellow Fever Certificate with you. Recommended vaccinations are: Hepatitis A.

Are children permitted to take part in the tour?

Minimum age 16 years old people can go on this people

Are the local guides on the tour English speaking?

Are children permitted to take part in the tour?
Do you require a visa for this holiday?

Holders of British, US, Canadian, Australian, New Zealand and most EU passports can enter Costa Rica for a stay of 90 days without a visa.

What is the standard of the hotels on this tour?

What happens if I need to change my holiday date once I've booked?

If you wish to make any changes to your booking, particularly if you need to alter any flights booked through us, please let us know as soon as possible. There is a booking or flight amendment fee of £40 per change and flight amendments often incur extra airline costs depending on the changes to be made and if the ticket has been issued or not.

How long has the tour company been trading?

Exodus has been trading since 1974

What documents will I receive before I travel?

Your final joining instructions and flight details, if booked with us, will then be sent out 2 to 3 weeks before departure. If you would like a hard copy posted, or if you require these any earlier, please contact the customer operations team. We advise that if you are booking connecting travel before receiving these, please ensure you leave plenty of time.

Do you operate a "single share" option and how does it work?

Travellers are welcome to opt to share a room with a tour member of the same gender for no additional charge. If you'd like your own room, we can request a single supplement so that you will have your own room throughout.

Can I join the tour once it has departed?

You are welcome to meet the group after the tour has departed however there is no reduction in rate for joining a tour after the departure date.
Reviews from Travellers on this Tour
Incredible
What a superb and wonderful 2 weeks. So much to see and be amazed by, something new every day and so many wonderful birds and animals to try and photograph. Good accommodation and we were never hungry. Costa Rica is a very forward thinking and developed country and they are rightly very caring of their wildlife and forests. We had a wonderful guide (Carlos) and driver (Mau) and they helped us see everything that we would have completely missed without their help. It was all so wonderful that it is hard to pick out highlights but loved the day out looking for dolphins, the boat trips at Tortuguero (and Tortuguero itself) and the zip lines.
Life-changing!
I had not been on holiday for over a decade before I embarked on this trip, so suffice to say I had high expectations! Costa Rica had been on my list ever since a colleague visited the country two years ago, and it was well worth the wait. We were fortunate enough to only have eight travellers, which meant that our guide, Jonathan, had ample time to answer all of our questions. If you are looking for a holiday which will give you eight hours of sleep a night then this trip is not for you. We were up for breakfast before 8am every day and despite there being several optional extra activities listed on the trip notes, we didn't have time to do any of them as we were constantly on the go! I felt as though I was away for six months or more, and I enjoyed moving to a new area of the country every few days. Each hotel we stayed at had a different style suited to the area of the country we were in - rainforest lodge, spa resort, mountain hotel, ranch, beach hotel. The food was wonderful - all breakfasts are included and on the days when our lunch and/or dinner weren't included, we never felt hungry.
Experiencing Pura Vida adventure in Costa Rica
Just back from this brilliant holiday - we've had an exceptional time exploring Costa Rica's flora and fauna with plenty of adventure and activities to keep us entertained over the two week holiday. Our group spotted at least 125 different species of birds, animals and other creatures, from colourful butterflies and birds of every shape and size to adorable sloths, from poisonous frogs to killer tarantulas and scorpions, from humpback whales to dolphins and flying fish. Our tour of Costa Rica took in wet, dry and damp rain forests, incredible scenery, amazing sights and sounds, very rainy rain, beautiful hot sunshine, captivating night tours including a magical, breath-taking experience watching baby turtles hatching and making their first journey out to sea, wildlife walks and hikes, plus fabulous food from pineapple plantations and organic farms. Other activities included flying through the rain forest by zip line, tubing down rapids and horse riding through a wildlife rich ranch, basking in volcanic thermal springs under the stars. We added in a couple of optional adventures: surf lessons at the beach and a coffee, chocolate and sugar cane tour at the base of the Arenal volcano. Our excellent tour leader, Mayer Jimenez brought expert wildlife and bird knowledge to the holiday, a huge bonus for our group. This holiday comes highly recommended.
Dates & Availability
Instant Booking Available
Thursday - Thursday
Jan 11, 2024 - Jan 25, 2024
Guaranteed flights from London Heathrow available for this departure.
Thursday - Thursday
Feb 08, 2024 - Feb 22, 2024
Limited seats on guaranteed flights from London Gatwick available for this departure.
Thursday - Thursday
Feb 22, 2024 - Mar 07, 2024
Glenda Araya -Exodus Tour Leader of the year 2020-22
Thursday - Thursday
Apr 11, 2024 - Apr 25, 2024
Instant Booking Available
Thursday - Thursday
Nov 07, 2024 - Nov 21, 2024
Glenda Araya -Exodus Tour Leader of the year 2020-22
Thursday - Thursday
Nov 14, 2024 - Nov 28, 2024
Instant Booking Available
Thursday - Thursday
Nov 21, 2024 - Dec 05, 2024
Book with Confidence
Transfer as credit to Future Tours

Exodus allows you to transfer existing payments to a future tour to avoid cancellation fees if you can't travel and inform exodus, 43 days before departure.

Low Deposit

Exodus requires a minimum deposit of 25% or the full booking value, whichever is less, with the final balance not due until 90 days before departure.

Cancellation Policy

We don't charge a cancellation fee, here is a summary of exodus charges.

Up to 42 days before tour starts: Forfeit 100% of deposit.

At 20 days before tour starts: Forfeit 100% of booking price.
Why book with tourhub?
Safe & Secure
Your money is protected in an external trust until you travel.
---
100% Guaranteed Refunds if your trip is cancelled.
---
The safest way to make overseas, multi-currency payments.
Guaranteed Best Value
Industry leading discounts, we won't be beaten on price.
---
No cancellation or amendment fees from tourhub.
(Operator terms may apply)
Expert Knowledge
Reliable & unbiased advice from travel experts.
---
Direct contact with the tour operator via our messaging service.
---
Inspiration & advice from a community of 6000+ real travellers, influencers & content creators.
Trusted Service
Official partners & licensed agents of 1000+ tour operators worldwide.
---
Don't just take our word for it...
"Tourhub: Friendliness, Professionalism & Integrity I would happily give tourhub a 6* review if I could..."
Similar Tours
Travel Guru Features
Our Reviews