Costa Rica Coast to Coast Ride
14 Days Starting and ending in San Jose (near to)
Visiting: San José, River Tarcoles, Parque Nacional Manuel Antonio, Osa Peninsula, Golfito, San Gerardo de Rivas, Cerro de la Muerte, Turrialba, Paseo Surf Side, Tortuguero, La Fortuna, Alajuela
Tour operator:
Physical rating:
Moderate
Special diets catered:
Please inform Exodus of specific dietary requirements
Tour operated in:
English
Trip Styles:
Interests:
Activities:
Tour Overview
Take in the variety of Costa Rica by bike, pedalling past rainforest, volcanoes and stunning sections of coastline. From San Jose we cycle south with vast Pacific views to the right and dense forest to the left. Crossing the 3400m Cerro de la Muerte pass into the Orosi Valley we ride past coffee plantations and volcanoes to arrive on the fertile Caribbean plains where banana plantations take over the landscape. We take a break from the saddle to explore the wildlife-rich rivers and waterways of Tortuguero before travelling to La Fortuna, a lovely spot located at the foot of Arenal Volcano.
Highlights
Cycle along the stunning coastal highway with incredible Pacific views and beaches 

Ride through ever-changing tropical scenery, alongside coffee farms, volcanoes, banana plantations and rainforest 

Explore the waterways of Tortuguero National Park in search of wildlife

Hike in Manuel Antonio National Park
Itinerary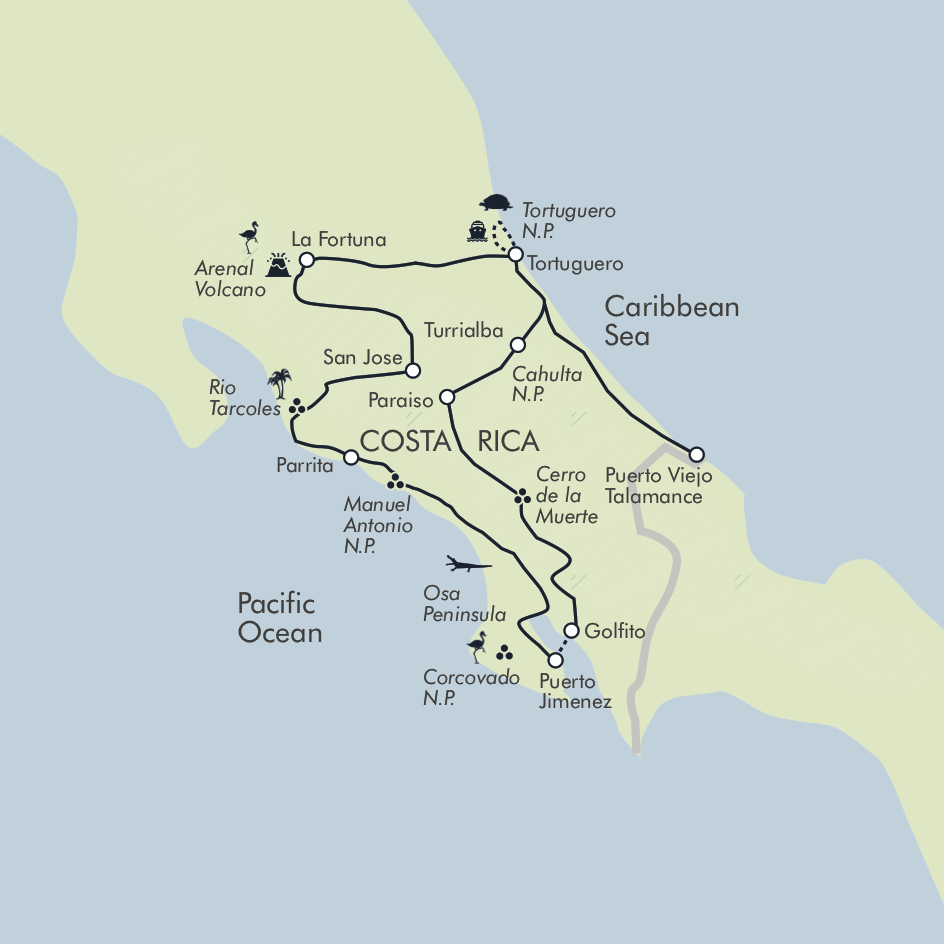 Expand All
Location:
San José
Accommodation:
Hotel
Accommodation Name:
Hotel Rosa America (or similar)
Meals Included:
No Meals
Those on the group flight land into San Jose and will be transferred to our
start hotel in La Garita de Alajuela, around 15 minutes away. Those on land
only arrangements should make their own way to the start hotel this evening.
Day 2 :

Ride To Rio Tarcoles.
Location:
River Tarcoles
Accommodation:
Cerro Lodge (or similar)
Meals Included:
Breakfast
We have a briefing this morning and spend some time adjusting our bikes
before riding out through small rural communities followed by dry, tropical
forest with very little traffic on the paved roads. This initial stage
concludes outside Atenas, then we have a 20 minute transfer to a scenic lunch
stop. In the afternoon we'll have a second cycling stage, passing mango
orchards and cattle ranches. Following another short half hour transfer we
arrive at our lodge for the night.
Day 3 :

Boat Tour; Cycle To Playa Bejuco.
Location:
Parque Nacional Manuel Antonio
Accommodation:
Hotel
Accommodation Name:
Hotel Playa Bejuco (or similar)
Meals Included:
Breakfast
Following an early breakfast, we transfer 20 minutes to Rio Tarcoles for a
private guided boat tour of the estuary. We hope to see crocodiles, water
birds, shorebirds and Scarlet macaws. A 30 minute transfer brings us to a
quiet backroad heading to Guacallillo where we return to our bikes and cycle
to Cascajal. From here we will have a short transfer to our lunch stop. After
lunch depending on the tide, we will get back on the bikes for a short ride
on the beach to Playa Bejuco, our destination for tonight. 
Day 4 :

Wildlife Hike In Manuel Antonio N.P; To Ciudad Cortes.
Location:
Parque Nacional Manuel Antonio
Accommodation:
Hotel
Accommodation Name:
Hotel Las Palmas de Cortez (or similar) 
Meals Included:
Breakfast
We start the morning with a 2 hour guided hike in Manuel Antonio National
Park, an outstanding region for wildlife. The forest here meets the sea and
iguanas and White-faced Capuchin monkeys can often be seen on the beach. A 20
minute transfer takes us to the coastal road outside Quepos where we begin to
cycle south to Playa Dominicalito, where we will have a lunch at a scenic
restaurant. This is a spectacular stretch of road, with dense forest and
steep hills on the left and fantastic Pacific views on the right. 
Day 5 :

To Osa Peninsula; Ride To Puerto Jimenez.
Location:
Osa Peninsula
Accommodation:
Agua Dulce Lodge (or similar) 
Meals Included:
Breakfast
Our ride today takes us from Ciudad Cortes on to Palmar Norte, where we cross
the Rio Terraba, Costa Rica's longest river, then to Palmar Sur, where we
will stop at the central park for a look at some of the famous spherical
rocks, made by a little-known ancient indigenous culture. Afterwards we will
board the coach for a transfer (approx 1.5 hours) to La Palma, stopping for
lunch on route. We will resume our cycling, passing through Puerto Jimenez en
route to our beach hotel, set on the beautiful Playa Platanares.
Day 6 :

Ferry To Golfito; Ride To Rio Claro; Transfer To Las Cruces.
Location:
Golfito
Accommodation:
OTS Las Cruces Lodge (or similar) 
Meals Included:
Breakfast, Lunch, Dinner
We board a ferry this morning for a 30 minute journey across the Golfo Dulce
to Golfito. Here, sometimes dolphins can be seen frolicking in the
surrounding waters. Our cycle route heads to Rio Claro using a short but
hilly biking stage. Following a 1 hour bus transfer across the steep
mountains surrounding San Vito, we arrive at Las Cruces Biological Station.
Las Cruces Biological Station is surrounded by the famous Wilson Botanical
Gardens where we will enjoy a guided hike in the afternoon. 
Day 7 :

Cycle To Paso Real; Transfer To San Gerardo De Rivas.
Location:
San Gerardo de Rivas
Accommodation:
El Pelicano Mountain Lodge (or similar)
Meals Included:
Breakfast
Back on the saddle we enjoy a fantastic ride from the hilly region near San
Vito downhill to Paso Real, far below at the Rio Terraba. En route we pass
through an indigenous area where villagers can sometimes be seen in
traditional dress. We will stop in Buenos Aires to have lunch before boarding
the bus for our transfer (approx. 2-3 hours) to San Gerardo de Rivas. We
will pass the first of many pineapple plantations, which has now become Costa
Rica's most exported crop. As our hotel tonight is located in the mountains
it may be chillier than you expect. 


Day 8 :

Cycle To Perez Zeledon; Transfer To The Orosi Valley; Cycle To Tapanti Media.
Location:
Cerro de la Muerte
Accommodation:
Tapanti Media Lodge (or similar) 
Meals Included:
Breakfast
This morning we start with a short downhill stage before jumping on the bus
for a transfer that will take us over the infamous Cerro de La Muerte. At
3,541 metres above sea level, this is the highest point of the PanAm Highway
in all of Central America. On this stretch we will drive through rainforest,
up into the cloud forest before we start our descent back down towards the
Central Valley. From here we will get back on our bikes for another downhill
stage into the Orosi Valley. 


Day 9 :

Ride To Turrialba. 
Location:
Turrialba
Accommodation:
Hotel Turrialtico (or similar) 
Meals Included:
Breakfast
After breakfast we start cycling from the hotel for perhaps one of the most
beautiful cycling stages riding past numerous coffee plantations. With any
luck, we will see some farmers using their colourful traditional oxcarts to
haul the coffee to nearby processing facilities. Along the way we will stop
to look at coffee trees and the tour leader will give an explanation on
coffee and its part of the history of Costa Rica. As we continue our ride
through the valley, we will ride around a hydroelectric dam before starting
a section that involves some climbs. We will arrive at the little town of
Tucurrique where will stop off for lunch. Afterwards we will cycle through
lush scenery sugar cane plantations before a short transfer to our hotel for
the night. Our mountain lodge this evening has excellent views of the
surrounding region, including the coffee growing Orosi Valley and both the
Irazu and Turrialba volcanoes.

Day 10 :

Cycle To The Caribbean Side Of Costa Rica.
Location:
Paseo Surf Side
Accommodation:
Hotel
Accommodation Name:
Hotel Escape Caribeno (or similar)
Meals Included:
Breakfast, Lunch
After breakfast we will start cycling a hilly section with incredible views,
followed by a fast downhill to the town of Siquierres from where we will
board the coach and take a transfer to the Caribbean coast, stopping for
lunch on route. On arrival near the coast we will start a second biking stage
through an isolated backroad and as we arrive at the Rio Banano Junction,
the traffic can get really heavy so we will board the coach again for a
short transfer (approx. 15 minutes) to our hotel in Puerto Viejo,  a
typical Caribbean town with lively reggae music/culture and spicy cuisine. 
Location:
Tortuguero
Accommodation:
La Baula Lodge (or similar) 
Meals Included:
Breakfast, Dinner
This morning we will start by riding to Cahuita National Park for a guided
hike. During this hike you can expect to see lots of wildlife including two
and three-toed Sloths, Capuchin monkeys and also Iguanas. At the end of the
hike we will transfer to Guapiles where we will stop for a quick lunch before
getting on the bikes for today's cycling stage. Concluding our biking, we
transfer out to tiny La Pavona, where we board a boat which will take us out
to Tortuguero along the wildlife rich rivers and canals used for transit in
this densely forested area. 
Day 12 :

Boat Trip; Ride And Transfer To La Fortuna Near Arenal Volcano.
Location:
La Fortuna
Accommodation:
Hotel
Accommodation Name:
Hotel San Bosco (or similar)
Meals Included:
Breakfast, Lunch
An early morning boat trip enables us to discover the extraordinary flora and
fauna of Tortuguero, passing serenely along the waterways. At this time of
day wildlife is usually at its most active and with the help of our expert
guide we are likely to encounter monkeys, caiman, iguanas, butterflies and
many of the 300+ bird species recorded here. We retrace our route by boat to
the dock at Pavon where we will start cycling through banana plantations,
stopping for a brief explanation about the importance of these plantations to
Costa Rica. Afterwards we have a transfer to just outside Guapiles for an
early lunch provided by our Tortuguero lodge. After lunch we head towards La
Fortuna and the imposing Arenal volcano. Following a massive explosion in
1968, Arenal was Costa Rica's most active volcano until recently when it
entered a resting phase. En route we will take a break to observe the
thriving pineapple operations in Costa Rica before continuing on to our
hotel, set in the centre of town. This evening there is an included excursion
to Eco-Termales hot springs, by far the best in the area. 
Day 13 :

Cycle To Bajo Rodriguez; To La Garita De Alajuela.
Location:
Alajuela
Accommodation:
Hotel
Accommodation Name:
Hotel Rosa America (or similar)
Meals Included:
Breakfast
Following a short transfer, our final cycling stage starts with a ride
through the dense rain forest surrounding beautiful Lake Arenal, with several
spots to observe the volcano as we continue back toward La Fortuna. Departing
Fortuna, we bike through tropical farmlands dedicated to exotic fruits and
vegetables, then do a bit of climbing through forested hills up to the
conclusion at Bajo Rodriguez. The last leg of our journey is completed by bus
as we transfer back to La Garita de Alajuela, travelling for around two hours
with tropical views on the way. 
Location:
San José
Meals Included:
Breakfast
Our trip ends in San Jose (La Garita) after breakfast this morning and those
on group flights will be transferred to the international airport for the
return journey.
**


What's Included
All transport and listed activities

All breakfasts, 4 lunches, 2 dinners

All accommodation (see accommodation section)

Local bike hire

Flights from London (if booking incl. flights)

Tour/Cycling leader and support team throughout
What's Not Included
Visas or vaccinations

Travel insurance

Single accommodation (available on request)
Accommodation
We spend 13 nights in characterful hotels, most of which have swimming pools. There are three nights in remote mountain lodges with lush gardens and superb views, one with a well-known tropical botanical garden. All accommodations are well maintained, very clean and most are long-time favourites in Costa Rica. Below are a few of the standout accommodations on this trip.

Dominical: Villas Rio Mar



In a beautiful rainforest setting, Villas Rio Mar is a slice of Costa Rican wilderness but with plenty of amenities. There's a large palm tree-wrapped swimming pool, tropical gardens, and a rainforest trail to explore. There's also a focus on ecofriendly practices, with solar power running the air conditioning in the bungalows, vegetables for the restaurant grown in their greenhouse, and a monthly clean-up of Playa Dominical beach (which is just a 10-minute walk away).

Near San Vito: OTS Las Cruces Lodge



Unleash your inner natural historian with a stay at Las Cruces Research Station. It's a hub of science and nature, which brings together researchers and wildlife lovers from across the planet, with accommodation for up to 100 people. During our time here, we enjoy a guided walk around the Wilson Botanical Garden, which surrounds the property and is home to an extraordinary collection of tropical plants and more than 400 bird species.

Tortuguero: Pachira Lodge



Five minutes from the main entrance to Tortuguero National Park and hugged by scenic canals, this 94-room resort has a prime location. When it's time to relax, there's a turtle-shaped pool (this is green turtle country, after all), a buffet restaurant serving Costa Rican-Caribbean cuisine, and a bar. But the real draw is the other residents. You may spot sloths, howler monkeys and white-faced monkeys and, if you're lucky, an otter or manatee in the surrounding waterways.
Food
All breakfasts, 3 lunches and 2 dinners are included. In the itinerary we state which meals are included on which day (13 breakfasts, 3 lunches and 2 dinners). Hotel breakfasts are normally buffet style. Vegetarians are well catered for but please inform us before departure of any special dietary requests. Expect to see a lot of the Costa Rican speciality 'gallo pinto' and a lot of rice, beans, fruit and grilled meats.
Check out our Q&As
Are children permitted to take part in the tour?

Minimum 16 years old people can go on this tour

Do you require a visa for this holiday?

Holders of British, US, Canadian, Australian, New Zealand and most EU passports can enter Costa Rica for a stay of 90 days without a visa. Proof of onward travel may be required when entering Costa Rica - we suggest you take a print out of your flight details in case officials ask to see them.

Are vaccinations required for this tour?

There are no mandatory vaccination requirements, however, if you have travelled to a country at risk of Yellow Fever prior to arriving in Costa Rica you will be required to have a valid Yellow Fever Certificate with you. Recommended vaccinations are: Hepatitis A.

Are the local guides on the tour English speaking?

What is the maximum group size?
What happens if I need to change my holiday date once I've booked?

If you wish to make any changes to your booking, particularly if you need to alter any flights booked through us, please let us know as soon as possible. There is a booking or flight amendment fee of £40 per change and flight amendments often incur extra airline costs depending on the changes to be made and if the ticket has been issued or not.

How long has the tour company been trading?

Exodus has been trading since 1974

What documents will I receive before I travel?

Your final joining instructions and flight details, if booked with us, will then be sent out 2 to 3 weeks before departure. If you would like a hard copy posted, or if you require these any earlier, please contact the customer operations team. We advise that if you are booking connecting travel before receiving these, please ensure you leave plenty of time.

Do you operate a "single share" option and how does it work?

Travellers are welcome to opt to share a room with a tour member of the same gender for no additional charge. If you'd like your own room, we can request a single supplement so that you will have your own room throughout.

Can I join the tour once it has departed?

You are welcome to meet the group after the tour has departed however there is no reduction in rate for joining a tour after the departure date.
Reviews from Travellers on this Tour
Wonderful journey!
From start to finish this tour was just fantastic, packed with activities that made us feel like we had been here a month. the tour guide Roberto runs a slick efficient operation with his co-workers Paul an Luis, nothing was a problem whatever you asked.
Tremendous Cycling
Fabulous holiday, great cycling, great group of people and brilliant Costa Rican crew who looked after us very well, Ricardo, Walter and Luis.
Fantastic insight into Costa Rica and its wildlife
Our guide Roberto, aided by his highly professional support team of Paul and Luis, created an atmosphere of total fun to add to the terrific cycling, the beautiful scenery and the amazing birdlife.
Simply amazing
Everyone said Costa Rica is amazing. It is. And our guide, Roberto, made it even more amazing. He shared his love for Costa Rica and made sure everyone on our trip had an amazing time. Costa Rica is beautiful... pura vida. This trip encompasses the people, the countryside, the wildlife... and some great biking. Boat trips, tours of national parks, swimming in the Caribbean, lovely accommodation, great food... and the best coffee ever. We loved it. Probably our best bike tour ever. And we were lucky to have a great group. Thank you everyone. And special thanks to Roberto, Walter and Luis.
Pura Vida! Thinking about it? Book it!
Costa Rica has stunning scenery. The itinerary covers a wide variety of beautiful and diverse landscapes : coastal - Pacific and Caribbean, mountainous (the bus takes you up the big hills so don't worry), plantations - pineapple, banana, coffee), rain forest. As well as visiting some of the main tourist highlights eg Manuel Antonia NP, the route also includes some less touristy places. I loved cycling through the small, rural communities. Costa Rica is well known for its flora and fauna. This trip doesn't disappoint in seeing exotic, colourful plants and a range of animals I've never seen in the wild, including sloths. At times it feels as if Costa Rica is one giant botanical garden. Eating lunch in local Sodas (family cafes) ,recommended by our guide, Roberto, gave a very authentic Costa Rican experience. The national dish of rice and beans is ubiquitous, but there's much more on the culinary agenda. We love seafood and there was ample opportunity to eat delicious ceviche, locally caught giant shrimps and fresh fish. Luis, our driver, provided organic fruit at regular intervals during the cycling day. I have never tasted pineapple quite like this - so juicy and sweet! Costa Ricans are generally very friendly and welcoming. Tourism is very important to their economy and you get the feeling they really want you to have an enjoyable experience.
If a toucan can so can you
This is a full-on roller coaster of a trip - early starts, fabulous wildlife, intense heat, torrential downpours, great food, expert guides, friendly people and the best pineapple you'll find anywhere in the world - all in the very safe hands of Roberto and his fantastic team. And there toucans!
I'd do it again !
If great cycling, stunning scenery (not everyday you have a volcano as your backdrop), abundant wildlife and delicious food is what you want - this is the trip for you. Pura Vida !
Trip of a lifetime
Our first trip with Exodus, and first adventure on the bikes. This trip with Roberto and Jeyson guiding and Luis driving exceeded all of our expectations. We are hooked on this type of trip now and cannot believe we haven't found you before. We packed in so many wonderfully different terrains, views and wildlife experiences, it will be hard to replicate. The bikes were great, the cycling was the perfect amount for reasonably fit older adults. The first cycling stop where the water container was opened and we had the vision of perfectly arranged fresh pineapple and papaya was when I knew we would love it. This was the perfect time of year no rain, occasionally a little too hot but no need to carry excessive cold weather baggage. The tour guides at the national parks were exceptional and our tour guide Roberto had done all the upfront work to make our travel and experience of these phenomenal sites as smooth and streamlined as possible. We are truly grateful for a magnificent experience in difficult times pura vida!
Been there done that.... and ready to do it all over again!
Had a time of my life waking up to howling monkeys, birds singing, tropical fruits/flowers, lush scenery at our doorstep....while climbing hills that of course were challenging at times, but that was part of the excitement. I am eternally grateful for the joy this trip bought me. Still smiling when wake up in the morning as I can't beleive I can say .... been there, done that and happily do it again! Pura Vida to all the lovely people in Costa Rica.
Costa Rica Cycling
I chose Costa Rica because of it's wildlife. I was not disappointed, in fact my expectations were surpassed. I enjoy cycling, hence chose the cycling trip.
Dates & Availability
Saturday - Friday
Dec 16, 2023 - Dec 29, 2023
Instant Booking Available
Saturday - Friday
Feb 03, 2024 - Feb 16, 2024
Instant Booking Available
Saturday - Friday
Feb 10, 2024 - Feb 23, 2024
Instant Booking Available
Saturday - Friday
Feb 24, 2024 - Mar 08, 2024
Instant Booking Available
Saturday - Friday
Mar 02, 2024 - Mar 15, 2024
Instant Booking Available
Saturday - Friday
Mar 30, 2024 - Apr 12, 2024
Instant Booking Available
Saturday - Friday
Jul 06, 2024 - Jul 19, 2024
Instant Booking Available
Saturday - Friday
Aug 10, 2024 - Aug 23, 2024
Instant Booking Available
Saturday - Friday
Oct 12, 2024 - Oct 25, 2024
Instant Booking Available
Saturday - Friday
Oct 26, 2024 - Nov 08, 2024
Instant Booking Available
Saturday - Friday
Nov 02, 2024 - Nov 15, 2024
Instant Booking Available
Saturday - Friday
Nov 16, 2024 - Nov 29, 2024
Instant Booking Available
Saturday - Friday
Dec 14, 2024 - Dec 27, 2024
Book with Confidence
Transfer as credit to Future Tours

Exodus allows you to transfer existing payments to a future tour to avoid cancellation fees if you can't travel and inform exodus, 43 days before departure.

Low Deposit

Exodus requires a minimum deposit of 25% or the full booking value, whichever is less, with the final balance not due until 90 days before departure.

Cancellation Policy

We don't charge a cancellation fee, here is a summary of exodus charges.

Up to 42 days before tour starts: Forfeit 100% of deposit.

At 20 days before tour starts: Forfeit 100% of booking price.
Why book with tourhub?
Safe & Secure
Your money is protected in an external trust until you travel.
---
100% Guaranteed Refunds if your trip is cancelled.
---
The safest way to make overseas, multi-currency payments.
Guaranteed Best Value
Industry leading discounts, we won't be beaten on price.
---
No cancellation or amendment fees from tourhub.
(Operator terms may apply)
Expert Knowledge
Reliable & unbiased advice from travel experts.
---
Direct contact with the tour operator via our messaging service.
---
Inspiration & advice from a community of 6000+ real travellers, influencers & content creators.
Trusted Service
Official partners & licensed agents of 1000+ tour operators worldwide.
---
Don't just take our word for it...
"Tourhub: Friendliness, Professionalism & Integrity I would happily give tourhub a 6* review if I could..."
Similar Tours
Travel Guru Features
Our Reviews