Cycle Morocco's Great South
9 Days Starting and ending in Marrakech
Visiting: Marrakesh, Toubkal, Oulad Berhil, Irherm, Tafraoute, Agadir, Imouzzer Ida Ou Tanane, Essaouira
Tour operator:
Physical rating:
Moderate / Challenging
Special diets catered:
Please inform Exodus of specific dietary requirements
Tour operated in:
English
Trip Styles:
Interests:
Activities:
Tour Overview
Encompassing the best of Morocco, this trip will take us past the foothills of Mt Toubkal, golden Kasbahs, impressive gorges and the long sandy beach of Essaouira. This spectacular route follows smooth tarmac roads and climbs over high mountain passes that reward you with spectacular vistas of the High Atlas Mountains. A real highlight is riding through Paradise Valley, close to Imouzzer, where a palm-filled valley leads to a high pass with views down to the ocean below. After all the riding we will receive a warm welcome from a range of great hotels including a traditional riad.
Highlights
Ride from the Atlas Mountains to the coast

Explore Marrakech and Essaouira

Conquer challenging climbs and exciting descents
Itinerary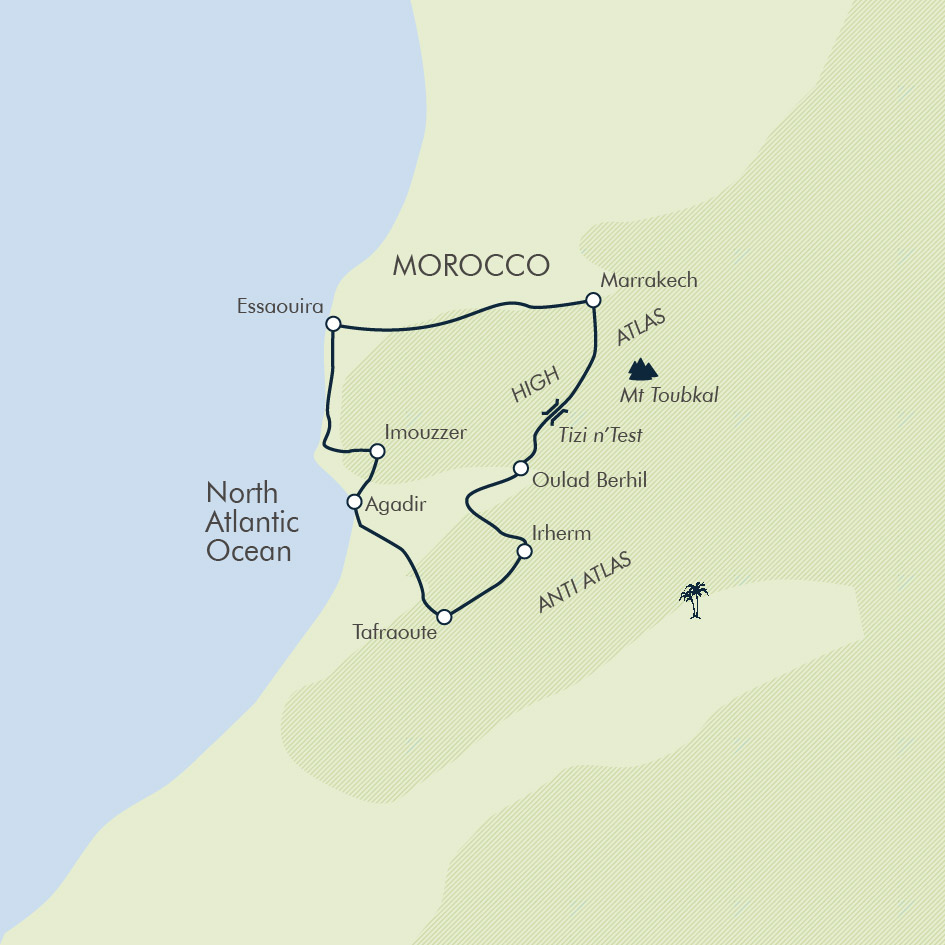 Expand All
Location:
Marrakesh
Accommodation:
Hotel
Accommodation Name:
Mogador Opera Hotel or similar – Marrakech
Meals Included:
No Meals
We recommend walking or taking a taxi into the old city. Here there is plenty
to explore like the old walled medina and its winding alleyways which are
filled with souks selling everything from street food to pottery and
jewellery.


Day 2 :

Transfer To Tadmamt; Cycle In The Foothills Of Mt Toubkal To Ijoukak.
Location:
Toubkal
Accommodation:
Hotel
Accommodation Name:
Auberge Tigmmi n'Tmazrite or similar
Meals Included:
Breakfast, Lunch, Dinner
We transfer out of Marrakech this morning to Tadmamt and begin our cycling
journey into the foothills of Mt Toubkal. After a nice warm up on a wonderful
undulating road, we enjoy a long descent into the Asni Valley with beautiful
views. We then follow the river and cross over a number of bridges before
arriving in Tigmmi n'Tmazrite and our hotel for the evening.


Day 3 :

Challenging Climb Followed By Exhilarating Descent From Tizi N'test Pass (2100M) To Oulad Berhil; Overnight In Traditional Riad.
Location:
Oulad Berhil
Accommodation:
Hotel
Accommodation Name:
Riad Hida or similar - Oulad Berhil
Meals Included:
Breakfast, Lunch, Dinner
The day begins with a challenging climb to the dramatic Tizi n'Test Pass
(2100m). We are rewarded with dramatic views to the south over the Sousse
Valley towards the Anti Atlas Mountains. After lunch we have a truly dramatic
and, in places, quite steep descent as the road winds down to the valley.
Once in the valley our ride takes us past orange, lemon and grapefruit groves
as we approach Oulad Berhil. Here we receive a warm welcome, wonderful food
and a relaxing evening at our beautiful Riad. This converted palace is a
wonderful addition to the end of our day with roaming peacocks and the chance
to pick our own fruit straight off the trees.


Day 4 :

Cycle Towards Tafraoute In Anti Atlas Mountains; Optional Transfer/Ride To See The Famous Blue Rocks.
Location:
Irherm, Tafraoute
Accommodation:
Hotel
Accommodation Name:
Auberge Chez Amalyia or similar – Tafraoute
Meals Included:
Breakfast, Lunch, Dinner
We have a morning transfer into the Anti Atlas Mountains and the real
southern Morocco, much of it semi-desert and a complete contrast to the
fertile Sousse Valley. We travel through argan country trying to spot the
incredible tree climbing goats which are famously found here. From Irherm, we
are surrounded by almond trees and our road has some wonderful ups and downs
as we pass through many farms and little mud-walled Berber villages. The last
section of the ride is another wonderful descent of about 12km through the
most dramatic scenery to Tafraoute. 

Time permiting we will visit the somewhat peculiar site of giant painted blue
rocks, otherwise we'll visit these tomorrow. 


Day 5 :

Pass Pink Houses And Kasbahs En Route To Ait Baha Lake; Transfer To Agadir.
Location:
Agadir
Meals Included:
breakfast, lunch, dinner

We transfer to Tizi M'Lil and begin another varied ride, undulating through
spectacular hills, past traditional villages and hill-top kasbahs, with some
superb balcony sections with excellent views. There are a few climbs, but the
ride ends with an exhilarating descent to Ait Baha Lake and then we transfer
to the coastal resort of Agadir. 

*Hotel Oasis or similar – Agadir*


Day 6 :

Spectacular Ride Through The Paradise Valley; Climb To Imouzzer.
Location:
Imouzzer Ida Ou Tanane
Meals Included:
breakfast, lunch, dinner

Today we enjoy a truly spectacular ride through the Paradise Valley, a narrow
gorge lined with palm trees. Towards the head of the valley we have another
challenging climb with excellent views, eventually reaching a high plateau
and the little town of Imouzzer, the end point of one of the most dramatic
rides on our route. Originally the home of the Ida Outanane Berber tribe,
Imouzzer retains a strong cultural identity.

*Hotel des Cascades Ecolodge or similar – Imouzzer*

* *


Day 7 :

Cycle Through Traditional Villages And Palmaris To Essouira. 
Location:
Essaouira
Meals Included:
breakfast, lunch, dinner

We start cycling from the front door and begin with another excellent winding
descent on a good road to a valley dotted with palm trees and traditional
villages. There are a couple of moderate climbs over rocky hills and descents
back into the fertile valleys before we reach the main coast road and the end
of the ride. After a picnic lunch we transfer (1.5 hours) to our destination
for the evening, Essaouira. This charming old Portuguese fishing port dates
back to the 15th Century, but the present town was constructed around 1760 by
Sidi Mohammed ben Abdullah, who needed a base from which to suppress a revolt
from Agadir. Today, Essaouira is extremely relaxed and its whitewashed houses
with painted shutters, artisan's workshops, boatyards and fishermen provide a
marked contrast to Marrakech. There's plenty of interest in the narrow
traffic-free streets of the old town and we stay overnight in a traditional
Riad hotel.
*Riad al Madina or similar – Essaouira *


Day 8 :

Free Morning In Essaouira; Transfer To Marrakech; Free Time.
Location:
Marrakesh
Meals Included:
breakfast

After a free morning to explore lovely Essaouira, we transfer to the vibrant
city of Marrakech. Simply enjoy a freshly squeezed orange juice in one of the
many rooftop cafés overlooking the Djemma El Fna Square, or perhaps take a
calèche (a bright green horse drawn carriage) ride to the peaceful Majorelle
Gardens. These small but tranquil gardens are decorated throughout in indigo
blue and house the small Museum of Islamic Art in the grounds. A final treat
would be to go for a hammam, a traditional Moroccan steam bath. A visit to
Djemma el Fna Square this evening is the ultimate reward for our week's
cycling - with snake charmers, story tellers, smoky food stalls and souks,
there is no other way to experience the exciting atmosphere of Marrakech.
*
*

*Mogador Opera Hotel or similar – Marrakech*


Location:
Marrakesh
Meals Included:
breakfast

The trip ends after breakfast. Those on the group flights will be taken to
the airport in time for their flight home.

Explore Marrakech if you have time before your flight. The best places to get
a view over the square are the La Grand Balcon du Cafe Glacier or Cafe de
France. You have to buy a drink, but at MAD 20 it's worth it for a great
view.

 Majorelle Gardens, or Le Jardin Secret make a great escape from the
bustling city, and offer a chance to discover its gardens and buildings,
which are outstanding examples of Islamic art and architecture.

A top tip for great food would be the Moroccan roast lamb, found at Chez
Lamine just off the Djemaa el Fna square. Made famous by Jamie Oliver's
visit, it remains the best place to try this speciality. Go between 12noon
and 3pm or you'll miss it.

If you're craving a cold beer or a glass of wine, make your way to La Salama,
again just off the Djemaa el Fna square. You can enjoy the
beautiful interior and lively atmosphere.

Taxis can be found easily around the Djemaa el Fna square, to take you back
to your hotel in the new city.


What's Included
Local bike hire

All breakfasts, 6 lunches, 6 dinners

All accommodation

All transport and listed activities

Tour leader throughout

Flights from London (if booking incl. flights)

Arrival & departure transfers
What's Not Included
Visas or vaccinations

Single accommodation (available on request)

Travel insurance
Food
All breakfasts, 6 lunches, 6 dinners. Moroccan food is excellent, though not particularly varied. Breakfasts usually consist of bread, croissants and jam with tea or coffee and freshly squeezed orange juice. Meals eaten out are reasonably priced - a lamb or chicken tagine (a local speciality) will cost about GBP5. In main towns it is possible to find very good French and Moroccan restaurants where a meal and French wine will cost anything from GBP15 upwards. Local beers, wines and soft drinks are available at very reasonable prices, but you can pay UK prices or more for imported alcohol. Your leader can help recommend restaurants for the two evenings where dinner is not included. Vegetarians can be catered for but there is a fairly limited choice of vegetarian tajine, cous cous, omelettes and salad. This is particularly the case during the more rural sections of the trip. Lunches are a mixture of packed lunches or eating in a local restaurant. They are generally a mixture of bread, pasta, rice, veg, cheese, fish, ham, fruit.  Please note that if you have any special dietary requirements you should inform the Exodus Office prior to the trip. If you have a specific medical/dietary need (i.e. coeliac or vegan) you may find it helpful to bring some items of food with you from home. All mineral drinking water is included whilst cycling.
Accommodation
We stay in hotels, an auberge and two riads during this trip. Apart from the auberge, these are three- and four-star properties (local ratings). Below are some of the places we typically stay.

Tafraoute: Hotel les Amandiers



Perched on a rocky hillock, Les Amandiers overlooks the valley and is surrounded by pink granite mountains. The property has a pool with mountain views and a lounge where you can relax.

Imouzzer: Hotel des Cascades Ecolodge

After one of our most spectacular rides of the trip, Hotel des Cascades is the perfect place to unwind and reminisce. There's an outdoor pool for a post-cycle dip and sun loungers if you just want to kickback. Best of all, however, might be the views, which stretch over the surrounding Atlas peaks.

Essaouira: Riad Al Madina



Built in 1817, this traditional riad in Essaouira medina provides an authentic look into a bygone age. The hub of social interaction is the patio, but you can also enjoy Moroccan tea in one of the lounges. When you're ready to explore, the beach is just 655ft (200m) away and you're near all the attractions and souks.

Worth knowing

A single supplement is available; however, this does not apply to the night spent at Auberge Tigmmi (Day 2).

About riads 

Riads are traditional Moroccan homes, generally in the old part of the city or medina, where the wealthiest people would historically live. They're typically built around a central corridor with windows facing an internal courtyard (external windows are rare). Most have a rooftop terrace where breakfast is served. A night in a riad is an authentic Moroccan experience; however, riads do not have hotel-style facilities. Additionally, the rooms are not standardised and come in different sizes and shapes. 
Check out our Q&As
What happens if I need to change my holiday date once I've booked?

If you wish to make any changes to your booking, particularly if you need to alter any flights booked through us, please let us know as soon as possible. There is a booking or flight amendment fee of £40 per change and flight amendments often incur extra airline costs depending on the changes to be made and if the ticket has been issued or not.

How long has the tour company been trading?

Exodus has been trading since 1974

What documents will I receive before I travel?

Your final joining instructions and flight details, if booked with us, will then be sent out 2 to 3 weeks before departure. If you would like a hard copy posted, or if you require these any earlier, please contact the customer operations team. We advise that if you are booking connecting travel before receiving these, please ensure you leave plenty of time.

Do you operate a "single share" option and how does it work?

Travellers are welcome to opt to share a room with a tour member of the same gender for no additional charge. If you'd like your own room, we can request a single supplement so that you will have your own room throughout.

Can I join the tour once it has departed?

You are welcome to meet the group after the tour has departed however there is no reduction in rate for joining a tour after the departure date.
Reviews from Travellers on this Tour
Hard cycling - stunning landscapes!!
Leaving the frozen cars at Stansted on Nov 5th it was a delight to arrive in Marrakech where the sun shone and the temperature was a delicious 28 degrees!!!! Apart from one day in Marrakech (which is probably enough!) this really was a full on cycling trip. We were either going up (for many miles) or down (often cold). The snack stops and picnic lunches were warmly welcomed and usually somewhere lovely. Every day the landscape was different - I expected lots of scrubby desert so was pleasantly surprised. Essaouira was particularly lovely - walk through the streets after dinner and enjoy the local hustle and bustle.
CYCLE MOROCCO'S GREAT SOUTH
A great trip taking in some fantastic and ever changing scenery along largely very quiet roads. Not only do you get to experience the hustle and bustle of Marrakech's bazaars but you get to cycle the through towns and villages that few tourists ever see. A great leader and a great group. Jim (Exodus Sales Manager)
CYCLE MOROCCO'S GREAT SOUTH
A fantastic trip! The guides were excellent, a great bunch of people, food was great and the route was well chosen for fantastic views and a good mix of terrain. I would definitely go on another Exodus cycling trip
CYCLE MOROCCO'S GREAT SOUTH
I was going to give this trip 4 stars but to be honest I couldn't think of any reason why it doesn't deserve 5 stars as it was an amazing holiday. This was my first holiday of this type and it really was ace, I was lucky enough to be there with 7 other guests that were pretty awesome, we all got on pretty well and had a bit of friendly banter between us all. I basiically put this down as a holiday of a lifetime and I will be doing more exodus trips based on how much fun I had on this one.
CYCLE MOROCCO'S GREAT SOUTH
Cycling in the most fabulous of landscapes, surrounded by incredibly friendly Moroccans and with a great group. I want to give the trip 4.5 stars.
CYCLE MOROCCO'S GREAT SOUTH
GREAT CYCLING ON QUIET ROADS WITH GREAT DOWN HILLS AND NOT STEEP UP HILLS.THE TRIP NOTES DO NOT DO THE CYCLING JUSTICE.
CYCLE MOROCCO'S GREAT SOUTH
Amazing cycling on good roads with little traffic. November a good time to escape UK to warmer weather
Cycle Morocco's Great South
Beautiful Atlas mountain scenary. Hard cycling ascents rewarded with exhilarating descents. Comfortable Riads. Tajine. Tajine. Tajine. Beer.
CYCLE MOROCCO'S GREAT SOUTH
A well organised and enjoyable trip for cyclists with a good base level of fitness.
CYCLE MOROCCO'S GREAT SOUTH
Well thought out cycing with plenty of variety
Dates & Availability
Instant Booking Available
Saturday - Sunday
Mar 02, 2024 - Mar 10, 2024
Ramadan
Saturday - Sunday
Mar 30, 2024 - Apr 07, 2024
Instant Booking Available
Saturday - Sunday
Apr 27, 2024 - May 05, 2024
Instant Booking Available
Saturday - Sunday
Sep 14, 2024 - Sep 22, 2024
Instant Booking Available
Saturday - Sunday
Oct 05, 2024 - Oct 13, 2024
Instant Booking Available
Saturday - Sunday
Nov 02, 2024 - Nov 10, 2024
Instant Booking Available
Saturday - Sunday
Feb 08, 2025 - Feb 16, 2025
Ramadan
Saturday - Sunday
Mar 01, 2025 - Mar 09, 2025
Instant Booking Available
Saturday - Sunday
Mar 29, 2025 - Apr 06, 2025
Instant Booking Available
Saturday - Sunday
Apr 12, 2025 - Apr 20, 2025
Instant Booking Available
Saturday - Sunday
Apr 26, 2025 - May 04, 2025
Instant Booking Available
Saturday - Sunday
Sep 13, 2025 - Sep 21, 2025
Instant Booking Available
Saturday - Sunday
Oct 04, 2025 - Oct 12, 2025
Instant Booking Available
Saturday - Sunday
Oct 18, 2025 - Oct 26, 2025
Instant Booking Available
Saturday - Sunday
Nov 01, 2025 - Nov 09, 2025
Book with Confidence
Transfer as credit to Future Tours

Exodus allows you to transfer existing payments to a future tour to avoid cancellation fees if you can't travel and inform exodus, 43 days before departure.

Low Deposit

Exodus requires a minimum deposit of 25% or the full booking value, whichever is less, with the final balance not due until 90 days before departure.

Cancellation Policy

We don't charge a cancellation fee, here is a summary of exodus charges.

Up to 42 days before tour starts: Forfeit 100% of deposit.

At 20 days before tour starts: Forfeit 100% of booking price.
Why book with tourhub?
Safe & Secure
Your money is protected in an external trust until you travel.
---
100% Guaranteed Refunds if your trip is cancelled.
---
The safest way to make overseas, multi-currency payments.
Guaranteed Best Value
Industry leading discounts, we won't be beaten on price.
---
No cancellation or amendment fees from tourhub.
(Operator terms may apply)
Expert Knowledge
Reliable & unbiased advice from travel experts.
---
Direct contact with the tour operator via our messaging service.
---
Inspiration & advice from a community of 6000+ real travellers, influencers & content creators.
Trusted Service
Official partners & licensed agents of 1000+ tour operators worldwide.
---
Don't just take our word for it...
"Tourhub: Friendliness, Professionalism & Integrity I would happily give tourhub a 6* review if I could..."
Similar Tours
Travel Guru Features
Our Reviews