Cycle Northern France: Brittany to Normandy
7 Days Starting in Rennes and ending in Cabourg
Visiting: Rennes, Saint-Germain-en-Coglès, Dinan, Dinard, Saint-Malo, Cancale, Mont Saint-Michel, Bayeux, Cabourg, Europe
Tour operator:
Physical rating:
Leisurely
Trip Styles:
Interests:
Activities:
Tour Overview
With D-Day beaches, the floating abbey of Mont Saint-Michel, and a coastal-countryside terrain, the neighbouring regions of Brittany and Normandy are seemingly tailormade for a culture-filled cycling adventure. This easy-going route tracks the essential stops in northern France, encompassing medieval villages and pretty port towns, moving Second World War history, and a host of standout landmarks, including the 12th-century seaside fortifications of Saint-Malo. Did you know you can travel by train to this trip? Find out more here.
Highlights
Tour the 12th-century seaside fortifications in Saint-Malo

Enjoy oyster tasting in Cancale, a renowned destination for shellfish

Visit the floating abbey on Mont Saint-Michel island

Relive the D-Day Landings with a visit to Omaha Beach

Take in the poignant Normandy American Cemetery
Itinerary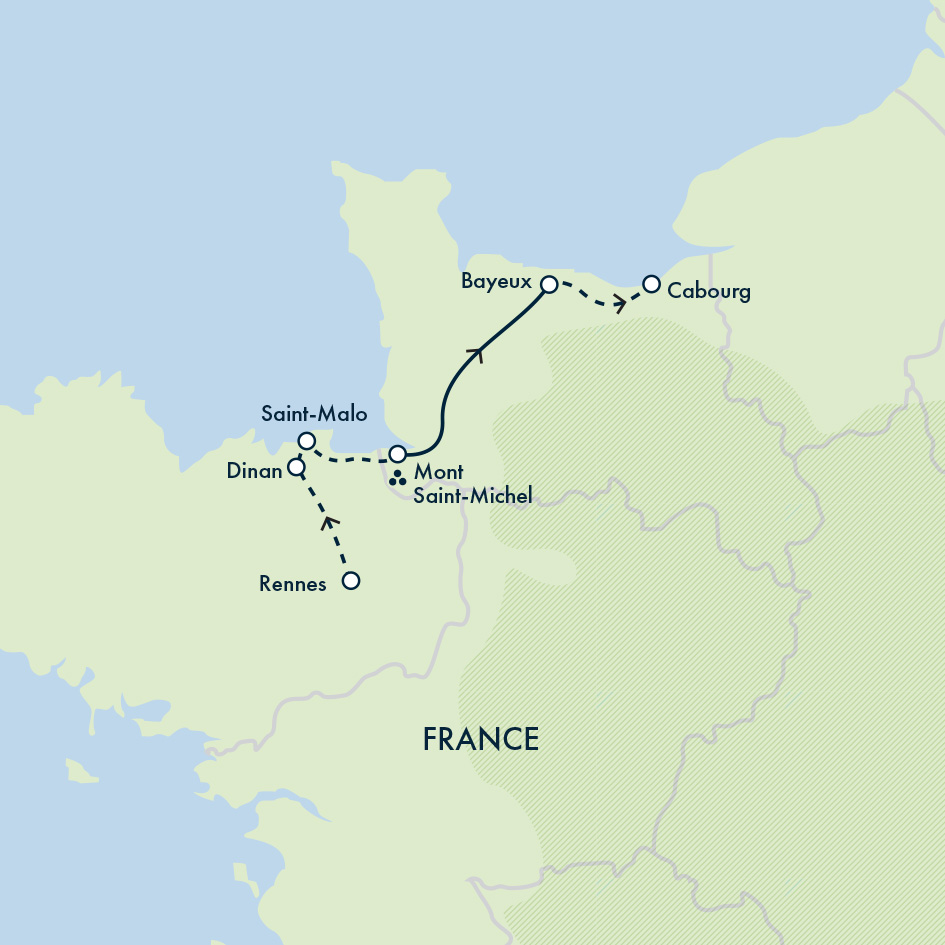 Expand All
Day 1 :

Start In Rennes; Welcome Dinner Of Breton Favourites
Location:
Rennes
Meals Included:
dinner
The adventure starts in Rennes, the beautiful capital of Brittany. If you have time, make sure to explore the old town, home to pretty half-timbered houses from the 15th century and the 17th-century Cathédrale Saint-Pierre.

Our hotel rooms are available from 3pm and there will be a welcome briefing in the evening, where we meet each other for the first time. The day ends with a group dinner of Breton specialities: crêpes and cider.

We stay overnight in Rennes.
Day 2 :

Cycle From St Germain To Dinan; Shellfish-Tasting Session In The Evening
Location:
Saint-Germain-en-Coglès, Dinan
Meals Included:
breakfastlunch
Leaving Rennes, we transfer to the town of St Germain to pick up our bikes. We then descend to the first lock of the Ille et Rance canal to begin cycling along the towpath, taking the flat route through an otherwise hilly landscape.

Our ride takes us through villages and towns, including peaceful Léhon where we visit the ancient abbey, and past a series of 11 flower-decorated locks. These villages, along with their unique characteristics and attractions, provide a glimpse into the rich cultural and historical heritage of northern France. We end at the medieval port town of Dinan, where we enjoy a shellfish-tasting session at the port with a local supplier.

We stay overnight in Dinan.

Ascent: 655ft (200m); descent: 655ft (200m)
Day 3 :

Ride From Dinan To Dinard, Shuttle Boat To Saint-Malo; City Tour
Location:
Dinan, Dinard, Saint-Malo
Meals Included:
breakfastlunch
We enjoy a little walk around Dinan this morning. Nestled along the River Rance, Dinan features well-preserved medieval architecture, including ramparts, half-timbered houses and cobblestone streets, plus a delightful blend of art galleries, boutiques and cafes.

We then collect our bikes and set off, following the River Rance estuary, a greenery-lined waterway, towards the coast. On our gentle cycle, we can admire the boats sailing along the river and the tranquillity of the landscape. We pass granite cliffs and sandy beaches punctuated by traditional fishing ports and villages, before arriving in the pretty seaside town of Dinard. Here we catch the shuttle boat across the Rance estuary to Saint-Malo.

We then have time for a guided tour of this spectacular historic port city, taking in the expansive 12th-century fortified ramparts and a statue of local maritime explorer Jacques Cartier.

Overnight in Saint-Malo.

Ascent: 490ft (150m); descent: 490ft (150m)
Day 4 :

Explore The Emerald Coast; Oyster Tasting In Cancale; End In Mont Saint-Michel
Location:
Cancale, Mont Saint-Michel
Meals Included:
breakfastlunch
We begin with a short transfer, before hopping on our bikes for a day exploring the best of the Emerald Coast – a beautiful mix of classic European shorelines and Breton countryside.

Along the way, we stop for a seaside picnic and to visit the harbour town of Cancale, where shellfish has been a delicacy since the Roman age. We take the opportunity to try some oysters .

After Cancale, it's an easy, flat ride. We pass Mont-Dol, a 215ft (65m) high rock in the middle of the marshes where, legend has it, Saint Michael met the devil. We finish in Mont Saint-Michel, where a Unesco-listed island is crowned by a magnificent Benedictine abbey, which appears to float when the highest tides surround the island with seawater.

Overnight in Pontorson, near Mont Saint-Michel

Ascent: 920ft (280m); descent: 855ft (260m)
Day 5 :

Visit Bayeux; Cycle To Omaha Beach And Tour The American Cemetery In Colleville-Sur-Mer
Location:
Bayeux
Meals Included:
breakfast, lunch
We leave Mont-Saint-Michel early, taking a minibus transfer to medieval Bayeux. There is time to see the architectural wonders of the town, including the 11th-century cathedral, narrow cobbled streets and half-timbered houses.

It's then back on the bikes as we cycle through the countryside to Omaha Beach, one of the five beaches on which Allied forces landed during the D-Day invasions of the Second World War. That is followed by a moving visit to the clifftop Normandy American Cemetery in Colleville-sur-Mer, where more than 9,300 American soldiers were laid to rest. After, we head back to Bayeux .

Overnight in Bayeux.

Ascent: 330ft (100m); descent: 330ft (100m)
Day 6 :

Option To See Bayeux Tapestry; Cycle Through Norman Countryside And Villages; Finish In Cabourg
Location:
Cabourg
Meals Included:
breakfast, dinner
Before we get back on the bike, we have the option to visit the Bayeux Tapestry, a 230ft (70m) long embroidery depicting the Norman victory over Harold's English army in 1066 (entrance fee not included).

We then cycle across the Normandy countryside to Longues-sur-Mer, where we can see an imposing German artillery battery from the Second World War, and Arromanches, where we see the remains of an artificial port commissioned by Winston Churchill.

We then take small country roads through typical Norman villages to the pretty port town of Courseulles-sur-Mer. In the late afternoon, we have a 20-minute transfer to Cabourg, home to the longest beach in Europe, where we enjoy our final dinner as a group.

Overnight in Cabourg.

Ascent: 330ft (100m); descent: 330ft (100m)
Location:
Cabourg
Meals Included:
breakfast
Our cycling adventure across northern France ends after breakfast. If you'd like to spend more time exploring this beautiful part of Europe, speak to your sales representative about extending your stay.
What's Included
All breakfasts, four lunches, two dinners

All accommodation

All transport and listed activities

Tour leader throughout

Local bike hire

Group arrival and departure transfers available
What's Not Included
Travel insurance

Single accommodation (available on request)

Visas or vaccinations
Food
All breakfasts, four lunches and two dinners are included .

There is a wealth of local cuisine to explore too, including: agneau de pré sale, a salty lamb dish from Mont Saint-Michel; marmite dieppoise, a creamy seafood dish from Dieppe but served across northern France; and poulet au cidre, a creamy chicken dish made with local cider.

Vegetarians can be fairly easily accommodated in this area of France; however, vegans may find the variety of dishes available is rather limited.
Accommodation
Each hotel has a unique character, with many close to historic town centres and local landmarks. The accommodations we usually use are listed below.

Rennes: Hotel le Nemours (night 1)



Immerse yourself in Rennes at Hotel le Nemours. Near the historic centre, this 41-room, nine-apartment hotel occupies a traditional townhouse and provides a comfortable base for exploring the city.

Dinan: Hotel du Château (night 2)



Experience the medieval beauty of Dinan with a stay at Hotel du Château, which is just a two-minute walk from the historic centre and pedestrian streets. Post-exploration, head to the bar-lounge for a nightcap and a chance to sample Breton aperitifs.

St Malo: Hotel de l'Univers or Hotel Maison des Amateurs  (night 3)



Discover the captivating coastal town of St Malo from the comfort of Hotel de l'Univers (above) or Hotel Maison des Amateurs. Both provide a delightful stay near the picturesque old town and beaches.

Pontorson, near Mont Saint-Michel: Hotel Victor Hugo (night 4)



Just 6mi (9.5km) from the Unesco-listed Mont St-Michel, Hotel Victor Hugo offers a tranquil retreat in the picturesque town of Pontorson. Here, 15 traditionally styled rooms occupy a 17th-century residence plus there's a bar and gardens should you wish to relax.

Bayeux: Hotel de Brunville & Spa (night 5)



Immerse yourself in stories of old with a stay in the heart of this historic town. It is the perfect base for exploring the rich heritage of the region while providing an opportunity to relax and unwind in the hotel spa, including an outdoor pool, hot tub and steam room.

Houlgate, near Cabourg: Hotel les Cabines (night 6)



In the scenic coastal town of Houlgate, which is 2.5mi (4km) from Cabourg, Hotel les Cabines offers a serene and relaxing atmosphere. It's just 330ft (100m) from the sea, taking over a 1900s building on the shopping street of Houlgate. There's also a French brasserie-styled bar and living room with a fireplace.
Check out our Q&As
What happens if I need to change my holiday date once I've booked?

If you wish to make any changes to your booking, particularly if you need to alter any flights booked through us, please let us know as soon as possible. There is a booking or flight amendment fee of £40 per change and flight amendments often incur extra airline costs depending on the changes to be made and if the ticket has been issued or not.

How long has the tour company been trading?

Exodus has been trading since 1974

What documents will I receive before I travel?

Your final joining instructions and flight details, if booked with us, will then be sent out 2 to 3 weeks before departure. If you would like a hard copy posted, or if you require these any earlier, please contact the customer operations team. We advise that if you are booking connecting travel before receiving these, please ensure you leave plenty of time.

Do you operate a "single share" option and how does it work?

Travellers are welcome to opt to share a room with a tour member of the same gender for no additional charge. If you'd like your own room, we can request a single supplement so that you will have your own room throughout.

Can I join the tour once it has departed?

You are welcome to meet the group after the tour has departed however there is no reduction in rate for joining a tour after the departure date.
Dates & Availability
Instant Booking Available
Sunday - Saturday
May 19, 2024 - May 25, 2024
Instant Booking Available
Sunday - Saturday
Jun 23, 2024 - Jun 29, 2024
Instant Booking Available
Sunday - Saturday
Jul 07, 2024 - Jul 13, 2024
Instant Booking Available
Sunday - Saturday
Aug 18, 2024 - Aug 24, 2024
Instant Booking Available
Sunday - Saturday
Sep 15, 2024 - Sep 21, 2024
Instant Booking Available
Sunday - Saturday
May 18, 2025 - May 24, 2025
Instant Booking Available
Sunday - Saturday
Jun 22, 2025 - Jun 28, 2025
Instant Booking Available
Sunday - Saturday
Jul 06, 2025 - Jul 12, 2025
Instant Booking Available
Sunday - Saturday
Aug 17, 2025 - Aug 23, 2025
Instant Booking Available
Sunday - Saturday
Sep 14, 2025 - Sep 20, 2025
Book with Confidence
Transfer as credit to Future Tours

Exodus allows you to transfer existing payments to a future tour to avoid cancellation fees if you can't travel and inform exodus, 43 days before departure.

Low Deposit

Exodus requires a minimum deposit of 25% or the full booking value, whichever is less, with the final balance not due until 90 days before departure.

Cancellation Policy

We don't charge a cancellation fee, here is a summary of exodus charges.

Up to 42 days before tour starts: Forfeit 100% of deposit.

At 20 days before tour starts: Forfeit 100% of booking price.
Why book with tourhub?
Safe & Secure
Your money is protected in an external trust until you travel.
---
100% Guaranteed Refunds if your trip is cancelled.
---
The safest way to make overseas, multi-currency payments.
Guaranteed Best Value
Industry leading discounts, we won't be beaten on price.
---
No cancellation or amendment fees from tourhub.
(Operator terms may apply)
Expert Knowledge
Reliable & unbiased advice from travel experts.
---
Direct contact with the tour operator via our messaging service.
---
Inspiration & advice from a community of 6000+ real travellers, influencers & content creators.
Trusted Service
Official partners & licensed agents of 1000+ tour operators worldwide.
---
Don't just take our word for it...
"Tourhub: Friendliness, Professionalism & Integrity I would happily give tourhub a 6* review if I could..."
Similar Tours
Travel Guru Features
Our Reviews