Cycle the Loire Valley
7 Days Starting in Blois and ending in Saumur
Visiting: Blois, Château de Chambord, Amboise, Vouvray, Château de Chenonceau, Chinon, Château du Rivau, Vineyard et Vélo, Candes-Saint-Martin, Saumur, Europe
Tour operator:
Physical rating:
Leisurely / Moderate
Special diets catered:
Vegetarians, Vegans
Tour operated in:
English
Trip Styles:
Activities:
Tour Overview
From magnificent chateaux steeped in Renaissance history to world-renowned vineyards, the Loire Valley is a dream destination for a gentle cycling adventure. On this trip, we ride sections of the Loire à Vélo, a scenic cycling route tracking the Loire river past orchards, vineyards and small villages. Starting in Blois and finishing in Saumur, we take in a host of architectural treasures, including the fairytale Château de Chaumont-sur-Loire and the river-spanning Château de Chenonceau, not to mention enjoying multiple wine tastings along the way. Did you know you can travel by train to this trip? Find out more here.
Highlights
Explore Château du Clos Lucé, where Leonardo da Vinci lived for the final years of his life

Visit a wine cellar in the town of Amboise for a tasting session

Marvel at fairytale castles including Château de Chambord, Château de Chenonceau and Château du Rivau

Sip wine in the vineyards of Vouvray and Chinon
Itinerary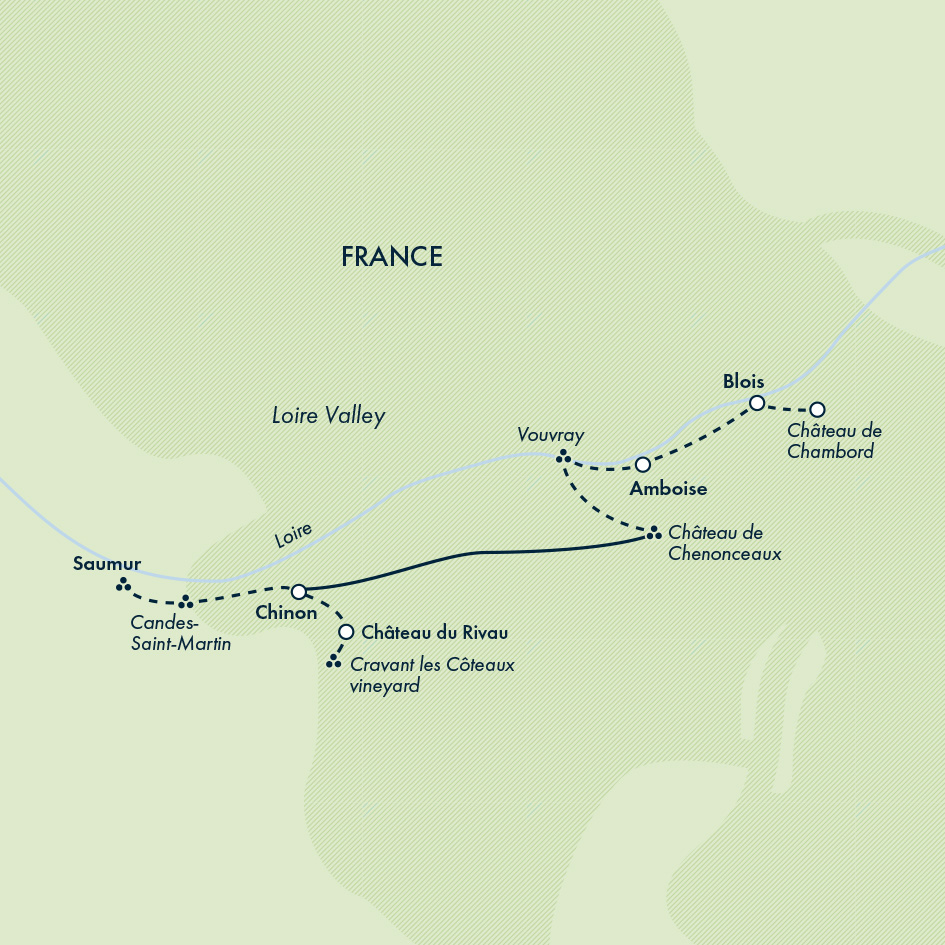 Expand All
Day 1 :

Start In Blois; Welcome Dinner
Location:
Blois
Accommodation:
Hotel
Meals Included:
dinner
The adventure starts in Blois, a charming small town on the banks of the Loire river. If you have time, make sure to explore the cobbled streets and beautiful gardens here. There will be a welcome briefing and group dinner in the evening, where we meet each other for the first time and discuss the adventures to come.
Day 2 :

Cycle From Blois To Château De Chambord
Location:
Blois, Château de Chambord
Accommodation:
Hotel
Meals Included:
breakfastlunch
We leave Blois and follow the Loire river on cycle paths to the village of Saint-Dyé-sur-Loire, a port town used during the construction of the Château de Chambord. We cross the expansive castle estate until reaching the chateau itself. Built under the reign of François I, it is a true masterpiece of the French Renaissance movement. After free time in Chambord, we continue cycling through the Sologne region taking quiet roads and paths before returning to Blois.

We stay overnight in Blois.

Ascent: 682ft (208m)
Day 3 :

Cycle From Blois To Amboise, Wine Tasting In Amboise
Location:
Blois, Amboise
Accommodation:
Hotel
Meals Included:
breakfastlunch
Today we follow the Loire à Vélo through tiny villages to the fairytale castle of Château de Chaumont-sur-Loire, which dominates the Loire river and the little town, before reaching the city of Amboise and its royal chateau. Here we visit the Château du Clos Lucé, where Leonardo da Vinci lived for the last three years of his life. There is free time to explore the history of the great man.

Before going to the hotel, we stop for a wine tasting in a Loire cellar. The sommeliers will show you tasting techniques and let you sample five wines, including an old vintage. They will explain how to match food and wine, and present the products with a gourmet selection from an aperitif plate to accompany the tasting.

Overnight in Amboise.

Ascent: 656ft (200m)
Day 4 :

Cycle From Amboise To Vouvray; Wine Tasting In Vouvray; Transfer To Chinon
Location:
Amboise, Vouvray, Château de Chenonceau, Chinon
Accommodation:
Hotel
Meals Included:
breakfastlunch
Today we follow the river once more, before cycling up the banks to reach the Vouvray vineyards, which are lined with troglodyte houses. These beautiful cave-like homes carved into limestone have been used for hundreds of years as dwellings by the locals. We can also admire private Renaissance castles, such as the Château de Valmer. After lunch, Maison Brédif welcomes you to the majestic site of its 10th-century troglodyte cellars for an exclusive visit. After discovering this heritage, you are welcomed in the Pavillon Fines Bulles, a warm and welcoming house for a tasting of five wines.

We then transfer by minibus to Chinon; on the way, we see Château de Chenonceau, which majestically spans the river Cher. Here there is free time to explore this stunning property and beautiful gardens.

Overnight in Chinon.

Ascent: 951ft (290m)


Day 5 :

Excursion To Château Du Rivau And Chinon Vineyards
Location:
Château du Rivau, Vineyard et Vélo, Chinon
Accommodation:
Hotel
Meals Included:
breakfastlunch
Today's cycling takes us to the little church of Notre Dame, hidden in the village of Rivière, where we see magnificent 11th-century murals. We continue to Château du Rivau, which looks like it's been plucked from the stories and legends of the Middle Ages, before riding through the most prestigious Chinon vineyard of Cravant les Côteaux.

Once back in Chinon, we enjoy a cellar visit for another wine tasting, accompanied by regional specialities, such as rillon (succulent pork pieces), rillette (a local dish similar to confit) and goat cheese.

From the first wine to the finest cuvées, the grapes are harvested with the greatest care by hand. With no chemical yeast, no chaptalisation and no other additions, the grapes are slowly transformed into wine that reflects the land in which they come from. In this unusual place, where wine breathes, you can taste all the estate's vintages.

Overnight in Chinon.

Ascent: 623ft (190m)
Day 6 :

Cycle From Chinon To Saumur
Location:
Chinon, Candes-Saint-Martin, Saumur
Accommodation:
Hotel
Meals Included:
breakfastlunchdinner
We follow the Loire à Vélo to the village of Candes-Saint-Martin (where you can visit the magnificent 12th and 13th-century collegiate church) and the beautiful village of Montsoreau. We continue past troglodytic sites and vineyards before arriving in the historic town of Saumur.

Overnight in Saumur.

Ascent: 754ft (230m)
Location:
Saumur
Meals Included:
breakfast
Our cycling adventure across the Loire Valley ends after breakfast. However, if you'd like to spend more time exploring this beautiful part of France, speak to your sales representative about extending your stay.
What's Included
All breakfasts, four lunches, two dinners

All accommodation

All transport and listed activities

Tour leader throughout

Group arrival and departure transfers available
What's Not Included
Travel insurance

Single accommodation (available on request)

Visas or vaccinations
Food
All breakfasts, four lunches and two dinners are included.

For breakfast, the hotels offer a wide choice of cereals, fruit, cheeses and cold meats and a selection of drinks (tea, coffee, milk and fruit juice).

Four picnic lunches are included, prepared by the guide or assistant guide. Picnics are an important part of a day's cycling, and we've selected a few products from the Loire Valley for you to try during your stay: rillons from Touraine, rillettes from Tours and goat cheeses (Sainte-Maure-de-Touraine, Selles-sur-Cher, Valencay) accompanied in moderation by Loire wines. We are committed to offering quality regional products on this trip, chosen whenever possible from local producers and including a proportion of organic food. We also aim to reduce packaging (particularly plastic) and recycle what remains.

The two dinners are taken in a restaurant with a set menu comprising a starter, main course and dessert. The restaurants were selected to help you explore French gastronomy, including local specialities.

Vegetarians can be fairly easily accommodated in this area of France; however, vegans may find the variety of dishes available is rather limited.
Accommodation
Each hotel offers a unique character and is ideally situated to provide you a memorable experience. The hotels that we usually use are listed below.

Blois (two nights): The Hotel le Monarque is just over a five-minute stroll from Blois castle and not much further from the Loire river.

Amboise (one night): The Hotel Le Blason is set in a 15th Century house in the heart of Amboise. This house of character delivers a cosy atmosphere with modern comforts.

Chinon (two nights): The Hotel de France, part of the Best Western group, is a superbly restored 16th-century residence in the centre of Chinon and was the birthplace of writer Francois Rabelais. This romantic hotel combines comfort and warmth with tradition, all just steps from the cobbled streets of a city with a tremendous historical and cultural heritage.

Saumur (one night): The Hotel & Spa Anne d'Anjou, set at the foot of the Chateau of Saumur whilst also overlooking the Loire river. The on-site wellness centre features a jacuzzi, sauna and a heated outdoor pool.
Check out our Q&As
Can you assist with pre or post tour accommodation?

We are happy to assist with pre and post tour accommodation. Please enquire for detailed information.

Is there a supplement for solo travellers?

If you would like to be paired with a tour member of the same gender, there is no additional charge. A single supplement can be requested if you would like your own room.

Are flights included in this tour?

International flights are not included with this tour.

Who is Exodus Travels?

At Exodus Travels, we've been exploring the world for nearly 50 years. From Walking and Trekking, Cultural and Cycling, Responsible Wildlife, to Polar and our new Premium Adventures, we are proud to offer award-winning small group and self-guided tours to 100+ countries worldwide.

Are children permitted to take part in the tour?

The minimum age for this tour is 16 years old.
Are the local guides on the tour English speaking?

Yes, our local guides are English speaking.

What happens if I need to change my holiday date once I've booked?

If you wish to make any changes to your booking, particularly if you need to alter any flights booked through us, please let us know as soon as possible. There is a booking or flight amendment fee of £40 per change and flight amendments often incur extra airline costs depending on the changes to be made and if the ticket has been issued or not.

How long has the tour company been trading?

Exodus has been trading since 1974

What documents will I receive before I travel?

Your final joining instructions and flight details, if booked with us, will then be sent out 2 to 3 weeks before departure. If you would like a hard copy posted, or if you require these any earlier, please contact the customer operations team. We advise that if you are booking connecting travel before receiving these, please ensure you leave plenty of time.

Do you operate a "single share" option and how does it work?

Travellers are welcome to opt to share a room with a tour member of the same gender for no additional charge. If you'd like your own room, we can request a single supplement so that you will have your own room throughout.

Can I join the tour once it has departed?

You are welcome to meet the group after the tour has departed however there is no reduction in rate for joining a tour after the departure date.
Dates & Availability
Instant Booking Available
Sunday - Saturday
May 12, 2024 - May 18, 2024
Instant Booking Available
Sunday - Saturday
Jun 09, 2024 - Jun 15, 2024
Instant Booking Available
Sunday - Saturday
Jul 07, 2024 - Jul 13, 2024
Instant Booking Available
Sunday - Saturday
Sep 08, 2024 - Sep 14, 2024
Book with Confidence
Transfer as credit to Future Tours

Exodus allows you to transfer existing payments to a future tour to avoid cancellation fees if you can't travel and inform exodus, 43 days before departure.

Low Deposit

Exodus requires a minimum deposit of 25% or the full booking value, whichever is less, with the final balance not due until 90 days before departure.

Cancellation Policy

We don't charge a cancellation fee, here is a summary of exodus charges.

Up to 42 days before tour starts: Forfeit 100% of deposit.

At 20 days before tour starts: Forfeit 100% of booking price.
Why book with tourhub?
Safe & Secure
Your money is protected in an external trust until you travel.
---
100% Guaranteed Refunds if your trip is cancelled.
---
The safest way to make overseas, multi-currency payments.
Guaranteed Best Value
Industry leading discounts, we won't be beaten on price.
---
No cancellation or amendment fees from tourhub.
(Operator terms may apply)
Expert Knowledge
Reliable & unbiased advice from travel experts.
---
Direct contact with the tour operator via our messaging service.
---
Inspiration & advice from a community of 6000+ real travellers, influencers & content creators.
Trusted Service
Official partners & licensed agents of 1000+ tour operators worldwide.
---
Don't just take our word for it...
"Tourhub: Friendliness, Professionalism & Integrity I would happily give tourhub a 6* review if I could..."
Similar Tours
Travel Guru Features
Our Reviews