Cycling Indonesia's Islands
13 Days Starting in Ubud and ending in Canggu
Visiting: Ubud, Batur Volcano Bali, Lovina Beach, Buddhist Education Centre, Menjangan Island, Ijen, Senaru Crater Rim, Kalipuro, Meru Betiri National Park, Red Island Beach, Bali, Canggu, Seminyak Beach
Tour operator:
Physical rating:
Moderate
Special diets catered:
Please inform Exodus of specific dietary requirements
Tour operated in:
English
Trip Styles:
Interests:
Activities:
Tour Overview
Active volcanoes tower over rice paddies and coffee plantations. Jungles fringe tropical beaches on the edge of coral-rich waters. Village and temples dot the landscape where age-old traditions are still followed today. This is the backdrop through which we cycle up to craters and down to fishing villages, along asphalt roads and rainforest trails. On two wheels we explore some of the quieter parts of the islands of Bali and Java uncovering a patchwork of sights, sounds and smells.
Highlights
Discover the islands of Bali and Java

Cycle through rice paddies, jungles and plantations

Ride up and down volcanoes and through villages
Itinerary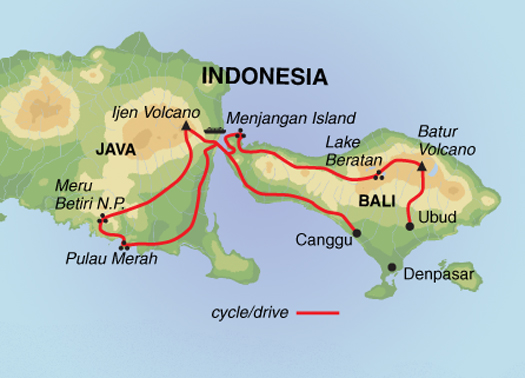 Expand All
Location:
Ubud
Accommodation:
Sri Ratih Cottages / Ananda Cottages or similar
Meals Included:
No Meals
Those making their own way to Bali can arrive at any time on the first day.
Those on the scheduled group flights normally arrive in Ubud during the
afternoon.

The bustling town of Ubud is Bali's cultural heartland set amongst the
hills and rice paddies of the island's interior. This afternoon there will
be time to relax and explore the town's temples, shops and cafes though we
will go through the bike fitting to make sure all is in order before we start
riding tomorrow. There will be a briefing this evening with your leader about
the trip.

*Sri Ratih Cottages / Ananda Cottages or similar*


Day 2 :

Cycle Through Rice Paddies, Villages And Temples
Location:
Ubud
Accommodation:
Sri Ratih Cottages / Ananda Cottages or similar
Meals Included:
Breakfast, Lunch
We have our first ride today as we explore the area north of Ubud across rice
fields, villages and temples. After arriving to the Tampaksiring Village
area, we explore Tirta Empul, a temple known for its sacred waters where
Balinese come to bathe at least once a year in a ritual of cleansing
dedicated to Vishnu.

The final leg will take us along back roads to the lesser-known temple of
Pengukur-Ukur where we can enjoy a refreshment before returning to Ubud.


Day 3 :

Cycle To Batur Volcano; Afternoon Mountain Bike Descent
Location:
Batur Volcano Bali
Accommodation:
Hotel
Accommodation Name:
Segara Hotel or similar
Meals Included:
Breakfast, Lunch
Starting with a ride along the rice terraces we continue by slowly climbing
up the road to the Kintamani Plantations area and beyond to the crater rim of
Batur Volcano. This is a tough climb so after about 20kms we regroup for an
extra briefing about the steep climb. If the steep climb is too challenging
this is a good place to jump in the support vehicle up to the restaurant
where we have lunch. Weather permitting we get stunning views of one of
Bali's bigger volcanic lakes.
After lunch we have a short, sharp descent to the base of the volcano where
our hotel is located. From here you have the option to relax at the hotel or
spend the afternoon cycling off road on narrow, sandy trails. The final part
of the trail crosses the most recent lava field and there is ample
opportunity to get up close to the volcano and the strange moonscapes it has
created.


Day 4 :

Ride To Ponjok Batu Temple And Lovina Coast
Location:
Lovina Beach
Accommodation:
Hotel
Accommodation Name:
Strawberry Hill Hotel / CLV Hotel & Villa or similar
Meals Included:
Breakfast, Lunch
After a short transfer to the western rim of Batur's caldera we start our
day's cycling up and down hills along small roads, crossing villages and
plantations towards Bali's northwest coast. As we cycle through the
villages of Bondalem, Tianyar and Kubu we observe the everyday life of local
people. From here we enjoy a refreshment on the beach before continuing along
flat roads to Ponjok Batu, a temple complex built of black stone, facing the
ocean. We finally pass through Singaraja town before reaching our destination
in the Lovina. From here it's a short transfer to our hotel in Bedugul. 


Day 5 :

A Day Cycling, Monkey Forests, Twin Lakes, Buddhist Monasteries And Hot Springs
Location:
Buddhist Education Centre
Accommodation:
Adi Assri Beach Cottage / Naya Gawana Resort or similar
Meals Included:
Breakfast, Lunch
Our day starts with a short ride up to 'Monkey Forest' (it is possible to
have a transfer to the top of the hill). From here we enjoy the view of the
twin lake before continuing downhill for the rest of the day with stunning
views across Bali's north coast. We visit Bali's only Buddhist monastery,
Bhrama Arama Vihara and the nearby Banjar Hot Springs where we can spend some
time relaxing in the open air pools. After lunch we cycle along the coast to
our beach-front hotel in Pemuteran. The rest of the day is free. 


Day 6 :

Pedal To The Harbour; Snorkel Around Menjangan Island; Transfer To Java
Location:
Menjangan Island
Accommodation:
Hotel
Accommodation Name:
Ijen View hotel or similar
Meals Included:
Breakfast, Lunch
After an optional cycle or short transfer to Labuan Luang harbour we board a
local boat and head for Menjangan Island. Meaning 'Deer Island', Pulau
Menjangan is within the marine reserve of Bali Barat National Park and is
renowned for its coral gardens and tropical fish. There is the opportunity to
go snorkelling as well as the option to go diving (at an extra cost). After
lunch we can freshen up before transferring to Gilimanuk Harbour where we
catch the ferry across to Ketapang Harbour in Java. From here it's about a
3 hour drive to Bondowoso. 


Day 7 :

Cycle Up The Slopes Of Ijen Volcano; Optional Sunset Hike
Location:
Ijen
Accommodation:
Jampit Catimor Homestay
Meals Included:
Breakfast, Lunch, Dinner
Today is definitely the most challenging day as we cycle up the slopes of
Ijen Volcano gaining around 1,500m in elevation. Our route starts gently
along flat asphalt until we reach the base of the volcano and start climbing
through coffee plantations along some steep sections on partially-broken
asphalt roads. We will take our time on this climb, enjoying the scenery and
will be having a light lunch en route. We will regroup after about 20kms
before the steepest part of the climb. Those who feel this next section may
be too strenuous may want to jump in the support vehicle for this section as
it is definitely harder than normal for a moderately graded trip. Of course
it is possible to attempt the climb and still join the support vehicle a
little way further up if needed. The support vehicle will be available at
any time if the cycling becomes too strenuous. 

On the way we stop to visit one of Indonesia's largest coffee plantations
before eventually ending our ride in the remote village of Jampit Catimor.
Here we will be spending the night in a local homestay with basic amenities
located within a colonial building on a coffee plantation.



Day 8 :

Early Morning Trek To The Crater Rim; Later Cycle Off The Volcano To Ketapang
Location:
Senaru Crater Rim, Kalipuro
Accommodation:
Hotel
Accommodation Name:
Ketapang Indah Hotel or similar
Meals Included:
Breakfast, Lunch
Getting up very early, whilst still dark, we trek to the top of Ijen crater
along a wide, packed-dirt 3kms long path. At the top is a large crater lake
surrounded by sulphur mines and, as we hike in the dark, we should be able to
see the blue fire created by the hot sulphur seeping out of the crater.

After sunrise we have time to enjoy views of the lake which is 200m deep and
is filled with steaming, acidic water. We should also witness local miners as
they collect and carry sulphur blocks weighing up to 70kgs out of the
crater. 

Please note that poor trail conditions and toxic fumes means that it is too
dangerous to climb down into the crater.

After returning to camp we get back on the bikes and ride down to our hotel
in Ketapang in time for lunch. The afternoon is free to relax after the very
early start this morning. 


Day 9 :

Cycle Through Jungle And Plantations To The Fishing Village At Meru Betiri National Park
Location:
Meru Betiri National Park
Accommodation:
Camp
Meals Included:
Breakfast, Lunch, Dinner
Following a transfer to the start of today's bike ride we get on the saddle
and head into the jungle. Our trail through the rainforest is about 10km long
and eventually gives way to an asphalt/broken surface through coffee, cacao
and rubber plantations.

We continue to Rajewesi Beach, the gateway to Meru Betiri National Park. The
beach is a fisherman village where we can see locals disembarking the day's
catch.

Tonight we camp on the beach, camping equipment (tents, mats, sleeping bags)
is included and there is a basic block with toilets and cold showers.

*Camping*


Day 10 :

Ride Along Jungle Trails To The Beach At Pulau Merah; Free Time To Relax On The Beach; Transfer To Ketapang
Location:
Red Island Beach
Accommodation:
Hotel
Accommodation Name:
Ketapang Indah Hotel or similar
Meals Included:
Breakfast, Lunch, Dinner
On our final day of cycling we continue along jungle trails following the
coast towards Pulau Merah. Along the way we visit Green Bay with views of
another hidden beach in east Java. Today's final ride is mostly on flat
elevation with few rolling hills.

We should arrive at Pulau Merah around lunch time where the early afternoon
is free to explore the village, go for a swim or just relax before
transferring (approx. 2 hours) to our hotel in Ketapang where we will spend
our last night on Java.



Day 11 :

Transfer By Ferry And Bus Back To Bali To Canggu
Location:
Bali, Canggu
Accommodation:
Grand Balisani Suites or similar
Meals Included:
Breakfast, Lunch
After a relaxed start to the morning, we drive 15 minutes back to Ketapang
Harbour in time for our ferry (30-45 minutes) to Gilimanuk on the island of
Bali. From here it is about a 4 hours drive (with a stop for lunch along the
way) to Canggu where we spend the next two nights.



Day 12 :

Free Day To Relax On The Beach Or Explore The Area Around Canggu And Seminyak
Location:
Canggu, Seminyak Beach
Accommodation:
Grand Balisani Suites or similar
Meals Included:
Breakfast
Canggu is a popular stretch of beach along the south coast of Bali and a
great place to relax after 10 days cycling up and down volcanoes and through
jungles and plantations.

The day is free to relax or explore the area around Canggu and Seminyak, take
part in optional activities or go out on the water.

Location:
Canggu
Meals Included:
Breakfast
Trip ends this morning after breakfast. Those on the group flights will be
taken to the airport in Denpasar in time for their flight home.


What's Included
Local bike hire

Airport transfers (for flight inclusive passengers)

12 breakfasts, 10 lunches and 3 dinners

Accommodation

London flights (if booking incl. flights)

Meals

12 breakfasts, 10 lunches, 3 dinners.
What's Not Included
Airport transfers (for land only passengers)

Travel insurance

Single accommodation

Visas & vaccinations
Accommodation
We spend 10 nights in hotels, one night in a homestay and one night camping.

The Kintamani hotel is basic and the hot-water supply can be unreliable but we use this hotel because it is best located for our exploration of Mount Batur.

When camping on Rajegwesi Beach, we stay in two-person tents; mats and sleeping bags are provided and there are basic toilets and showers with cold water.

The homestay on Mount Ijen is run by a coffee cooperative and is basic but clean. While some rooms have Western-style toilets, we cannot guarantee these.

There is no hot water at the campsite or at the homestay.

The hotel rooms generally have private bathrooms and all have air conditioning apart from the hotel in Bedugul which, being at altitude and having cooler night-time temperatures, does not normally require it. The more basic accommodations are balanced by staying in some comfortable hotels on other nights.
Food
12 breakfasts, 10 lunches and 3 dinners are included. Indonesian cuisine is generally fairly simple, with rice as the main staple, though noodles are also common, accompanied by dishes created with various spices including coriander, cloves and chilies as well as coconut and lemon grass. Fish, unsurprisingly is popular but other meats are also common. Peanut based dishes such as sate or gado gado are also common on Indonesian tables (if you have a peanut allergy make sure to inform us before hand and to inform your tour leader). Food is often spicy but you can generally avoid the spicier food if you wish. Western food is available in Ubud and Canggu, though it is well worth trying the local cuisine. Quite often tea or water (aqua) is drunk with a meal. Beer is often not cold and coffee is unfiltered and usually very sugary. On some days we will have a packed lunch as we cycle. Vegetarian food is available in Indonesia, however the concept of vegetarianism can be misunderstood so if you are a vegetarian please be clear and state that you don't eat meat, chicken or fish. Please advise at time of booking if you have any dietary requirements. Snacks and local fruit will be provided when cycling but you may want to bring your own snacks from home as well.
Check out our Q&As
Are flights included in this tour?

International flights are not included with this tour.

Are the local guides on the tour English speaking?

Yes, our local guides are English speaking.

Are children permitted to take part in the tour?

The minimum age for this tour is 16 years old.

Is there a supplement for solo travellers?

If you would like to be paired with a tour member of the same gender, there is no additional charge. A single supplement can be requested if you would like your own room.

Can you assist with pre or post tour accommodation?

We are happy to assist with pre and post tour accommodation. Please enquire for detailed information.
Who is Exodus Travels?

At Exodus Travels, we've been exploring the world for nearly 50 years. From Walking and Trekking, Cultural and Cycling, Responsible Wildlife, to Polar and our new Premium Adventures, we are proud to offer award-winning small group and self-guided tours to 100+ countries worldwide.

What happens if I need to change my holiday date once I've booked?

If you wish to make any changes to your booking, particularly if you need to alter any flights booked through us, please let us know as soon as possible. There is a booking or flight amendment fee of £40 per change and flight amendments often incur extra airline costs depending on the changes to be made and if the ticket has been issued or not.

How long has the tour company been trading?

Exodus has been trading since 1974

What documents will I receive before I travel?

Your final joining instructions and flight details, if booked with us, will then be sent out 2 to 3 weeks before departure. If you would like a hard copy posted, or if you require these any earlier, please contact the customer operations team. We advise that if you are booking connecting travel before receiving these, please ensure you leave plenty of time.

Do you operate a "single share" option and how does it work?

Travellers are welcome to opt to share a room with a tour member of the same gender for no additional charge. If you'd like your own room, we can request a single supplement so that you will have your own room throughout.

Can I join the tour once it has departed?

You are welcome to meet the group after the tour has departed however there is no reduction in rate for joining a tour after the departure date.
Reviews From Travellers On This Tour
Fabulous!
This was a fantastic trip, one of the best that I've done. I'd always (wrongly) been a bit dismissive of Bali, thinking it was a place of resorts. How wrong was I?! We went to some beautiful places in both Bali and Java. The scenery was incredible, the people lovely, the food great. It is quite hilly with some very demanding climbs on the 2nd and 7th day but the support vehicle is always there. I've done a number of cycling trips and would say that this is more moderate/challenging. Even the trek up Ijen was a toughie but with spectacular views and the most toxic lake in the world at the top. On the second day there was an optional cycle around Batur which was off road. I think this needed to be explained how difficult it was, as unfortunately one of the group had an accident. Maybe an optional activity could be arranged, such as boating on the lake. I'd been diagnosed with a condition before leaving which has caused some mobility issues but the team couldn't have been more considerate or caring, from lowering the saddle when I stopped so I could swing my leg over, to helping me on and off the bus and down steps - all without asking; even giving me a push up the hills when it was too uncomfortable!
A trip to remember
Fantastic trip and a great experience. The guides were excellent and great ambassadors for Indonesia. We've all heard of the country but perhaps no little about it so it's a great way to improve your knowledge and understanding about its geography, history and people. Food was also excellent and whilst rice is very common at meals there are other options available.
One of my favourite trips
This cycling trip is up there as one of my favourites. There are some challenging sections of cycling but you are rewarded by great views as you cycle up volcanoes, through coffee plantations, past rice fields, and watch farmers harvest spices with the pungent smell of cloves as they are dried on the roadside. The mix of other activities makes the trip a real holiday adventure. Snorkelling off Mengangan Island was fantastic, with the colours and variety of fish breathtaking. We even were lucky enough to see a turtle. The.camping on the beach at Rajewesi Beach was a highlight, watching the sun set and rise over the beach was magical. Wira and his team were extremely well organised, cooked lovely food, very encouraging on the tougher sections and nothing's too much trouble for them. Their love of their country is very evident.
Unique
An amazing and varied cycling adventure spent with a really lovely group and a fantastic local support team. This trip is filled with cycling challenges while riding both up and downhill on various terrain, cultural stops at temples and through villages as well as well deserved downtime by beautiful beaches. Wholeheartedly recommended to the adventurous curious minded cyclist.
Amazing time in Bali and Java
Another brilliant trip with Exodus visiting the beautiful islands of Bali and Java. Breath-taking views, welcoming locals, delicious food and sometimes breath-taking climbs were the highlights of the two weeks. The fantastic support team made this already amazing adventure truly unforgettable.
The best cycling trip I've done!
Although this is a relatively new trip, its extremely well organised and the tour leader and support team were incredibly friendly. The cycle grading is accurate and although two days have some challenging hills included, the team were always there for anyone who did not want to continue. I had never really ridden a mountain bike before off road, but I felt like I had achieved something by the end of the two weeks. There are some roads with broken tarmac but the leader always lets you know when these sections are coming up. The rest of the roads were in really good condition. Most of the hotels were a really good standard compared to other trips I have done and Indonesia is a beautiful country to cycle through.
Fantastic trip!
This is a fantastic cycling trip around Bali and Java - two beautiful islands in Indonesia. The Exodus team of guides/driver were brilliant and ensured that everything ran very smoothly. They often went above and beyond. The cycling is great - each ride different but equally stunning. Be prepared for a lot of uphill climbing, but this also means a lot of very fun down hill rides! Some of which are very steep. Because of how many climbs there are on this trip (especially day 2 and day 7 that are very difficult), I would argue this trip should be graded as Moderate/Challenging. There are also a few off-road rides (mostly on the last day). There is an optional ride in the afternoon of day 2 around Batur volcano; our expectations of the challenging terrain on this ride were not quite set accurately enough. Although beautiful, it is incredibly challenging and was harder than expected. It should be made clear that this is definitely optional and should only really be done if you are an advanced cyclist. Cycling 9 days in a row without a rest break is quite tiring, but each day brings a new highlight. The itinerary, overall, is very good. Trekking up to the top of Ijen volcano is amazing, as is snorkelling in northern Bali. Every accommodation is amazing in its own way - camping on the beach was absolutely incredible! An experience I won't forget. This was one of my favourite cycling trips and I would wholeheartedly recommend it.
Fabulous holiday, lovely country and people!
A great holiday. I'm not a sit-on-the-beach type and this trip was anything but that (though the beaches are beautiful!) It was all so interesting. Huge variety - cycling through villages and coffee plantations, snorkeling, camping, temples, rice paddies, mountains, volcanoes, craters, old colonial homes... Exodus packs a lot into this trip! And such friendly people. Yes, there are a couple of really big hills, but if you're reasonably fit, they're doable. We had plenty of breaks and went at the pace of the group. (Please see my note below on trip rating.) One thing I really liked was that the distances weren't as long as on some Exodus trips I've done. That meant a more relaxing start (7am breakfast not 7am start!) And we generally got to the hotel at the end of the day in time to read a book or go for a swim. Made for the perfect holiday.
Beautiful Bali ..
I loved this trip, Bali and Java are fabulous destinations and although cycling doesn't always lend itself to achieving a full appreciation of local cultures, this trip certainly whet my appetite for a return visit. The accommodation was excellent, even those classed as basic had a certain charm and I enjoyed the coffee plantation 'homestay', it was in a great location, if a little lacking in amenities. The trip allowed for some welcome downtime sat around the pool or on the beach, but each day was packed full of great food, awesome scenery, fun and laughter, cultural insights and physical activity.
Great downhills
Cycling the hills - both up and down - was a thrill. And the last two days the flat village riding was charming. Traffic was a too heavy to properly enjoy the connecting sections. Accommodation was varied. Some lovely hotels. One rather damp and unpleasant hotel ( acknowledged as a fudge after covid closures). The homestay however was dire. Only 2 hours sleep after inconsiderate guests partied until 2 and then from 4 for an early start. Even without them however the homestay was going to to cause problems. Walls were quant but thin bamboo and the the whole place was seriously delapidated but still offering ~ 25 rooms.
Dates & Availability
Instant Booking Available
Sunday - Friday
May 12, 2024 - May 24, 2024
Instant Booking Available
Sunday - Friday
Jun 16, 2024 - Jun 28, 2024
Instant Booking Available
Sunday - Friday
Aug 04, 2024 - Aug 16, 2024
Instant Booking Available
Sunday - Friday
Sep 15, 2024 - Sep 27, 2024
Book with Confidence
Transfer as credit to Future Tours

Exodus allows you to transfer existing payments to a future tour to avoid cancellation fees if you can't travel and inform exodus, 43 days before departure.

Low Deposit

Exodus requires a minimum deposit of 25% or the full booking value, whichever is less, with the final balance not due until 90 days before departure.

Cancellation Policy

We don't charge a cancellation fee, here is a summary of exodus charges.

Up to 42 days before tour starts: Forfeit 100% of deposit.

At 20 days before tour starts: Forfeit 100% of booking price.
Why book with tourhub?
Safe & Secure
Your money is protected in an external trust until you travel.
---
100% Guaranteed Refunds if your trip is cancelled.
---
The safest way to make overseas, multi-currency payments.
Guaranteed Best Value
Industry leading discounts, we won't be beaten on price.
---
No cancellation or amendment fees from tourhub.
(Operator terms may apply)
Expert Knowledge
Reliable & unbiased advice from travel experts.
---
Direct contact with the tour operator via our messaging service.
---
Inspiration & advice from a community of 6000+ real travellers, influencers & content creators.
Trusted Service
Official partners & licensed agents of 1000+ tour operators worldwide.
---
Don't just take our word for it...
"Tourhub: Friendliness, Professionalism & Integrity I would happily give tourhub a 6* review if I could..."
Similar Tours
Travel Guru Features
Our Reviews