Cycling the Drakensberg & Kruger
12 Days Starting and ending in Johannesburg
Visiting: Johannesburg, Golden Gate Highlands National Park, Drakensberg Canopy Tour, Northern Berg Electrical & Irrigation Whole Salers, Dundee, Rorke's Drift Museum, eManzana, Songimvelo Game Reserve, Kruger National Park, Hazyview, Graskop, Mac-mac Pools, Panorama Road, Blyde River Canyon
Tour operator:
Physical rating:
Moderate / Challenging
Special diets catered:
Please inform Exodus of specific dietary requirements
Tour operated in:
English
Trip Styles:
Interests:
Activities:
Tour Overview
This two wheeled adventure takes us through stunning mountain scenery and past dramatic rock formations, through abandoned gold mines, baboon inhabited forests and tranquil natural waterfalls. Part way through the trip we dismount our bikes and spend two days on safari in Kruger National Park where we have the chance to spot lions, rhinos, elephants, giraffes and various other wild animals. From Kruger we continue our pedal powered journey along the panorama route before ending at the mighty Blyde River Canyon. With perfect road surfaces and idyllic sunshine, there is surely no better way to experience eastern South Africa than by bike.
Highlights
Cycle through vast mountain scenery, forests, waterfalls and canyons

Search for the big 5 in Kruger National Park

Discover the magnificent Drakensberg Mountains
Itinerary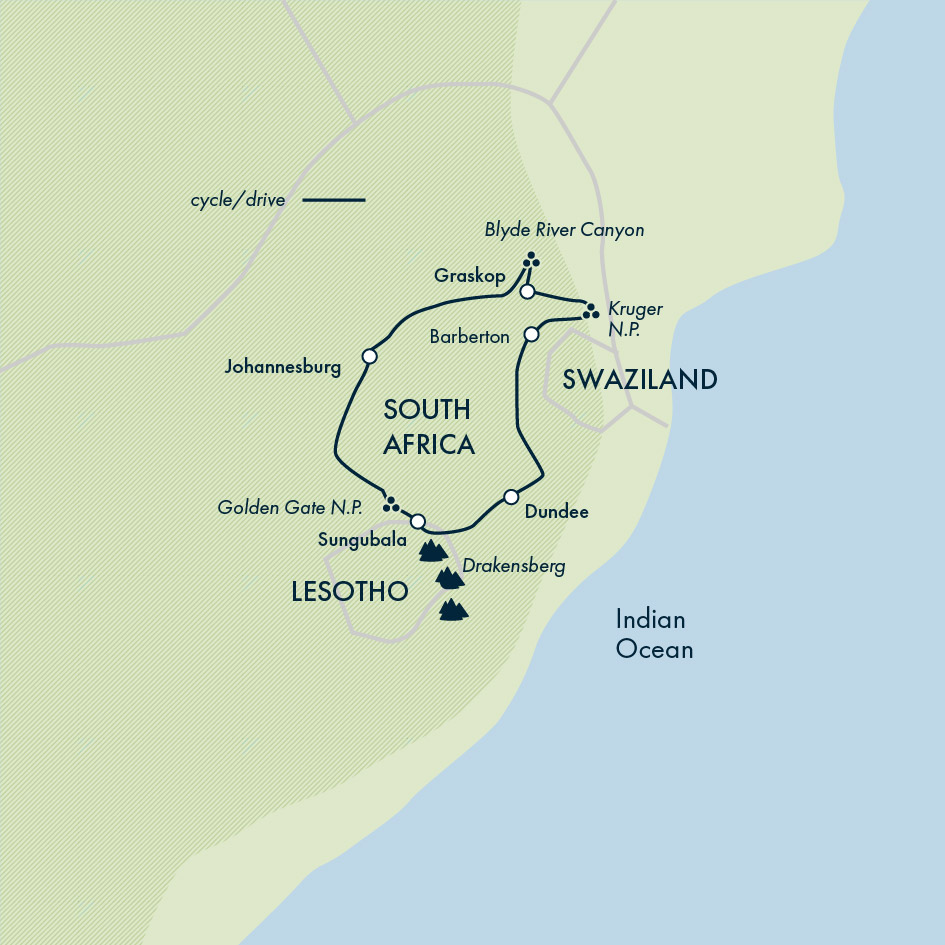 Expand All
Day 1 :

Start Johannesburg; Transfer To Golden Gate National Park.
Location:
Johannesburg, Golden Gate Highlands National Park
Accommodation:
Camp
Accommodation Name:
Glen Reenen Rest Camp or similar
Meals Included:
Dinner
Upon arrival in Johannesburg we drive directly to the Golden Gate Highlands
National Park in the Maluti Mountains of the Northern Free State. This
transfer takes roughly 5 hours but will be broken up with stops along the
route to stretch the legs and go to the toilet. The Golden Gate national park
gets its name from the golden hue on the parks sandstone cliffs as the sun
hits them. With 11,600 hectares of highland habitat, the national park is
home to a number of animals including springbok, mountain zebra and
wildebeest as well as the rare bearded vulture and bald ibis. Depending on
the time of the group flights, we will either set up the bikes this afternoon
or tomorrow morning. We will have a chance to test them out around the
grounds of the accommodation before we begin the cycling.
Day 2 :

Ride Over A Spectacular Mountain Pass With A Chance Of Spotting Wildlife; Transfer To Northern Drakensberg And Cycle To Our Lodge.
Location:
Drakensberg Canopy Tour
Accommodation:
Camp
Accommodation Name:
Sungubala Eco Camp or similar
Meals Included:
Breakfast, Lunch, Dinner
Getting up early, we cycle 25km on roads through the national park. We start
with a short climb up to a viewpoint where mountain zebra are often spotted
before descending a long winding mountain pass. Later in the ride there are a
few short steep up and down sections to get the heart pumping before it then
levels out again. All along this road there are great opportunities to see
wildlife from the saddle so make sure you have a camera to hand! At the park
exit we transfer towards the Northern Drakensberg (60km) stopping at the
'Vulture restaurant' for the views over the Sterkfontein Dam and an early
picnic lunch. We then get back on the bikes and cycle down the Oliviers Hoek
pass all the way to the Sungbala lodge, our overnight stay. Here we have the
whole night to take in the stunning view of the Drakensberg amphitheatre
whilst enjoying a meal cooked by the guides.
Day 3 :

Cycle To The Northern Berg Before Hiking And A Chance To Swim At A Waterfall.
Location:
Northern Berg Electrical & Irrigation Whole Salers
Accommodation:
Camp
Accommodation Name:
Sungubala Eco Camp or similar
Meals Included:
Breakfast, Lunch, Dinner
In the morning we cycle towards the Drakensberg Mountains whilst following a
back road route into the Royal Natal National Park in the Northern Berg. This
ride is fairly undulating but the views of the Drakensberg amphitheatre at
the top of each rise are well worth the effort. After entering the park, we
continue on our bikes for approximately 2km to our picnic spot – before
lunch we can get changed in to swimming gear and walk the short distance to
the cascades waterfall for a well-deserved swim in the cool waters. After
lunch there will be time to explore the park and its hiking trails or simply
relax before transferring back to our accommodation.
Day 4 :

Transfer To Dundee; Afternoon Ride To Rorke's Drift Museum.
Location:
Dundee, Rorke's Drift Museum
Accommodation:
Battlefields Country Lodge or similar
Meals Included:
Breakfast, Lunch
After breakfast we leave the Drakensberg with a 210km (approx. 3 hour)
transfer by road to Dundee. Here there will be time for a little shopping and
resupply before continuing onto Rorke's Drift. At Rorke's Drift we have a
guided tour around the area where 150 British and Colonial troops defended a
small garrison against nearly 5000 Zulu warriors. After a hearty lunch and a
change into cycling kit it's back onto our bikes for a 45km ride from
Rorke's Drift to our overnight accommodation. This is a great ride through
the scenic cattle country; the first 17km is on a good quality compact dirt
road where we often spot many types of vulture and eagle flying overhead,
once back on the tarmac road we have a flat ride to our accommodation where
we can relax in the pool.
Day 5 :

Transfer To Badplaas Before Getting On The Bikes For A Great Ride To Our Lodge.
Location:
eManzana
Accommodation:
Badplaas Forever Resort or similar
Meals Included:
Breakfast
We have an early morning transfer (300km about 4 hours) towards the hot
springs town of Badplaas in the Mpumalanga province. After lunch we get on
the bikes and start our ride with a fantastic 17km descent before an
undulating ride all the way to our accommodation located just outside of the
town with stunning panoramic views of the Hlumu mountain range.
Day 6 :

Transfer Followed By Scenic Ride On Edge Of The Songimvelo Game Reserve And On To Our Lodge.
Location:
Songimvelo Game Reserve
Accommodation:
African Rest Lodge or similar
Meals Included:
Breakfast, Lunch
Today we start with a short transfer to Maanhaar, close to the border with
Swaziland. From here we climb on the bikes and ride along a stunning gravel
road which winds its way between the Songimvelo Game Reserve and the base of
the Hlumu Mountains. We pass an abandoned mine which has now become home to
Vervet monkeys so make sure you have your camera at the ready. As the road
starts to climb we hop in the bus and transfer to the top of a mountain range
overlooking the Songimvelo Game Reserve, we stop on this road for a quick
photo stop at a breathtaking viewpoint that overlooks the valley below before
getting back on the bikes to cycle into Barberton town and onto our
accommodation.
Day 7 :

Cycle To Kruger N.P. Through The Kaaprivier Valley.
Location:
Kruger National Park
Accommodation:
Camp
Accommodation Name:
Kruger National Park Camp or similar
Meals Included:
Breakfast, Dinner
After breakfast we get on the bikes and start our ride through the Kaap River
Valley as it winds its way towards Kaapmuiden. After about 50km we reach our
stopping point and get in the van for a short transfer to a shopping centre
where we can change out of cycling kit and stock up on cold drinks and snacks
for Kruger. From here we have a very short transfer to get to the Malelane
Gate where we enter the Kruger National Park and start our safari. We have a
two hour game drive through the southern tip of Kruger to get to Skukuza
Camp, keep your eyes peeled and cameras ready as the southern part of Kruger
is known for its abundance of big cats.
Day 8 :

Game Drives In Kruger N.P.
Location:
Kruger National Park
Accommodation:
Camp
Accommodation Name:
Kruger National Park Camp or similar
Meals Included:
Breakfast, Dinner
This morning we have an early start to beat the heat of the day and maximise
our chances of seeing a predator. Because of the early start we will only
have a small breakfast at the camp which will consist of a South African
'rusk' and a coffee. After several hours of looking for animals we stop in
one of the designated lunch spots where our guides cook up a delicious
brunch. From here we continue our game drive back to camp and have the rest
of the day to relax in the pool or at the bar which overlooks the Sabi River.
Tonight there is the opportunity to go on a night safari drive through the
park in one of the official safari vehicles (this is an optional extra and
should be paid for locally. Please see the optional activities section in the
trip notes for prices and further information).
Day 9 :

More Game Viewing, Transfer To Hazyview.
Location:
Hazyview
Accommodation:
Gecko Lodge or similar
Meals Included:
Breakfast
Today we aim to spend most of the day in the national park searching for
animals, and once again start off with a morning game drive, but in the
opposite direction to yesterday. We return to camp for some brunch and to
collect our bags before heading out on our final game drive in Kruger as we
make our way out of the park via the Numbi gate. From here we have a short
transfer to our overnight accommodation in Hazyview where we can take a
stroll down to the Hippo River or just relax by the pool.
Day 10 :

Cycle To Sabie And On To Graskop; Visit Mac Mac Pools.
Location:
Graskop, Mac-mac Pools
Accommodation:
Mogodi Lodge or similar
Meals Included:
Breakfast, Lunch
After a few days of well-earned rest, today we get back on the bikes for the
most challenging ride of the trip. After a hearty breakfast in Hazzyview we
cycle from our lodge up the escarpment and towards Sabie. This first part of
the ride is stunning and very different from what we have seen earlier in the
tour as our route takes us through Avocado plantations and dense forests
before arriving in Sabie where we can stop at a café for a muffin and coffee
milkshake. From Sabie we continue to climb until we arrive at Mac Mac Pools,
here we stop for a swim in the natural pools whilst our guides make lunch.
After lunch our ride heads downhill for a visit to Mac Mac Falls and
continues all the way to Graskop and our accommodation which overlooks the
escarpment.
Day 11 :

Ride Along The Panorama Route To God's Window Via Bourke's Luck Potholes Rock Formations; Afternoon Ride To Blyde River Canyon.
Location:
Panorama Road, Blyde River Canyon
Accommodation:
Blyde River Canyon Forever Resort or similar
Meals Included:
Breakfast
Our final day of cycling will take us through yet more beautiful scenery as
we cycle along the Panorama Route. In the morning we visit God's Window to
take in the breathtaking landscape view before cycling past 'Wonder view'
and on to Bourke's Luck Potholes. Here we stop for lunch and go for a walk
around the curious rock formations before getting back on the bikes for the
last time and cycling to the spectacular viewpoint over the Blyde River
Canyon and on to our accommodation. For our last night in South Africa we
will have a big group meal in the hotel restaurant which has an amazing view
of the three Rondavels and the canyon.
Day 12 :

Drive To Johannesburg, End.
Location:
Johannesburg
Meals Included:
Breakfast
After a leisurely breakfast and a short walk to the private viewpoint within
the grounds of our accommodation we get in the bus and transfer through the
small towns of Ohrigstad, Lyndenburg and Dullstroom as we make our way back
to Johannesburg Airport. This transfer is roughly 420km but we break it up
with plenty of short stops and a longer lunch break. Please note that due to
the often high levels of traffic surrounding Johannesburg we leave our
accommodation with plenty of time to complete this transfer. This does mean
that on some occasions when the roads are traffic free we might arrive at the
airport early and have a longer wait before the return flight departs.
**


What's Included
Local bike hire

Tour leader throughout

All breakfasts, 5 lunches, 5 dinners

All accommodation 

All transport and listed activities

Flights from London (if booking incl. flights)
What's Not Included
Visas or vaccinations

Single accommodation (available on request)

Travel insurance
Food
11 breakfasts, 5 lunches and 5 dinners are included on this tour. For breakfast you can expect a good selection of cereals, toast, jams, fruit and yogurt as well as coffee and rusks. Occasionally we have a cooked breakfast or buffet in some locations. Meals which are included in the trip are cooked and prepared by your guide and drivers. On two days you will have a cooked lunch, but most days you will have a large selection of sandwich ingredients including cold meats, bread, salad, cheese and crisps. Vegetarian and other dietary requirements are well catered for but please inform our team at least two weeks before you travel. The tour leaders do all the shopping and meal planning for each group. Each tour has a cool box for cold drinks and you will be made aware of nights when alcohol is not available so you can purchase some before hand. We supply the following drinks on all tours: fruit juice and squash served with breakfast & lunch, tea and coffee served with breakfast and dinner. All other beverages will be at your own expense.
Accommodation
We spend 9 nights in small lodges and 2 nights in permanent tented camps. Most properties are small privately owned establishments that are clean and comfortable and all rooms have en-suite facilities apart from our accommodation in Kruger. This does mean that even if you have paid for a single supplement you will have to use the shared facilities at our accommodation in Kruger. The accommodation and locations we stay in throughout the trip are a real highlight and very memorable. One of the best has to be the eco lodge in the Drakensberg where you can spend the evening watching the sun set over the magnificent Drakensberg amphitheatre whilst our guides cook dinner on the Braai (BBQ).
Check out our Q&As
What is the maximum group size?

What is the standard of the hotels on this tour?

Are children permitted to take part in the tour?

16+ Age people can go on this tour.

Are the local guides on the tour English speaking?

What happens if I need to change my holiday date once I've booked?

If you wish to make any changes to your booking, particularly if you need to alter any flights booked through us, please let us know as soon as possible. There is a booking or flight amendment fee of £40 per change and flight amendments often incur extra airline costs depending on the changes to be made and if the ticket has been issued or not.
How long has the tour company been trading?

Exodus has been trading since 1974

What documents will I receive before I travel?

Your final joining instructions and flight details, if booked with us, will then be sent out 2 to 3 weeks before departure. If you would like a hard copy posted, or if you require these any earlier, please contact the customer operations team. We advise that if you are booking connecting travel before receiving these, please ensure you leave plenty of time.

Do you operate a "single share" option and how does it work?

Travellers are welcome to opt to share a room with a tour member of the same gender for no additional charge. If you'd like your own room, we can request a single supplement so that you will have your own room throughout.

Can I join the tour once it has departed?

You are welcome to meet the group after the tour has departed however there is no reduction in rate for joining a tour after the departure date.
Reviews from Travellers on this Tour
Drakensberg and Kruger cycling
Great cycling holiday. Combination of seeing nature, rock formations, animals and birds, with cycling was great.
Cycling Drakensberg and Kruger
This tour is not a race it's about taking your time and embracing the scenery, culture and everything the trip has to offer.
Brilliant trip!
Excellent trip, so well organised and carried out. Lots of cycling made easy with the great guides.
Cycling Drakensberg and Kruger
The trip has a blend of cycling and other activities that provides an excellent experience of the landscapes, cultures and wildlife of the parts of South Africa that are visited. There were only three guests on our trip but we do not doubt that a larger group would have a smilar quality of holiday experience. The level of cycling confidence and fitness in our small group was quite varied, but we were all both stretched and encouraged by the leadership of the tour and all shared a sense of achievment.
Animals, everywhere!
More wild animals than you can shake a stick at, refrained from calling out 'House' when we'd bagged all the Big 5 (didn't want to scare the snoozing leopard), cycling was fantastic, scenery was amazing. What more could you want from a holiday (other than a bit more sunshine!)
MZD221113
Brilliantly crafted trip. Cycling, accommodation, places we visited Excellent👍
Cycling the Drakensberg and Kruger
If you love South Africa and cycling this is an excellant trip to do- the scenery is stunning and the wildlife spectacular. This unique tour combines enjoyment and a challenge to physical fitness with many experiences of the south african culture along the way.
Inspiring and challenging adventure
This was a spectacular trip. Absolutely packed full of wonderful experiences and adventure. The balance of challenging cycling, stunning scenery and wildlife was perfect. The scenery changed with every day of the trip and the cycling was equally varied. Every beautiful view felt a well deserved reward for a challenging climb. There were several opportunities to swim both in National Parks and at the lodges - heaven after a hot day on our bikes. The minibus transfers passed quickly with well timed stops, so many interesting towns and landscapes and excellent company. Kruger, like every aspect of this trip, was so much more vibrant than I had imagined.
cycling drakensberg and kruger
fabulous trip. Guides Tellis, Bevan and Tish were outstanding. Great selection of accomodations. all very unique
A fantastic trip
Superb, challenging cycling; outstanding scenery; amazing wildlife in a fantastic country.
Dates & Availability
Instant Booking Available
Sunday - Thursday
Sep 08, 2024 - Sep 19, 2024
Instant Booking Available
Sunday - Thursday
Oct 13, 2024 - Oct 24, 2024
Instant Booking Available
Sunday - Thursday
Nov 10, 2024 - Nov 21, 2024
Instant Booking Available
Sunday - Thursday
Feb 16, 2025 - Feb 27, 2025
Instant Booking Available
Sunday - Thursday
Mar 23, 2025 - Apr 03, 2025
Instant Booking Available
Sunday - Thursday
Jul 27, 2025 - Aug 07, 2025
Instant Booking Available
Sunday - Thursday
Sep 07, 2025 - Sep 18, 2025
Instant Booking Available
Sunday - Thursday
Oct 12, 2025 - Oct 23, 2025
Instant Booking Available
Sunday - Thursday
Nov 09, 2025 - Nov 20, 2025
Book with Confidence
Transfer as credit to Future Tours

Exodus allows you to transfer existing payments to a future tour to avoid cancellation fees if you can't travel and inform exodus, 43 days before departure.

Low Deposit

Exodus requires a minimum deposit of 25% or the full booking value, whichever is less, with the final balance not due until 90 days before departure.

Cancellation Policy

We don't charge a cancellation fee, here is a summary of exodus charges.

Up to 42 days before tour starts: Forfeit 100% of deposit.

At 20 days before tour starts: Forfeit 100% of booking price.
Why book with tourhub?
Safe & Secure
Your money is protected in an external trust until you travel.
---
100% Guaranteed Refunds if your trip is cancelled.
---
The safest way to make overseas, multi-currency payments.
Guaranteed Best Value
Industry leading discounts, we won't be beaten on price.
---
No cancellation or amendment fees from tourhub.
(Operator terms may apply)
Expert Knowledge
Reliable & unbiased advice from travel experts.
---
Direct contact with the tour operator via our messaging service.
---
Inspiration & advice from a community of 6000+ real travellers, influencers & content creators.
Trusted Service
Official partners & licensed agents of 1000+ tour operators worldwide.
---
Don't just take our word for it...
"Tourhub: Friendliness, Professionalism & Integrity I would happily give tourhub a 6* review if I could..."
Similar Tours
Travel Guru Features
Our Reviews