Spitsbergen Photography: In Search of Polar Bears
14 Days Starting and ending in Helsinki, Finland
Tour operator:
Physical rating:
Leisurely
Special diets catered:
Please inform Exodus of specific dietary requirements
Trip Styles:
Activities:
Tour code:
PLH
Group size:
0 - 199
Age range:
18 to 99
Tour operated in:
English
Interests:
Tour Overview
This unique voyage invites guests to embrace a true expeditionary spirit: rather than follow a set itinerary, together we'll allow our search for Polar bears and other wildlife to determine our route and shore landings in the pristine Norwegian Arctic. Experience this once-in-a-lifetime journey aboard our game-changing new expedition vessel, Ultramarine, which is equipped with 20 quick-launching Zodiacs, luxurious onboard amenities and the biggest portfolio of adventure options in the Polar regions. Cruising along the coast, ice edge and inner fjords of Spitsbergen, you'll be immersed in the natural wonders of the land of the midnight sun as we pursue our quest to photograph Arctic wildlife: the Polar bear as it prowls the edges of the pack ice on its perpetual hunt for food; the walrus with its long tusks and distinctive whiskers; cliff-dwelling Arctic birds in the thousands; and small herds of reindeer loping across the colourful tundra. Plus, there will be snow-topped mountains, massive glacier fronts, deep-walled fjords, and vast swaths of untouched tundra waiting to be photographed. Exploring this awe-inspiring region never ceases to impress visitors with its raw beauty.
Highlights
View iconic Arctic wildlife, like Polar bears, walrus and Arctic fox

Enjoy continuous daylight, perfect for photography buffs

Cruise in a Zodiac for closer views of glaciers, fjords, icebergs and more

Hike the colourful tundra

Learn techniques and tips from onboard photographers

Travel in a small expedition vessel

Accompanied by extremely qualified Expedition Staff
Itinerary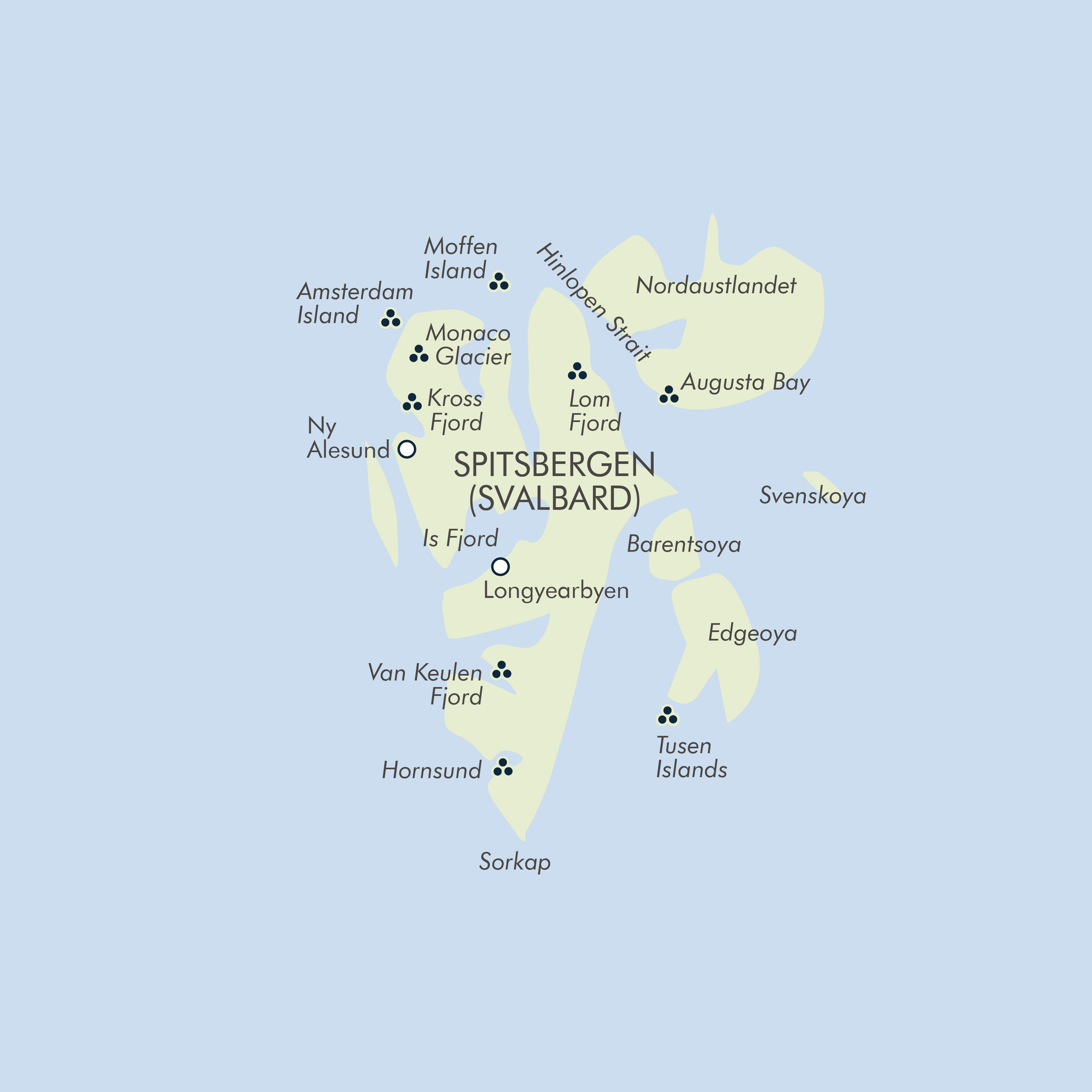 Expand All

Day 1 :

2022 Departures: Arrive in Oslo, Norway
Your Arctic voyage begins in Oslo, Norway's vibrant capital city. If you arrive early, there are many museums, restaurants and green spaces to keep you busy before retiring at your included airport hotel.

Day 2 :

Embarkation Day in Longyearbyen, Svalbard
Meals Included:
breakfast, dinner
This morning, the group will transfer to the airport and board our private charter flight to Longyearbyen, Spitsbergen's largest settlement, where you'll have some time to explore before embarkation. As your ship sets sail, enjoy your first view of the island's rugged, glacier-topped mountains rising majestically from icy waters.
Day 3

-

13 : Exploring Spitsbergen
Meals Included:
breakfast, lunch, dinner
Spitsbergen is graced with an unspoiled beauty that's just waiting to be discovered. On this one-of-a-kind cruise, you'll sail along the west coast of this magical island, exploring the coastal fjords and smaller, outlying islands. Each day will be a surprise, treating you to spectacular new sightings and experiences.
Every expedition is unique, depending on the weather and ice conditions, but we do hope to visit a few of our favourite landing sites, which will be chosen as much for their optimal wildlife-viewing opportunities as for their stunning scenery, historical significance and hiking activities. With no itinerary (unusual amongst Polar cruises), our main goal will be to sail in a constant search for Polar bears on the prowl. This means we may not move the ship every day as we do on regular voyages, especially if we find abundant wildlife in one place. Like true explorers, we'll let the wildlife and pack ice—not a set schedule—guide our route! Our small expedition ship allows us to navigate shallower waters and tighter spaces, so we expect to explore the more hard-to-reach areas frequented by the elusive Polar bear.
Presentations by on-board experts will prepare you for the adventures that await, and with continuous daylight during this time of year, photo ops abound. You'll have ample time to linger and photograph any bears we find hunting on the ice edge, but they're not the only wildlife we hope to encounter. The food-rich waters attract walrus, whales and seabirds, so you'll want to keep your binoculars nearby while cruising. Arctic fox and the indigenous Svalbard reindeer may also be spotted on Zodiac excursions to shore.
A haven for present-day explorers, Spitsbergen and the surrounding area offer unforgettable Polar experiences that will keep you and your camera active for the duration of the expedition. Although 60 percent of the landscape is covered in glaciers and much of the terrain is mountainous, Spitsbergen (which means "pointed mountains") surprises visitors with stretches of colourful tundra that burst with wildflowers in summer. Optional hiking activities get you up close—though never obtrusively—to the abundant wildlife. At day's end, you'll have plenty of prized photographs and exciting stories to share with your shipmates.

Day 14 :

2022 Departures: Disembark in Longyearbyen and fly to Oslo
Meals Included:
breakfast
The time to say goodbye has come. Your adventure ends as it began, in the frontier-style settlement of Longyearbyen. From here, we'll transfer you to the airport for your return group charter flight to Oslo.
What's Included
Meals

3 breakfasts, 1 lunches, 2 dinners.

All meals while on the ship

Beer and house wine during dinner

All accommodation

All transport and listed activities

Full complement of qualified Expedition Staff

Mandatory transfer package including return flights between Helsinki and Longyearbyen

We can include flights from the UK.  Please contact us for a quote.
What's Not Included
Travel insurance

Single accommodation (available on request)

Visas or vaccinations
Food
All meals while on the ship included. Typical Meals The ships galley offers good quality service and cuisine throughout, with excellent chefs preparing international menus including vegetarian dishes, accompanied by a wide variety of drinks from around the world on sale. Breakfast: Buffet style – unlimited tea and coffee, a selection of fruit juices, hot options including bacon and eggs or omelettes, a selection of bread and toast and jam/honey/marmalade, fruit and cereal. Lunch: Three course set meal or buffet, or the occasional BBQ. Dinner: Three or four courses with a starter of soup and/or salad, a choice of mains with at least one vegetarian option and a dessert, with tea and coffee. Vegetarians and vegans can be well catered for on this holiday - please do inform us before departure of any special dietary requests so that our local team can be well prepared.
Accommodation
The Spitsbergen Photography: In Search of Polar Bears voyage is offered on the Ultramarine which is a Polar Adventure Ship. Full board accommodation on the ship, generally on a twin share basis in a variety of cabin types, all with en suite facilities. Polar Adventure Ships These are small ice rated vessels well qualified for Polar waters. Intimate adventures are always more enjoyable with like-minded passengers and staff, so these voyages are for people who like flexible itineraries and plenty to keep them busy. Activities include frequent Zodiac excursions, trekking and many hours on deck in areas that other ships only dream about accessing. Food and staff are superb and every guest benefits from the technical advances of this superb fleet. Rest assured our Polar Adventure Ships enable any traveller to maximize their experience sensitively in the Poles.
Check out our Q&As
What happens if I need to change my holiday date once I've booked?
If you wish to make any changes to your booking, particularly if you need to alter any flights booked through us, please let us know as soon as possible. There is a booking or flight amendment fee of £40 per change and flight amendments often incur extra airline costs depending on the changes to be made and if the ticket has been issued or not.
How long has the tour company been trading?
Exodus has been trading since 1974
What documents will I receive before I travel?
Your final joining instructions and flight details, if booked with us, will then be sent out 2 to 3 weeks before departure. If you would like a hard copy posted, or if you require these any earlier, please contact the customer operations team. We advise that if you are booking connecting travel before receiving these, please ensure you leave plenty of time.
Do you operate a "single share" option and how does it work?
Travellers are welcome to opt to share a room with a tour member of the same gender for no additional charge. If you'd like your own room, we can request a single supplement so that you will have your own room throughout.
Can I join the tour once it has departed?
You are welcome to meet the group after the tour has departed however there is no reduction in rate for joining a tour after the departure date.
Reviews
Paul Goldstein Spitzbergen Photographic Charter
An outstanding adventure with so many ups and downs and only made possible by the "can do" attitude of Paul Goldstein, the Polar Team at Exodus and the crew of ....more
An outstanding adventure with so many ups and downs and only made possible by the "can do" attitude of Paul Goldstein, the Polar Team at Exodus and the crew of the Polar Pioneer.

This is what all holidays should be like! My daughter and I would happily do it all again in an instant.

less....
---
Dates & Availability
ULTRAMARINE - Prices include Mandatory transfer package (including return flights between Helsinki and Longyearbyen)
Book with Confidence
Transfer as credit to Future Tours

Exodus allows you to transfer existing payments to a future tour to avoid cancellation fees if you can't travel and inform exodus, 43 days before departure.

Low Deposit

Exodus requires a minimum deposit of 25% or the full booking value, whichever is less, with the final balance not due until 90 days before departure.

Cancellation Policy

We don't charge a cancellation fee, here is a summary of exodus charges.

Up to 42 days before tour starts: 100% of deposit.

At 20 days before tour starts: 100% of booking price.
Spitsbergen Photography: In Search of Polar Bears
14 Days Starting and ending in Helsinki, Finland
Tour operator:
Physical rating:
Leisurely
Special diets catered:
Please inform Exodus of specific dietary requirements
Trip Styles:
Activities:
Tour code:
PLH
Group size:
0 - 199
Age range:
18 to 99
Tour operated in:
English
Interests:
Why book with tourhub?
Safe & Secure
Your money is protected in an external trust until you travel.
---
100% Guaranteed Refunds if your trip is cancelled.
---
The safest way to make overseas, multi-currency payments.
Guaranteed Best Value
Industry leading discounts, we won't be beaten on price.
---
No cancellation or amendment fees from tourhub.
(Operator terms may apply)
Expert Knowledge
Reliable & unbiased advice from travel experts.
---
Direct contact with the tour operator via our messaging service.
---
Inspiration & advice from a community of 6000+ real travellers, influencers & content creators.
Trusted Service
Official partners & licensed agents of 1000+ tour operators worldwide.
---
Don't just take our word for it...
"Tourhub: Friendliness, Professionalism & Integrity I would happily give tourhub a 6* review if I could..."