Unspoilt Ring of Kerry Self-Guided Cycling
8 Days Starting and ending in Killarney
Visiting:
Killarney
,
Killarney National Park
,
Glenbeigh
,
Cahersiveen
,
Blackstones Bridge
,
Kenmare
Tour operator:
Physical rating:
Moderate
Special diets catered:
Please inform Exodus of specific dietary requirements
Trip Styles:
Activities:
Tour code:
C07KE
Group size:
2 - 6
Age range:
12 to 99
Tour operated in:
English
Interests:
Recommended For:
Tour Overview
The Iveragh Peninsula is a stunning region of islands. With Killarney at its epicentre, it is the largest of the 'five fingers' of Ireland, better known as the Ring of Kerry. Mystical, beautiful and grand, the route is also a tourist hotspot, so can be a little unkind to cyclists. Our routes maintain the same beauty and splendour but take you off the path to enjoy a more leisurely and quieter mix of inland and coastal scenery.
Highlights
The Ring of Kerry - the 'real' Ireland, away from the crowds in beautiful scenery

The stunning Three Lakes of Killarney in Killarney National Park - look out for native red deer

Our cycle routes feature a quieter mix of inland and coastal routes

10,000 years of dramatic history - an early Celtic tribe settled in the area around 300BC

This trip is also available as a six-night tour, staying just one night at Killarney at the beginning of the holiday

The Gap of Dunloe - a magnificent glaciated valley
Itinerary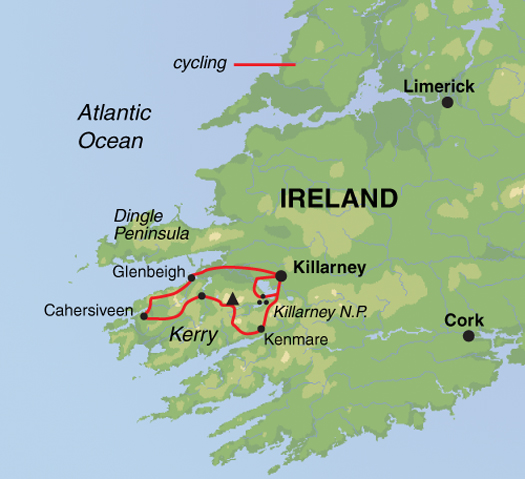 Expand All

Day 1 :

*Arrive in Killarney*
Location:
Killarney
Accommodation:
Lodge
Accommodation Name:
Abbey Lodge
Meals Included:
No Meals
Check into your B&B and then explore the town, choosing from one of its many
restaurants for dinner or enjoying some live music

Day 2 :

Killarney National Park
Location:
Killarney National Park
Accommodation:
Lodge
Accommodation Name:
Abbey Lodge
Meals Included:
Breakfast
A short warm-up ride through the stunning Killarney National Park follows a
series of cycle trails where you'll see the meeting of the waters where two
of the 'Three Lakes of Killarney' converge. Marvel at Torc Waterfall, the
second highest in Ireland, visit Muckross House and its magnificent gardens,
looking out for the famous red deer.

Day 3 :

KILLARNEY TO GLENBEIGH
Location:
Killarney, Glenbeigh
Accommodation:
Hotel
Accommodation Name:
Towers Hotel
Meals Included:
Breakfast
Leaving Killarney behind, you'll follow the Fossa Way cycle route, before
heading on small country roads as you slowly climb up to the pretty Lough
Acoose, below the peak of Carrauntuohill, Ireland's highest mountain.
Descending, you'll cycle along the shores of Lough Caragh and on to charming
Glenbeigh and its blue flag beach. If you have time, pedal down to Rossbeigh
Strand and dip your toes in the Atlantic. 


Day 4 :

GLENBEIGH TO CAHERSIVEEN
Location:
Glenbeigh, Cahersiveen
Accommodation:
Hotel
Accommodation Name:
The Ring of Kerry Hotel
Meals Included:
Breakfast
You'll follow the route of the coast today, passing small farms and on to the
beautiful and peaceful shores of Kells Bay. Heading along a scenic narrow
road fringed by large green meadows and peaks in the distance, a circular
loop at the end takes you past Ballycarbery Castle and a wonderful seaside
view and two early Christian stone forts. You'll arrive in the lively town of
Cahersiveen, the birthplace of Daniel O'Connell, the Irish political leader
(1775-1847).


Day 5 :

CAHERSIVEEN TO BLACKSTONES BRIDGE
Location:
Cahersiveen, Blackstones Bridge
Accommodation:
Blackstones House
Meals Included:
Breakfast, Dinner
Leaving Cahersiveen on the old road you'll pass the ruins of Daniel
O'Connell's birth home, before heading back inland where you'll see ruined
abbeys and ancient graveyards. After a short descent, a climb up and over the
stunning Ballaghasheen Pass will reward you with views back to Killarney and
Ireland's highest mountain. A long descent on narrow roads alongside a
gushing river takes you to Blackstones Bridge and your quirky and welcoming
B&B for the night. 



Day 6 :

BLACKSTONES BRIDGE TO KENMARE
Location:
Blackstones Bridge, Kenmare
Accommodation:
Rockcrest House
Meals Included:
Breakfast
Another stunning rural ride today as you head up and over the spectacular
Ballaghbeama Gap; you are more likely to encounter sheep on the roads than
vehicles. The road takes you through boulder-strewn countryside, cycling by
small lakes, following the Blackwater River. Your day finishes in the
beautiful town of Kenmare, also called 'the gateway to Kerry', and your
luxury guesthouse for the night. 



Day 7 :

KENMARE TO KILLARNEY
Location:
Kenmare, Killarney
Accommodation:
Lodge
Accommodation Name:
Abbey Lodge
Meals Included:
Breakfast
As final bike rides go, they don't get much better than this. You'll cycle to
Moll's Gap - a panoramic spot that reaches a summit of 860 feet - and
continue to the Black Valley. This is one of the last remaining areas of
Ireland that is still remote and untouched; with rich fertile meadows and a
roaring river, it feels like a land that time forgot. From here you'll climb
to one of the most beautiful places in Ireland, the Gap of Dunloe, which was
created during the Ice Age. Cycling along this glaciated valley, you'll
meander around the many glacial lakes dotted throughout and marvel at the
sheer jagged rock faces towering above you. You'll head back into Killarney
through the National Park, passing the 15th century Ross Castle, before
returning to your B&B for your last night (and perhaps a final
Guinness).

Day 8 :

LEAVE KILLARNEY
Location:
Killarney
Meals Included:
Breakfast
We take you to Killarney Station for your onward journey, or perhaps enjoy
extra nights in Killarney to finish your trip.


What's Included
Luggage Transfers

All breakfasts and one evening meal

High quality bike with panniers

GPS device

Route maps

Meals

7 breakfasts, 0 lunches, 1 dinners.
What's Not Included
Arrival and departure transfers (available for a supplement)

Visas and vaccinations

Travel insurance

Single supplements

Solo traveller supplement (where only one person is travelling on a departure date)
Food
All breakfasts and one evening meal included. Irish food is not exactly famous, but what you will find is extremely good ingredients used to create basic and classic dishes, both Kerry beef and Kerry lamb, are certainly well known all over Ireland and further afield. You will see rack of lamb, lamb stew and shepherd's pie, in most places. The county's other basket is the Atlantic Ocean, and its rivers and loughs. Sea bream and Sea Bass are popular.Trout and Salmon can be served in many different ways, and there is an abundance of shell fish, local chowders are excellent and look out for crab gratin. Wine is readily available but of course one of the symbols of Ireland is Guinness, and we can say from experience that it tastes better in Ireland, but if have a thirst after a long walk, beware the Guinness is not poured quickly, many might say there is a certain amount of time you need to leave after filling the glass halfway up the harp. However it should be left until you see a vivid distinction between the dark body and the creamy white head. Only then can the rest of the glass be filled. Learning from the locals, you should order your second pint before you have finished your first! Craft beer is making a name for itself in Ireland and there are some excellent local ones. Then there is the Irish whiskey, the famous one being Bushmills and Jameson's, and there are many local whiskies for you to try, the Dingle distillery produces a good whiskey and an excellent gin.
Accommodation
You'll stay in a mix of bed and breakfasts, where you'll enjoy an Irish breakfast (one which is quirky and located off-the-beaten-track on the banks of the Curragh river) and an historic hotel. Along with the stunning scenery, you'll receive a hearty welcome everywhere you stay.
Check out our Q&As
Are children permitted to take part in the tour?
12+ age people can go on this tour.
Are airport transfers included in this tour?
Are vaccinations required for this tour?
No vaccinations are obligatory.
Are airport transfers included in this tour?
Are the local guides on the tour English speaking?
What happens if I need to change my holiday date once I've booked?

If you wish to make any changes to your booking, particularly if you need to alter any flights booked through us, please let us know as soon as possible. There is a booking or flight amendment fee of £40 per change and flight amendments often incur extra airline costs depending on the changes to be made and if the ticket has been issued or not.

How long has the tour company been trading?

Exodus has been trading since 1974

What documents will I receive before I travel?

Your final joining instructions and flight details, if booked with us, will then be sent out 2 to 3 weeks before departure. If you would like a hard copy posted, or if you require these any earlier, please contact the customer operations team. We advise that if you are booking connecting travel before receiving these, please ensure you leave plenty of time.

Do you operate a "single share" option and how does it work?

Travellers are welcome to opt to share a room with a tour member of the same gender for no additional charge. If you'd like your own room, we can request a single supplement so that you will have your own room throughout.

Can I join the tour once it has departed?

You are welcome to meet the group after the tour has departed however there is no reduction in rate for joining a tour after the departure date.
Dates & Availability
Instant Booking Available
Instant Booking Available
Instant Booking Available
Instant Booking Available
Instant Booking Available
Instant Booking Available
Instant Booking Available
Instant Booking Available
Instant Booking Available
Instant Booking Available
Instant Booking Available
Instant Booking Available
Instant Booking Available
Instant Booking Available
Instant Booking Available
Instant Booking Available
Instant Booking Available
Instant Booking Available
Instant Booking Available
Instant Booking Available
Instant Booking Available
Instant Booking Available
Instant Booking Available
Instant Booking Available
Instant Booking Available
Instant Booking Available
Instant Booking Available
Instant Booking Available
Instant Booking Available
Instant Booking Available
Instant Booking Available
Instant Booking Available
Instant Booking Available
Instant Booking Available
Instant Booking Available
Instant Booking Available
Instant Booking Available
Instant Booking Available
Instant Booking Available
Instant Booking Available
Instant Booking Available
Instant Booking Available
Instant Booking Available
Instant Booking Available
Instant Booking Available
Instant Booking Available
Instant Booking Available
Instant Booking Available
Instant Booking Available
Instant Booking Available
Instant Booking Available
Instant Booking Available
Instant Booking Available
Instant Booking Available
Instant Booking Available
Instant Booking Available
Instant Booking Available
Instant Booking Available
Instant Booking Available
Instant Booking Available
Instant Booking Available
Instant Booking Available
Instant Booking Available
Instant Booking Available
Instant Booking Available
Instant Booking Available
Instant Booking Available
Instant Booking Available
Instant Booking Available
Instant Booking Available
Instant Booking Available
Instant Booking Available
Instant Booking Available
Instant Booking Available
Instant Booking Available
Instant Booking Available
Instant Booking Available
Instant Booking Available
Instant Booking Available
Instant Booking Available
Instant Booking Available
Instant Booking Available
Instant Booking Available
Instant Booking Available
Instant Booking Available
Instant Booking Available
Instant Booking Available
Instant Booking Available
Instant Booking Available
Instant Booking Available
Instant Booking Available
Instant Booking Available
Instant Booking Available
Instant Booking Available
Instant Booking Available
Instant Booking Available
Instant Booking Available
Instant Booking Available
Instant Booking Available
Instant Booking Available
Instant Booking Available
Instant Booking Available
Instant Booking Available
Instant Booking Available
Instant Booking Available
Instant Booking Available
Instant Booking Available
Instant Booking Available
Instant Booking Available
Instant Booking Available
Instant Booking Available
Instant Booking Available
Instant Booking Available
Instant Booking Available
Instant Booking Available
Instant Booking Available
Instant Booking Available
Instant Booking Available
Instant Booking Available
Instant Booking Available
Instant Booking Available
Instant Booking Available
Instant Booking Available
Instant Booking Available
Instant Booking Available
Instant Booking Available
Instant Booking Available
Instant Booking Available
Instant Booking Available
Instant Booking Available
Instant Booking Available
Instant Booking Available
Instant Booking Available
Instant Booking Available
Instant Booking Available
Instant Booking Available
Instant Booking Available
Instant Booking Available
Instant Booking Available
Instant Booking Available
Instant Booking Available
Instant Booking Available
Instant Booking Available
Instant Booking Available
Instant Booking Available
Instant Booking Available
Instant Booking Available
Instant Booking Available
Instant Booking Available
Instant Booking Available
Instant Booking Available
Instant Booking Available
Instant Booking Available
Instant Booking Available
Instant Booking Available
Instant Booking Available
Instant Booking Available
Instant Booking Available
Instant Booking Available
Instant Booking Available
Instant Booking Available
Instant Booking Available
Instant Booking Available
Instant Booking Available
Instant Booking Available
Instant Booking Available
Instant Booking Available
Instant Booking Available
Instant Booking Available
Instant Booking Available
Instant Booking Available
Instant Booking Available
Instant Booking Available
Instant Booking Available
Instant Booking Available
Instant Booking Available
Instant Booking Available
Instant Booking Available
Instant Booking Available
Instant Booking Available
Instant Booking Available
Instant Booking Available
Instant Booking Available
Instant Booking Available
Instant Booking Available
Instant Booking Available
Instant Booking Available
Instant Booking Available
Instant Booking Available
Instant Booking Available
Instant Booking Available
Instant Booking Available
Instant Booking Available
Instant Booking Available
Instant Booking Available
Instant Booking Available
Instant Booking Available
Instant Booking Available
Instant Booking Available
Instant Booking Available
Instant Booking Available
Instant Booking Available
Instant Booking Available
Instant Booking Available
Instant Booking Available
Instant Booking Available
Instant Booking Available
Instant Booking Available
Instant Booking Available
Instant Booking Available
Instant Booking Available
Instant Booking Available
Instant Booking Available
Instant Booking Available
Instant Booking Available