Walking and Cycling the Wild Atlantic Way
8 Days Starting in Killarney and ending in Annascaul
Visiting:
Killarney
,
Ireland
Tour operator:
Physical rating:
Moderate
Special diets catered:
Please inform Exodus of specific dietary requirements
Trip Styles:
Activities:
Tour code:
M07KE
Group size:
2 - 6
Age range:
12 to 99
Tour operated in:
English
Interests:
Recommended For:
Tour Overview
The Wild Atlantic Way spans the full Western coast of Ireland and on this holiday you explore its wonderful Southern peninsula. With one of the country's finest national parks as its backyard, the lively tourism hub of Killarney is often the starting point for Kerry's two famed loop drives: the larger Ring of Kerry skirts the mountainous, island-fringed Iveragh Peninsula. The more compact Dingle Peninsula is like a condensed version of its southern neighbour, with ancient Christian sites, sandy beaches and glimpses of a hard, unforgiving land. Killarney's exquisite beauty makes it one of Kerry's most popular tourist destinations. We ensure you escape from the crowds, along a mountain pass, an isolated cove or an untrodden trail.
Highlights
Optional 2nd boat trip into Dingle harbour in search of Dingle's most famous resident 'Fungi' the Bottlenose Dolphin

Cycle through the stunning Gap of Dunloe

Boat trip from Ross Castle through the three lakes of Killarney to Lord Brandon's cottage.
Itinerary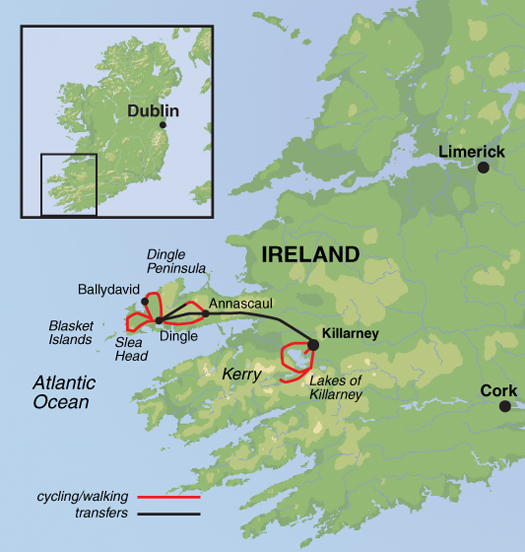 Expand All

Day 1 :

Killarney
Location:
Killarney
Accommodation:
Abbey Lodge
Meals Included:
No Meals
Check into the Abbey Lodge B&B where you stay for 3 nights and discover the
delights of Killarney. Or if you have time enjoy a circular route to
Killarney National Park, cycling to Muckross Lake; one of the famous 3 lakes
of Killarney, 15th century Muckross Abbey and 19th century Muckross House
with renowned and beautiful gardens. Following your cycle return to Killarney
to enjoy this vibrant town for your first overnight stop. Stay overnight at
Abbey Lodge



Day 2 :
Meals Included:
breakfast

Cycle to the 15th century Ross Castle once home to The O'Donovan Rossa Clan
who ruled these lands in bygone times. You will enjoy a scenic boat trip
through the three Lakes of Killarney to finish at the Lord Brandon's cottage,
stopping perhaps at the cafe here for lunch or a coffee. Cycle through the
glaciated valleys of the stunning Gap of Dunloe with glistening mountain
lakes with jagged rock faces before returning via the spectacular Killarney
National Park. If you are lucky you might catch a glimpse of the native wild
red deer. Stay overnight at Abbey Lodge



Day 3 :
Meals Included:
breakfast

A transfer to Glaways Bridge today and there are panoramic views of the
Killarney lakes and mountains as you walk from Galway's Bridge along the old
Kenmare road through the Esknamucky Glen. It truly is one of Ireland's
premier walking routes. Finish by visiting the famous Torc waterfall before
returning to Killarney. Stay overnight at Abbey Lodge



Day 4 :
Meals Included:
breakfast

Today's transfer takes you to Bamburys in Dingle where you stay for 3 nights.
Dingle is the South West's home to traditional Irish music, language and
culture and Gaelic is still the daily language of the locals. Enjoy this
picturesque town full of true Irish tradition, perhaps visit the Dingle
Whiskey, Gin and Vodka Distillery and sample the 'water of life' or take a
boat trip (payable locally) to see Fungi the resident bottlenose dolphin!
Dingle's most famous resident has been delighting visitors with his playful
antics for many years. An optional walk from Annascaul to Dingle is also
available - the taxi will drop you in Annascaul on the way from Killarney and
your luggage will be transferred on to Bambury's in Dingle.
Stay overnight at Bamburys Guesthouse



Day 5 :
Meals Included:
breakfast

Cycle west from Dingle via Ventry to Slea Head, with magnificent views and
breath taking views across the Blasket Sound to the famous Blasket Island.
Continue to Dunquinn and Ballyferriter before returning to Dingle.
Alternatively, from Dunquinn harbour take the ferry (pay locally) to Great
Blasket Island to explore this mystical and enchanting place. Stay overnight
at Bamburys Guesthouse



Day 6 :
Meals Included:
breakfast

Cycle north to the beautiful village of Ballydavid, one of the largest
fishing ports in the region. Continue to Brandon Creek, the most westerly
point of Ireland before returning to Dingle. Stay overnight at Bamburys
Guesthouse



Day 7 :
Meals Included:
breakfast

A wonderful walk along the Dingle Peninsula from North to South, following a
spectacular old farmer's track. You walk over the plateau, passing a deserted
famine village and Annascaul Lake on the way before descending into your home
for the last night in Annascaul at the southern foothills of the Slieve Mish
Mountains. Stay overnight at Teac Seain



Day 8 :
Meals Included:
breakfast

After a final breakfast and farewell follow your own arrangements for your
onward journey.


What's Included
Luggage Transfers

All breakfasts

GPS Device 

Route maps

Meals

7 breakfasts, 0 lunches, 0 dinners.
What's Not Included
Single supplements

Travel insurance

Solo traveller supplement (where only one person is travelling on a departure date)
Accommodation
You'll stay in a mix of friendly bed and breakfasts. You will be sure of a warm Irish welcome everywhere. It is easy to add extra nights in all of the towns - perhaps you'd like to visit Valencia Island or take a boat trip to the Skellig Islands. Just ask your sales adviser to arrange. *This holiday is also available as a 4-night Short Break*
Food
All breakfasts included. Irish food is not exactly famous, but what you will find is extremely good ingredients used to create basic and classic dishes, both Kerry beef and Kerry lamb, are certainly well known all over Ireland and further afield. You will see rack of lamb, lamb stew and shepherd's pie, in most places. The county's other basket is the Atlantic Ocean, and its rivers and loughs. Sea bream and Sea Bass are popular.Trout and Salmon can be served in many different ways, and there is an abundance of shell fish, local chowders are excellent and look out for crab gratin. Wine is readily available but of course one of the symbols of Ireland is Guinness, and we can say from experience that it tastes better in Ireland, but if have a thirst after a long walk, beware the Guinness is not poured quickly, many might say there is a certain amount of time you need to leave after filling the glass halfway up the harp. However it should be left until you see a vivid distinction between the dark body and the creamy white head. Only then can the rest of the glass be filled. Learning from the locals, you should order your second pint before you have finished your first! Craft beer is making a name for itself in Ireland and there are some excellent local ones. Then there is the Irish whiskey, the famous one being Bushmills and Jameson's, and there are many local whiskies for you to try, the Dingle distillery produces a good whiskey and an excellent gin.
Check out our Q&As
What happens if I need to change my holiday date once I've booked?
If you wish to make any changes to your booking, particularly if you need to alter any flights booked through us, please let us know as soon as possible. There is a booking or flight amendment fee of £40 per change and flight amendments often incur extra airline costs depending on the changes to be made and if the ticket has been issued or not.
How long has the tour company been trading?
Exodus has been trading since 1974
What documents will I receive before I travel?
Your final joining instructions and flight details, if booked with us, will then be sent out 2 to 3 weeks before departure. If you would like a hard copy posted, or if you require these any earlier, please contact the customer operations team. We advise that if you are booking connecting travel before receiving these, please ensure you leave plenty of time.
Do you operate a "single share" option and how does it work?
Travellers are welcome to opt to share a room with a tour member of the same gender for no additional charge. If you'd like your own room, we can request a single supplement so that you will have your own room throughout.
Can I join the tour once it has departed?
You are welcome to meet the group after the tour has departed however there is no reduction in rate for joining a tour after the departure date.
Dates & Availability
Instant Booking Available
Instant Booking Available
Instant Booking Available
Instant Booking Available
Instant Booking Available
Instant Booking Available
Instant Booking Available
Instant Booking Available
Instant Booking Available
Instant Booking Available
Instant Booking Available
Instant Booking Available
Instant Booking Available
Instant Booking Available
Instant Booking Available
Instant Booking Available
Instant Booking Available
Instant Booking Available
Instant Booking Available
Instant Booking Available
Instant Booking Available
Instant Booking Available
Instant Booking Available
Instant Booking Available
Instant Booking Available
Instant Booking Available
Instant Booking Available
Instant Booking Available
Instant Booking Available
Instant Booking Available
Instant Booking Available
Instant Booking Available
Instant Booking Available
Instant Booking Available
Instant Booking Available
Instant Booking Available
Instant Booking Available
Instant Booking Available
Instant Booking Available
Instant Booking Available
Instant Booking Available
Instant Booking Available
Instant Booking Available
Instant Booking Available
Instant Booking Available
Instant Booking Available
Instant Booking Available
Instant Booking Available
Instant Booking Available
Instant Booking Available
Instant Booking Available
Instant Booking Available
Instant Booking Available
Instant Booking Available
Instant Booking Available
Instant Booking Available
Instant Booking Available
Instant Booking Available
Instant Booking Available
Instant Booking Available
Instant Booking Available
Instant Booking Available
Instant Booking Available
Instant Booking Available
Instant Booking Available
Instant Booking Available
Instant Booking Available
Instant Booking Available
Instant Booking Available
Instant Booking Available
Instant Booking Available
Instant Booking Available
Instant Booking Available
Instant Booking Available
Instant Booking Available
Instant Booking Available
Instant Booking Available
Instant Booking Available
Instant Booking Available
Instant Booking Available
Instant Booking Available
Instant Booking Available
Instant Booking Available
Instant Booking Available
Instant Booking Available
Instant Booking Available
Instant Booking Available
Instant Booking Available
Instant Booking Available
Instant Booking Available
Instant Booking Available
Instant Booking Available
Instant Booking Available
Instant Booking Available
Instant Booking Available
Instant Booking Available
Instant Booking Available
Instant Booking Available
Instant Booking Available
Instant Booking Available
Instant Booking Available
Instant Booking Available
Instant Booking Available
Instant Booking Available
Instant Booking Available
Instant Booking Available
Instant Booking Available
Instant Booking Available
Instant Booking Available
Instant Booking Available
Instant Booking Available
Instant Booking Available
Instant Booking Available
Instant Booking Available
Instant Booking Available
Instant Booking Available
Instant Booking Available
Instant Booking Available
Instant Booking Available
Instant Booking Available
Instant Booking Available
Instant Booking Available
Instant Booking Available
Instant Booking Available
Instant Booking Available
Instant Booking Available
Instant Booking Available
Instant Booking Available
Instant Booking Available
Instant Booking Available
Instant Booking Available
Instant Booking Available
Instant Booking Available
Instant Booking Available
Instant Booking Available
Instant Booking Available
Instant Booking Available
Instant Booking Available
Instant Booking Available
Instant Booking Available
Instant Booking Available
Instant Booking Available
Instant Booking Available
Instant Booking Available
Instant Booking Available
Instant Booking Available
Instant Booking Available
Instant Booking Available
Instant Booking Available
Instant Booking Available
Instant Booking Available
Instant Booking Available
Instant Booking Available
Instant Booking Available
Instant Booking Available
Instant Booking Available
Instant Booking Available
Instant Booking Available
Instant Booking Available
Instant Booking Available
Instant Booking Available
Instant Booking Available
Instant Booking Available
Instant Booking Available
Instant Booking Available
Instant Booking Available
Instant Booking Available
Instant Booking Available
Instant Booking Available
Instant Booking Available
Instant Booking Available
Instant Booking Available
Instant Booking Available
Instant Booking Available
Instant Booking Available
Instant Booking Available
Instant Booking Available
Instant Booking Available
Instant Booking Available
Instant Booking Available
Instant Booking Available
Instant Booking Available
Instant Booking Available
Instant Booking Available
Instant Booking Available
Instant Booking Available
Instant Booking Available
Instant Booking Available
Instant Booking Available
Instant Booking Available
Instant Booking Available
Instant Booking Available
Instant Booking Available
Instant Booking Available
Instant Booking Available
Instant Booking Available
Instant Booking Available
Instant Booking Available
Instant Booking Available
Instant Booking Available
Instant Booking Available
Instant Booking Available
Instant Booking Available
Instant Booking Available
Instant Booking Available
Instant Booking Available
Instant Booking Available
Instant Booking Available
Instant Booking Available
Instant Booking Available
Instant Booking Available
Instant Booking Available
Instant Booking Available