Walking in the Altmuhltal Nature Park
5 Days Starting in Treuchtlingen and ending in Eichstatt
Visiting:
Treuchtlingen
,
Pappenheim
,
Dollnstein
,
Eichstätt
Tour operator:
Physical rating:
Moderate
Special diets catered:
Please inform Exodus of specific dietary requirements
Trip Styles:
Activities:
Tour code:
W04AB
Group size:
2 - 6
Age range:
13 to 99
Tour operated in:
English
Interests:
Recommended For:
Tour Overview
Discover steep jaggered Dolomite-rocks, sun-kissed juniper heaths, soft river valleys and extensive forests as you walk east from the spa town of Treuchtlingen to Kelheim on the Danube river. You'll walk through a landscape steeped in history and culture: impressive ramparts, reconstructed forts and spectacular treasure troves are testimony to Celtic and Roman times. From more recent times you'll find castles and palaces built by nobility and magnificent churches and monasteries built by prince-archbishops. You'll also enjoy some of the region's culinary delights from tasty sausage specialties all the way to numerous delicious beers.
Highlights
Idyllic walking paths above the river valley

Impressive ramparts, reconstructed forts and spectacular treasure troves are testimony to Celtic and Roman times

Altmuhltal Nature Park, Germany's second largest, full of natural monuments

Altmuhltal Nature Park, Germanys second largest, full of natural monuments
Itinerary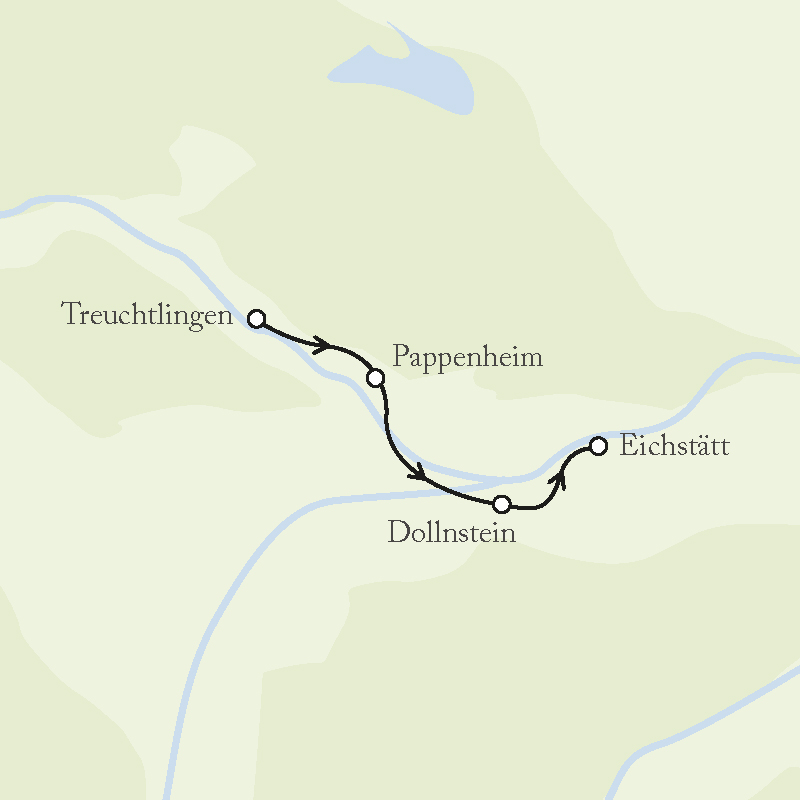 Expand All

Day 1 :

Arrive in Treuchtlingen
Location:
Treuchtlingen
Meals Included:
No Meals
Arrive in the heart of the Altmuhltal Nature Park in the idyllic town of
Treuchtlingen, known for its Thermal Spa.



Day 2 :

Treuchtlingen to Pappenheim
Location:
Treuchtlingen, Pappenheim
Meals Included:
Breakfast
Today starts with a short ascent to a viewpoint with views onto the river
Altmühl meandering through the valley which you soon descend to follow.
Continue via the 'Devil's Pulpit' and the Hollerstein viewpoint to
finish with a leisurely walk along the course of the river to the medieval
town of Pappenheim. You will be greeted by the impressive castle, seat of the
former Reichserbmarschälle.



Day 3 :

Pappenheim to Dollnstein
Location:
Pappenheim, Dollnstein
Meals Included:
Breakfast
A mountain trail leads you through heathland to Solnhofen, known for its
limestone slabs and site of over 140 million-year-old fossils. Soon after an
amazing and very popular photo opportunity awaits: the nature monument, the
Twelve Apostles, steep limestone rocks embedded in juniper heaths. The route
then leads you to the market town of Dollnstein, into the primeval Danube
valley.



Day 4 :

Dollnstein to Eichstätt
Location:
Dollnstein, Eichstätt
Meals Included:
Breakfast
Today's tour leads you through the historic town gate and on to the juniper
heath. You walk above the river Altmühl past the rock tower Burgsteinfelsen
and via a lovely mountain path onwards to Obereichstätt. Continue on with
great views all the way to Eichstätt with Willibalds castle towering over
the town. Enjoy a stroll around the town and head to the Altmühltal Nature
Park Visitors Centre.



Day 5 :

Leave Eichstätt
Location:
Eichstätt
Meals Included:
Breakfast
What's Included
Luggage transfers between hotels

Route notes and maps

All breakfasts

Meals

4 breakfasts, 0 lunches, 0 dinners.
What's Not Included
Single supplements

Travel insurance

Visas and vaccinations
Food
What is your first thought when you think of German food, Bier und Bratwurst or Beer and sausages, and if this is what you want then you will not be disappointed. However there is much more to Bavarian cuisine. Meat and freshwater fish are heavily used but vegetarians are also well catered for. Germans tend to follow similar eating patterns to the UK, with breakfast, followed by a small lunch, and large evening meal, dinners tends to be taken fairly early and restaurants will start serving from 6pm. Throughout the towns there are a good choice of differing places to eat, the most traditional of these are the beer halls, these are not just places to drink the local brew, they are also offer traditional cuisine, they can be nice for lunch as they offer small plates of tasty morcels, you will also find the local bratwurst in served them. The most social of places are the beer gardens, these offer really good food in an outdoor setting many have indoor eating areas as well, don't let the name put you off they also normally have a fairly good wine list too. Then there are the restaurants you will find in most towns a good choice of both German and International cuisine.
Accommodation
You will stay in a mixture of 3 and 4 star, HHH and HHHH hotels, all en suite. The hotels are chosen for their excellent facilities and proximity to the relevant local sites. All rooms have en suite facilities and air conditioning. Please specify whether you would prefer a double or twin room when booking.
Check out our Q&As
Are children permitted to take part in the tour?
Age 13+ people can join this tour.
Are the local guides on the tour English speaking?
Are airport transfers included in this tour?
Only Luggage transfers between hotels
What happens if I need to change my holiday date once I've booked?
If you wish to make any changes to your booking, particularly if you need to alter any flights booked through us, please let us know as soon as possible. There is a booking or flight amendment fee of £40 per change and flight amendments often incur extra airline costs depending on the changes to be made and if the ticket has been issued or not.
How long has the tour company been trading?
Exodus has been trading since 1974
What documents will I receive before I travel?

Your final joining instructions and flight details, if booked with us, will then be sent out 2 to 3 weeks before departure. If you would like a hard copy posted, or if you require these any earlier, please contact the customer operations team. We advise that if you are booking connecting travel before receiving these, please ensure you leave plenty of time.

Do you operate a "single share" option and how does it work?

Travellers are welcome to opt to share a room with a tour member of the same gender for no additional charge. If you'd like your own room, we can request a single supplement so that you will have your own room throughout.

Can I join the tour once it has departed?

You are welcome to meet the group after the tour has departed however there is no reduction in rate for joining a tour after the departure date.
Dates & Availability
Instant Booking Available
Instant Booking Available
Instant Booking Available
Instant Booking Available
Instant Booking Available
Instant Booking Available
Instant Booking Available
Instant Booking Available
Instant Booking Available
Instant Booking Available
Instant Booking Available
Instant Booking Available
Instant Booking Available
Instant Booking Available
Instant Booking Available
Instant Booking Available
Instant Booking Available
Instant Booking Available
Instant Booking Available
Instant Booking Available
Instant Booking Available
Instant Booking Available
Instant Booking Available
Instant Booking Available
Instant Booking Available
Instant Booking Available
Instant Booking Available
Instant Booking Available
Instant Booking Available
Instant Booking Available
Instant Booking Available
Instant Booking Available
Instant Booking Available
Instant Booking Available
Instant Booking Available
Instant Booking Available
Instant Booking Available
Instant Booking Available
Instant Booking Available
Instant Booking Available
Instant Booking Available
Instant Booking Available
Instant Booking Available
Instant Booking Available
Instant Booking Available
Instant Booking Available
Instant Booking Available
Instant Booking Available
Instant Booking Available
Instant Booking Available
Instant Booking Available
Instant Booking Available
Instant Booking Available
Instant Booking Available
Instant Booking Available
Instant Booking Available
Instant Booking Available
Instant Booking Available
Instant Booking Available
Instant Booking Available
Instant Booking Available
Instant Booking Available
Instant Booking Available
Instant Booking Available
Instant Booking Available
Instant Booking Available
Instant Booking Available
Instant Booking Available
Instant Booking Available
Instant Booking Available
Instant Booking Available
Instant Booking Available
Instant Booking Available
Instant Booking Available
Instant Booking Available
Instant Booking Available
Instant Booking Available
Instant Booking Available
Instant Booking Available
Instant Booking Available
Instant Booking Available
Instant Booking Available
Instant Booking Available
Instant Booking Available
Instant Booking Available
Instant Booking Available
Instant Booking Available
Instant Booking Available
Instant Booking Available
Instant Booking Available
Instant Booking Available
Instant Booking Available
Instant Booking Available
Instant Booking Available
Instant Booking Available
Instant Booking Available
Instant Booking Available
Instant Booking Available
Instant Booking Available
Instant Booking Available
Instant Booking Available
Instant Booking Available
Instant Booking Available
Instant Booking Available
Instant Booking Available
Instant Booking Available
Instant Booking Available
Instant Booking Available
Instant Booking Available
Instant Booking Available
Instant Booking Available
Instant Booking Available
Instant Booking Available
Instant Booking Available
Instant Booking Available
Instant Booking Available
Instant Booking Available
Instant Booking Available
Instant Booking Available
Instant Booking Available
Instant Booking Available
Instant Booking Available
Instant Booking Available
Instant Booking Available
Instant Booking Available
Instant Booking Available
Instant Booking Available
Instant Booking Available
Instant Booking Available
Instant Booking Available
Instant Booking Available
Instant Booking Available
Instant Booking Available
Instant Booking Available
Instant Booking Available
Instant Booking Available
Instant Booking Available
Instant Booking Available
Instant Booking Available
Instant Booking Available
Instant Booking Available
Instant Booking Available
Instant Booking Available
Instant Booking Available
Instant Booking Available
Instant Booking Available
Instant Booking Available
Instant Booking Available
Instant Booking Available
Instant Booking Available
Instant Booking Available
Instant Booking Available
Instant Booking Available
Instant Booking Available
Instant Booking Available
Instant Booking Available
Instant Booking Available
Instant Booking Available
Instant Booking Available
Instant Booking Available
Instant Booking Available
Instant Booking Available
Instant Booking Available
Instant Booking Available
Instant Booking Available
Instant Booking Available
Instant Booking Available
Instant Booking Available
Instant Booking Available
Instant Booking Available
Instant Booking Available
Instant Booking Available
Instant Booking Available
Instant Booking Available
Instant Booking Available
Instant Booking Available
Instant Booking Available
Instant Booking Available
Instant Booking Available
Instant Booking Available
Instant Booking Available
Instant Booking Available
Instant Booking Available
Instant Booking Available
Instant Booking Available
Instant Booking Available
Instant Booking Available
Instant Booking Available
Instant Booking Available
Instant Booking Available
Instant Booking Available
Instant Booking Available
Instant Booking Available
Instant Booking Available
Instant Booking Available
Instant Booking Available