Azerbaijan Caucasus Walking
Start: Baku Finish: Baku
Visiting:
Baku
,
Lahich
,
Sheki
,
Galarsan-Gorarsan
,
Yeddi Kilse (Alban mebedi)
,
Qırızdəhnə
,
Khinaliq
---
---
Duration: 8 Nights
Physical rating: Medium, Easy to Moderate
Special diets catered: Vegetarians, Vegans
Tour Operator: Explore!
Group size: 4 - 16
Age range: 14-99
Tour operated in: English
---
Tour Overview
A walking holiday that discovers the wild landscapes, history and contemporary culture of little-known Azerbaijan. Sitting on the easternmost fringes of Europe, flanked by the mighty Caucasus Mountains and Caspian Sea, it's a country undergoing rapid change and a fascinating place to visit. Xinaliq - Azerbaijan's highest inhabited village, spectacularly sited at 2350m Caucasus walks - Enjoy nature and observe rural life Baku - Cosmopolitan capital with a rich architectural heritage
Highlights
Baku - Cosmopolitan capital with a rich architectural heritage
Xinaliq - Azerbaijan's highest inhabited village, spectacularly sited at 2350m
Caucasus walks - Enjoy nature and observe rural life
Places You'll See
Countries:
Cities & Attractions:
Xinaliq - Azerbaijan's highest village
Ilisu Valley
Mamirli Falls
Scenery around Xinaliq
Qutab - stuffed pancakes
Sheki
Sheki Palace
Coppersmith's workshop in Lahic
Cek village
Albanian Church in Kish
Baku Old City
Cloudcatcher Canyon
Typical Azerbaijani fare
Itinerary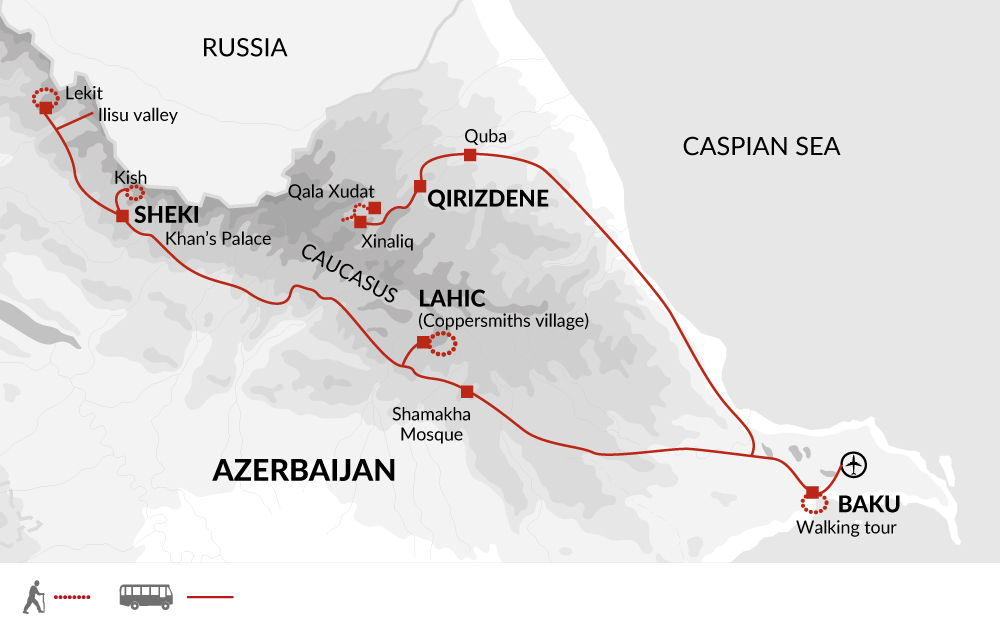 Day 1: Join trip in Azerbaijan's capital city, Baku
Location: Baku
Accommodation: Central Park Hotel
The trip starts today in Baku, the cosmopolitan capital of Azerbaijan on the shores of the Caspian Sea which is home to around 25% of the population. There are no activities planned for today and you are free to arrive at any time although please note that your hotel room may not be available until after 2pm. Complimentary airport transfers are provided to all customers arriving both today (day 1), and on day 2, into Baku Heydar Aliyev International Airport (GYD), which is around 30 minutes drive from the city centre. As many flights don't arrive into Baku until late tonight or the early hours of tomorrow morning, your Leader does not plan to hold the welcome meeting until after breakfast tomorrow (day 2). If you have time free today, Baku is pleasant city to wander around and our hotel is centrally located. For a relaxing stroll we suggest heading to the waterfront area, known as the Bulvar, where gardens, fountains and a wide promenade sweep attractively around the city's Caspian shore.
Day 2: Walking tour in Old Baku; drive to coppersmiths' village of Lahic
Location: Lahich
Accommodation: Evim Otel
Meals: Breakfast, Dinner
If your flight arrives in the early hours of this morning; your room will be available for you to occupy on arrival. Your Leader will meet up with everyone for a trip welcome meeting after breakfast. Please check the hotel noticeboard for timings. Afterwards we plan to head out on a short walking tour through the delightful winding alleyways of Baku's UNESCO-listed Old City. It's 12th century battlements and towers enclose an area of old mosques, caravanserais and overhanging wooden balconies, some of which are currently undergoing renovation. We'll see the Maiden's Tower, an eight-storey fortress, and the Shirvanshah's Palace complex, parts of which date back to the 15th century. Leaving the Baku by bus, we can see just how much the city has expanded in recent times into the desert-like landscapes that lie beyond the metropolis. We head north west towards the southern slopes of the Caucasus. These mountains stretch in an arc across the north of Azerbaijan, the continuation of a 1,200 kilometre range rising close to Sochi on the Black Sea and running through neighbouring Georgia. They form a natural border with the Russian republic of Dagestan. We plan to stop in Shamakha, the former capital of Azerbaijan under the Shirvanshah's who ruked the country from the 7th to 16th centuries. We visit the impressive Djuma Mosque and call in at a local house to discover how typical Azeri yoghurt dishes are made and we'll also have the chance to taste them. Our final destination today is the ancient mountain village of Lahic, reached after a picturesque drive through the steep sided valley of the Girdimanchay River. Lahic is named after the Persian-Caspian town of Lahicun from which the village founders are believed to have emigrated over a millennium ago, bringing with them their famous smithing skills. Today the main cobbled street is still dotted with coppersmiths and blacksmiths shops where you can call in and watch these skilled craftsmen at work. Tonight we stay in the village at a welcoming family-run guesthouse. The rooms are simply furnished and have either an en suite bathroom or bathroom shared between two single-occupancy rooms. Our dinner today is taken at the hotel and we can expect to enjoy a selection of traditional dishes. Azerbaijani food is a mix of both Turkish and Central Asian culinary influences. Typical starters include fresh salad, herbs, yoghurt dishes and lentil soup followed by a main dish of grilled meats, stuffed vine leaves or stews. All are accompanied by generous hunks of fresh-baked bread.
Day 3: Walk around Lahic; drive to Sheki with great Caucasus views
Location: Sheki
Accommodation: Yaffle Inn Boutique Hotel
Meals: Breakfast
This morning we head out on walk in and around Lahic, taking in village life and views of some of the high Caucasus peaks in the distance. Later we continue our journey west along the southern flanks of the Caucasus with views of the plains to our south and forested mountains to the north. Along the way we'll see numerous tea gardens, where local travellers rest and picnic in the shade. From time to time we'll also pass road stalls selling a range of produce including local honey and brightly coloured circular discs called Lavashak which are made from dried fruit. Sheki is our base for the next three nights. One of Azerbaijan's most-loved towns, Sheki's red-roofed houses nestle in a beautiful forested valley. For centuries Sheki has been an important market town on the east west trading route running across the Caucasus from the Caspian Sea in the east to the Black Sea in the west. A further trade route across the mountains to Dagestan in the north turned Sheki into a thriving commercial centre - especially during the 18th and 19th centuries, when there were no fewer than five working caravanserais providing safe lodging to merchants and traders. In the afternoon we'll head out on a walking tour of the town's main sights including the 18th century Palace of the Sheki Khan's, with its famous stained-glass windows. We'll also visit a workshop where this colourful geometrically-patterned glass work, known as shabaka, is crafted, totally without the use of any nails or glue. This morning's four kilometre walk is expected to take around one-and-a-half hours.
Day 4: Hike from Kish to ruined fortress of Gelersen Goresen
Location: Galarsan-Gorarsan
Accommodation: Yaffle Inn Boutique Hotel
Meals: Breakfast
This morning we take a short drive to the nearby village of Kish. Our walk starts out in the village and we'll stop to see its ancient Albanian Church. (Albania was the name of a Caucasian state that lasted from around the 2nd century B.C. to the 8th century A.D. and confusingly has nothing to do with modern day Albania). Hiking along the cobbled streets, most of Kish's residences hide tantalisingly behind iron gates and high walls. Leaving the village behind, we ascend gently up the Kishcay Valley and find the best point to cross a tributary which flows into the main river. Continuing up the valley we pass a number of local resorts before entering a pine forest. Our aim is to reach the ruins of the 8th century fortress of Gelersen Gorersen, hidden in thick native forest on a knoll on the valley side. The final 100 metres of the trail involves quite a steep scramble up to the ruins. Returning initially on the same route, we then cross the main river bridge to our waiting bus on the other side. The rest of the afternoon in Sheki is left free for further personal exploration. Sheki is best explored on foot; take a wander around its peaceful residential neighbourhoods from where you can walk up into the the surrounding hills for a birds eye view over the town. Today's seven kilometre walk is expected to take around two-and-a-half hours with a total ascent of 350 metres and descent of 150 metres.
Day 5: Walk from Lekit to ruined monastery of Yeddi Kilsa and Mamirli Falls
Location: Yeddi Kilse (Alban mebedi)
Accommodation: Yaffle Inn Boutique Hotel
Meals: Breakfast
We spend our day exploring to the west of Sheki, driving first to the delightfully unspoilt village of Lekit. It's a peaceful spot and great place to observe a rural way of life that's changed little over the centuries. Our walk from here takes us to two places hidden in the countryside, far from the tourist trail. We're likely to encounter noone else but cattle peacefully grazing among the site of the scattered ruins of the Albanian Yeddi Kilsa Monastery, while the moss-covered Mamirli Falls make for an atmospheric riverside picnic spot. In the afternoon we plan to drive into the picturesque, steeply-sided, Ilisu Valley to the north of Qakh. There are various historic monuments to see along the route including the 14th century watchtower and fortress of Sumuqqala and ancient Ulu Kozpu bridge over Kumruk River. We head up the valley as far as the road is sealed and, if there's time, there's the option to walk to the 26 metre-high Ramran Waterfall, a hike of around one-and-a-half hours. This morning's six-and-a-half kilometre walk is expected to take around two-and-a-half hours with n ascent and descent of around 250 metres.
Day 6: Full day driving through desert and mountain landscapes to Qirizdene
Location: Qırızdəhnə
Accommodation: Nazli Bulaq Hotel
Meals: Breakfast, Dinner
Departing Sheki, it's a full day journey today around the flanks of Caucasus to Qirizdene on the northern side of the Caucasus massif. We'll cover around 450 kilometres through changing landscapes. Firstly we head back along the southern slopes of the Caucasus to the outskirts of Baku. We then head north along the main road heading up to the border with Russia. The landscapes here are dry and pretty desolate. Azerbaijan's Caspian Sea coastline can be can be seen on our right. Sandwiched between the Caucasus and the steppe of Central Asia, its the world's largest inland body of water, up to 1 kilometre deep. West from the town of Gilezi look out for a chain of low arid mountains nicknamed the Candy Cane mountains after their colourful rose and white strata. It's only as we turn off the main highway and come closer to Quba, the main town of the north, that the landscapes become progressively greener. Heading up into the Caucasus Mountains once again, the air freshens and the valley starts to narrow. Our hotel base for the next two nights is a local resort spread out in a scenic location along the floor of the valley. We stay in the main hotel building, the pine clad rooms are simply furnished and have en suite bathrooms.
Day 7: Lunch with local family in Xinaliq; hike to Qala Xudat
Location: Khinaliq
Accommodation: Nazli Bulaq Hotel
Meals: Breakfast, Lunch, Dinner
The winding road up to Xinaliq, Azerbaijan's highest village is an ever-changing series of scenic delights. We follow a lush and forested river valley that gradually narrows and steepens until we enter Cloudcatcher Canyon, a dramatic gorge. At the narrow and deep Tolkien Chasm the red and ochre cliffs are reminiscent of the American West. Ascending further the vistas widen and rolling green meadows and snow-capped mountain peaks come into sight. Eventually among these wild landscapes, Xinaliq village comes into sight, a ramshackle collection of stone houses perched at 2350 metres on a knoll among a vast mountain amphitheatre. Xinaliq is Azerbaijan's highest permanently inhabited village and its history is swirled in myths including the story that it was founded by the descendants of Noah. The people call themselves the Ketdid and have their own unique language.We'll lunch on home-cooking in one of the village houses and spend time wandering among the homes, some of which still retain the flat earth roofs which traditionally formed the courtyard of the house stacked above. There's a small museum here that is definitely worth a visit. In the afternoon we head out on a hike to the neighbouring village of Qala Xudat. Following an old dirt road, the terrain is easy underfoot, allowing you to spend the walk taking in the panoramic mountain vistas all around. Today's nine kilometre walk is expected to take around three hours with a total ascent and descent of 210 metres.
Day 8: Hike in Shahdag National Park; return to Baku
Location: Baku
Accommodation: Central Park Hotel
Meals: Breakfast
Our plan this morning is to return to Xinaliq and hike north west from the village along a valley into the Shahdag National Park to the Ateshgah, where a small natural gas flare sparks from the ground at the foot of Heydar Aliyev peak. Considered a sacred place by local people, it's believed to be the site of an ancient temple, possibly Zoroastrian and a small temple structure was built here in 2016. Due to our proximity to the Dagestan border this hike is subject to our obtaining the necessary permissions from the relevant authorities. The situation can be fluid so, should these not be forthcoming,we'll take an alternative route for our final hike of the holiday. In the afternoon we'll say goodbye to this special place and head back to the modern world and metropolis of Baku for our last night in Azerbaijan. Today's ten kilometre walk is expected to take around three hours with a total ascent and descent of 300 metres.
Day 9: Trip ends in Baku
Location: Baku
Meals: Breakfast
The trip ends today after breakfast at our hotel in Baku. There are no activities planned today, so you are free to depart at any time. If your flight is departing later in the day luggage storage facilities are available at our hotel. If you would like to receive a complimentary airport transfer today, you need to depart from Baku Heydar Aliyev International Airport (GYD), which is around 30 minutes drive from the city centre.
What's Included
Meals – Breakfast Only

Breakfast: 8 Lunch: 1 Dinner: 3

Airport Transfers at Destination

Accommodation

All Domestic Transportation (including internal flights)

Fully Guided
What's Not Included
Tipping and Gratuities

1 bottle of Mineral Water per person per day

Country Entry Visas
Book with Confidence
Low Deposit

Explore! requires a deposit of 10% to secure a place on this tour, and the final balance is not due till 60 days before departure..

Secure payments

All payments to TourHub are deposited into an externally regulated Trust account.
---
Travel, Your Way
Good reasons for travelling privately
Personalise your trip

Make changes to the itinerary, accommodation, or transport method

Increased safety during COVID

Spend the majority of time amongst your group to reduce exposure to others

Travel more exclusively

Your tour guide can focus all their attention on your group

Travel for a special occasion

Celebrate an important event by only travelling with your friends or family
Learn more