Best of Western Cuba + Beach Extension
10 Days Starting and ending in Havana
Visiting: Havana, Vinales, Trinidad, Santa Clara, Playa Jibacoa
Tour operator:
Physical rating:
Moderate
Special diets catered:
Vegetarians, Vegans
Tour operated in:
English
Trip Styles:
Interests:
Activities:
Tour Overview
A superb introduction to this fascinating island nation. Explore the twisting alleyways of Trinidad, visit the resting place of Che Guevara, watch classic cars pass by Havana's stunning colonial buildings and dance the night away to live salsa bands Havana - Experience the classic cars and infectious music that fill the streets Casas Particulares - Stay in private homestays throughout your trip, and get a deeper experience of local life Vinales - Admire the bizarre, steep-walled limestone 'mogotes' rising from the valley floor
Highlights
Havana - Experience the classic cars and infectious music that fill the streets

Casas Particulares - Stay in private homestays throughout your trip, and get a deeper experience of local life

Vinales - Admire the bizarre, steep-walled limestone 'mogotes' rising from the valley floor
Itinerary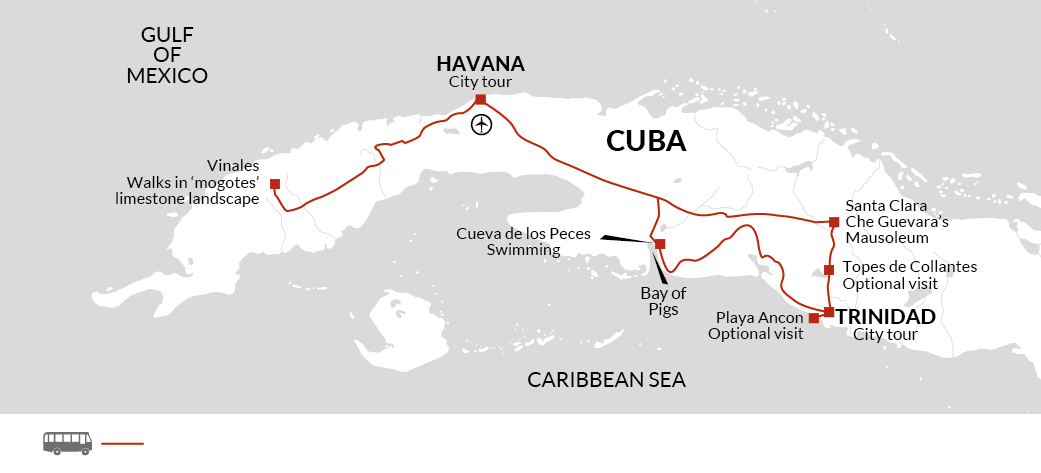 Expand All
Day 1: Join Trip In Havana
Location:
Havana
Accommodation:
Casas Particulares
Arrive in Havana. Built around a deep natural harbour, Havana is one of the most impressive cities in the Americas. It's also one of the most exciting: the modern city is a fascinating mix of old and new, with crumbling tenement blocks and 1950s American Cadillacs rubbing shoulders with grand colonial buildings and monuments to the revolution.

Due to the number of evening flights into Havana, our local Leader plans to do the welcome briefing in the morning of day two, and will leave a message for us with details on timings and everything else that we'll need for the day. There are no other activities planned today, so you are free to arrive in Havana at any time. If you would like to receive a complimentary airport transfer today, you'll need to arrive into Havana's Jose Marti International Airport (airport code HAV) which is 23km, around 45 minutes from the airport. A representative from our local partners in Cuba will meet you at Havana Airport and assist you with the transfer formalities.

During this trip we stay in 'casas particulares', or local Cuban guesthouses. Our airport transfer will take us to a 'reception' casa in Havana (details of which will be in your final Joining Instructions), where you will be met by the host and shown to your room in one of the other casas located nearby. Each casa can only accommodate a handful of guests, giving you a great opportunity to interact with your hosts.

If your flight arrives earlier in the day, perhaps you might choose to head out to explore Old Havana, or take a walk down the scenic Malecon esplanade with fine views of the city. There are several restaurants and bars within walking distance of our casas in Vedado, or a short taxi ride away in Old Havana.
Day 2: Tour Of Havana's Highlights, Free Afternoon, Salsa Class
Location:
Havana
Accommodation:
Casas Particulares
Today, we explore modern-day Havana, with its mixture of restored and crumbling architectural marvels. Walking through the Vieja (old) district, we will discover the baroque cathedral, beautiful neoclassical buildings and the Plaza de Armas (main square). On our travels, we'll notice the lack of advertising - in it's place there are many hyperbolic political slogans and references to the revolution. Passing by the famous Capitolio building, modelled on the White House, we'll notice the lines of amazing brightly-painted vintage cars - the result of legislation enforced until 2011 ruling that only cars built before the 1959 revolution could be sold.

During your free hours this afternoon, you may choose to visit the fascinating Museum of the Revolution, housed in the impressive former Presidential Palace. The Museum of Artes Decorativas is also worth a visit, a stunning collection of furniture, porcelain and art pieces frmo the 16th to 20th centuries, housed in one of Vedado's grandest mansions.

Later this afternoon, we will get into Cuba's quintessential culture with a rum and tobacco pairing. We follow this with a salsa class, where you can learn some steps to Cuba's classic dance.

This evening, we have the option to sample some of the capital's famous nightlife, where you might like to try those newly learnt salsa moves! The Hotel Ambos Mundos is a Hemingway landmark where the 1954 Nobel Prize winner and author of 'For Whom the Bell Tolls' lived for several years. Its roof terrace serves up exceptional mojitos - the traditional Cuban cocktail. Likewise, there are a number of excellent bars in both Old Havana and Vedado where live music is played and the cocktails flow freely.
Day 3: Full Day Trip To The Picturesque Vinales Countryside
Location:
Vinales
Accommodation:
Casas Particulares
After travelling a couple of hours west, we reach what is arguably the most picturesque part of Cuba - the Vinales region. Here, surreal mountains jut out of the landscape, formed by the erosion of limestone over millions of years. These 'mogotes' translate as 'haystacks' - a good word for them considering their steep sides and rounded, jungly tops. Around them, the iron-rich, red soil creates a patchwork of fields growing some of the best tobacco in the world - the raw material for Cuba's celebrated cigars.

Before our return to Havana for the night, we have a two-hour walk through the valleys of this remarkable landscape to the village of El Palmarito. Mogotes tower above us as we pass through tobacco fields and past drying barns, and during our walk we'll learn a lot more about Cuba's prolific cigar-making industry, which really stems from the plants growing in this region.
Day 4: Drive To Trinidad Via The Bay Of Pigs Museum
Location:
Trinidad
Accommodation:
Casas Particulares
Today, we head east across Cuba, driving through giant citrus and sugar plantations and out on to the Zapata Peninsula. Our journey is broken up with a wonderful swimming opportunity in a 'cenote' (pool) where the ceiling of an underground river has collapsed. We plan to arrive in Playa Giron by mid-afternoon. Here we will visit the museum dedicated to the infamous 'Bay of Pigs' invasion - a US-supported attack by Cuban exiles which failed to overthrow the Communist regime in 1961.

Our journey continues, past the wooded Escambray Mountains and hugging the coastline, with views over the sparkling turquoise waters of the Caribbean Sea. By early evening, we will arrive at our hotel just outside the beautiful Spanish colonial town of Trinidad - our base for the next three nights, where we will enjoy local hospitality staying in casas particulares once again.
Day 5: In Trinidad; Tour Of This Pretty Colonial Town
Location:
Trinidad
Accommodation:
Casas Particulares
This morning, we wander through the cobbled streets of the old centre of Trinidad, discovering its fine palaces, churches and cafes. A paradise for photographers, this UNESCO World Heritage Site is a perfectly preserved colonial settlement unlike any other. In the early 19th century, French settlers fleeing a slave revolt in Haiti, landed here and started to grow sugar cane in the Valle de Los Ingenios. This crop generated considerable wealth and consequently the town had to be regularly defended from pirates.

Subject to opening hours, we will visit a local museum before some free time where you may wish to wander for longer through Trinidad's streets to soak up more of the unique atmosphere. It's worth climbing the stairs of the bell tower at the small Museo de la Lucha contra Bandidos, purely for the views across the roofs of Trinidad out to the Caribbean at one side and the Escambray mountains at the other. In the evening, you may wish to head to the open-air Casa de la Musica, just off the main square, where live bands and salsa dancing locals do their thing until late.
Day 6: Free Day; Optional Trip To The Topes Rainforest Or Boat Trip To Cayo Blanco
Location:
Trinidad
Accommodation:
Casas Particulares
Today is free for you to enjoy more of Cuba's beautiful landscapes and fascinating culture at your own pace. You may wish to take the short journey out to the Sugar Mills Valley to Manaca Iznaga where you will have the opportunity to visit the old plantation home of the Family Iznaga, one of the richest in Trinidad during colonial times, climbing their bell tower for views across the valley. Another option is to head into the Escambray Mountains to the Topes de Collantes Nature Reserve Park. With its acres of unspoilt forest, this area is famous for its many endemic species of flora and fauna, particularly birdlife. There are several different options involving short walks through the coffee growing area and rainforest. Most trips will drive up to some incredible viewpoints and several of the options offer an opportunity of a refreshing swim in one of its waterfalls finished off with a traditional creole lunch in one of the local haciendas. Your leader will run through these different options with you.

Alternatively, you may wish to visit the deserted island of Cayo Blanco. Here you can eat fresh paella, relax on the beach and snorkel in the coral wilderness. Snorkelling equipment is not always available, so keen snorkelers might prefer to bring their own.
Day 7: Return To Havana Via Santa Clara
Location:
Santa Clara
Accommodation:
Casas Particulares
Today we bid farewell to Trinidad and make our way back to Havana, via Santa Clara. This pleasant university town was originally a prosperous agricultural area, well-placed on the island's trading route. Now, it is most famous as the site of the last battle of the Revolution, in which Che Guevara's troops took the city, causing the Cuban dictator, Batista, to flee into exile.

After visiting the Tren Blindado Memorial commemorating this historic event, we move on to Che's Mausoleum. Guevara was buried here with full military honours in 1997 after his exhumed remains were discovered in Bolivia and returned to Cuba. A flame lit by Fidel Castro burns eternally to honour a national hero who played a key role in Cuba's revolution and whose image is routinely displayed throughout the country. We will also visit the museum dedicated to Guevara's life, containing many interesting letters and artefacts.

This evening, we return to Havana to enjoy a final dinner and probably a dance. We'll say goodbye to our Tour Leader tonight, as the beach extension is unguided.
Day 8: Transfer To Playa Jibacoa; Afternoon On The Beach
Location:
Playa Jibacoa
Accommodation:
Hotel
Today we say good bye to those that are not extending their stay, before travelling to Playa Jibacoa for our stay on the beach. We'll be leaving in the afternoon in time for our afternoon check-in, and around an hour's drive brings us to our beach hotel, the 4* Memories Jibacoa, where we will be spending the next two nights relaxing. Whether you would like to lie in the sun, soaking up some warmth, or take a dip in the beautiful ocean; your time at Jibacoa can be as active or as relaxing as you feel. If you fancy stretching your legs the town is backed by a limestone ridge, with excellent cliff top views and some easy paths for you to enjoy.
Day 9: Free Day On The Beach
Location:
Playa Jibacoa
Accommodation:
Hotel
Today we have the full day at leisure on the beach. Our hotel here is an all-inclusive, which means that you are at your leisure to enjoy everything that the beach and hotel have to offer. The area is blessed with a coral reef located just a few metres from shore, and the hotel provides snorkelling gear and kayaks for you to explore the turquoise waters and reef. Nestled between the leafy mountains and golden sands, the hotel is beautifully situated with a tempting pool and lush green hills with easy-to-follow trails for keen hikers, offering spectacular views over the ocean.
Day 10: Morning On The Beach, Transfer To Havana Airport
Your trip ends in Playa Jibacoa this morning after breakfast.

There are no activities planned today, so you are free to depart at any time. If you would like to receive a complimentary airport transfer today, you need to depart from Havana's Jose Marti International Airport (airport code: HAV) which is around 1.5 hours from the hotel. Depending on your flight time, you may need to check-out of the hotel before your airport transfer but you will still be able to make use of the hotel's services until your departure, and there is baggage storage available for you.
What's Included
Meals
Breakfast: 9 Lunch: 2 Dinner: 1

Fully Guided

All Domestic Transportation (including internal flights)

Accommodation
What's Not Included
Country Entry Visas

Tipping and Gratuities
Why Book this Tour
This short tour covers most of Western Cuba's highlights, with 2 day's relaxation on the beach after your stay, and is designed for those who want to discover a truly fascinating country. You will stay in locally-owned and run private homestays in Trinidad and Havana. Staying with local families and experiencing the Cuban way of life will be a highlight of the tour. This tour also includes a salsa dancing class and a lesson on how to make Cuba's famous cocktails.
Check out our Q&As
What is the maximum group size?

Are children permitted to take part in the tour?

Can you assist with pre or post tour accommodation?

Are the local guides on the tour English speaking?

Will there be an escort accompanying this tour?
Will I know the names and details of all the accommodation before I depart?

I'm going on a walking/cycling trip-do I need to train?

It will depend on the grade and how fit you already are. Check the trip page for details of the walking or cycling grade and how far you'll be walking/cycling each day. For moderate or challenging trips in particular we'd recommend doing some walks or cycles before you leave to build up your fitness and prepare you for the distances being covered.

Who will be my travelling companions on the tour?

We have a wide range of ages nationalities on our small group trips and they come from all walks of life.

Should I get travel insurance?

Yes–it is a condition of booking that you are fully insured when travelling with us

How long has the tour company been trading?

At Explore, we're the experts in adventure travel. Our small group adventure holidays have been running since 1981. Today, Explore is one of the most trusted travel companies in the UK with over 500 trips to more than 120 countries.

Can I join the tour once it has departed?

Yes, but there are no concessions for doing so, and we must have a record in your booking advising as such before the trip departs.

Am I contributing to any charity by booking the tour?

Being a responsible company is a large statement, something that has to be entwined within the very fibre of a company. Discover the charities and partnerships we support as part of this at https://www.explore.co.uk/about/sustainability/charities-and-partners

What happens if I need to change my holiday date once I've booked?

We want to be as clear as and as honest as possible about what happens if you decide to that you no longer wish to travel on your trip. Our booking conditions have details of the costs you'll incur when you cancel-these charges depend on how long it is before your planned departure.

What is the accommodation like?

We choose comfortable accommodation in the best locations possible. We opt for small, local and family-run accommodation where we can, as opposed to large chain hotels. We typically use hotels that are the equivalent of European 3-star, and you'll usually have an en suite room. Occasionally, where we want to get off the beaten trail we may stay in more basic accommodation.

What Ethical Travel credentials does the tour company have?

Sustainability is embedded within the fibre of Explore, it emanates from the inside out. But as we enter a new decade it is clearer than ever that our world needs help, and Explore has created a sustainability strategy based on the 2015 UN's Sustainable Development Goals.

What policies are in place for Covid-19?

Our flexible booking and safety policies mean you're protected before and during your travels with us. Receive a full refund if your trip is cancelled, transfer your trip free of charge up to 10 days before departure minus any irrocoverable costs.

Do I need to be very fit to book with you?

All our trips require some level of active participation. This could be on a cultural trip, trek, safari, expedition or voyage. It is in the interests of all members of the group that everyone should be capable of fully participating in the activities of their chosen trip.

What documents will I receive before I travel?

Final documents will include a comprehensive trip itinerary, climate and country information, budgeting and packing advice visa and passport information and details on optional activities available.

Do you operate a "single share" option and how does it work?

Yes on most of our trips. Most trips are based on customers sharing twin-bedded rooms. If you book a group trip as an individual, you will share a room with someone of the same sex. However, on many trips we offer the opportunity to pay a supplement to pre-book a single room, known as our single room option. On some trips a single room will be provided every night, on others it will be provided o

Do we have to be vaccinated against Covid-19 to travel

It's now a condition of booking a trip with us that customers should have one of the following before they travel - — Be vaccinated against COVID, having received the full recommended course, and allowing enough time for immunity to take effect. Full vaccination includes any booster required to keep the vaccine valid. — Have taken a negative test (rapid antigen or PCR) within 72hrs of departure.

Will the accommodation included meet local health and safety regulations?

Explore will only offer hotels that have specific COVID-19 protocols in place and comply with local government guidelines. We will ensure these measures include; enhanced room cleaning, ventilation, social distancing, regular cleaning and disinfection of high frequency touch points in public areas, food safety, staff re-training and minimising contact within the properties.
Reviews from Travellers on this Tour
John
Best of Western Cuba + Beach Extension
Thoroughly enjoyed the trip and wished it was longer!
Simon
Best of Western Cuba + Beach Extension
The group was amazing and the guide was superb. Cuba is stunning so all together made a fantastic trip
Robert
Best of Western Cuba + Beach Extension
A most enjoyable trip with the right balance of old Spanish history and architecture, tropical landscape and social and political history
Dates & Availability
Saturday - Monday
Feb 10, 2024 - Feb 19, 2024
Instant Booking Available
Saturday - Monday
Feb 17, 2024 - Feb 26, 2024
Instant Booking Available
Saturday - Monday
Mar 09, 2024 - Mar 18, 2024
Instant Booking Available
Saturday - Monday
Mar 23, 2024 - Apr 01, 2024
Instant Booking Available
Saturday - Monday
Apr 27, 2024 - May 06, 2024
Instant Booking Available
Saturday - Monday
May 11, 2024 - May 20, 2024
Instant Booking Available
Saturday - Monday
May 25, 2024 - Jun 03, 2024
Instant Booking Available
Saturday - Monday
Oct 12, 2024 - Oct 21, 2024
Instant Booking Available
Saturday - Monday
Oct 19, 2024 - Oct 28, 2024
Instant Booking Available
Saturday - Monday
Nov 02, 2024 - Nov 11, 2024
Instant Booking Available
Saturday - Monday
Nov 09, 2024 - Nov 18, 2024
Instant Booking Available
Saturday - Monday
Nov 23, 2024 - Dec 02, 2024
Instant Booking Available
Saturday - Monday
Dec 21, 2024 - Dec 30, 2024
Book with Confidence
Free Date Changes

Explore! allows you to make 1 free date changes, as long as the change is made at least 60 days before the start of the tour.

Low Deposit

Explore! requires a minimum deposit of 10% or the full booking value, whichever is less, with the final balance not due until 60 days before departure.

Cancellation Policy

We don't charge a cancellation fee, here is a summary of explore! charges.

Up to 60 days before tour starts: Forfeit 100% of deposit.

At 59 days before tour starts: Forfeit 30% of booking price.

At 41 days before tour starts: Forfeit 60% of booking price.

At 27 days before tour starts: Forfeit 90% of booking price.

At 13 days before tour starts: Forfeit 100% of booking price.
Why book with tourhub?
Safe & Secure
Your money is protected in an external trust until you travel.
---
100% Guaranteed Refunds if your trip is cancelled.
---
The safest way to make overseas, multi-currency payments.
Guaranteed Best Value
Industry leading discounts, we won't be beaten on price.
---
No cancellation or amendment fees from tourhub.
(Operator terms may apply)
Expert Knowledge
Reliable & unbiased advice from travel experts.
---
Direct contact with the tour operator via our messaging service.
---
Inspiration & advice from a community of 6000+ real travellers, influencers & content creators.
Trusted Service
Official partners & licensed agents of 1000+ tour operators worldwide.
---
Don't just take our word for it...
"Tourhub: Friendliness, Professionalism & Integrity I would happily give tourhub a 6* review if I could..."
Similar Tours
Travel Guru Features
Our Reviews