Botswana's Premium Safari
12 Days Starting in Maun Airport and ending in Livingstone
Visiting: Okavango Delta, Maun, Chobe National Park, Victoria Falls, Livingstone
Tour operator:
Physical rating:
Medium, Full On
Special diets catered:
Vegetarians, Vegans
Trip Styles:
Interests:
Activities:
Tour Overview
A safari through Botswana and Zambia, exploring Chobe National Park, visiting the thundering Victoria Falls and sleeping aboard a houseboat in the vast Okavango Delta Panhandle. Spend time searching for wildlife including elephant, hippos and lions within remote wilderness. Premium Lodges - The finest game viewing from comfortable hand-picked lodges Okavango Delta Panhandle - Explore the most prolific inland delta of Africa Chobe National Park - Discover the stunning wildlife, including some of Africa's largest elephants herds.
Highlights
Premium Lodges - The finest game viewing from comfortable hand-picked lodges

Okavango Delta Panhandle - Explore the most prolific inland delta of Africa

Chobe National Park - Discover the stunning wildlife, including some of Africa's largest elephants herds.
Itinerary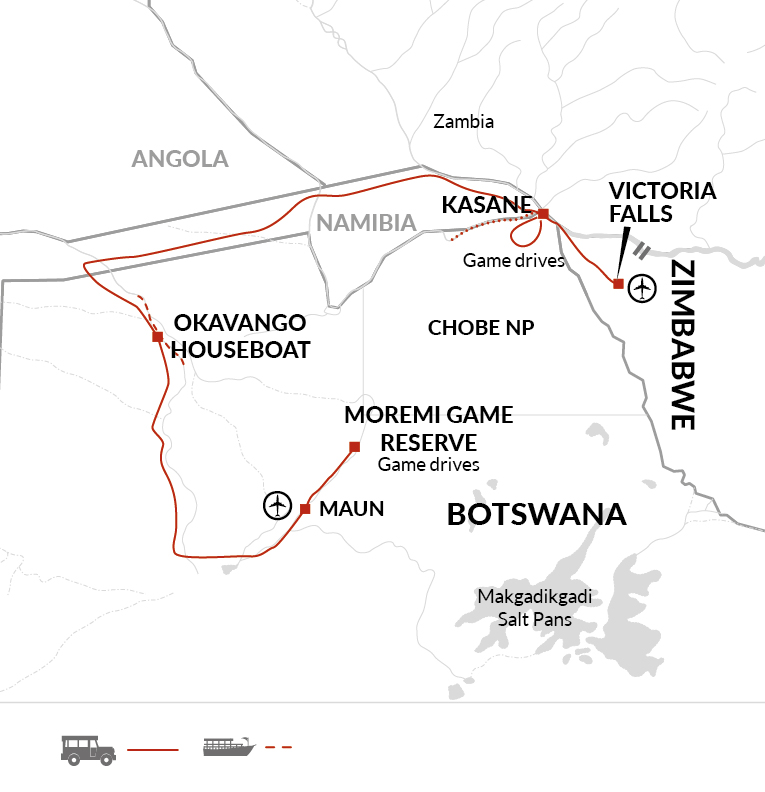 Expand All
Day 1: Join Trip At Maun Airport, Drive To The Okavango Delta
Location:
Okavango Delta
Accommodation:
Camp, Tented
Meals Included:
No Meals
Join trip at Maun Airport and drive to the Okavango Delta

Our trip begins at Maun Airport (MUB) at 3.30pm. If you would like to join the complimentary airport transfer today, the latest your flight can land is 3pm. We will travel together as a group by 4WD safari vehicles into the Okavango Delta, which will be our base for the next three nights.
Day 2: Full Day Of Game Drives
Location:
Okavango Delta
Accommodation:
Tented Camp
This morning we will game drive around the Okavango Delta. The mighty Okavango is the third largest river in Africa and its delta area covers 16,000 square kilometres of crystal clear channels, a myriad of ephemeral lakes and ever changing islands, surviving in the Kalahari desert. The river flows south east from the Angolan highlands over 1,000 km away and takes up to 6 months to reach the delta area that floods on a perennial annual cycle. The Okavango Delta covers an enormous wilderness area composed of permanent swamps, islands, forest and dry land. Exceptional though the geography of the Delta may be, it is the amazing wildlife of the waterways that draws us.
Day 3: Okavango Delta - Search For Marine Life And Huge Variety Of Birds
Location:
Okavango Delta
Accommodation:
Tented Camp
Today we will head out on game drives to explore the diverse scenery and wildlife of the Delta. We will have the chance to see hippo, crocodile, red lechwe, and a great variety of birds are easy to spot. Bird lovers may spot fish eagle, jacana, kingfisher, heron, stork, egret, weaver and bee-eater - just some of the magnificent species found here.
Day 4: Morning Game Drives; Afternoon Head To Maun
Location:
Maun
Accommodation:
Hotel
This morning we take a slow drive out of the concession and should arrive back into Maun around lunch time. The afternoon is free for you to explore the town or relax in the hotel surroundings. Tonight we go to a cultural evening where we'll meet young people from a grass roots project. There will be folklore music around a fire and a traditional dinner provided.
Day 5: Okavango Delta Panhandle Houseboat
Location:
Okavango Delta
Accommodation:
Boat
Today we drive to the west side of the Okavango Delta Panhandle to meet our specially chartered houseboat. Due to the seasonal variations in the level and strength of the river, fed by rainfall in the Upper Zambezi basin, please be aware that for much of the year the houseboat itself remains securely moored and we explore the river by smaller launches. Our itinerary is very flexible. A typical day involves a morning on the houseboat launch followed by a stop on the houseboat for lunch. Then another optional trip in the afternoon and back to the houseboat for the night. During our time on the river there may be a good possibility of seeing a variety of game. On our launch, we may cruise past submerging pods of hippos, while crocodiles bask in the shallows and on the riverbanks. Bird life in the area is also prolific and you may care to try your hand at fishing. Local fishermen are often seen aboard their traditional dugout canoes, known locally as mokoros.
Day 6: Optional Visit To Tsodilo Hills, See Thousands Of San Bushman Rock Paintings
Location:
Okavango Delta
Accommodation:
Boat
This morning you may choose an optional days excursion to Tsodilo Hills. We drive to this intriguing and sacred place where the San Bushmen believe was the site of the first creation. They painted an astonishing 3500 rock paintings here to celebrate this over 350 sites. For all the golden light of late afternoon will be enjoyed with a traditional 'sundowner'. This is a home away from home where you are encouraged to enjoy this part of Africa. It is not hard to imagine yourself as David Livingstone when he was in Africa all those years ago.
Day 7: Drive To Kasane And The Chobe National Park
Location:
Chobe National Park
Accommodation:
Lodge
This morning we make our way into the Serondela area of Chobe National Park and base ourselves just outside the park near the riverside town of Kasane. A variety of habitats of flooded grassland, thicket, salt pan and particularly the banks of the Chobe River, one of the Zambezi's main tributaries, is home to an abundance of wildlife. A major feature of Chobe is its elephant population and is considered to be the largest surviving continuous elephant population and is currently estimated at 120 000 strong! This population covers most of northern Botswana plus northwestern Zimbabwe and has been built up steadily from a few thousand since the early 1900s when massive poaching at the height of the illegal ivory trade decimated other populations in the 1970s and 1980s. The Chobe elephants in this area have the distinction of being the largest in body size of all living elephants, but the ivory is brittle and there are no more of the huge tuskers from a by gone era. Our lodge here is home for the next three nights and is a magical introduction into the heart of Africa.
Day 8: Game Drives In Chobe National Park
Location:
Chobe National Park
Accommodation:
Lodge
The northern Chobe area of Serondela is the heart of elephant country. We'll take the opportunity to spend many hours hopefully watching huge trumpeting herds in and around the river. In the river are hippo and crocodile and the waters teem with bream, barbel and tiger fish. During our stay we will spend our time on morning and afternoon game drives, for those interested, to enjoy an optional late afternoon boat safari on the Chobe River. You may also try your hand at some fishing or even take a guided nature walk.
Day 9: Game Drives In Chobe River Area
Location:
Chobe National Park
Accommodation:
Lodge
Today we will continue with our morning and afternoon game drives in the National Park
Day 10: Drive To Livingstone; View Victoria Falls
Location:
Victoria Falls
Accommodation:
Lodge
This morning, we leave Botswana and cross the border into Zambia to arrive at Livingstone. Often referred to as the adventure capital of Zambia, Livingstone is a pleasant town with a variety of land, air and water-based activities on offer in the surrounding area. Close to our lodge is one of the natural wonders of the world - Victoria Falls. We will view the falls from the Zambian side of the river. Here, the Zambezi River plummets over a sheer cliff wall spanning more than 1676m, and drops approximately 100m into
the abyss below. Like David Livingstone before us, we become aware of the awesome cataract long before seeing it. Plumes of water vapour rise like smoke into the sky accompanied by a deafening roar: a fact which inspired the natives to call the waterfall, Mosi-oa-Tunya, The Smoke that Thunders. This afternoon you could take an optional afternoon game drive into Mosi-oa- Tunya National Park to search for white rhino.
Day 11: In Livingstone, Free Time For Many Optional Activities
Location:
Victoria Falls
Accommodation:
Lodge
Today is left free for you to follow your own interests. You may choose to take advantage of some of the many optional activities on offer such as whitewater rafting on the Zambezi; a scenic helicopter flight or perhaps a cultural village tour
Day 12: Trip Ends In Livingstone
The trip ends after breakfast at our hotel in Livingstone.

There are no activities planned today, so you are free to depart from Livingstone at any time. If your flight is departing later in the day, luggage storage facilities are available at our hotel. If you would like to receive a complimentary airport transfer today, you need to depart from Harry Mwanga Nkumbula International Airport (LVI), which is about 20 minutes' drive from the hotel.
What's Included
Accommodation

Fully Guided

All Domestic Transportation (including internal flights)

Airport Transfers at Destination

Game Drives on Safari

Meals – Half Board

Breakfast: 11 Lunch: 6 Dinner: 6
What's Not Included
Tipping and Gratuities

1 bottle of Mineral Water per person per day

Country Entry Visas
Check out our Q&As
Are the local guides on the tour English speaking?

Is there any free time to explore places during the tour?

What is the fitness level required to do this tour?

Do I need to bring a sleeping bag for the camping?

No, the bedding is provided for the camping

Are children permitted to take part in the tour?
Will there be an escort accompanying this tour?

What is the maximum group size?

Will I know the names and details of all the accommodation before I depart?

Are airport transfers included in this tour?

Trasnfers are included on the first and the last day of the trip

What is the standard of the hotels on this tour?

2 nights comfortable boat 1 nights comfortable hotel 5 nights premium lodge 3 nights premium tented camp

Are airport transfers included in this tour?

Transfers are included on the first and the last day of the trip

Can you assist with pre or post tour accommodation?

I'm going on a walking/cycling trip-do I need to train?

It will depend on the grade and how fit you already are. Check the trip page for details of the walking or cycling grade and how far you'll be walking/cycling each day. For moderate or challenging trips in particular we'd recommend doing some walks or cycles before you leave to build up your fitness and prepare you for the distances being covered.

Who will be my travelling companions on the tour?

We have a wide range of ages nationalities on our small group trips and they come from all walks of life.

Should I get travel insurance?

Yes–it is a condition of booking that you are fully insured when travelling with us

How long has the tour company been trading?

At Explore, we're the experts in adventure travel. Our small group adventure holidays have been running since 1981. Today, Explore is one of the most trusted travel companies in the UK with over 500 trips to more than 120 countries.

Can I join the tour once it has departed?

Yes, but there are no concessions for doing so, and we must have a record in your booking advising as such before the trip departs.

Am I contributing to any charity by booking the tour?

Being a responsible company is a large statement, something that has to be entwined within the very fibre of a company. Discover the charities and partnerships we support as part of this at https://www.explore.co.uk/about/sustainability/charities-and-partners

What happens if I need to change my holiday date once I've booked?

We want to be as clear as and as honest as possible about what happens if you decide to that you no longer wish to travel on your trip. Our booking conditions have details of the costs you'll incur when you cancel-these charges depend on how long it is before your planned departure.

What is the accommodation like?

We choose comfortable accommodation in the best locations possible. We opt for small, local and family-run accommodation where we can, as opposed to large chain hotels. We typically use hotels that are the equivalent of European 3-star, and you'll usually have an en suite room. Occasionally, where we want to get off the beaten trail we may stay in more basic accommodation.

What Ethical Travel credentials does the tour company have?

Sustainability is embedded within the fibre of Explore, it emanates from the inside out. But as we enter a new decade it is clearer than ever that our world needs help, and Explore has created a sustainability strategy based on the 2015 UN's Sustainable Development Goals.

What policies are in place for Covid-19?

Our flexible booking and safety policies mean you're protected before and during your travels with us. Receive a full refund if your trip is cancelled, transfer your trip free of charge up to 10 days before departure minus any irrocoverable costs.

Do I need to be very fit to book with you?

All our trips require some level of active participation. This could be on a cultural trip, trek, safari, expedition or voyage. It is in the interests of all members of the group that everyone should be capable of fully participating in the activities of their chosen trip.

What documents will I receive before I travel?

Final documents will include a comprehensive trip itinerary, climate and country information, budgeting and packing advice visa and passport information and details on optional activities available.

Do you operate a "single share" option and how does it work?

Yes on most of our trips. Most trips are based on customers sharing twin-bedded rooms. If you book a group trip as an individual, you will share a room with someone of the same sex. However, on many trips we offer the opportunity to pay a supplement to pre-book a single room, known as our single room option. On some trips a single room will be provided every night, on others it will be provided o

Do we have to be vaccinated against Covid-19 to travel

It's now a condition of booking a trip with us that customers should have one of the following before they travel - — Be vaccinated against COVID, having received the full recommended course, and allowing enough time for immunity to take effect. Full vaccination includes any booster required to keep the vaccine valid. — Have taken a negative test (rapid antigen or PCR) within 72hrs of departure.

Will the accommodation included meet local health and safety regulations?

Explore will only offer hotels that have specific COVID-19 protocols in place and comply with local government guidelines. We will ensure these measures include; enhanced room cleaning, ventilation, social distancing, regular cleaning and disinfection of high frequency touch points in public areas, food safety, staff re-training and minimising contact within the properties.
Reviews From Travellers On This Tour
Alison
Botswana Lodge Safari
This was definitely the best EXplore trip I've done so fat.
Margaret
Botswana Lodge Safari
A truly magical experience at a great value.
Louisa
Botswana Lodge Safari
A wonderful experience. Truely memorable and amazing animal sightings
Rosemary
Botswana Lodge Safari
Only to say it is one of the best trips we have done. After Namibia we wanted to experience more safari but not be over crowded with other tourists. The trip lived up to our expectations.
Alison
Botswana Lodge Safari
I'd like to thank again our tour leader, Titus. His knowledge of the areas we were in was outstanding, and his ability to track a leopard just from hearing the distressed calls of monkeys was something I will never forget.
Dates & Availability
Instant Booking Available
Monday - Friday
May 06, 2024 - May 17, 2024
Instant Booking Available
Monday - Friday
May 27, 2024 - Jun 07, 2024
Instant Booking Available
Saturday - Wednesday
Jul 06, 2024 - Jul 17, 2024
Instant Booking Available
Monday - Friday
Aug 12, 2024 - Aug 23, 2024
Instant Booking Available
Monday - Friday
Aug 26, 2024 - Sep 06, 2024
Instant Booking Available
Monday - Friday
Sep 16, 2024 - Sep 27, 2024
Instant Booking Available
Monday - Friday
Sep 30, 2024 - Oct 11, 2024
Instant Booking Available
Monday - Friday
Oct 07, 2024 - Oct 18, 2024
Instant Booking Available
Monday - Friday
Oct 21, 2024 - Nov 01, 2024
Book with Confidence
Free Date Changes

Explore! allows you to make 1 free date changes, as long as the change is made at least 60 days before the start of the tour.

Low Deposit

Explore! requires a minimum deposit of 10% or the full booking value, whichever is less, with the final balance not due until 60 days before departure.

Cancellation Policy

We don't charge a cancellation fee, here is a summary of explore! charges.

Up to 60 days before tour starts: Forfeit 100% of deposit.

At 59 days before tour starts: Forfeit 30% of booking price.

At 41 days before tour starts: Forfeit 60% of booking price.

At 27 days before tour starts: Forfeit 90% of booking price.

At 13 days before tour starts: Forfeit 100% of booking price.
Why book with tourhub?
Safe & Secure
Your money is protected in an external trust until you travel.
---
100% Guaranteed Refunds if your trip is cancelled.
---
The safest way to make overseas, multi-currency payments.
Guaranteed Best Value
Industry leading discounts, we won't be beaten on price.
---
No cancellation or amendment fees from tourhub.
(Operator terms may apply)
Expert Knowledge
Reliable & unbiased advice from travel experts.
---
Direct contact with the tour operator via our messaging service.
---
Inspiration & advice from a community of 6000+ real travellers, influencers & content creators.
Trusted Service
Official partners & licensed agents of 1000+ tour operators worldwide.
---
Don't just take our word for it...
"Tourhub: Friendliness, Professionalism & Integrity I would happily give tourhub a 6* review if I could..."
Similar Tours
Travel Guru Features
Our Reviews