Cycle Japan
13 Days Starting in Kyoto and ending in Tokyo
Visiting: Kyoto, Kanazawa, Noto Island, Wajima, Suzu, Ushitsu, Nanao, Shō River, Shirakawa, Tokyo
Tour operator:
Physical rating:
Moderate
Special diets catered:
Vegetarians, Vegans
Tour operated in:
English
Trip Styles:
Interests:
Activities:
Tour Overview
From ancient Kyoto we ride along quiet roads on the Noto Peninsula into the highlands around Shirakawa-go historic village, taking us firmly off the beaten track. Along the way we will see one of the finest Japanese gardens in Kanazawa, stay in ryokan and enjoy varied mountain scenery and coastal paths. Bullet train to Tokyo where we end our journey. Noto Peninsula - Uninterrupted scenic ride for 8 days Delicious local food - Included traditional Japanese cuisine with locally sourced ingredients Kyoto and Tokyo - Experience the ancient and modern capitals
Highlights
Noto Peninsula - Uninterrupted scenic ride for 8 days

Delicious local food - Included traditional Japanese cuisine with locally sourced ingredients

Kyoto and Tokyo - Experience the ancient and modern capitals
Itinerary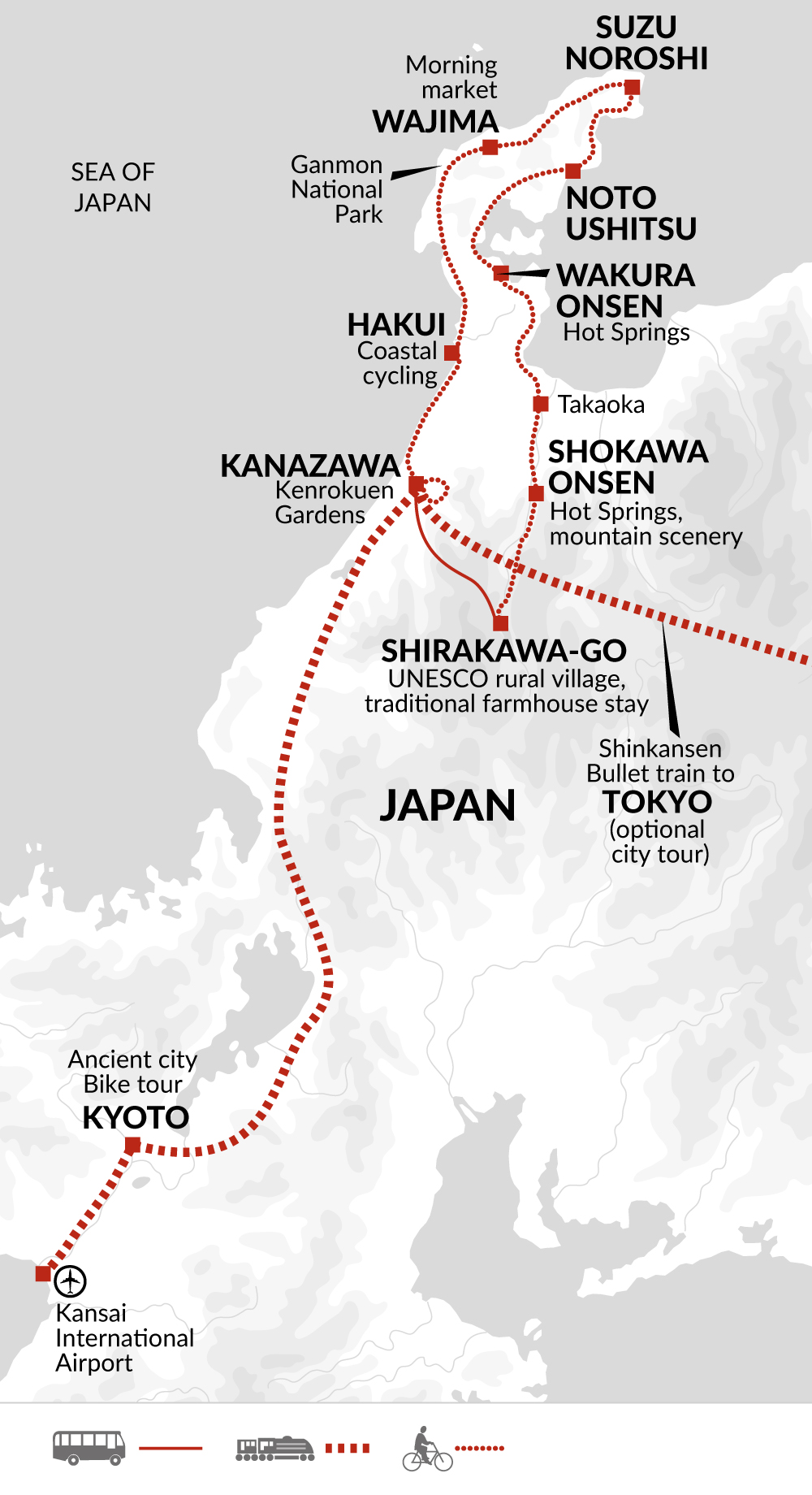 Expand All
Day 1: Join Tour In Historic Kyoto
Location:
Kyoto
Accommodation:
Hotel
This incredible journey begins in the old Imperial capital of Kyoto, regarded by many as the country's loveliest city. Lying at the heart of Japanese culture and influence for over 1,000 years, Kyoto sat at the centre of events that helped to shape the destiny and history of this most fascinating of cultures. One of the only major cities to survive the extensive bombing of WWII, Kyoto can boast more than 2000 temples and shrines, many set in manicured landscaped gardens, making this captivating city the cradle of all things uniquely Japanese.

Our Leader plans to meet you in the hotel reception at 7pm for the welcome meeting and for those that wish, there is the chance to go out for dinner. There are no activities planned today, so you are free to arrive in Kyoto at any time. If you would like to receive a complimentary airport transfer today, you will need to arrive into Kansai International Airport (KIX) which is approximately 2 hours away, or Osaka International Airport (ITM) which takes around an hour. Should you miss the welcome meeting, your Leader will inform you of any essential information as soon as you catch up.

If your flight arrives earlier in the day, we recommend visiting one of Kyoto's many Unesco World Heritage Sites. The Golden Pavilion (Kinkakuji) is perhaps the most spectacular but you will have to battle the crowds to get that perfect photo. If you prefer somewhere a bit less known and with fewer fellow travellers we would recommend Toji Temple with its towering pagoda and great gardens. For impressive buildings, Nishi-Honganji Temple is hard to beat and its convenient location puts it within easy walking distance from our hotel. Slightly further afield, but still an easy train ride away, is the Arashiyama district. Here you can enjoy beautiful mountain scenery, a punt on the river, great food, beautiful gardens and even hike up to see wild monkeys. Trains leave regularly from Kyoto train station.
Day 2: Kyoto Sightseeing By Bike. Including Ginkaku-Ji And Along The Philosopher's Path To The Nanzen-Ji Temple Complex
Location:
Kyoto
Accommodation:
Hotel
This incredible city can boast no fewer than 17 UNESCO World Heritage sites including 13 temples, three Shinto shrines and a 17th century castle. We will pick up our bikes and set out cycling to the Heian Jingu Shrine, before taking in the scenic Philosopher's Path, Eikando Temple and and the 15th Century Ginkaku-ji Temple. After lunch we will cycle south along the Kamo river to Tofukuji Temple's rock gardens and the 1001 statues of Kannon Bodhisattva (the goddess of mercy) located at the Sanjusangendo temple on the eastern edge of the city. This evening is free. Please note that there is no vehicle support for today's ride and we will be using simple local style bikes.

Our total cycling distance today is approximately 17 kilometres (total accumulated ascent 60 metres).
Day 3: Morning Train To Kanazawa. Bike Tour Of Kenroku-En Garden And The Old Teahouse District
Location:
Kanazawa
Accommodation:
Hotel
This morning we travel by train (2hrs+) to Kanazawa, a city that once rivalled Kyoto and Edo (Tokyo) in cultural importance. Once home to the powerful Maeda Clan, today it serves as the capital of the Ishikawa Prefecture and boasts the stunning setting of the Kenrokuen Gardens, considered to be one of Japan's most beautiful landscape gardens. This afternoon we will pick up our bikes and meet our guide, before heading off to visit the gardens. Taking nearly two centuries to complete and translating from their original Japanese as the 'Garden of the Six Sublimities', Kenrouken was begun by the Maedas in 1632 and covers over 11 hectares of land on the outskirts of Kanazawa Castle.

Our total cycling distance today is approximately 8 kilometres (total accumulated ascent 60 metres), no support vehicle today.
Day 4: Cycling Around The Beautiful Noto Peninsula Including The Chirihama Beach Road
Location:
Noto Island
Accommodation:
Hotel
Our main bags will be sent on to Wakura Onsen today as, over the next four days we make do with smaller bags as we cycle north, following the coast on to the Noto Peninsula. The smaller bags are still transported in the support van, leaving you free to enjoy the rides. Our destination today is Chirihama Beach in Hakui, lying to the north of Kahoku. The eight kilometre beach is famous for its unique tightly compacted sand which, at a quarter of the size of normal sand, makes it firm enough to actually cycle on. Tonight we stay for the first time in typical Japanese style accommodation, furnished in the traditional way with futon mattresses on tatami-mat floors.

Our total cycling distance today is approximately 60 kilometres (total accumulated ascent 220 metres).
Day 5: Cycle The Coastal Road To Wajima, Stopping Off At The Sojijiso-In Temple
Location:
Wajima
Accommodation:
Hotel
Keeping the Sea of Japan on our left we continue following the coast north today, heading for the city of Wajima in the northern half of the Noto Peninsula. One of the most scenic coastal landscapes in Japan, the Noto Peninsula extends into the Sea of Japan for some 100 kilometres, providing us with a beautifully secluded journey north. We travel by way of the Ganmon National Park and stop off to visit the Sojiji Temple and Gardens, once one of the most important Zen Buddhist temples in Japan. Founded in 1321, it was the head temple of the Soto sect, before a great fire in 1898 saw its functions transferred to a sister temple in Yokohama.

Our total cycling distance today is approximately 66 kilometres (total accumulated ascent 680 metres).
Day 6: Explore Wajima Market. Continue Along The Stunning Coastal Road To Suzu
Location:
Suzu
Accommodation:
Ryokan
This morning we pay a visit to Wajima's famous Morning Market, one of the city's most famous attractions. Believed to date back over 1,000 years, it brings together vendors selling all manner of goods, from fresh fish and produce, to handicrafts and lacquerware, Wajima's most celebrated export. Renowned throughout Japan, Wajima lacquerware is famed for its durability, with each piece requiring the skills of several craftsmen and dozens of processes. Following our visit we then continue on our journey, heading towards the northeastern tip of the peninsula and the waters of Iida Bay. Tonight we sleep in a traditional Japanese ryokan guesthouse.

Our total cycling distance today is approximately 47 kilometres (total accumulated ascent 690 metres).
Day 7: Cycle To Noto Ushitsu As We Head Down The Eastern Side Of The Peninsula
Location:
Ushitsu
Accommodation:
Ryokan
We complete our ride around the Noto Peninsula today as we follow its eastern edge towards the town of Noto Ushitsu. The very remoteness of this landscape has been one of its most enduring features for centuries and much of this stunning peninsula has been granted a Quasi-National Park status. Tonight we sleep in a traditional Japanese ryokan guesthouse.

Please note that on the CJA 10May2020 departure we will be staying in the Kanehachi Minshuku instead of the Ushitsu-so. This is a family run accommodation with shared facilities and five very large Japanese-style rooms. This will mean that, depending on numbers, the group will need to be divided up into male and female groups or similar.

Our total cycling distance today is approximately 49 kilometres (total accumulated ascent 690 metres).
Day 8: Cycle To Wakura Onsen Where Ancient, Healing Hot Baths Await Our Arrival
Location:
Nanao
Accommodation:
Ryokan
The waters of Nanao Bay and the famous hot springs of Wakura Onsen beckon today. One of the oldest resort towns in Japan, legend has it that these hot springs were discovered over 1,200 years ago, when a local fisherman found a white heron curing its wounds in the steaming waters. Today its healing waters are said to cure everything from muscle aches and stiff joints, to chronic skin disease and frail children! The town is also famed for its seafood, with a number of its traditional inns serving up a mouthwatering choice of oysters, crabs, deep-water shrimps and abalones. The perfect cure for body and soul after our four days of cycling. Tonight we sleep in a traditional Japanese ryokan guesthouse.

Our total cycling distance today is approximately 71 kilometres (total accumulated ascent 870 metres).
Day 9: We Begin Our Journey Inland As We Head Up To Shokawa Onsen
Location:
Shō River
Accommodation:
Ryokan
This morning our journey turns inland as we leave Ishikawa Prefecture for neighbouring Toyama. As before, our large bags go on ahead and we will be using small bags for the next two nights, carried with us in our support vehicle. Our ride today includes the biggest hill of our entire trip, but also takes in a rural landscape of rice paddies and mountain peaks, finishing at the mountain village of Shogawa Onsen. 'Onsens' are dotted all across rural Japan, hot springs that were traditionally used as public bathing places, they make the most of Japan's active volcanic landscapes. There is a distinct etiquette to bathing, with cleanliness and social niceties being observed by participants, whilst rowdiness and tattoos are particularly frowned upon (tattoos in Japan have long been associated with criminal Yakuza gangs). Tonight we sleep in traditional ryokan accommodation with private en-suite facilities.

Our total cycling distance today is approximately 71 kilometres (total accumulated ascent 860 metres).
Day 10: Our Cycle Journey Concludes At Beautiful Shirakawa-Go, Famous For Its Traditional Gassho-Zukuri Farmhouses
Location:
Shirakawa
Accommodation:
Hotel
Today we head into the remote countryside of the Shogawa River Valley, where we will find a number of beautifully preserved gassho-zukuri farmhouses. With their steep thatched roofs, constructed to resemble the praying hands of Buddhist monks, some of these houses are over 250 years old. Developed over many generations and designed to withstand the heavy falls of snow that regularly envelope the region in winter, these roofs are constructed without nails and the large attics were traditionally used to cultivate silkworms. We plan to visit one of the traditional farmhouses. Our final destination today is the historic village of Shirakawa-go which, along with neighbouring Gokayama, has been declared a UNESCO World Heritage Site. Please note that we will be cycling through several tunnels today.

Our total cycling distance today is approximately 57 kilometres (total accumulated ascent 820 metres).
Day 11: Shinkansen Bullet Train To Tokyo
Location:
Tokyo
Accommodation:
Hotel
Leaving Shirakawa-go and our bikes behind we travel first by bus (1hr30) back to Kanazawa. It is from here that we take the iconic Shinkansen bullet train (2hrs30) to Japan's capital city, Tokyo. Tokyo is the most populous metropolitan area in the world, home to more than 26 million people including the Japanese imperial family. The city holds a lot of history as well as modern shopping centres and the neon illuminated signs it's famous for. Half of the city was rebuilt after being destroyed in the war but there are still many historic temples and gardens that remain and await exploration. On arrival to Tokyo we have the chance to explore this fascinating city.

No cycling today.
Day 12: Enjoy Tokyo From Our Base In The Historic Asakusa District A Stone's Throw From Sensoji Temple
Location:
Tokyo
Accommodation:
Hotel
Today is left free for you to explore, wander and shop at leisure or take an optional guided tour of Tokyo. Your Tour Leader will be on hand to assist and give guidance today. A typical itinerary would be to visit the Asakusa Sensoji-temple followed by a river cruise to the the Hama-rikyu gardens, Meiji shrine and finally the Shinjuku Government Building for great views over Tokyo. It is also possible to rent a bike locally and explore - your Tour Leader will be able to provide details.

Optional cycling today.
The trip ends after breakfast at our hotel in Tokyo.

There are no activities planned today, so you are free to depart at any time. If your flight is departing later in the day luggage storage facilities are available at our hotel. If you would like to receive a complimentary airport transfer today, you need to depart from Haneda Airport (HND) or Narita Airport (NRT). The city centre is around an hour away from Haneda Airport and an hour and a half from Narita.
What's Included
Meals
Breakfast: 12 Dinner: 7

Accommodation

All Domestic Transportation (including internal flights)

Fully Guided

Train Tickets
What's Not Included
Tipping and Gratuities

Country Entry Visas
Check out our Q&As
Will there be an escort accompanying this tour?

Are children permitted to take part in the tour?

Are the local guides on the tour English speaking?

Are vaccinations required for this tour?

Will I know the names and details of all the accommodation before I depart?
I'm going on a walking/cycling trip-do I need to train?

It will depend on the grade and how fit you already are. Check the trip page for details of the walking or cycling grade and how far you'll be walking/cycling each day. For moderate or challenging trips in particular we'd recommend doing some walks or cycles before you leave to build up your fitness and prepare you for the distances being covered.

Who will be my travelling companions on the tour?

We have a wide range of ages nationalities on our small group trips and they come from all walks of life.

Should I get travel insurance?

Yes–it is a condition of booking that you are fully insured when travelling with us

How long has the tour company been trading?

At Explore, we're the experts in adventure travel. Our small group adventure holidays have been running since 1981. Today, Explore is one of the most trusted travel companies in the UK with over 500 trips to more than 120 countries.

Can I join the tour once it has departed?

Yes, but there are no concessions for doing so, and we must have a record in your booking advising as such before the trip departs.

Am I contributing to any charity by booking the tour?

Being a responsible company is a large statement, something that has to be entwined within the very fibre of a company. Discover the charities and partnerships we support as part of this at https://www.explore.co.uk/about/sustainability/charities-and-partners

What happens if I need to change my holiday date once I've booked?

We want to be as clear as and as honest as possible about what happens if you decide to that you no longer wish to travel on your trip. Our booking conditions have details of the costs you'll incur when you cancel-these charges depend on how long it is before your planned departure.

What is the accommodation like?

We choose comfortable accommodation in the best locations possible. We opt for small, local and family-run accommodation where we can, as opposed to large chain hotels. We typically use hotels that are the equivalent of European 3-star, and you'll usually have an en suite room. Occasionally, where we want to get off the beaten trail we may stay in more basic accommodation.

What Ethical Travel credentials does the tour company have?

Sustainability is embedded within the fibre of Explore, it emanates from the inside out. But as we enter a new decade it is clearer than ever that our world needs help, and Explore has created a sustainability strategy based on the 2015 UN's Sustainable Development Goals.

What policies are in place for Covid-19?

Our flexible booking and safety policies mean you're protected before and during your travels with us. Receive a full refund if your trip is cancelled, transfer your trip free of charge up to 10 days before departure minus any irrocoverable costs.

Do I need to be very fit to book with you?

All our trips require some level of active participation. This could be on a cultural trip, trek, safari, expedition or voyage. It is in the interests of all members of the group that everyone should be capable of fully participating in the activities of their chosen trip.

What documents will I receive before I travel?

Final documents will include a comprehensive trip itinerary, climate and country information, budgeting and packing advice visa and passport information and details on optional activities available.

Do you operate a "single share" option and how does it work?

Yes on most of our trips. Most trips are based on customers sharing twin-bedded rooms. If you book a group trip as an individual, you will share a room with someone of the same sex. However, on many trips we offer the opportunity to pay a supplement to pre-book a single room, known as our single room option. On some trips a single room will be provided every night, on others it will be provided o

Do we have to be vaccinated against Covid-19 to travel

It's now a condition of booking a trip with us that customers should have one of the following before they travel - — Be vaccinated against COVID, having received the full recommended course, and allowing enough time for immunity to take effect. Full vaccination includes any booster required to keep the vaccine valid. — Have taken a negative test (rapid antigen or PCR) within 72hrs of departure.

Will the accommodation included meet local health and safety regulations?

Explore will only offer hotels that have specific COVID-19 protocols in place and comply with local government guidelines. We will ensure these measures include; enhanced room cleaning, ventilation, social distancing, regular cleaning and disinfection of high frequency touch points in public areas, food safety, staff re-training and minimising contact within the properties.
Reviews From Travellers On This Tour
John
Cycle Japan
Experience of a lifetime ;)
Clare
Cycle Japan
This was my first Explore trip and overall I came away very satisfied with the trip.
James
Cycle Japan
We thoroughly enjoyed a most enjoyable and fulfilling trip.
David
Cycle Japan
For most if not all of the group this was one of their best holiday experiences so please do not change this itinerary
David
Cycle Japan
I was really looking forward to this trip and it exceeding all my expectations. Thank you for an excellent cycling tour.
Dorothy
Cycle Japan
Despite my disappointment over flights, the trip was amazing. One of the best
Martin
Cycle Japan
It was a very interesting trip, well organised,od hotels and very interesting food. We tired lots of different things to eat - but - raw fish for breakfast was a challenge!
Dates & Availability
Instant Booking Available
Sunday - Friday
Apr 07, 2024 - Apr 19, 2024
Instant Booking Available
Sunday - Friday
May 12, 2024 - May 24, 2024
Instant Booking Available
Sunday - Friday
Oct 13, 2024 - Oct 25, 2024
Instant Booking Available
Sunday - Friday
Nov 03, 2024 - Nov 15, 2024
Book with Confidence
Free Date Changes

Explore! allows you to make 1 free date changes, as long as the change is made at least 60 days before the start of the tour.

Low Deposit

Explore! requires a minimum deposit of 10% or the full booking value, whichever is less, with the final balance not due until 60 days before departure.

Cancellation Policy

We don't charge a cancellation fee, here is a summary of explore! charges.

Up to 60 days before tour starts: Forfeit 100% of deposit.

At 59 days before tour starts: Forfeit 30% of booking price.

At 41 days before tour starts: Forfeit 60% of booking price.

At 27 days before tour starts: Forfeit 90% of booking price.

At 13 days before tour starts: Forfeit 100% of booking price.
Why book with tourhub?
Safe & Secure
Your money is protected in an external trust until you travel.
---
100% Guaranteed Refunds if your trip is cancelled.
---
The safest way to make overseas, multi-currency payments.
Guaranteed Best Value
Industry leading discounts, we won't be beaten on price.
---
No cancellation or amendment fees from tourhub.
(Operator terms may apply)
Expert Knowledge
Reliable & unbiased advice from travel experts.
---
Direct contact with the tour operator via our messaging service.
---
Inspiration & advice from a community of 6000+ real travellers, influencers & content creators.
Trusted Service
Official partners & licensed agents of 1000+ tour operators worldwide.
---
Don't just take our word for it...
"Tourhub: Friendliness, Professionalism & Integrity I would happily give tourhub a 6* review if I could..."
Similar Tours
Travel Guru Features
Our Reviews