Explore the Kingdom of Saudi Arabia
13 Days Starting in Riyadh and ending in Jeddah
Tour Overview
There are few places in the world that could be described as outside the reaches of tourism, and Saudi Arabia may be one of them. Images of desert adventures or smoky souks are only one side of this eclectic country, known as the birthplace of Islam. This trip will introduce a Saudi Arabia of lush mountains, chaotic camel markets, mouth-watering food and a history that spans prehistoric rock art, the ancient spice trade and Lawrence's Arabian deserts.
Highlights
Hegra (Mada'in Saleh) - Discover this ancient Nabatean city, second in size only to Petra, in the middle of the desert

Al Bahah - Experience the mountainous side of Saudi in this lush region of forests, hidden villages and hairpin roads

Jeddah - Explore the alleyways and scented souks of the UNESCO-listed old town, and get some Red Sea air on the coast
Itinerary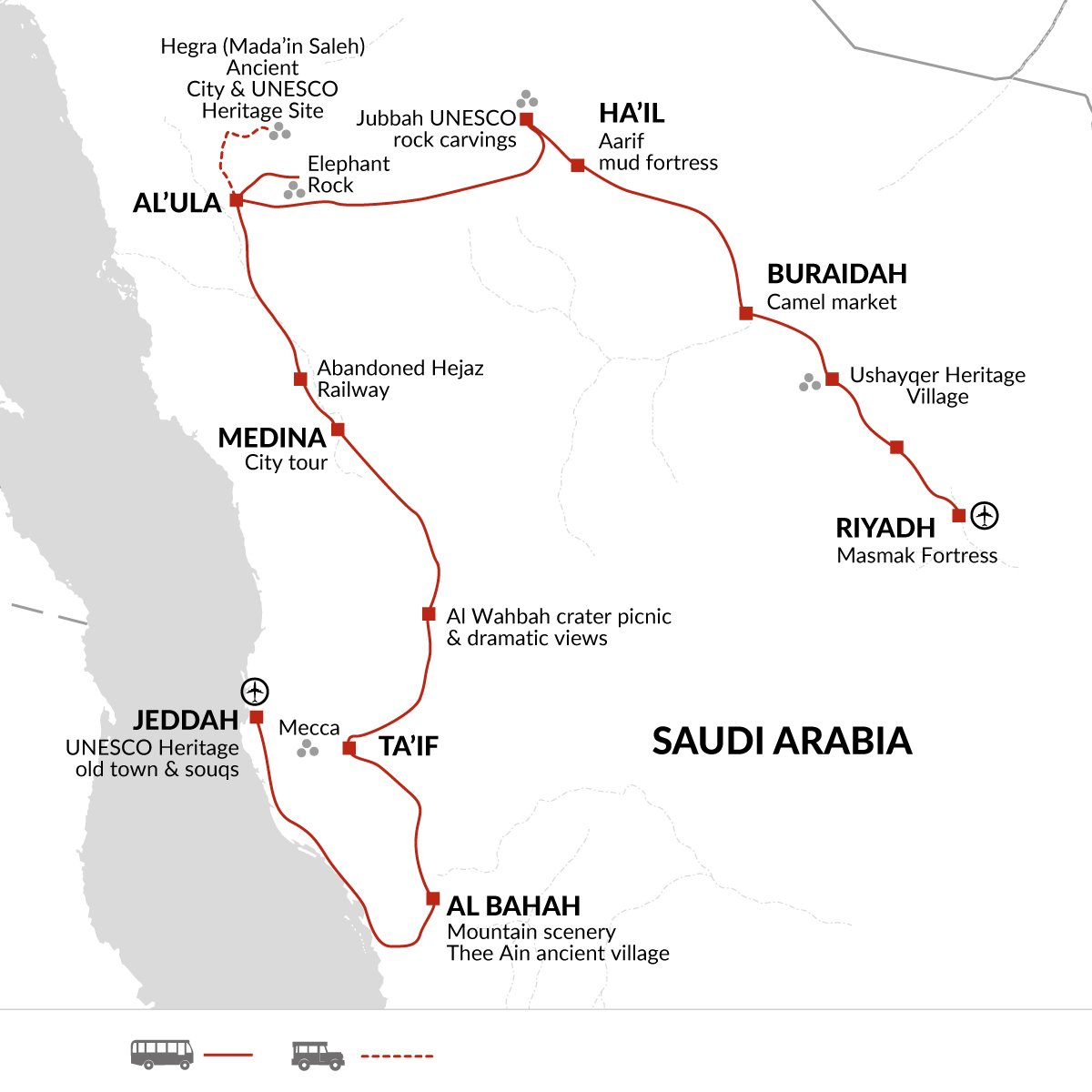 Expand All
Day 1: Join trip in Riyadh
Accommodation:
Centro Waha Hotel
Arrive in Riyadh, the capital of Saudi Arabia. Once a desert trading post on the caravan route, this skyscraper-filled city is fighting a battle between the old and the new. Riyadh has a more traditional atmosphere than its red sea sister, Jeddah, and its historical significance as the birthplace of modern Saudi Arabia can be seen in the contrast between the modern, gleaming buildings in the business district, and the many forts, museums and colourful souks that confirm the city's ancient past.

Due to the number of evening flights into Riyadh, the Tour Leader plans to do the welcome meeting in the morning of Day 2. There are no planned activities today, so you can arrive into Riyadh at any time. If you would like to receive a complimentary transfer today, you'll need to arrive into King Khalid International Airport (RUH), which is around 40 minutes' drive.

If your flight arrives earlier in the day, you may wish to explore one of the city's souks, or watch the sunset at the Sky Bridge in the Kingdom Centre. This 99-story skyscraper is open to the public (going up to the top costs a small fee) and gives you a great vantage point over the city. We will visit again tomorrow but not at sunset, so you may wish to ascend this evening to kick off your Saudi Arabian journey.
Day 2: Discover the old and new faces of Riyadh; 4WD trip to the Edge of the World
Accommodation:
Centro Waha Hotel
Meals Included:
Breakfast
Riyadh is a chaotic, sprawling city, where ancient palaces and palm trees are found just a few traffic-laden streets away from bright, modern architecture. We'll get a feeling of both the old and new today.

Before the 1930s, Riyadh was a small, walled oasis town in what was then known as the Second Saudi State. After Abdul Aziz Ibn Saud conquered the state in the late 1920s, retaking his family's ancient seat and bringing together most of the Arabian Peninsula in what he went on to name 'Saudi Arabia', he built the Murabba Palace - the first building to be constructed outside the walls of the old city. Ibn Saud, the first monarch of the new Kingdom of Saudi Arabia, would make the palace his home until his death in 1953. The royal family ceased to use it as their main home after Ibn Saud's death, and it's currently being renovated so we plan to see the palace from the outside until it reopens.

We'll go on to visit Masmak Fortress, the most prominent remnant of the old walled oasis town of Riyadh. We will go on to the modern part of the city, taking the lift up the Kingdom Towers skyscraper for impressive views.

In the late afternoon, we drive in 4WD vehicles to Jebel Fihrayn, also known as the Edge of the World. This dramatic set of cliffs, just one hour outside of Riyadh, rises vertically from the desert floor. The horizon dances before us yet is somehow unobtainable - this visual illusion gives the wonder its name. We aim to be there for sunset, before driving back to the city.
Day 3: Visit the Al Diriyah UNESCO site; drive to Buraidah
Accommodation:
Best Western Plus
Meals Included:
Breakfast
Leaving Riyadh this morning, we'll drive north-west to the Ushaiger Heritage Village, a winding maze of alleyways and mud-brick houses in the desert. Nearby springs and palm groves made this a convenient stopping point for ancient pilgrims to Mecca. The village is still inhabited today and is a glimpse into an old way of life, with some incredible examples of ancient Nadji architecture.

From here we drive on to Buraidah. The area is famous for its date farms, and sampling some of the local produce this evening is highly recommended. Many dessert options in Saudi Arabia revolve around dates, either plain or stuffed with nuts. The traditional dish 'hainini' is a dessert made from dates, flour and butter, spiced with cardamom and saffron - sugary, warm, spicy and usually served with traditional Arabic coffee. Delicious!
Day 4: Experience the Buraidah camel market; train journey to Ha'il
Accommodation:
Aronani Hotel
Meals Included:
Breakfast
Rise early this morning to drive to the dusty outskirts of Buraidah, where we find the world's largest camel market. A chaotic melee of people, sounds and smells, the daily market sees thousands of camels, as well as sheep and goats, being bought and sold by local Saudis. A visit to the market is a glimpse at traditions that haven't changed in hundreds of years. The auctions are loud and theatrical, with the best camels going for many thousands of dollars.

In the early afternoon we take a two-hour train to Ha'il, a modern service that offers comfortable seats, a cafe car and, usually, WiFi available on board. At around 2pm we'll arrive into Ha'il, a small town on the edge of the massive Jabal Aja protected area, a red granite mountain range that is a surprising haven for plant and birdlife. We'll explore the town this afternoon, including the massive mud fortresses of Al Qashlah and Aarif. The former was built by Ibn Saud in the 1940s, whereas the latter is a 17th-century monolith, visible on its hilltop position from anywhere in Ha'il.
Day 5: Discover the UNESCO-listed rock carvings at Jubbah; drive to AlUla and our desert camp
Accommodation:
Sahary Resort
Meals Included:
Breakfast, Dinner
The oasis of Jubbah was once a huge inland lake, rich in wildlife and plant life and on the edge of the windswept Nafud Desert. On a set of sandstone rocks, which pop out of the sandy floor at the western edge of this oasis town, we'll find some of the Middle East's most extensive and important ancient rock carvings. These Neolithic petroglyphs date back as early as 5500BC, and depict scenes of everyday life; hunting is widely represented, and from the images we can see the kind of animals that would have been prevalent at the watering hole, from camel to ibex. Jubbah's rock art has been a crucial link in the chain for palaeontologists to put together a picture of Neolithic human life not just in the Middle East but also spreading through north Africa.

From here we drive five hours, one of the longest journeys of our trip, to Al'Ula and our desert-based accommodation.
Day 6: Visit the Nabatean city of Hegra (Mada'in Saleh) and the Lion Tombs of Dedan
Accommodation:
Sahary Resort
Meals Included:
Breakfast, Lunch
A short drive this morning brings us to Elephant Rock, an instantly-recognisable geological feature that takes its name from its elephantine shape. From here, we continue to what may be one of the highlights of our Saudi Arabian journey - the ancient Nabatean city of Hegra (also known as Mada'in Saleh). This set of ornately carved tombs was constructed in the 1st Century AD by the Nabatean people, and it would become their second-largest city after the capital, Petra, in Jordan. These magnificent tombs are eerily quiet in contrast to Petra, but as tourism grows we can expect this to change dramatically within the next few years. For the moment, what was once a thriving city at the southern-most part of the spice trade, and a key part of the Nabatean Empire, is now a deserted outpost, with many buildings partially hidden under layers of sand.

On our return to AlUla, we'll stop to visit the Lion Tombs of Dedan. Pre-dating the Nabatean Empire, the kings of Dedan, and later named Lihyan, ruled from the 6th to the 2nd Century BC. At their capital, Dedan, the remains of ancient tombs have been found hewn into the rockface at different heights and of different sizes. The name 'Lions Tomb' comes from the carved lion sculptures found outside several of the necropolis entrances - denoting the importance of their owners.

Please note, the order of our visits to Elephant Rock, Hegra and Dedan may change depending on other visitors and environmental factors.
Day 7: Drive to Medina through Lawrence of Arabia country
Accommodation:
Delights Inn
Meals Included:
Breakfast
The Hejaz Railway, an ambitious feat of engineering, was the brainchild of the Ottomans, an attempt to pull together their disparate empire from the reaches of Constantinople to the holy site of Mecca. In the early 1900s, the railroad was complete from Damascus to Medina, and it was a strategic crown in the Ottoman Empire. Its glory days didn't last long however, and the railroad was almost completely destroyed during World War One and the Arab Rising. As we travel today from AlUla to Medina, we will see the remnants of this railroad, and the near-legendary story of Lawrence of Arabia will come to life. Rusted carriages half-covered in sand lie abandoned in the desert, and we'll stop at one or two of the old railway stations en route.

On arrival to the holy city of Medina, we'll take the bus up to nearby Mt Uhud for outstanding views of the city. The innermost part of the city, including the main mosque, is restricted to Muslims, but we will take the opportunity to visit those places that we can.
Day 8: Walk at the Al Wahbah crater; continue by bus to Ta'if
Accommodation:
Tulip Inn Al Taif
Meals Included:
Breakfast, Lunch
One of the most dramatic natural wonders in Saudi Arabia is our destination this morning, as we set out from Medina and drive two hours south. At a massive four kilometres wide, the Al Wahbah Crater was originally thought to have been formed by a meteorite crashing to earth, but it is now accepted to have been created by volcanic activity. The base of the crater is encrusted with salt crystals, forming an enormous white ring in the centre of the vast hole. We'll take an easy walk around the rim of the crater and our lunch will be a picnic with a view. For keen walkers, there is a hike into the crater - around 60 minutes steep descent and 60-90 minutes ascent. However the possibility to do this depends on the time of arrival as well as the heat. It is a strenuous climb back out of the crater in the heat of the afternoon.

From here we continue up a winding road, to the start of a completely different side of Saudi Arabia - the cool mountains of the south. Our final destination is Ta'if, located at approximately 1800m altitude. This evening we'll take a stroll through its lively souk, a thronging maze of stalls selling goods from rich perfume and decorative swords to ornate jewellery.
Day 9: Explore Ta'if, the 'City of Roses'; continue into the mountains at Al Bahah
Accommodation:
Zahrat Al Tal
Meals Included:
Breakfast
Ta'if is surrounded by lush wadis and mountains that bloom with roses in April. More than 900 farms produce upwards of 300 million roses for worldwide export each year, and it's from this industry that the city takes its name, the 'City of Roses'. We'll visit a rose farm this morning, and while in Ta'if you may like to purchase rosewater, scented rose oil or a refreshing rose tea as a souvenir of your time here. We will also visit the Shubra Palace building, and during our time in the region we may see some of the wild baboons that roam around the mountain roads.

In the afternoon we leave the city for Al Bahah. If Ta'if has given us a taster of life outside of the desert, Al Bahah will strip us of all illusions that Saudi Arabia is a mass of dust and sand. This often mist-covered city, at 2200m altitude, is surrounded by lush forests, with hairpin bends taking travellers to small mountain top villages. We'll arrive in the evening and settle in to our hotel.

Please note that the Shubra Palace is currently closed for renovations, so while this remains the case we will instead visit another traditional museum in the city that showcases Arabian history and culture.
Day 10: Visit the unexpected mountain village of Thee Ain
Accommodation:
Zahrat Al Tal
Meals Included:
Breakfast
Spend the day exploring all the beautiful shades of green that this area has to offer. With almost 40 areas of forest surrounding Al Bahah, the region is characterised by its dramatic scenery of verdant valleys and mountain slopes. We'll visit the 600 year-old marble village of Thee Ain, a mysterious looking set of stone houses that were originally built as a citadel on top of a white marble outcrop, surrounded by banana plantations, fruit trees and mountains. The 8th-century construction is visually magnificent from afar, and fascinating close up.

We'll also continue to one of the many forest parks in the area for an easy walk in the fresh air, as well as visiting the 'hidden' village of Sheba, concealed in the Sarawat Mountains with outstanding views of the high peak Jebel Mussala.

This evening is an opportunity to try some outstanding Saudi Arabian food. The Hejaz region around Al Bahah has some popular dishes such as saleeg, a white rice dish cooked in broth and milk (a little like risotto) commonly served with chicken, or mutabbeq - a stuffed, folded flatbread, pan-fried and served typically as a delicious lunchtime snack.
Day 11: Drive along the Red Sea to Jeddah; walk along the corniche (sea front)
Accommodation:
Centro Salama Hotel
Meals Included:
Breakfast
We meet the Red Sea today, as we journey back northwards towards the coastal city of Jeddah. It's a five hour drive, and there will be the opportunity to get some fresh sea air en route.

On arrival in Jeddah, we'll walk some of the city's corniche (sea front), a 30 kilometre palm-lined stretch of coastal path that has been modernised in recent years. You may pass local Jeddah residents running or biking along the Red Sea, taking a coffee at one of the snackstops and cafes lining the path, or even having a late afternoon swim.
Day 12: Walking tour of the UNESCO-listed old town; traditional evening meal
Accommodation:
Centro Salama Hotel
Meals Included:
Breakfast, Dinner
Jeddah is the largest commercial city in Saudi Arabia. A major port, a historical Red Sea trading point, and an important gateway for the thousands of yearly pilgrims heading to Mecca or Medina, Jeddah has a bustling atmosphere of opportunity and growth.

We will visit the UNESCO-listed old town of Al Balad this morning. Founded in the 7th Century, Al Balad was once the city centre of Jeddah. It's now a wonder of architecture, famous for colourful wooden doors and window coverings, all intricately carved and providing fascinating subjects for photographers. The area is a maze of narrow streets, with traditional souks and tiny mosques hidden between houses and shops. Buy some frankincense - one of the exports that historically made Saudi Arabia so important - or sample dates, Arabic coffee or breads at some of the local street vendors.

After spending much of the day exploring this captivating area, including the largest souk - Souk Al Alawi - we'll have a little free time this afternoon before dinner.

Our included meal this evening will give us the opportunity to sample Saudi Arabia's national dish, a Kabsa. Traditionally made with rice, vegetables and meat, it is the spice mix that makes the Kabsa special. Black pepper, cloves, cardamom, cinnamon, black lime, bay leaves and nutmeg are used to delicious effect! It's a fitting end to our Saudi Arabian journey.
Day 13: Trip ends in Jeddah
Meals Included:
Breakfast
The trip ends after breakfast at our hotel in Jeddah.

There are no activities planned today, so you are free to depart from Jeddah at any time. If your flight is departing later in the day, luggage storage facilities are available at our hotel. If you would like to receive a complimentary airport transfer today, you need to depart from King Abdulasiz International Airport (JED), which is a 20 minute drive from the hotel.
What's Included
Accommodation

Fully Guided

Meals – Half Board
What's Not Included
Tipping and Gratuities

Country Entry Visas
Check out our Q&As
I'm going on a walking/cycling trip-do I need to train?
It will depend on the grade and how fit you already are. Check the trip page for details of the walking or cycling grade and how far you'll be walking/cycling each day. For moderate or challenging trips in particular we'd recommend doing some walks or cycles before you leave to build up your fitness and prepare you for the distances being covered.
Who will be my travelling companions on the tour?
We have a wide range of ages nationalities on our small group trips and they come from all walks of life.
Should I get travel insurance?
Yes–it is a condition of booking that you are fully insured when travelling with us
How long has the tour company been trading?
At Explore, we're the experts in adventure travel. Our small group adventure holidays have been running since 1981. Today, Explore is one of the most trusted travel companies in the UK with over 500 trips to more than 120 countries.
Can I join the tour once it has departed?
Yes, but there are no concessions for doing so, and we must have a record in your booking advising as such before the trip departs.
Am I contributing to any charity by booking the tour?

Being a responsible company is a large statement, something that has to be entwined within the very fibre of a company. Discover the charities and partnerships we support as part of this at https://www.explore.co.uk/about/sustainability/charities-and-partners

What happens if I need to change my holiday date once I've booked?

We want to be as clear as and as honest as possible about what happens if you decide to that you no longer wish to travel on your trip. Our booking conditions have details of the costs you'll incur when you cancel-these charges depend on how long it is before your planned departure.

What is the accommodation like?

We choose comfortable accommodation in the best locations possible. We opt for small, local and family-run accommodation where we can, as opposed to large chain hotels. We typically use hotels that are the equivalent of European 3-star, and you'll usually have an en suite room. Occasionally, where we want to get off the beaten trail we may stay in more basic accommodation.

What Ethical Travel credentials does the tour company have?

Sustainability is embedded within the fibre of Explore, it emanates from the inside out. But as we enter a new decade it is clearer than ever that our world needs help, and Explore has created a sustainability strategy based on the 2015 UN's Sustainable Development Goals.

What policies are in place for Covid-19?

Our flexible booking and safety policies mean you're protected before and during your travels with us. Receive a full refund if your trip is cancelled, transfer your trip free of charge up to 10 days before departure minus any irrocoverable costs.

Do I need to be very fit to book with you?

All our trips require some level of active participation. This could be on a cultural trip, trek, safari, expedition or voyage. It is in the interests of all members of the group that everyone should be capable of fully participating in the activities of their chosen trip.

What documents will I receive before I travel?

Final documents will include a comprehensive trip itinerary, climate and country information, budgeting and packing advice visa and passport information and details on optional activities available.

Do you operate a "single share" option and how does it work?

Yes on most of our trips. Most trips are based on customers sharing twin-bedded rooms. If you book a group trip as an individual, you will share a room with someone of the same sex. However, on many trips we offer the opportunity to pay a supplement to pre-book a single room, known as our single room option. On some trips a single room will be provided every night, on others it will be provided o

Do we have to be vaccinated against Covid-19 to travel

It's now a condition of booking a trip with us that customers should have one of the following before they travel - — Be vaccinated against COVID, having received the full recommended course, and allowing enough time for immunity to take effect. Full vaccination includes any booster required to keep the vaccine valid. — Have taken a negative test (rapid antigen or PCR) within 72hrs of departure.

Will the accommodation included meet local health and safety regulations?

Explore will only offer hotels that have specific COVID-19 protocols in place and comply with local government guidelines. We will ensure these measures include; enhanced room cleaning, ventilation, social distancing, regular cleaning and disinfection of high frequency touch points in public areas, food safety, staff re-training and minimising contact within the properties.
Reviews
Explore the Kingdom of Saudi Arabia
The scenery in the north was great. Please insert some walking opportunities here - the are some great routs at Al Ula
The scenery in the north was great.

Please insert some walking opportunities here - the are some great routs at Al Ula
---
Explore the Kingdom of Saudi Arabia
It's a really interesting destination. Forget any preconceptions you gained from the media. It feels very relaxed and incredibly safe, with open, friendly people.
It's a really interesting destination.

Forget any preconceptions you gained from the media.

It feels very relaxed and incredibly safe, with open, friendly people.


---
Dates & Availability
Instant Booking Available
Instant Booking Available
Instant Booking Available
Instant Booking Available
Instant Booking Available
Instant Booking Available
Instant Booking Available
Instant Booking Available
Instant Booking Available
Instant Booking Available
Instant Booking Available
Instant Booking Available
Book with Confidence
Free Date Changes

Explore! allows you to make 1 free date changes, as long as the change is made at least 60 days before the start of the tour.

Low Deposit

Explore! requires a minimum deposit of 10% or the full booking value, whichever is less, with the final balance not due until 60 days before departure.

Cancellation Policy

We don't charge a cancellation fee, here is a summary of explore! charges.

Up to 60 days before tour starts: 100% of deposit.

At 59 days before tour starts: 30% of booking price.

At 41 days before tour starts: 60% of booking price.

At 27 days before tour starts: 90% of booking price.

At 13 days before tour starts: 100% of booking price.
Explore the Kingdom of Saudi Arabia
13 Days Starting in Riyadh and ending in Jeddah
Why book with tourhub?
Safe & Secure
Your money is protected in an external trust until you travel.
---
100% Guaranteed Refunds if your trip is cancelled.
---
The safest way to make overseas, multi-currency payments.
Guaranteed Best Value
Industry leading discounts, we won't be beaten on price.
---
No cancellation or amendment fees from tourhub.
(Operator terms may apply)
Expert Knowledge
Reliable & unbiased advice from travel experts.
---
Direct contact with the tour operator via our messaging service.
---
Inspiration & advice from a community of 6000+ real travellers, influencers & content creators.
Trusted Service
Official partners & licensed agents of 1000+ tour operators worldwide.
---
Don't just take our word for it...
"Tourhub: Friendliness, Professionalism & Integrity I would happily give tourhub a 6* review if I could..."