Family China In Depth
Start: Beijing Finish: Hong Kong
Visiting:
Beijing
,
The Great Wall
,
Chengdu
,
Tiananmen Square
,
Yangshuo
,
Guilin
,
Xian
,
Imperial Palace
---
---
Duration: 14 Nights
Physical rating: Medium, FullOn
Special diets catered: Vegetarians, Vegans, Meat
Tour Operator: Explore!
Group size: 4 - 20
Age range: 7-99
Tour operated in: English
---
Tour Overview
Travel across China using a combination of overnight sleeper and ultra-modern high speed bullet trains. This fast-paced journey takes us from the imperial palaces of Beijing to the skyscrapers of Hong Kong. Trip highlights include Xian's Terracotta Army, giant pandas in Chengdu and the rural town of Yangshuo. We also walk through the vast Dragon's Backbone rice terraces, stay in traditional village houses and meet the local Zhuang tribes, ending the trip in cosmopolitan Hong Kong.
Highlights
Hong Kong - Free time to explore one of Asia's most vibrant cities
Beijing - Walk along the Great Wall at Mutianyu. Explore Tiananmen Square and the Forbidden City
Xian - Meet the famous Terracotta Army of Qin Shi Huangdi
Places You'll See
Cities & Attractions:
Itinerary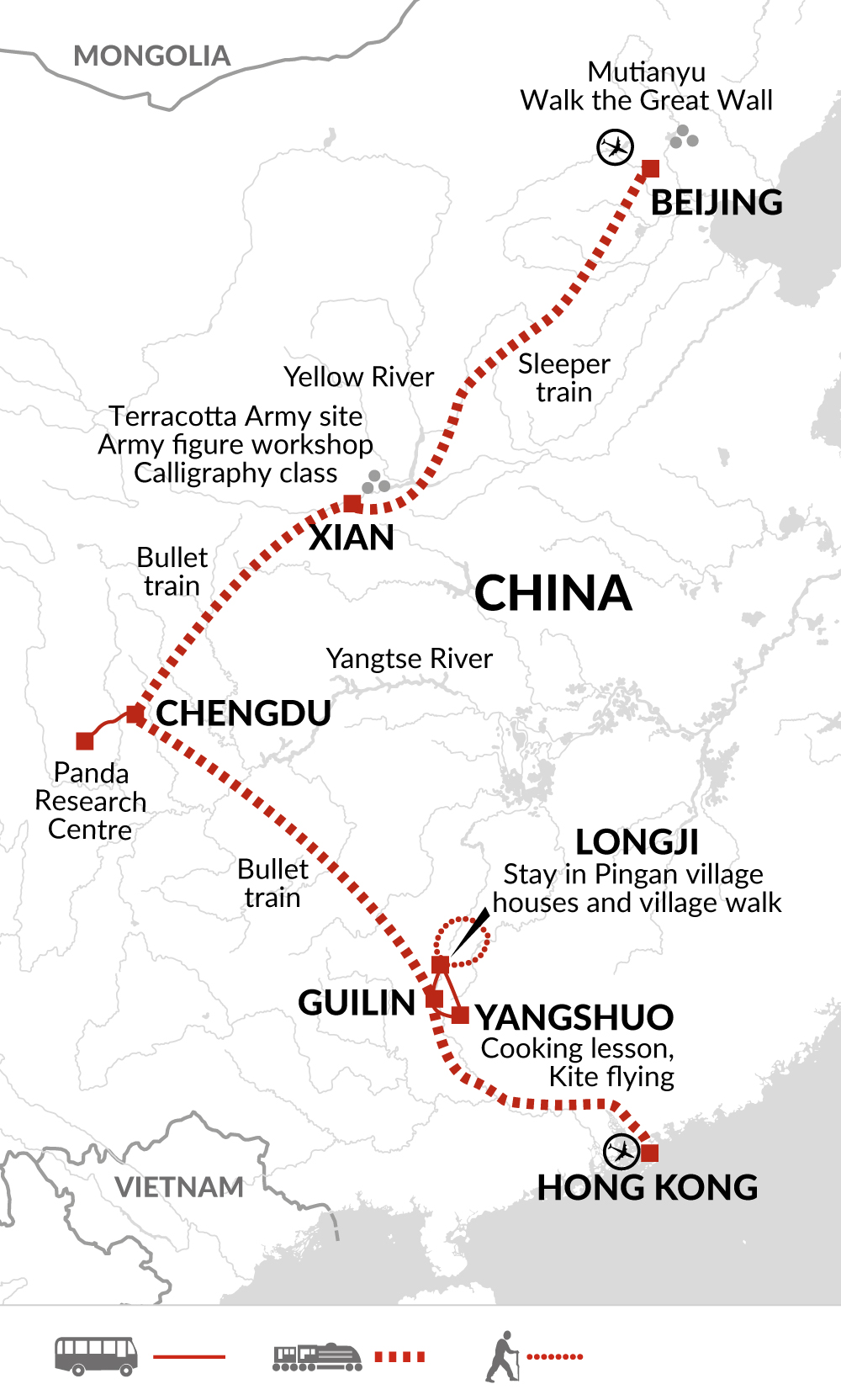 Day 1: Join trip in Beijing
Location: Beijing
Accommodation: Hotel, Dong Fang Beijing
Meals: No Meals
Arrive in Beijing, China's political and cultural capital. The city has undergone breath-taking development over the past decade, yet still retains plenty of sites that showcase the nations ancient past. For those arriving on time our Leader plans to meet you in the hotel reception at 6pm for the welcome meeting and for those that wish, there is the chance to go out for dinner. There are no other activities planned today, so you are free to arrive in Beijing at any time. If you would like to receive a complimentary airport transfer today, you can arrive into either Beijing Capital International airport (airport code PEK) or the new Beijing Daxing International airport (airport code PKX). Depending on your arrival airport, the transfer is between 1 hour and ninety minutes to the hotel. Should you miss the welcome meeting, your Leader will inform you of any essential information as soon as you catch up. If your flight arrives earlier in the day, perhaps you might choose to head out and explore Beijing's central district with its many parks, temples and restaurants.
Day 2: Free in Beijing to visit Tiananmen Square.
Accommodation: Dong Fang Hotel Beijing
Meals: Breakfast
Today offers a chance to explore something of a city that has been at the centre of China, politically and culturally, since the days of the great Kublai Khan. You could pay a visit to Tiananmen Square and the Forbidden City, home to the Ming and the Manchu (Qing) emperors for over 500 years. Other options include a visit to the Temple of Heaven or a tour of the city's fascinating hutongs (traditional alleys and backstreets) by rickshaw.
Day 3: Drive to the Great Wall at Mutianyu, return to Beijing via the Olympic stadium. Overnight train to Xian
Accommodation: Overnight Train from Beijing to Xian
Meals: Breakfast
This morning we drive by private bus to Mutianyu, some 90 kilometres to the north-east of the city, to pay a visit to China's famous Great Wall. One of the country's most iconic symbols, the Great Wall stretches from the China Sea to the Gobi desert, a journey of over 5,000 kilometres. The section we visit today is one of the best preserved parts of the wall, built over 400 years ago during the Ming dynasty. Over 10 kilometres in length, this magnificent structure crosses five mountain passes and features two beacon towers and nearly 70 watchtowers. Returning to Beijing in the afternoon we make a brief stop at the Birds Nets stadium, the main venue of the 2008 Beijing Olympic Games.This evening we board an overnight sleeper train to Xian.
Day 4: Free day to explore the Shaanxi National Museum or the Muslim Quarter
Accommodation: Grand Soluxe International Hotel
Meals: Breakfast
We arrive in Xian early this morning and walk the short distance to our hotel in time for breakfast. The rest of the day is then free to make the most of China's old imperial capital. You might like to pay a visit to the Big Wild Goose Pagoda, a 64 metre high structure that offers some superb views out across the city. Another possibility is a visit to the Shaanxi National Museum. Alternatively, the network of alleys that make up the city's Muslim Quarter provide an excellent destination for a day of exploring. The hotel in Xian offers good sized rooms with en-suite facilities and internet connection, TV, air-conditioning and a tea/coffee maker. Hotel facilities include a restaurant, fitness/health centre, sauna, laundry service, safety deposit boxes and Wi-Fi. The hotel is located close to the railway station with the bus for the Terracotta Warriors leaving from across the road.
Day 5: Visit the Terracotta Warriors and Workshop and Calligraphy Class
Accommodation: Grand Soluxe International Hotel
Meals: Breakfast
Today we visit one of China's most famous sights, the Terracotta Army of Emperor Qin Shi Huangdi. Travelling by private bus to the site on the outskirts of Xian, we spend three to four hours exploring the well preserved characters, visiting the three excavated pits that hold, literally, thousands of life-sized archers, soldiers and charioteers. Buried here to guard the tomb of China's first emperor, the Terracotta Army is considered to be one of the greatest archaeological finds of the last century. Before experiencing the site, we visit a workshop close by where we witness the making of smaller versions of the Terracotta figures which gives some idea of the challenge that the Chinese craftsmen had when making the life sizes equivalent. Returning to Xian, we then travel onto the Tang Art Museum where we try our hand at the ancient art of calligraphy which of course is Chinese letter writing - learn how to write your name in this ancient communication style.
Day 6: Morning bullet train to Chengdu. Visit Kuan Zhai alley in Chengdu
Accommodation: Chengdu Furong Hotel
Meals: Breakfast
We take the Xian to Chengdu bullet train to Chengdu, the capital of China's Sichuan Province. The line is one of China's newest state of the art high speed train routes, reducing the journey time from upto 18 hours to around 4 hours. The line opened on 6th December 2017 and has a top speed of 250km/h travelling 658 kilometres in total. Travelling by high speed rail in China is a highly efficient way of covering large distances and offers views of the country you wouldn't get by taking a domestic flight, passing through the central Shaanxi plains with views of the Qinling Mountains and the western edge of the Sichuan Basin. It's also an opportunity to meet with local people along the way. It's possible to purchase food and drinks on board either from the buffet car or from the trolley service. Food on board is usually Chinese style, western food is usually not available. The city of Chengdu once marked the starting point of the old southern Silk Road and can trace its ancestry back over 2,500 years. On arrival we head to the Kuan Zhai district of Chengdu, formed of three main alleyways, the majority of the buildings dating back from the Qing Dynasty (although renovated extensively between 2005 and 2008) with ancient temples which have all been featured in numerous films as part of exterior scenes of period movies.
Day 7: Visit the Panda research centre. Bullet train to Guilin.
Accommodation: Dan Gui Hotel
Meals: Breakfast
Chengdu is home to the world famous Panda Breeding and Research Centre which lies just on the outskirts of the city. This morning we travel directly to the centre to see an animal that has become synonymous with China itself. Home to numerous free roaming Giant Pandas, the ultimate aim of the centre is to reintroduce these rare animals back into the wild in such numbers as to ensure their survival. To that end, the centre has enjoyed an extraordinary level of success with numerous new-born pandas over the past few years. After lunch we head to Chengdu east railway station and board the bullet train to Guilin using the newly opened high speed link. Guilin is China's most picturesque region and its breath-taking scenery has attracted many visitors (and famous poets and artists!) for thousands of years. The city boasts an active nightlife but you can still catch a glimpse of Guilin's yesteryears in the countryside which continues to be home to many ethnic minority groups.
Day 8: Drive to Pingan Village; village walks
Accommodation: Ping An Guesthouse
Meals: Breakfast
The village of Pingan sits perched on the central ridge of the Dragon's Backbone, a visually stunning series of rice terraces that runs along the meandering contours of surrounding hills. Upon arriving at the village, the pace of our trips slows as we take a walk around and meet some of the local Zhuang people and see the unique agricultural feat of engineering that has created this remarkable landscape. Today's walk follows the rice terraces and there are a lot of steps along the route, we can take our time to enjoy the views and with plenty of breaks to rest our legs during the three hour adventure. The guesthouse in Pingan is a small family run hotel set in a wooden style building design. There are fine views of the village and rice terraces from the balcony. The guesthouse provides a excellent location to wander around the surrounding area and discover the local village. The rooms are simple but clean with air conditioning, TV and internet access in the lobby.
Day 9: Full day in rural Pingan village including a walk to meet the local Zhuang people
Accommodation: Ping An Guesthouse
Meals: Breakfast
The Zhuang migrated into this region of China over 5,000 years ago and today represent the largest of the country's minority groups. Skilled in weaving and embroidery, the Zhuang follow a fascinating tradition of beliefs that are deeply rooted in the power of nature. This morning we take a walk for around three hours to another Zhuang village at Longji following a flat path, the afternoon is left free to further explore the villages or relax at our guesthouse.
Day 10: Free morning. Afternoon drive to picturesque town of Yangshou on the banks of the Li River
Accommodation: New Li Jiang Hotel
Meals: Breakfast
Bidding farewell to our guesthouse hosts, we drive on to the small market town of Yangshou this morning. Nestling besides the banks of the Li River, Yangshou lies amongst what many consider to be some of the most scenic landscapes in China set amid towering pinnacles. The hotel in Yangshuo has tastefully decorated rooms with air-conditioning and heating, private bathrooms, radio, TV and phone. It is easy walking distance from the centre and close to the famous Western Street and a local food market that opens in the evening. There is a bar and lounge area, shopping arcade and Chinese and Western Restaurants. The hotel also offers laundry service, safe-deposit box and even shoe shine facility. There is a bank next door for currency exchange.
Day 11: Morning cooking lesson in Yangshou. Fly kites in a local park overlooking the Li River.
Accommodation: New Li Jiang Hotel
Meals: Breakfast, Lunch
We visit a cooking school in the city where the whole family learn how to prepare a number of traditional Chinese dishes using local produce for our lunch today. The afternoon is free to relax and soak up the atmosphere of this beautiful riverside town. Wandering through the town's local market offers a chance to barter for everything from batiks and silk paintings to Chairman Mao's Little Red Book then head of the riverside park alongside the Li River to fly kites. You may want to hire bikes and cycle out into the surrounding countryside, climb to the top of 'Moon Hill' or take a short excursion by bus to the Xianggong Shan mountain view point just outside of Yangshou for some wonderful views across the open plains and out to the distant mountains.
Day 12: Optional cycle ride and raft along the Li River with lunch stop. Overnight sleeper train to Shenzen
Accommodation: Overnight Train from Guilin to Shenzhen
Meals: Breakfast
The morning is left free to further explore Yangshou. For those that wish to, cycle to the docks and take a motorised bamboo raft trip, gently cruising downstream along the Li River. This is the best way to appreciate the beautiful Karst landscapes that Yangshou is so famous for. Returning to dry land, we are reunited with our bikes and cycle to Moon hill where we have lunch with fine views of the surrounding countryside, cycling back to our hotel early afternoon. For details of the cost of this optional activity please refer to the 'budgeting and packing' section of the trip notes. If you decide to try bamboo rafting, we recommend you can swim 25 metres unaided. Late afternoon drive back to Guilin to take an overnight train to Shenzen, just to the north of Hong Kong. A testament to the resurgence of China as a modern world power, Shenzen is one of the country's most successful Special Economic Zones. It is also the end of our journey across mainland China.
Day 13: Cross border into Hong Kong. Free time on arrival
Accommodation: Panda Hotel
On arrival in Shenzen this morning we need to cross the border into Hong Kong by way of the Lu Wu rail connection. This requires us carrying our own bags across the border, where our local Hong Kong guide will be waiting to take us to our hotel, travelling with the locals on the MTR metro system. The rest of the day is then free to relax and enjoy one of Asia's most vibrant cities.
Day 14: Free day in Hong Kong to explore this bustling waterfront city
Accommodation: Panda Hotel
Meals: Breakfast
You are free to take in Kowloon's bustling waterfront today, perhaps taking a trip on the famous Star Ferry to enjoy one of the world's most famous cityscapes from the water. Other options include a ride on Hong Kong's funicular railway to the top of Victoria Peak, where you can enjoy some panoramic views out across the city and the outlying islands. You could also visit the Lam Tsuen Wishing Tree, one of the city's most popular shrines, or take a stroll through the stalls and markets of Li Yuen Street in search of some last minute bargains.
Day 15: Trip ends in Hong Kong
Meals: Breakfast
The trip ends after breakfast at our hotel in Hong Kong. There are no activities planned today, so you are free to depart from Hong Kong at any time. If your flight is departing later in the day luggage storage facilities are available at our hotel. If you would like to receive a complimentary airport transfer today, you need to depart from Hong Kong International airport (airport code HKG), which is 30km, around 30 minutes from the hotel.
What's Included
All Domestic Transportation (including internal flights)

Accommodation

Fully Guided

1 lunch

Meals – Breakfast Only
What's Not Included
Country Entry Visas

Tipping and Gratuities
Why Book this Tour
This adventure is an epic journey across China taking a number of overnight trains and recently opened high speed bullet trains travelling over 250kph to cover the huge distances that are involved. Families who want to really discover a country and don't mind travel around will really enjoy this holiday - plus there are lots of added extras such as flying kites, making a Terracotta statue, visiting a Panda sanctary and a cooking lesson.
Book with Confidence
Low Deposit

Explore! requires a deposit of 10% to secure a place on this tour, and the final balance is not due till 60 days before departure..

Secure payments

All payments to TourHub are deposited into an externally regulated Trust account.
---
Reviews
Family China In Depth
when offered a free extra night for booking early must also offer a free transfer or it almost negates the extra free night!
when offered a free extra night for booking early must also offer a free transfer or it almost negates the extra free night!;
Family China In Depth
Frank was excellent and needs a thank you for handling the Hong Kong information so well
Frank was excellent and needs a thank you for handling the Hong Kong information so well;
Family China In Depth
Overall it was a fabulous trip of a lifetime
Overall it was a fabulous trip of a lifetime ;
Family China In Depth
Best holiday of our lives - we created a family memory that will stay with us forever. Betty was brilliant and Sonny went above and beyond - what more could ....more
Best holiday of our lives - we created a family memory that will stay with us forever.

Betty was brilliant and Sonny went above and beyond - what more could you want; ....less
Travel, Your Way
Good reasons for travelling privately
Personalise your trip

Make changes to the itinerary, accommodation, or transport method

Increased safety during COVID

Spend the majority of time amongst your group to reduce exposure to others

Travel more exclusively

Your tour guide can focus all their attention on your group

Travel for a special occasion

Celebrate an important event by only travelling with your friends or family
Learn more
Dates & Availability