Family Cruising the Turquoise Coast
Start: Fethiye Finish: Fethiye
Visiting:
Fethiye
,
Kas
,
Acropolis
---
---
Duration: 7 Nights
Physical rating: Low, Relaxed
Special diets catered: Vegetarians, Vegans, Meat
Tour Operator: Explore!
Group size: 4 - 20
Age range: Family 7 - 17 Years
Tour operated in: English
---
Tour Overview
Sailing on a traditional gulet, explore the legendary shoreline of the ancient kingdom of Lycia, known as the Turquoise Coast for its shimmering crystal clear waters. Along the way snorkel in secluded coves and discover uninhabited islands wandering through Roman ruins. Enjoy an easy going week where you can do as much or as little as you want.
Highlights
Swimming and snorkelling - In quiet coves, straight from the boat and Iztuzu beach
Kekova - Discover this stunning bay with its white washed villages, sunken ruins and medieval castle
Sailing on a traditional style wooden gulet - Seven nights cruising along the beautiful shoreline of the Turkey's Turquoise Coast
Itinerary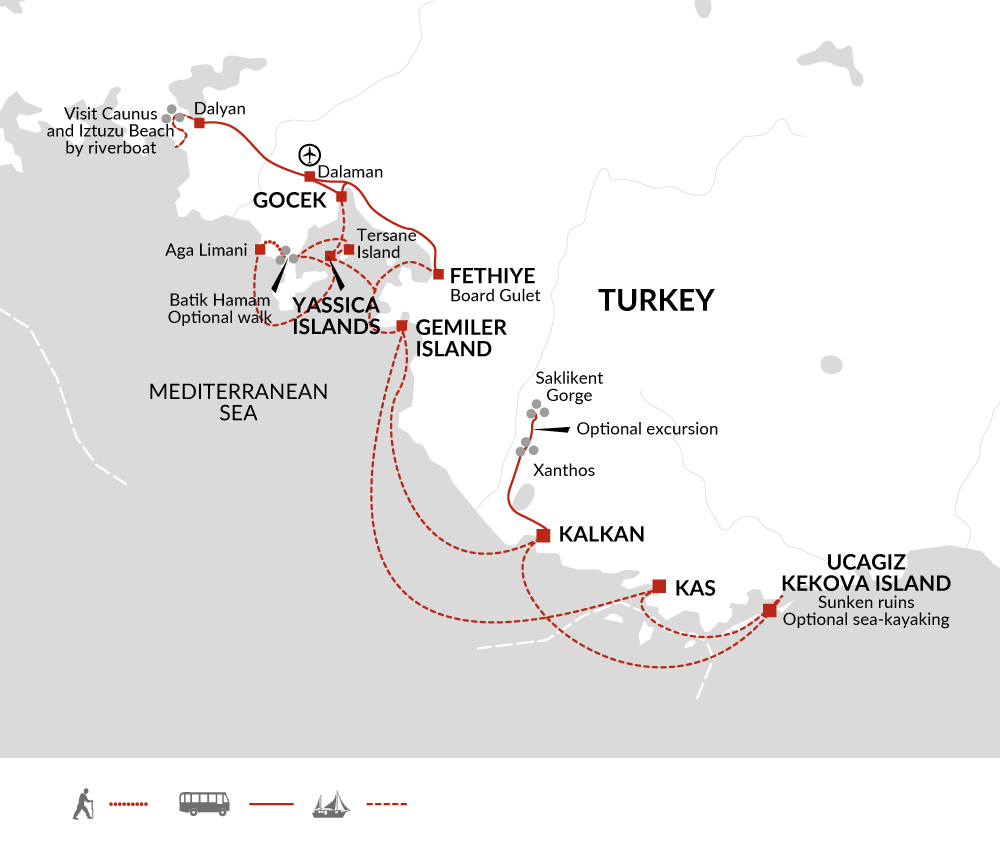 Day 1: Join trip Fethiye
Location: Fethiye
Accommodation: Gulet Sailing Boat
Meals: Dinner
Arrive in Fethiye, a lively market town that can trace its history back to the ancient Lycian town of Telmessos built around the harbour in the 5th or 6th century B.C. For those arriving on time our Leader plans to meet you at gates of Fethiye harbour at 4pm to escort you to our boat. Your skipper and local leader will conduct the initial tour briefing on board. Should you miss the meeting, your leader will inform you of any essential information as soon as you catch up. If you would like to receive a complimentary airport transfer today, you'll need to arrive into Dalaman International Airport (airport code DLM), which is 50km, around 1 hour from the port. We spend our first night in the harbour, dinner is served around 8pm. If your flight arrives earlier in the day, perhaps you might choose to head into Fethiye. There are several restaurants and shops within walking distance of the harbour and an extensive lively market selling local produce, spices and Turkish delight off Pursahbey Street, 20 minutes' walk away.
Day 2: Riverboat to Caunus; gulet to Yassica Island
Accommodation: Boat
After a short transfer to the sleepy village of Dalyan we board our riverboat. We first head upriver to the therapeutic mudbaths of Ilica and then meander downstream, weaving through reed beds rich in bird life. We pass cliffs carved with dramatic Necropolis tombs before coming to the ruins of the ancient seaport of Caunus. Much of the site is overgrown, but the fine Hellenistic theatre is well preserved and the views from the fortified acropolis are breathtaking. Looking south to the Aegean 5 kms away it is hard to imagine that Caunus was once a thriving port, but fell into decline when the harbour silted up. Continuing by riverboat we reach Iztuzu Beach, a wide spit of white sand lapped on one side by the Aegean and on the other side by the fresh waters of the Koycegiz River. This is one of the few remaining nesting places of Caretta caretta, the loggerhead turtle. Development at Iztuzu has been banned and an overnight curfew is placed on the beach, as this is when the female turtles come ashore to lay their eggs. Having paused to swim we transfer back to Gocek and board our gulet. We enjoy lunch aboard whilst sailing south to our first overnight mooring at the tranquil cove at Yassica Island.
Day 3: Sail to Gemiler Island via Tersane and Batik Hammam
Accommodation: Boat
After an optional walk on Yassica Island, we make the short crossing to Tersane Island. Formerly the site of a prosperous Greek village, Tersane is now deserted. Among the remains are a watchtower and some tombs, all of which are now ruined but well preserved. From here we continue to Batik Hammam where we will have the opportunity to swim in the beautiful clear waters. We finish our day heading towards our next night stop at Gemiler Island.
Day 4: Cruise to Kalkan; optional visit to Xanthos and Saklikent Gorge
Accommodation: Boat
We make an early start to sail to Kalkan, an attractive village built into the steep seacliff. Kalkan is an ideal base from which to visit the ancient city of Xanthos as well as Saklikent Gorge which is a short drive away. Xanthos was the capital of ancient Lycia, captured by Brutus in 43BC, but only after the menfolk had killed all their women and children to save them from falling into Roman hands. Saklikent Gorge, which means Hidden Place, is situated high in the mountains above Fethiye and was created by icy cold water cutting through the mountains over thousands of years. A natural wonder, the resulting canyon is 300 metres deep and 18 km long. The walls are so high they cut out most of the sunlight and the fresh spring waters that flow through are freezing cold! A great refuge on a hot summer day.
Day 5: Sail to Kekova
Accommodation: Boat
After sailing to one of the loveliest stretches of coastline from Kalkan eastwards towards the sheltered bay of Kekova, we then drop anchor and once again have the chance to venture onshore to discover the ancient heritage of the Lycian Coast.
Day 6: Optional Sea-Kayaking; sail to Kas
Accommodation: Boat
This morning there is the chance to try out sea-kayaking in the calm, protected waters of the bay of Kekova. Here we find the so called Sunken City of Kekova which is partly submerged within the bay with its streets and buildings being visible in the crystal clear waters. Later we paddle to the picturesque whitewashed village of Simena, whose harbour is dotted with ancient sarcophagi (tombs) and whose houses cling to the hillside beneath a medieval castle. Hiking up to the castle, we find an ancient theatre that is carved out from the solid rock - a wonderful place to sit and soak up the beautiful surroundings and wonder about the layers of history that are all about. In the afternoon, we make our final gulet journey, sailing west to the pleasant little harbour town of Kas. This attractive port is one of the most beautiful of the Turkish Riviera, backed by steep cliffs covered with dense green forest. You'll have time to enjoy the atmosphere at one of the many lively cafes near the harbour.
Day 7: Westward sail towards Fethiye
Accommodation: Boat
Today we cruise at a leisurely pace, returning westwards towards Fethiye. Stopping en route for swimming opportunities, we eventually moor up around an hour from Fethiye in a quiet bay.
Day 8: Trip ends Fethiye
The trip ends after breakfast in Fethiye harbour. There are no activities planned today, so you are free to depart from Fethiye harbour at any time. If your flight is departing later in the day it will be possible to leave your baggage either on board the boat or at the boat office in Fethiye. Please speak to your Tour Leader or the boat captain to make the necessary arrangements. If you would like to receive a complimentary airport transfer today, you need to depart from Dalaman International Airport (airport code DLM), which is 50km, around 90 minutes from the port.
What's Included
All Domestic Transportation (including internal flights)

6 lunches

7 dinners

Accommodation

Meals – Breakfast Only

Fully Guided
What's Not Included
Country Entry Visas

Tipping and Gratuities
Why Book this Tour
A relaxing holiday and at a great price with most elements all included. We sail along the Turkish coast with stops off at historic ruins, have the option to kayak and walk amonst the history of the country. Our vessel is the gulet boat, a traditional Turkish vessel that is now used for cruises along the coastal treats of this great country.
Book with Confidence
Low Deposit

Explore! requires a deposit of 10% to secure a place on this tour, and the final balance is not due till 60 days before departure..

Secure payments

All payments to TourHub are deposited into an externally regulated Trust account.
---
Travel, Your Way
Good reasons for travelling privately
Personalise your trip

Make changes to the itinerary, accommodation, or transport method

Increased safety during COVID

Spend the majority of time amongst your group to reduce exposure to others

Travel more exclusively

Your tour guide can focus all their attention on your group

Travel for a special occasion

Celebrate an important event by only travelling with your friends or family
Learn more