Family Nicaragua Multi-Activity Adventure
Start: Managua Finish: Managua
Visiting:
Managua
,
San Jose
,
Ometepe
,
Leon
,
Granada
---
---
Duration: 14 Nights
Physical rating: Medium, Moderate
Special diets catered: Vegetarians, Meat, Vegans
Tour Operator: Explore!
Group size: 4 - 20
Age range: 7-99
Tour operated in: English
---
Tour Overview
From zip-wiring through tree-top canopies to climbing an active volcano, Nicaragua is a wonderful destination for a family adventure. We search for crocodiles in mangrove-lined forests, track monkeys in Chocoyero El Brujo National Park and kayak on Lake Nicaragua. We also visit a local kids charity, surf some waves and stay on a volcanic island before relaxing on the golden beaches of the Caribbean Sea.
Highlights
Kayaking | Meander amongst the tropical islands of Las Isletas on Lake Nicaragua.
Volcanoes | Summit Cerro Negro Volcano and stay on Ometepe, a volcanic island
Cloud forest | Exhilarating zip wire course through the trees at Mombacho
Itinerary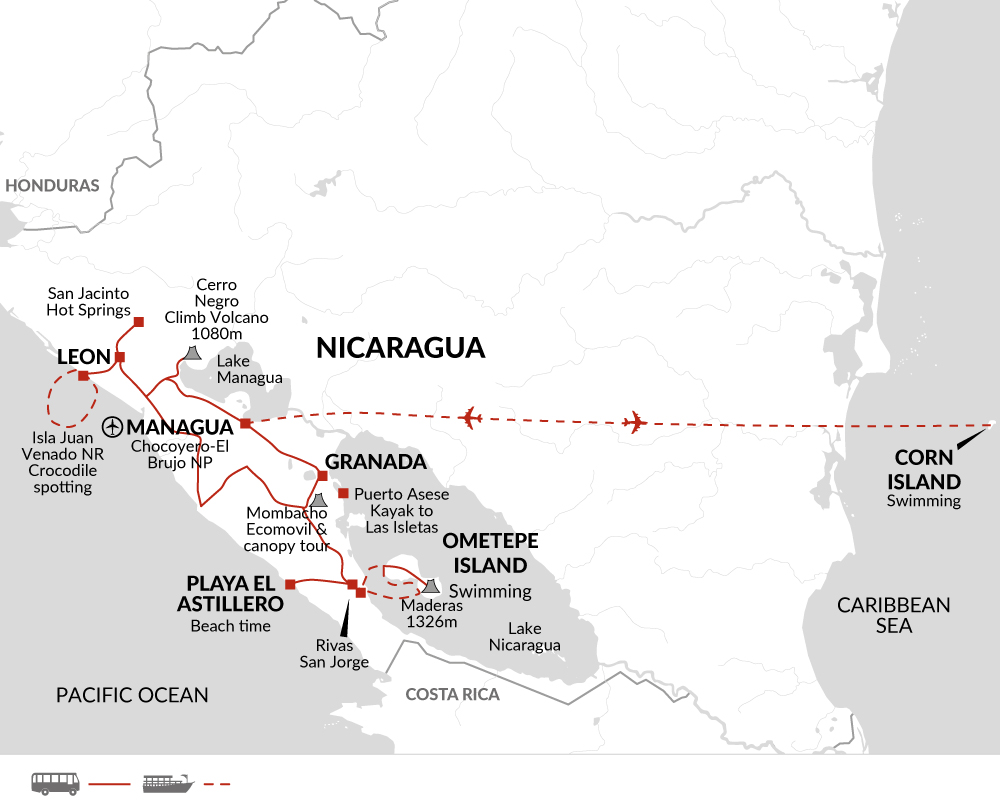 Day 1: Join trip in Managua
Location: Managua
Accommodation: Hotel, Las Mercedes
Meals: No Meals
Arrive in Managua, known for its volcano and lakes which surround the city and its lively markets. Due to the number of evening flights into Managua, your Tour Leader plans to do the welcome meeting on the morning on Day 2 and will leave a message in reception with details on timings and everything else that you'll need for the day. There are no other activities planned today, so you are free to arrive in Managua at any time. If you would like to receive a complimentary airport shuttle transfer today, you'll need to arrive into Augusto C. Sandino International Airport (MGA), which is opposite our hotel, around 2 minutes' drive. If your flight arrives earlier in the day, perhaps you might choose to book a Managua city tour. This fascinating city tour around Nicaragua's enigmatic capital begins with a visit to the Tiscapa Crater Lake, where you can take in the superb view over the surprisingly green city. The tour continues to the old city where you will visit the national museum and discover some of the classic early buildings that survived the massive earthquake in 1972. Then, the trip will lead you through the colourful and authentic Roberto Huembes market. After which the tour winds up at the city's lakefront, a perfect place for a refreshing beverage and a walk.
Day 2: Drive to Leon via the Reserve Juan Venado; afternoon boat tour
Accommodation: La Posada del Doctor
Meals: Breakfast, Lunch
Leaving Managua behind, we head first to Mirador Tiscapa, which overlooks a volcanic crater lake that is more than 10,000 years old. Before the revolution, the hill was home to the old presidential palace and it provides some superb views down across the city. We follow the Pacific coast to our lunch stop and continue on to the Natural Reserve Isla Juan Venado, located just to the south of the golden beaches of Las Peñitas. A boat trip takes us out to the island reserve, a haven for caymans, iguanas, crocodiles and birds. It is also a favoured nesting area for the Olive Ridley sea turtles, which come here between August and December each year to lay their eggs. We drive in the afternoon to the old colonial capital of Leon, which lies in the shadow of the Cordillera de los Maribios Mountains.
Day 3: Morning climb on an active volcano, visit San Jacinto volcanic fumaroles.
Accommodation: La Posada del Doctor
Meals: Breakfast
After breakfast this morning we climb the youngest volcano in Central America, the basal-tic cinder cone of Cerro Negro (Black Hill). Occupying part of the Cordillera de los Maribios mountain range to the east of the city, it rises to a height of 728 metres. We climb its gravelly slopes to the summit allowing views of the stunning panoramas across the surrounding landscapes. On the descent you can run, jump or roll down the sandy ash! Returning to León there will then be time for a short siesta, before visiting the volcanic fumaroles at San Jacinto known for its boiling mud pools, brightly coloured mineral pools and dramatic steam vents. On our way back to Leon we make a visit to CIMAC - an educational park dedicated to reforestation work in the colonial city of Leon and beyond. A trail has been constructed at the center which allows visitors to experience the four ecosystems of Nicaragua. We start by crossing through a tropical dry forest, moving to a tropical rain forest, a riverbed forest and finally a savannah forest.
Day 4: Morning city tour of the colonial city of Leon. Drive to Playa El Astillero, free afternoon on the beach.
Accommodation: Hotel Hamacas
Meals: Breakfast, Lunch, Dinner
We will start this morning with a tour of the colonial city of Leon. Still considered the intellectual centre of Nicaragua, the old buildings, with their wrought iron balconies and the arched colonnades along with narrow streets, all give the city a certain elegant serenity that seems to been frozen in time. The city's huge cathedral is believed to be the largest in Central America and a climb up to its roof affords some spectacular views across the city and out towards the volcanoes in the distance. We also visit the entertaining and illuminating Museum of Legends and Traditions located in a once infamous prison, today the cells are occupied with mannequins that illustrate some 14 different myths and legends. After this we will continue to Playa El Astillero. Arriving around midday we check into our lodge, after which the rest of the afternoon is free.
Day 5: Morning surfing lesson, rest of the day is free at Playa El Astillero. Optional trip to see turtles on Chacocente beach.
Accommodation: Hotel Hamacas
Meals: Breakfast, Lunch, Dinner
This morning we have a included surfing lessons with a qualified instructor. The area of water closest to the lodge is ideal for those with little or no experience of surfing and each lesson last about an hour. The rest of the day is free day to hit the beach, or perhaps enjoy some more surfing or visit Chacocente beach which has an extensive wildlife reserve where more than 3,000 nesting turtles make their nests between July and December each year. Hawksbill, green and leatherback as well Olive ridley turtles all come ashore to nest with peak activity around August. Please see the budgeting section for more details.
Day 6: Drive to San Jorge, ferry to Ometepe Island
Accommodation: Hotel Charco Verde
Meals: Breakfast, Lunch
We head inland this morning towards the expansive shores of Lake Nicaragua and the island of Ometepe. We drive to the town of Rivas for lunch, we then continue the short distance to San Jorge, where we take the ferry across to the island. Ometepe is made up of two volcanoes connected by an isthmus - its name comes from the Nahuati language and means 'two hills'. The perfect cone of the Concepción volcano soars from the depths of Lake Nicaragua to 1610m, only just dwarfing the neighbouring Maderas volcano at 1394m. On arrival to the island we transfer to Charco Verde for the next two nights. We take the time to stop off at some famous pre-Colombian petroglyphs that were left behind by the island's previous inhabitants countless centuries ago.
Day 7: On Ometepe Island - visit Charco Verde farm and swim
Accommodation: Hotel Charco Verde
Meals: Breakfast
This morning we start our day with a short walk from Charco Verde around the Lagoon. On the walk we will hopefully get the opportunity to see some reserves bird life such as the great egret, cormorants, woodpeckers and night herons. Following this we will transfer to the foot of the Maderas volcano to Finca Magdalena, where we will have a brief stop at the famous pre-Colombian petroglyphs that were left behind by the island's previous inhabitants countless centuries ago a popular place known for its organic farming processes. Finca Magdalena, is home to the Cooperativa Carlos Díaz Cajina, an agricultural cooperative, which consists of 24 members and their families all living and working close by and one of the residence will show us how the local produce is made including organic coffee, beans and vegetables. After this visit we will head to Playa Santo Domingo where we will have lunch before heading to 'Ojo de Agua' a natural water pool where we can swim and relax for the rest of the afternoon.
Day 8: Drive to Granada via the Mombacho Volcano and a canopy tour on zip-wire
Accommodation: Hotel El Almirante
Meals: Breakfast, Lunch
Heading back to the ferry port on the outskirts of San Jose del Sur, we cross back to the mainland this morning, from where we drive to the Mombacho Volcano, one of the most distinctive landmarks anywhere in the country. We drive to the top, snaking our way up a steep slope and past fields of coffee plants as we make our way up in to the cloud forest. The views from up here can be spectacular and we might even catch a glimpse of Granada and Las Isletas far below. After learning something about the unique flora and fauna of the cloud forest you have a chance to glide through the lush forest on a canopy tour, zipping through the trees on a wire harness as the base of the volcanic craters. After this adrenaline filled adventure we then journey north, towards the lovely city of Granada.
Day 9: Discover Granada, visiting the lively market at Masaya
Accommodation: Hotel El Almirante
Meals: Breakfast, Lunch
Atmospheric Granada is a colonial gem, situated at the foot of Mombacho volcano on the north-west shore of Lake Nicaragua. Founded in 1524, it was the first colonial city in Nicaragua and its magnificent setting, set off by baroque and renaissance buildings, is a pure visual delight. We plan a city tour on foot this morning, visiting some of the city's most beautiful colonial buildings and learning more of its fascinating history. Granada is the perfect city to explore on foot, wandering the narrow lanes and alleyways and discovering its hidden delights amongst the lush greenery and historic buildings. After lunch we visit the popular Masaya market, a major centre for arts and crafts, where you can throw yourself into the hustle and bustle and barter from everything from baskets and pottery to jewellery and leather work. Later we visit the tranquil setting of the Masaya Volcano National Park, where you can peer into the bowels of this smoking, belching giant before returning to Granada for our second evening.
Day 10: Cycle to Cabana Amarilla, kayak around Las Isletas, visit a chocolate factory and make your own chocolate bar
Accommodation: Hotel El Almirante
Meals: Breakfast, Lunch
Cabana Amarilla lies just 6 kilometres from Granada, making it an ideal destination this morning to head to on bikes. From here we take to the waters of Lake Nicaragua in kayaks, spending the morning paddling through some of the myriad of islands and inlets that pepper this coastline. Beautifully lush, these 365 tropical islets that occupy this vast expanse of water are a magnet for the local birdlife and we'll have time to linger and enjoy this most tranquil of settings before taking lunch on one of the islands. On our return to Granada we will visit the Chocolate Museum in Granada where we can see some of the famous cacao beans being turned into a range of organic chocolate. The Museum is located in a wonderful 5-patio mansion in the historic centre. You will participate in a workshop where you will learn the history of the Cacao bean and its use as well as all the processes required to make chocolate from the fermented organic cacao beans. You will learn how to roast, winnow and grind the beans as well as how to refine chocolate liquor. Finally you will have the opportunity to mould your own handmade Nicaraguan chocolate bar that you can take home with you.
Day 11: Fly to the Caribbean and Corn Island
Accommodation: Casa Canada
Meals: Breakfast
Transferring to Managua Airport this morning we fly east, across rainforests and the Caribbean to the remote landscapes of Corn Island. On arrival we will check in to our hotel, after which the rest of the day is free to enjoy at your leisure. Corn Island is blessed with three miles of white sandy beach and its crystal clear waters present a slice of turquoise paradise, so we can recommend an afternoon dip in the Caribbean. Please note that there is a weight limit of 11kg per person on the flight to Corn Island and you can leave any excess luggage on the mainland where you can collect it on your return.
Day 12: On Corn Island; swimming and relaxing
Accommodation: Casa Canada
Meals: Breakfast
Lying 70 km off Nicaragua's mainland, Corn Island was once a British Protectorate and English is still widely spoken amongst the local people. Completely different from anywhere else in Nicaragua, the Caribbean islands and coast are largely inhabited by a mix of Creole people of mixed black heritage and Spanish speaking Mestizos, making it a fascinating mix of cultures and traditions. With two days to explore and play, the island is very much yours to enjoy.
Day 13: On Corn Island with time to relax on the sandy beaches
Accommodation: Casa Canada
Meals: Breakfast
You can take a walk around the island, sit under a coconut palm tree or snorkel amongst tropical fish on the reef. Nearby Little Corn Island and its palm fringed beach is easily accessible by boat, so why not take a trip across to explore. In the evenings you can try some fresh lobster or prawns at one of the local restaurants and just sit back and enjoy the laid-back charm of the Caribbean.
Day 14: Fly to Managua with afternoon visit a Natural Reserve
Accommodation: Las Mercedes Hotel
Meals: Breakfast
This morning we take the flight back to Managua, and spend the afternoon visiting the Chocoyo-El Brujo Natural Reserve - a protected area where we will hopefully have a chance to see monkeys and several species of birds. These dry tropical forests are home to monkey and a vast array of birds, including the wonderfully brilliant green parakeets. Later this afternoon we drive to our hotel close to the airport.
Day 15: Trip ends in Managua
Meals: Breakfast
The trip ends after breakfast at our hotel in Managua. There are no activities planned today, so you are free to depart from Managua at any time. If your flight is departing later in the day luggage storage facilities are available at our hotel. If you would like to receive a complimentary airport shuttle transfer today, you need to depart from Managua's Augusto C. Sandino International Airport (airport code MGA), which is a 2 minute drive from our hotel.
What's Included
Meals – Breakfast Only

Fully Guided

Accommodation

All Domestic Transportation (including internal flights)
What's Not Included
Tipping and Gratuities

Country Entry Visas
Why Book this Tour
Nicaragua offers an amazing and unusual family destination that you will remember for a long time. Lots of activities and adventures, coupled with wildlife exploration, this family adventure is a good choice for those who enjoy discovering new destinations.
Book with Confidence
Low Deposit

Explore! requires a deposit of 10% to secure a place on this tour, and the final balance is not due till 60 days before departure..

Secure payments

All payments to TourHub are deposited into an externally regulated Trust account.
---
Travel, Your Way
Good reasons for travelling privately
Personalise your trip

Make changes to the itinerary, accommodation, or transport method

Increased safety during COVID

Spend the majority of time amongst your group to reduce exposure to others

Travel more exclusively

Your tour guide can focus all their attention on your group

Travel for a special occasion

Celebrate an important event by only travelling with your friends or family
Learn more