Tour Overview
Explore Sardinia's remote Costa Verde by bike. Along the way you will see breath-taking views of the crystal clear Sardinian sea. Discover ancient abandoned mines and roman ruins near Pula. End with a stunning cycle along the 'Costa del Sud' to vibrant Cagliari.

Carloforte Island - Home of the last working Tuna catch 'Tonnara' of the Mediterranean

Sardinian food and wine - Try Carignano del Sulcis and Vermentino local wines; pecorino sardo cheese and 'malloreddus' pasta

Beaches - Vast unspoilt beaches with inviting crystal waters such as Piscinas beach

Highlights
Cycle Sardinia - Pedalling the wild Costa Verde with breath-taking views
Carloforte Island - Home of the last working Tuna catch 'Tonnara' of the Mediterranean
Sardinian food and wine - Try Carignano del Sulcis and Vermentino local wines; pecorino sardo cheese and 'malloreddus'pasta
Costa del Sud - Cycle the stunning southern coastal route to Pula
Ancient sites - Roman site at Pula and abandoned mines near Montevecchio
Beaches - vast unspoilt beaches with inviting crystal waters such as Piscinas beach
Itinerary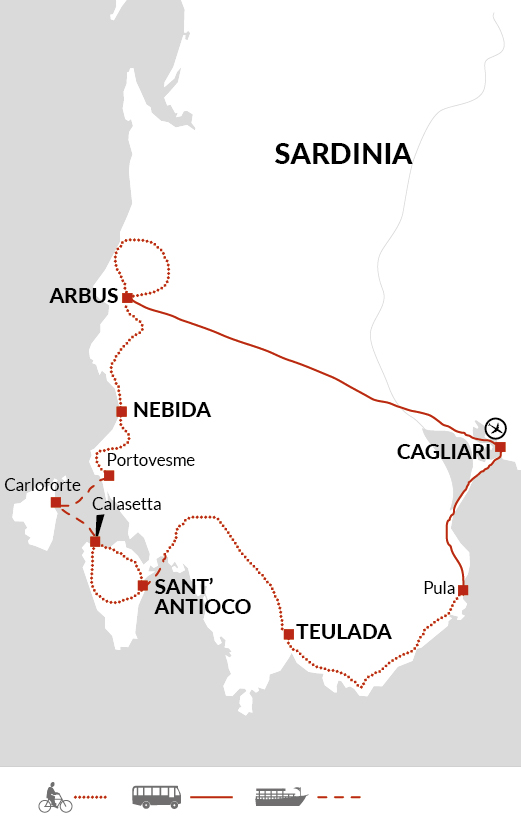 Day 1: Holiday starts in Arbus
Accommodation: Agriturismo Rocce Bianche
Meals: Dinner
On arrival at San Gavino Monreale train station, you will be transferred driven to Arbus and check into the agriturismo, your base for two nights located a few kilometres outside of Arbus town. Arbus is well known locally for the production of the l'Arburese knife and there is a museum in town dedicated to it for those interested. Alternatively you may just choose to relax at the agriturismo. No cycling today. We are able to provide private transfers from Cagliari Airport (CAG) at an additional cost. Please contact our self-guided team for further information.
Day 2: Circular ride via Piscinas beach and an abandoned ancient mine
Accommodation: Agriturismo Rocce Bianche
Meals: Breakfast, Dinner
The first ride starts with a panoramic road through a cork oak forest to Arbus, then pedal up to the old mining village of Montevecchio where you can visit the abandoned mine site (not included). There are four different tours and take about 45 minutes each. After the visit you continue cycling along a wild and scenic Mediterranean 'macchia' route, finally descending to the sea. Here a short deviation takes you to one of the most extended desert area of Europe - Piscinas beach. After a rest stop you cycle uphill through the almost abandoned mining village of Ingurtosu on your route back to Arbus. Total cycling distance today is approximately 53 kilometres (1070 metres total accumulated ascent and descent).
Day 3: Long descent to Portixeddu; ride past Sugar Loaf cliff to Nebida
Accommodation: Pedra Rubia
Meals: Breakfast
Today's ride starts with a long winding downhill to Portixeddu, one of the favourite spots for local surfers. Here you can take a break for some good coffee before starting the climb to Buggerru, where a system of tunnels were used to transfer minerals from the mines to the port. Further on you can enjoy great views of the Pan di Zucchero (Sugar Loaf) cliff and the Masua mines. The ride ends in the village of Nebida where you spend the night. Total cycling distance today is approximately 40 kilometres (758 metres total accumulated ascent and 1047 metres descent).
Day 4: Discover San Pietro Island and continue to Sant' Antioco Island
Accommodation: Il Sentiero B&Bio
Meals: Breakfast
Todays ride starts with a gentle 25 km to the port of Portovesme, where you take the ferry to the Island of San Pietro. Upon docking at Carloforte harbour you may soon start noticing the different accent the Carlofortini have - in fact they have Genoese roots and speak a different dialect from the rest of the Sardinians. It is here in the last week of May that Italy's last remaining 'tonnara' operates as a system of nets is used to catch the Tuna. They also have a culinary festival at the same time. After a short visit take another ferry, this time to Calasetta, on Sant'Antioco Island - home to some excellent wines (from the local Carignano del Sulcis vine). The Sulcis region is known for the Carignano vine that can live with very little rainfall and is stunted by strong winds to no more than a foot high. Many local families still have a little vineyard to produce it and after a sip you know why they still make it! The last section of the ride is around 12km on the flat to Sant' Antioco town. Total cycling distance today is approximately 37 kilometres (305 metres total accumulated ascent and 445 metres descent)
Day 5: Circular ride around Sant'Antioco Island
Accommodation: Il Sentiero B&Bio
Meals: Breakfast
You can choose to kick back and relax today or take a cycle ride around the island. Our suggested route makes its way around the island, with stops at various inlets for a break or picnic. Other options include taking a fishing boat excursion or just to relax on the beach. Total cycling distance today is approximately 40 kilometres (380 metres total accumulated ascent and 380 metres descent) (optional).
Day 6: Return to the main island and cycle to Teulada via Zuddas cave
Accommodation: Hotel Jasmine
Meals: Breakfast
This morning you ride back to the main island of Sardinia. Leaving S. Antioco there is a section of about 2km where you have to ride on the busier main road before turning onto quieter secondary roads. The first stop on today's ride is at the village of Tratalias, with its Romanesque church dedicated to Santa Maria di Montserrat. After the village of Santadi, you pass by the stunning caves of Zuddas where you have the option to visit. Finally a ride along a quiet road leads you to Teulada, your final destination for today, famous for terracotta pipes and highly refined embroidery. Total cycling distance today is approximately 50 kilometres (517 metres total accumulated ascent and 467 metres descent
Day 7: Breathtaking Costa del Sud ride to Pula. Bus to Cagliari
Accommodation: Hotel Due Colonne
Meals: Breakfast
The final ride is a must for cyclists! The Costa del Sud is an incessant repetition of ups and downs with breath-taking views over the coast and the sea, with occasional watchtowers and beautiful inlets. There are several places to stop and swim in the crystal clear water. The final stop is in the lively town of Pula from where you catch the local bus to Cagliari, which takes about one hour. With such little time in this city you may choose to extend your stay beyond tonight. Total cycling distance today is approximately 49 kilometres (545 metres total accumulated ascent and 589 metres descent)
Day 8: Holiday ends in Cagliari
Meals: Breakfast
After breakfast, the organised part of your holiday comes to an end. We are ubable to provide private transfers to Cagliari Airport (CAG) . Public transport options are also available.
What's Included
Meals

Breakfasts:7 Dinners:2

Accommodation

Comfortable
Book with Confidence
Low Deposit

Explore! requires a deposit of 10% to secure a place on this tour, and the final balance is not due till 60 days before departure..

Secure payments

All payments to TourHub are deposited into an externally regulated Trust account.
---