Self-Guided Gran Canaria
Start: Aguimes Finish: Puerto de las Nieves
Visiting:
Spain
,
Canary Islands
---
---
Duration: 7 Nights
Physical rating: Low, Medium, Moderate
Special diets catered: Vegans, Meat, Vegetarians
Tour Operator: Explore!
Group size: 1 - 16
Age range: Adult
Tour operated in: English
---
Tour Overview
Discover great walking trails on this self-guided walking holiday to Gran Canaria. This journey takes you from the east to the west of the island through dramatic and varied volcanic landscapes, often on the classic paths, the 'Caminos Reales'. Hike through Guayadeque Gorge, to the summit of the island's highest peak - Pico de la Nieves (1949m), and around the distinctive landmark of Roque Nublo as you explore the island.
Highlights
Volcanic scenery - Caldera, ravines and mountain ridges
Ascend Gran Canaria's highest peak - Pico de las Nieves
Historic trails - Follow 'camino reales' and ancient paths between hillside villages
Places You'll See
Countries:
Itinerary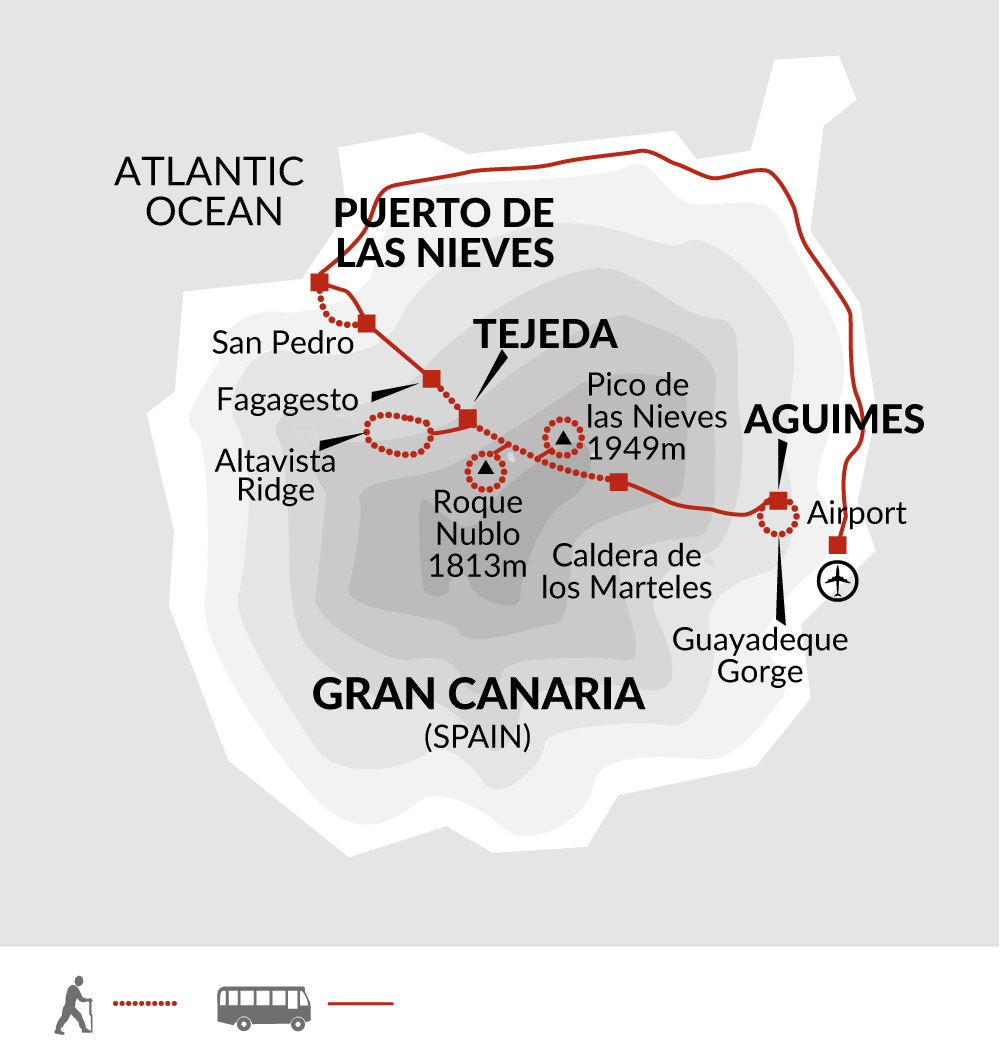 Day 1: Trip starts at Gran Canaria Airport. Taxi to Aguimes
Accommodation: Hotel
Upon your arrival at Gran Canaria Airport (LPA), you will be driven to Aguimes on the south-eastern part of the island, where you'll spend the next two nights. The rest of the day is free to relax, perhaps taking a short wander through the medieval streets of the small old town before dinner. We are currently working on two alternative routes that will replace day 4 (Altavista Ridge) & day 6 (Tejeda - Fagajesto). These are the areas which are the most affected by the recent fires (Updated October 2019).
Day 2: Discover the natural beauty of Guayadeque gorge
Accommodation: Hotel
After breakfast, today starts with a transfer to the start of the trail. You'll spend today amongst the towering cliffs of the Guayadeque gorge, the largest ravine in the Canary Islands. Home to many endemic species, some say this hidden gem is one of the most beautiful places on the island. The gorge was also home to the first inhabitants of the Canary Islands and you can still see the remains of their cave houses along the way. Today's walk is 11.5 kilometres long and should take around 4.5-5 hours. Total ascent is 400 metres and descent 820 metres.
Day 3: Climb to the summit of Gran Canaria's highest peak
Accommodation: Hotel
Depending on how energetic you're feeling and how much distance you'd like to cover, you have a choice of three start points for today's route, all with the aim of reaching the top of Gran Canaria's highest peak, Pico de las Nieves. At 1,949 metres high the views from the summit are incredible. It can often be cold and misty at the top but if the weather is good, you will be able to see over the surrounding mountains and maybe even as far as the neighbouring Canary Islands: Lanzarote, Tenerife and La Gomera. As you begin to descend, your final destination is the village of Tejeda, where you will spend the next three nights, set amongst the mountains of central Gran Canaria. Today's walk is 19 or 11 kilometres long with 450, or 50 metres of ascent and 900 metres of descent; the longest route should take around 7 hours, the shortest should take around 4 hours.
Day 4: Circular walk from Tejeda to Roque Bentayga
Accommodation: Hotel
Today's walk is an easy route leading to the UNESCO heritage site of Roque Bentayga. Your route starts and ends in Tejeda, so no transfers are required. Leaving your hotel, first you walk down into the Barranco de Tejeda then back up a zigzag path to the road to Roque Bentayga. Next, if you choose, you do an optional section on tarmac to reach the visitors\ centre. The next part follows a narrow footpath along the ridge to the vista point at Cruz de Timagada, and the last section takes you through two small villages on your way back down to Tejeda. Today's walk is either 10 kilometres taking approximately 5 hours with 700 metres of ascent and descent, or 14.5 kilometres taking approximately 6.5 hours with 900 metres of ascent and descent. After the walk, you'll have time to visit the Spice Centre in Tejeda for an insight into the traditional use of medicinal plants on the island. There's a botanical garden and laboratory, and you'll have the option of sampling different spices. Tejeda also has a small museum and cultural centre with ongoing exhibits. This evening,, enjoy the sunset from the hotel (roof-top) terrace, with the silhouette of Bentayga Peak in the background.
Day 5: Walk to Roque Nublo; forests and ravines
Accommodation: Hotel
Starting directly from the hotel, today's route traverses the gorgeously steep terrain around Roque Nublo, a rocky outcrop teetering on the edge of a plateau. This may not be the highest peak on the island but it is certainly the most easily identifiable, as it's visible from almost anywhere on the island. After a kilometre the tarmac gives way to steep paths which zigzag up towards Roque Nublo. The peak's volcanic origins become evident higher up and you gaze hundreds of meters down steeply eroded ravines. Descend through a peaceful pine forest to reach a col from where you can catch a bus back to Tejeda or continue on foot to the village. Todays walk is 12 kilometres long, with 800 metres of ascent and 400 metres of descent, and should take around 5.5 hours. If you feel like walking further, you have the option of continuing down along the old Camino Real back to the village. This adds 2 hours and 8km to your walk, with 400 metres extra in descent, 75 metres extra in ascent.
Day 6: Circular walk from Firgas
Accommodation: Hotel
Leaving Tejeda behind today, the next and final destination is Agaete on the north west coast of Gran Canaria, where you'll spend your final two nights. On your way there, you will do a spectacular route in the Barranco de Aumartel. A taxi transfer takes you to the start of the walk, a route which leads down into the gorge then along an adventurous traverse with a bit of scrambling (there's an optional shortcut to avoid this section, if you wish). The last section circles back up to Firgas, where you'll be met for the transfer to your next hotel. The walk today is 12.5 kilometres and takes approximately 6.5 hours. Total ascent is 1000 metres and descent 850 metres.
Day 7: Walk along the Camino Real above Agaete Valley
Accommodation: Hotel
A taxi will take will take you to the village of San Pedro for the start of today's walk along the Camino Real. Ascending to the top of Montana Bibique (645m), a rugged outcrop at the top of steep cliffs, you'll have fabulous views over the Agaete Valley. From here you may wish to walk further on to Mirador Vuelta de la Paloma at 850 metres, which adds an extra 5 kilometres to the route. Alternatively you can continue along a narrow gravel path back down to Puerto de las Nieves and your hotel. Today's final walk is 9 kilometres and takes approximately 4.5 hours. The total ascent is 630 metres and descent is 650 metres. The additional walk via the view point is an extra 7 kilometres which adds an additional ascent and descent of 60 metres and takes approximately another 2 hours.
Day 8: Trip ends at Gran Canaria Airport
Today a taxi will pick you up and take you to Gran Canaria Airport (LPA), where the trip ends. If you do not require this transfer, please do let our self-guided team know.
What's Included
Meals – Breakfast Only

Accommodation
What's Not Included
Country Entry Visas
Book with Confidence
Low Deposit

Explore! requires a deposit of 10% to secure a place on this tour, and the final balance is not due till 60 days before departure..

Secure payments

All payments to TourHub are deposited into an externally regulated Trust account.
---
Travel, Your Way
Good reasons for travelling privately
Personalise your trip

Make changes to the itinerary, accommodation, or transport method

Increased safety during COVID

Spend the majority of time amongst your group to reduce exposure to others

Travel more exclusively

Your tour guide can focus all their attention on your group

Travel for a special occasion

Celebrate an important event by only travelling with your friends or family
Learn more