Self-Guided Walk Sicily and the Aeolian Islands
Start: Lipari Finish: Catania
Visiting:
Lipari
,
Mount Etna
---
---
Duration: 7 Nights
Physical rating: Medium, Moderate
Special diets catered: Vegetarians, Vegans, Meat
Tour Operator: Explore!
Group size: 1 - 16
Age range: Adult
Tour operated in: English
---
Tour Overview
Hike the lava strewn slopes of Sicily's brooding Mount Etna, Europe's largest volcano, 3323 metres above sea level. Hop by boat between the tiny Aeolian Islands and climb their volcanic cones which rise, sometimes smoking, out of an intensely turquoise sea. Daily life passes slowly here, following the rhythm of the seasons. Enjoy panoramic walks, wonderful beaches and the excellent fresh Sicilian food and wine.
Highlights
Lipari - Enjoy bustling nightlife and see the ancient Roman remains
Coastline - Wonderful beaches and picturesque Mediterranean fishing villages
Volcanoes - Walk on active volcanoes including Vulcano, Stromboli and Mount Etna
Places You'll See
Cities & Attractions:
Itinerary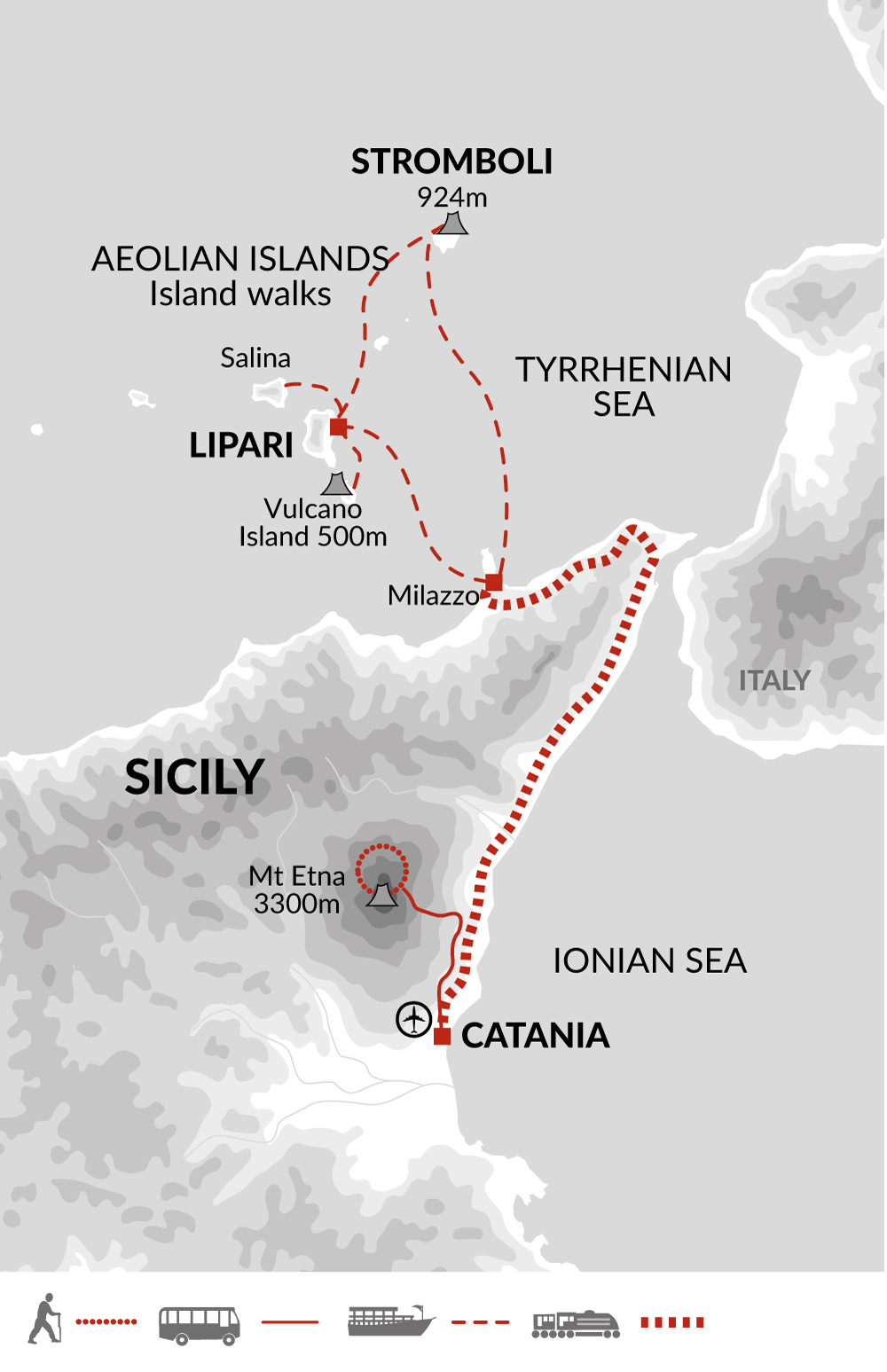 Day 1: Join trip in Lipari
Location: Lipari
Accommodation: Hotel
Meals: No Meals
The accommodation for the first four nights of your holiday is in the main town of Lipari on the island of the same name. It's easy to catch public buses from here to access a variety of walking options on the island and boats depart frequently from Lipari harbour to neighbouring islands. Lipari has a reputation as the liveliest in the Aeolian Islands. You can visit the old fortress, stroll around the local fish market or sit and enjoy good food, wine and music in a bistro in the ancient harbour of Marina Vecchia. If you are arriving into Catania Airport (CTA) today you should aim to arrive no later than 12:30 hours to give yourself sufficient time to reach Milazzo harbour before the last hydrofoil to Lipari at 18:30 hours.
Day 2: A choice of walks to explore Lipari Island
Accommodation: Hotel
Over the next three days you'll have the chance to enjoy a variety of walks around the island of Lipari, which is the largest of the UNESCO World Heritage listed Aeolian Islands. It's your choice as to which ones you fancy and which day you'd like to do them. Today you might like to take a walk to the southern tip of the island and to Mount Guardia starting from the port. This varied walk will give you fantastic views of the coast and on a clear day you can see Vulcano Island. You'll walk firstly to an astronomical observatory overlooking Vulcano and also the rugged cliffs and the rocky sea stacks of Faraglioni. On the second section of the walk you'll descend to the old town centre of Lipari, with its beautiful historic architecture. Alternatively you may choose a shorter walk from one beach to another - Acquacalda to Canneto. To start the walk you'll need to take the local bus from Lipari to Acquacalda. The walk will take you through the evergreen vegetation of the Mediterranean scrub and on your way you'll see pumice caves and get to enjoy magnificent views on the surrounding islands. Some of the best views can be found at the panoramic point at 346 metres above sea level. The walk descends to Canneto, the most famous beach on Lipari Island, where you can enjoy a refreshing swim before taking the local bus back to Lipari town. The Mount Guardia walk is almost 11.5 kilometes and expected to take around five hours with an ascent and descent of 560 metres. The Acquacalda to Canneto walk is five-and-a-half kilometres and will take you around one-and-a-half to two hours with an ascent and descent of 380 metres.
Day 3: Further walks to discover Lipari Island
Accommodation: Hotel
Today you may like to take a walk from Quattropani along the western coast of the island, which is the wildest part of Lipari and gives you the sense of plunging into a true wilderness. To start the walk you'll need to take the local bus from Lipari to Quattropani. After enjoying some magnificent land and sea views along the way you'll reach the San Calogero Thermal Baths, dating back to the Mycenaean period and thought to be the oldest spa in the Mediterranean. You can then walk back to Lipari town through pretty villages and past steaming volcanic fumaroles. An alternative option is to take a boat over to the island of Vulcano to take a walk to the Gran Cratere. Vulcano is a small, but spectacular island and the most southerly in the Aeolian chain. You can walk up through an almost lunar landscape to the Gran Cratere 'the great crater', which constantly emits a yellowish smoke, which colours the surrounding ground due to its sulphurous steam. From the top you have an exceptional 360 degree view of the island and the volcanic archipelago beyond. The descent along green slopes gives you an amazing contrast of colours against the blue sea and the dark grey rocks. The Lipari to Quattropani walk is 13.5 kilometres and will take you around four-and-a-half to five hours with an ascent of 500 metres and descent of 800 metres. The hike up Gran Cratere on Vulcano island is just under six-and-a-half kilometres and will take you around two-and-a-half hours with an ascent and descent of 370 metres.
Day 4: Final day walking from Lipari
Accommodation: Hotel
Today you may like to take a short hydrofoil ride from Lipari to Salina Island. Salina is unlike the other nearby islands as it has a lush landscape of wildflowers, woodland and hillsides covered by vineyards. Once on the island you can take a local bus to Semaforo di Pollara where you can see an abandoned lighthouse high on the clifftop. From here you can walk along the western coast. It is a demanding climb with some steep ascents and descents, but your efforts will be rewarded with amazing views of the Filicudi and Alicudi Islands. The walk ends in the village of Rinella from where you can take a bus back to the main port of Salina. The walk on Salina is seven-and-a-half kilometres and expected to take you two-and-a- half to three hours with an ascent of 405 metres and descent of 655 metres.
Day 5: Exciting trip to the remarkable island of Stromboli
Accommodation: Hotel
Today you'll take the boat to Stromboli Island. On arrival at the port in Stromboli your main luggage will be taken and transferred to your hotel leaving you free to stroll through the narrow whitewashed streets. The walking on Stromboli is a one of a kind and a spectacular experience as the volcano here is constantly erupting. You may choose to take a circular walk to 272 metres above sea level to see the lava flow field called the 'Sciara di Fuoco'. This walk is suitable for all abilities and it's rare for the route to be inaccessible due to volcanic conditions. The Stromboli to Sciara del Fuoco walk is just under eight-and-half kilometres and will take you around two-and-a- half hours with and ascent and descent of 325 metres.
Day 6: Hydrofoil or ferry to Milazzo and train or bus to Catania
Accommodation: Hotel
Today you need to make your way from Stromboli to Milazzo Port by hydrofoil or ferry boat and then take a local train or bus to Catania. Full details are provided in the trip destination manual which you receive a few weeks before travel. You then have the whole afternoon free to explore this beautiful and lively city. You may like to visit the cathedral or the ancient Benedictine monastery, which is a jewel of Sicilian Baroque architecture. If the weather is hot, we recommend trying 'granita', a local specialty made up of shaved ice and fruity syrup accompanied by a delicious brioche pastry.
Day 7: Guided hiking group tour of Mount Etna
Accommodation: Hotel
This morning after breakfast a taxi transfer takes you to Piano Provenzana, where you'll discover majestic Mount Etna on a guided walking trip. The walk will take you up the slopes of the volcano slopes, walking amongst recent lava flows, caves and lush vegetation. You'll enjoy a picnic of local produce along the way. You are brought back to your hotel at the end of the day where you can enjoy a final evening in Catania. Today's walk is 10 kilometres and expected to take around four-and-a-half to five hours with an ascent and descent of 450 metres. The group will have a maximum of 8 walkers of potentially mixed nationalities and will be guided in English and maybe one other language, depending on the make-up of the group.
Day 8: Trip ends in Catania
After breakfast, the organised part of your holiday comes to an end. Public transport is available from Catania city centre or Catania Central Station to Catania Airport (CTA). This can easily be arranged locally.
What's Included
Meals – Half Board

Accommodation
What's Not Included
Country Entry Visas
Your Peace of Mind Options
Low Deposit

Explore! requires a deposit of 10% to secure a place on this tour, and the final balance is not due till 60 days before departure..

Secure payments

All payments to TourHub are deposited into an externally regulated Trust account.
---
Reviews
Self-Guided Walk Sicily and the Aeolian Islands
The self-guided hotel worked perfectly for us. We had spent the previous week on a guided tour in Sicily and so hadt a feel for the area beforeing off ....more
The self-guided hotel worked perfectly for us.

We had spent the previous week on a guided tour in Sicily and so hadt a feel for the area beforeing off on our own for the second week.

; ....less