South Africa Lodge Safari
12 Days Starting in Johannesburg and ending in Durban
Visiting: Johannesburg, Graskop, Kruger National Park, Mkhaya Game Reserve, Tembe Elephant Park, Saint Lucia, Durban
Tour operator:
Physical rating:
Medium, Moderate
Special diets catered:
Vegetarians, Vegans
Tour operated in:
English
Trip Styles:
Interests:
Activities:
Tour Overview
Discover South Africa and Swaziland's best nature spots on this wildlife adventure. Spend days searching for the Big Five on a range of expert-led walking safaris and exhilarating game drives. After a day of exploring, stay in a mix of simple accommodation in the heart of national parks and comfortable lodges perfect for relaxing. Wildlife spotting - A mix of game drives and walking safaris in prestigious reserves and national parks, offering the best opportunities to see the Big Five Soweto - Visit South Africa's largest township to learn more about the recent history of apartheid and Nelson Mandela St Lucia Wetlands - Stay within South Africa's first world heritage site to search for colourful birdlife and wallowing hippo in the waterways, plus a chance to snorkel with tropical fish at Cape Vidal
Highlights
Wildlife spotting - A mix of game drives and walking safaris in prestigious reserves and national parks to see the Big Five

Soweto - Visit South Africa's largest township to learn more about the recent history of apartheid and Nelson Mandela

St Lucia Wetlands - Search for colourful birdlife and wallowing hippo in the waterways, plus a chance to snorkel with tropical fish at Cape Vida
Itinerary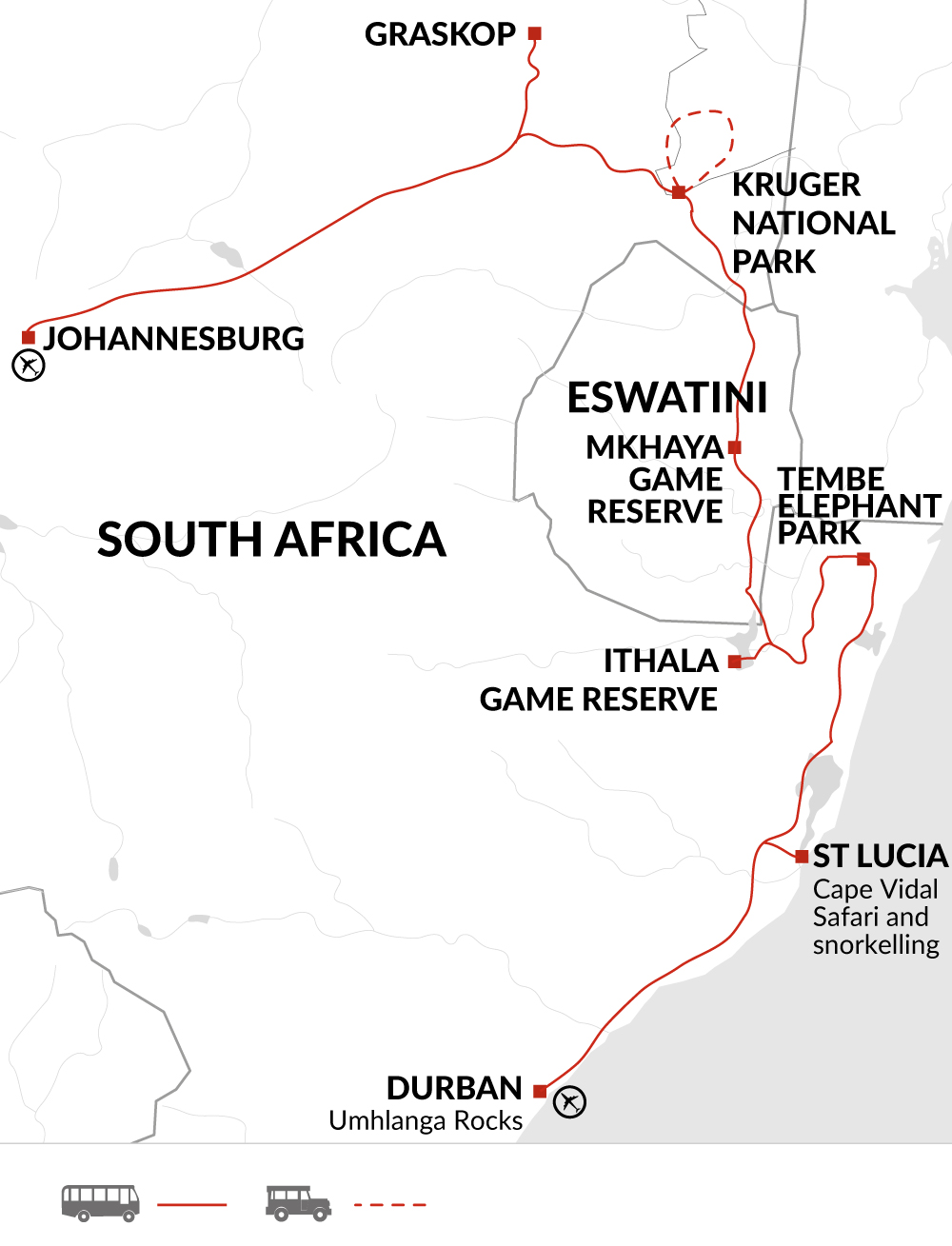 Expand All
Day 1: Join Trip In Johannesburg. Afternoon Visit To Soweto Township And The Apartheid Memorial
Location:
Johannesburg
Accommodation:
Hotel
Arrive in Johannesburg, South Africa's largest city, and once home to both Nelson Mandela and Desmond Tutu. A city of stark contrasts and infamous history, Johannesburg is going through rapid change and urban regeneration.

For those arriving on time today our Leader plans to meet you in the hotel reception at 12pm for the welcome meeting and to take us on the afternoon Soweto tour. Soweto, originally an acronym for South Western Townships, played a prominent part in the fight against the former apartheid regime, notably the uprising of 1976; when mass protests erupted. We will take a tour of the area and meet residents to understand how life has changed since the end of apartheid. We will visit the Hector Pieterson Memorial, a museum that honours the vital role that the youth of South Africa played during the struggle. He was one of the first students to be killed during the uprising when he was just 13. We will also visit Nelson Mandela's former home (now a museum) which tells the story of Mandela and his family.

If you would like to receive a complimentary airport transfer today, you'll need to arrive into O.R. Tambo International Airport (JNB), which is just a short 10 minute drive from our hotel.

Please note that if you wish to join the Soweto tour today, you must arrive at the hotel by 12pm. If you are booking your own flights, we recommend giving yourself at least 90 minutes to clear the airport. From the airport to the hotel is around 10 minutes' drive, so therefore the latest your flight can arrive is 10.30am. Should you miss the welcome meeting, your Leader will inform you of any essential information as soon as you catch up.

Please note: A majority of flights will land into Johannesburg in the early morning and it's often too early to be able to check straight in to your room. However, early arrivals will have access to tea and coffee, toilets and the hotel lounge.
Day 2: Drive To Graskop Via South Africa's Panoramic Route, Taking In The Stunning Scenery Of Blyde River Canyon
Location:
Graskop
Accommodation:
Lodge
After breakfast we'll depart Johannesburg, travelling east towards Kruger National Park. The journey will take us through Mpumalanga affectionately named as the 'Place of the rising sun' and home to some of the country's most awe-inspiring scenery. This region's landscape has many rivers, waterfalls, dramatic escarpments and colourful birdlife, and along the way we'll stop at several excellent viewpoints, including beauty spot 'God's Window' to admire the vast views over Blyde River Canyon.

Graskop is perfectly positioned between the Panoramic Route and Kruger National Park ready for tomorrow's safari adventure. The journey from Johannesburg to Graskop is around five hours, with a stop for lunch and some time to take in the scenery at chosen viewpoints, we will arrive at our accommodation mid-late afternoon.
Day 3: Full Day Of Safari Searching For The Big Five In Kruger National Park
Location:
Kruger National Park
Accommodation:
Lodge
We'll have an early start this morning to make the most of our day on safari inside Kruger National Park. Kruger is one of the best game viewing areas in Southern Africa and as well as attracting many wildlife lovers, the park remains committed to it's original purpose; animal conservation.

We'll be using the national park's open-sided game vehicles to maximise the viewing opportunity to 360 degrees, and the exact timings and routes of today's game-drive will depend on the wildlife! Expert rangers will track the animals and endeavour to provide us with once-in-a-lifetime encounters. During this exhilarating safari we hope to see buffalo, lion, cheetah, giraffe, elephant and zebra plus many more species. For lunch we'll make a stop at one of Kruger's restaurants or picnic stops before continuing on our safari this afternoon.

Tonight we'll be located inside the national park at one of the rest camps. The rooms and communal facilities are simple but do offer a great opportunity to spend a night in this wild setting, listening to the sounds of nature while our leader cooks up a traditional brai (barbequeue) that will be accompanied by some South African wine to wrap up a very adventurous day.
Day 4: Enter The Kingdom Of Swaziland; Afternoon Game Drive At Mkhaya Nature Reserve
Location:
Mkhaya Game Reserve
Accommodation:
Lodge
This morning we will have an extra opportunity to spot game as we slowly make our way out of the national park, leaving Kruger and South Africa behind on our journey to the Kingdom of Swaziland.

The journey from Kruger to Mkhaya Game Reserve is around three hours, however with stops along the way and allowing time for the border crossing it will take the majority of our day, arriving at Mkhaya around mid-late afternoon.

Mkhaya is a haven for many endangered species but best known for its large numbers of black and white rhino; which we hope to see on this afternoon's game drive with our Swazi ranger.

Our accommodation for the night is Stone Camp set an area of secluded bush, featuring a collection of stone cottages that are the only lodging in the reserve. The cottages have bathrooms with hot and cold running water but there is no electricity available giving the experience a real sense of adventure. The camp is situated on a dry river bed and is surrounded by tall fig and sausage trees, which create a lush canopy, attracting many species of bird into the camp as well as some small game like warthogs and impala. Dinner tonight is a feast of local delicacies, such as nyala stew, and we'll dine outside around the campfire and under the stars.
Day 5: Explore Mkhaya On A Morning Safari; Afternoon Drive To Ithala Game Reserve
Location:
Mkhaya Game Reserve
Accommodation:
Lodge
Waking early to the natural soundtrack of the reserve, there is always possibility of seeing warthog or nyala just outside your door this morning. The camp's friendly staff will deliver tea and biscuits to your room prior to an early departure for our next safari. Upon meeting the reserve's rangers this morning, it will be confirmed whether this morning game-viewing will be on foot or by vehicle and this decision is dependant on recent wildlife spottings and animal patterns. The guides here have expert knowledge about the reserve and the wildlife within, and with their advice Mkhaya offers the best possibility of a close encounter with black rhino in the whole of Africa.

After a morning adventure, we'll have a leisurely lunch in the reserve before departing around mid-afternoon. We'll cross back into South Africa on our way to Ithala Game Reserve, and the drive takes around five hours. As we approach, Ngotse Mountain will come into view as the predominant feature of Ithala, towering over the plateaus, ridges and deep valley below. Our home for the next two nights are a range of chalets camouflaged in the mountain's foothills among indigenous bush and flora. Communal areas are set among the wilderness offering peace, quiet and excellent views.
Day 6: Wake Early For A Walking Safari In Ithala To Search For Rhino; Afternoon Game Drives
Location:
Mkhaya Game Reserve
Accommodation:
Lodge
A game walk is one of the best ways of seeing animals and immersing yourself into the wild. This morning we will meet a local ranger and together as we follow the rocky trails we will learn about tracks, dung and general bushcraft throughout the reserve. As well as increasing our understanding of the wilderness, our primary focus is once again to see rhino; these prehistoric-looking beasts were reintroduced to Ithala and have been successfully breeding here. The feeling of slowly walking towards a rhino is a mixture of excitement, awe and nerves; though we will heed our ranger's guidance and keep a safe distance.

After lunch we will wait for the heat of the day to subside before heading out on a late afternoon game drive. Again our ranger will decide on our route depending on the most recent wildlife sightings.

This evening, relax with a sundowner and keep an eye out for the birds of prey soaring through the skies above.
Day 7: Search For Africa's Largest Elephants The 'Big Tuskers' At Tembe Elephant Park
Location:
Tembe Elephant Park
Accommodation:
Lodge
This morning we will drive for a couple of hours until we reach Tembe Elephant Park, our beautiful home for the next two nights. Tembe is renowned for its 'big tuskers' - elephants with huge tusks weighing some 50kg each - as well as being home to the 'Big Five', so we will hope to also see lion, leopard, black and white rhino and buffalo during our time here.

On arrival we'll get checked in before heading out on a game drive in the park's open-sided safari vehicles. Along the way there may be a stop at a waterhole where sightings often occur as the animals gather to cool off in the shallows.

Tembe Lodge is a luxurious tented camp fenced in the middle of the reserve, featuring a small pool, rustic seating area around the campfire and a game-viewing hide for wildlife spotting between safaris. The camp is run by members of the surrounding community, a tribe that has protected and lived in this area for generations and during our stay we will see the park through the eyes of the Tembe people, hear their stories and learn about their way of life.
Day 8: Game Drives At Tembe, Time To Relax, Swim Or Have A Massage
Location:
Tembe Elephant Park
Accommodation:
Lodge
Today we have a full day of the Tembe experience. After an early breakfast we head out on safari for a few hours with a national park guide to look for signs of big game and an opportunity to spot some of the 340 bird species found here. We return to a light brunch which will be followed by some down time to relax and enjoy the setting. Perhaps take a dip in the pool, visit the game-viewing hide for a chance to observe elephants or enjoy a massage at the outdoor (but shaded) spa area, it's a pretty easy life here!

Later this afternoon, we will return to our vehicles for another game drive along the sandy tracks in hope of spotting more wildlife before sundown.

Tonight dinner will be served by lamplight in the communal boma area for a true bush experience. After eating we can listen to the soulful singing of the local Isicathamiya group, as we sit around fire.
Day 9: Drive Down The Coast To St Lucia Wetland Park On The Indian Ocean
Location:
Saint Lucia
Accommodation:
Lodge
This morning we'll have a leisurely breakfast before we depart from Tembe to travel south towards St Lucia, a wetland reserve with World Heritage status.

The drive is around three hours and on arrival we'll check into our intimate Zulu-style lodge located centrally in St Lucia village. One of the first buildings in the area, the lodge has a long history and cares deeply about the local community, ensuring the lodge has a positive impact on both the residents and natural environment. The property features stylish rooms set in flower-filled, lush gardens, with an outdoor lounge area perfect for bird-watching and a pool to cool off. It's a great setting to relax for the final few days of the trip!

The rest of the day will be free to relax by the pool or read a book in one of the garden's shady spots. Alternatively, you may wish to go on a optional afternoon boat trip on the lakes for a chance to spot crocodile, hippo and a wide variety of bird life who make their home in the surrounding mangroves.

This evening you'll be able to choose from a small selection of places to eat nearby. Here in St Lucia it is common to see hippo roaming down the road by night or grazing on a resident's front lawn! They are accustomed to humans, the sounds of cars and lights but of course they are wild animals and precautions must be taken, so while being sure to follow local advice, we may get an unusual but memorable wildlife encounter!
Day 10: Explore The Indian Ocean From Cape Vidal; One Of South Africa's Best Snorkelling Spots And Enjoy One Last Game Drive!
Location:
Saint Lucia
Accommodation:
Lodge
It will be an early start this morning to make our way to Isimangaliso Wetland Park where we will start with a morning game drive through open grasslands and forests in the hope of spotting antelope, hippo, rhino and leopard.

The game drive will take us to Cape Vidal where we will spend the rest of the morning snorkelling in the crystal clear waters of this protected bay, before breaking for a traditional braai on the beach cooked up by our accompanying ranger. There will be more time for snorkelling before another game drive back through the park.

This area is a wildlife lover's dream location because of the five ecosystems within the boundaries of the park and the rarity of being able to spot game on the grassy plains before exploring an underwater world of tropical marine life from the white beaches of the Indian Ocean in the same region. It's estimated the park is home to over 6,500 species of plant and wildlife, plus over 500 bird species.

Tonight will be free to relax.
Day 11: Travel South To Durban, Via Mtunzini
Location:
Durban
Accommodation:
Guesthouse
Today we say goodbye to St Lucia and travel down the coast towards Durban.

Along the way we will stop in the town of Mtunzini. Translating from Zulu as 'a place in the shade', the town is surrounded by lush milkwood and palm trees. We'll have a break here for a lunch and go on a short walk to see the nearby conservancy areas, home to a range of bird life as well as the very successful projects undertaken by the local residents to preserve this natural setting, including a initiative to rid the area of any alien plant and tree species.

We'll then continue to the Umhlanga Rocks area of Durban where we will spend our last night.
Day 12: Trip Ends In Durban
The trip ends after breakfast at our hotel in Durban.

There are no activities planned today, so you are free to depart from Durban at any time. If your flight is departing later in the day, luggage storage facilities are available at our hotel. If you would like to receive a complimentary airport transfer today, you'll need to depart from King Shaka International Airport (DUR), which is 25 minute drive from the airport.

Please note, for those taking the direct British Airways service to London you will be transferred to the airport very early before breakfast.
What's Included
Fully Guided

All Domestic Transportation (including internal flights)

Accommodation

Game Drives on Safari

Meals – Half Board

Breakfast: 11 Lunch: 4 Dinner: 4
What's Not Included
Tipping and Gratuities

Country Entry Visas

1 bottle of Mineral Water per person per day
Why Book this Tour
This trip is designed for wildlife lovers who want to explore fun and beautiful game reserves and stay in comfortable and interesting lodges along the way. Due to current exchange rates, now is a great time to visit South Africa, meet its friendly people and enjoy the lovely food and drink on offer.
Check out our Q&As
Will I know the names and details of all the accommodation before I depart?

Are the local guides on the tour English speaking?

What is the maximum group size?

Is there any free time to explore places during the tour?

Are children permitted to take part in the tour?
Can you assist with pre or post tour accommodation?

Will there be an escort accompanying this tour?

I'm going on a walking/cycling trip-do I need to train?

It will depend on the grade and how fit you already are. Check the trip page for details of the walking or cycling grade and how far you'll be walking/cycling each day. For moderate or challenging trips in particular we'd recommend doing some walks or cycles before you leave to build up your fitness and prepare you for the distances being covered.

Who will be my travelling companions on the tour?

We have a wide range of ages nationalities on our small group trips and they come from all walks of life.

Should I get travel insurance?

Yes–it is a condition of booking that you are fully insured when travelling with us

How long has the tour company been trading?

At Explore, we're the experts in adventure travel. Our small group adventure holidays have been running since 1981. Today, Explore is one of the most trusted travel companies in the UK with over 500 trips to more than 120 countries.

Can I join the tour once it has departed?

Yes, but there are no concessions for doing so, and we must have a record in your booking advising as such before the trip departs.

Am I contributing to any charity by booking the tour?

Being a responsible company is a large statement, something that has to be entwined within the very fibre of a company. Discover the charities and partnerships we support as part of this at https://www.explore.co.uk/about/sustainability/charities-and-partners

What happens if I need to change my holiday date once I've booked?

We want to be as clear as and as honest as possible about what happens if you decide to that you no longer wish to travel on your trip. Our booking conditions have details of the costs you'll incur when you cancel-these charges depend on how long it is before your planned departure.

What is the accommodation like?

We choose comfortable accommodation in the best locations possible. We opt for small, local and family-run accommodation where we can, as opposed to large chain hotels. We typically use hotels that are the equivalent of European 3-star, and you'll usually have an en suite room. Occasionally, where we want to get off the beaten trail we may stay in more basic accommodation.

What Ethical Travel credentials does the tour company have?

Sustainability is embedded within the fibre of Explore, it emanates from the inside out. But as we enter a new decade it is clearer than ever that our world needs help, and Explore has created a sustainability strategy based on the 2015 UN's Sustainable Development Goals.

What policies are in place for Covid-19?

Our flexible booking and safety policies mean you're protected before and during your travels with us. Receive a full refund if your trip is cancelled, transfer your trip free of charge up to 10 days before departure minus any irrocoverable costs.

Do I need to be very fit to book with you?

All our trips require some level of active participation. This could be on a cultural trip, trek, safari, expedition or voyage. It is in the interests of all members of the group that everyone should be capable of fully participating in the activities of their chosen trip.

What documents will I receive before I travel?

Final documents will include a comprehensive trip itinerary, climate and country information, budgeting and packing advice visa and passport information and details on optional activities available.

Do you operate a "single share" option and how does it work?

Yes on most of our trips. Most trips are based on customers sharing twin-bedded rooms. If you book a group trip as an individual, you will share a room with someone of the same sex. However, on many trips we offer the opportunity to pay a supplement to pre-book a single room, known as our single room option. On some trips a single room will be provided every night, on others it will be provided o

Do we have to be vaccinated against Covid-19 to travel

It's now a condition of booking a trip with us that customers should have one of the following before they travel - — Be vaccinated against COVID, having received the full recommended course, and allowing enough time for immunity to take effect. Full vaccination includes any booster required to keep the vaccine valid. — Have taken a negative test (rapid antigen or PCR) within 72hrs of departure.

Will the accommodation included meet local health and safety regulations?

Explore will only offer hotels that have specific COVID-19 protocols in place and comply with local government guidelines. We will ensure these measures include; enhanced room cleaning, ventilation, social distancing, regular cleaning and disinfection of high frequency touch points in public areas, food safety, staff re-training and minimising contact within the properties.
Reviews
Jane | 10-Aug-2019
South Africa Lodge Safari
A very memorable trip thanks to our two outstanding tour leaders. Would have preferred like many to have spent an extra night at Stone Camp or Tembe, and missed out a couple of the other hotels. Kosi Bay for us was a welcome chance to relax a little, and the optional boat trip was very worthwhile for the fun we had and chance to see a variety of birds. I much preferred the smaller reserves, as Kruger was a disappointment, so this is what made this tour unique and special to those run by other companies. It was pretty busy at times but would highly recommend.
Ronald | 25-Oct-2017
South Africa Lodge Safari
A veryod trip overall and enhanced by our excellent Guide who continually went the extra mile.
Michael | 24-Nov-2017
South Africa Lodge Safari
Loved this trip .. I shall return to Africa
Jacqueline | 25-Nov-2018
South Africa Lodge Safari
Loved the trip and will probably take it again in 2019 - the places we visited were so beautiful that I would like to visit them again!
Wendy | 21-Apr-2019
South Africa Lodge Safari
I had a great time on this trip. We were a small group of 10 so had lots of space on the two trucks and great views on safaris. Andre and Sydney worked brilliantly together on the trip and ensured that everything went to plan. They both are very knowledgeable about Africa, the animals and culture.
Elizabeth | 11-Aug-2017
South Africa Lodge Safari
Sydney (and Andrew) did their very best to ensure we had a holiday to remember, and we did! They should both be applauded for their patience and enthusiasm to make sure wet the most our of our safari adventure.
Janet | 17-Nov-2017
South Africa Lodge Safari
We had some really fabulous experiences.
Dates & Availability
Monday - Friday
Oct 09, 2023 - Oct 20, 2023
Monday - Friday
Nov 06, 2023 - Nov 17, 2023
Book with Confidence
Free Date Changes

Explore! allows you to make 1 free date changes, as long as the change is made at least 60 days before the start of the tour.

Low Deposit

Explore! requires a minimum deposit of 10% or the full booking value, whichever is less, with the final balance not due until 60 days before departure.

Cancellation Policy

We don't charge a cancellation fee, here is a summary of explore! charges.

Up to 60 days before tour starts: Forfeit 100% of deposit.

At 59 days before tour starts: Forfeit 30% of booking price.

At 41 days before tour starts: Forfeit 60% of booking price.

At 27 days before tour starts: Forfeit 90% of booking price.

At 13 days before tour starts: Forfeit 100% of booking price.
South Africa Lodge Safari
12 Days Starting in Johannesburg and ending in Durban
Visiting: Johannesburg, Graskop, Kruger National Park, Mkhaya Game Reserve, Tembe Elephant Park, Saint Lucia, Durban
Tour operator:
Physical rating:
Medium, Moderate
Special diets catered:
Vegetarians, Vegans
Tour operated in:
English
Trip Styles:
Interests:
Activities:
Why book with tourhub?
Safe & Secure
Your money is protected in an external trust until you travel.
---
100% Guaranteed Refunds if your trip is cancelled.
---
The safest way to make overseas, multi-currency payments.
Guaranteed Best Value
Industry leading discounts, we won't be beaten on price.
---
No cancellation or amendment fees from tourhub.
(Operator terms may apply)
Expert Knowledge
Reliable & unbiased advice from travel experts.
---
Direct contact with the tour operator via our messaging service.
---
Inspiration & advice from a community of 6000+ real travellers, influencers & content creators.
Trusted Service
Official partners & licensed agents of 1000+ tour operators worldwide.
---
Don't just take our word for it...
"Tourhub: Friendliness, Professionalism & Integrity I would happily give tourhub a 6* review if I could..."
Similar Tours
Travel Guru Features
Our Reviews