Vietnam Explorer + Cambodia Extension
Start: Hanoi Finish: Siem Reap
Visiting:
Hanoi
,
Hạ Long Bay
,
Hue
,
Hội An
,
Kon Tum
,
Lắk Lake
,
Nha Trang
,
Ho Chi Minh City
,
Mekong River Delta
,
Phnom Penh
,
Krong Siem Reap
,
Bayon
,
Danang
,
Silver Pagoda
,
Tonle Sap
,
Angkor
,
Wat Phnom
,
Perfume River
,
Royal Palace
,
Ta Prohm
,
Mekong River
,
Halong Bay
,
Hoi An
,
Lak Lake
,
Cai Be
---
---
Duration: 26 Nights
Physical rating: Medium, Moderate
Special diets catered: Vegetarians, Vegans
Tour Operator: Explore!
Group size: 4 - 18
Age range: Adult
Tour operated in: English
---
Tour Overview
Take an in-depth journey across Vietnam and Cambodia, following part of the Ho Chi Minh Trail through the beautiful Central Highlands where we trek, raft and visit tribal villages. We also explore beyond Halong Bay and discover the once-hidden jungle temples of Angkor. Halong Bay - Take an extended 2 night junk cruise through its jade green waters Central Highlands - Stay in a tented camp and trek, raft whilst visiting tribal villages Siem Reap - Watch the sunset at Angkor Wat and crawl through the tree-consumed temple of Ta Prohm
Highlights
Central Highlands - Stay in a tented camp and trek, raft whilst visiting tribal villages
Halong Bay - Take an extended 2 night junk cruise through its jade green waters
Siem Reap - Watch the sunset at Angkor Wat and crawl through the tree-consumed temple of Ta Prohm
Places You'll See
Cities & Attractions:
Cyclist in Hanoi
Market day
Ha Long Bay
Citadel, Hue
Traditional Vietnamese food
Itinerary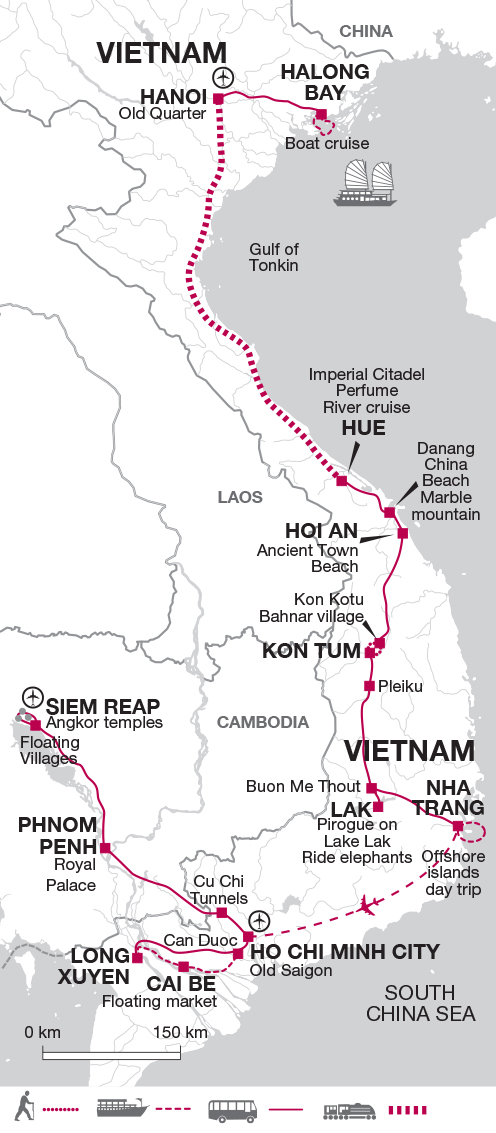 Day 1: Join tour in Hanoi
Location: Hanoi
Accommodation: Hotel
Meals: No Meals
Arrive in Vietnam's capital which is famous for its rich culture, bustling life and colonial influences on their centuries-old architecture. Little lakes dotted around the city are encased by busy streets and secret alleyways, which are waiting to be explored. For those arriving on time our Leader plans to meet you in the hotel reception at 6pm for the welcome meeting and for those that wish, there is the chance to go out for dinner. There are no other activities planned today, so you are free to arrive in Hanoi at any time. If you would like to receive a complimentary airport transfer today, you'll need to arrive into Noi Bai International Airport (HAN), which is only a 45 minute drive to the hotel. Should you miss the welcome meeting, your Leader will inform you of any essential information by note left at the front desk. If your flight arrives earlier in the day, perhaps you might choose to take a stroll through the narrow lanes of the Old Quarter, or perhaps enjoy a gentle walk around Hoan Kiem Lake.
Day 2: Discover the sights of Hanoi including the Old Quarter
Location: Hanoi
Accommodation: Hotel
This morning we make a tour of the main sights of Hanoi. Among the interesting sights are the charming One-Pillar Pagoda and the Presidential Palace, a very fine example of French colonial architecture. Ho Chi Minh himself, a spartan-living and scholarly man, chose not to live in the Presidential Palace; he preferred instead a simple teak 2-storied stilt-house specially built for him in the grounds. In the afternoon we visit the Old Quarter of Hanoi. The streets are named after various crafts or specialities: Paper Street, Silk Street, Basket Street etc. The shops themselves have very narrow frontages but are actually quite deep; they are known locally as 'tube' shops.
Day 3: Free time in Hanoi, drive to Halong Bay; overnight on boat
Location: Hạ Long Bay
Accommodation: Junk
This morning we drive out towards the magnificent Halong Bay in the Gulf of Tonkin. Thousands of jagged limestone islands rise out of the jade green waters like the hairy scales of a submerged dragon. In fact Ha Long means 'where the dragon descends to the sea' as legend tells that the rugged seascape was created by the pounding tail of a dragon as he ran from the mountains into the sea, carving islands in his wake. We enjoy the romantic scenery while cruising amongst the islands. We'll have the chance to stop at a grotto beneath towering cliffs and perhaps pull into a beach where you will have time to relax or kayak (optional). It is also interesting to see the curious assortment of boats, junks and wooden sampans, their sails hoisted, gliding through the waters. We enjoy an included seafood lunch on board the boat. In the evening we'll transfer to our overnight boat. Accommodation will be in twin cabins, bedding and mattresses provided.
Day 4: In Halong Bay; sea kayaking and visit floating village; overnight on boat
Location: Hạ Long Bay
Accommodation: Junk
We'll have the chance to stop at an island or Three Peaches beach under towering cliffs and fringed with thick jungle. You will have the opportunity to sea kayak through stunning limestone scenery - we carry our own kayaks and lifejackets and instruction is provided (this activity is optional, but at no extra expense). Late in the afternoon we visit Cua Van floating fishing village to experience some local life of the people in this part of the bay. Again in the evening we'll transfer to our overnight boat.
Day 5: Drive to Hanoi; sleeper train to Hue
Location: Hue
Accommodation: Overnight Train
This morning we board local rowing boats cruising through Bai Tu Long Bay. Enjoying our brunch while on the boat we get to see Bai Tho mountains and Ha Long market. During our cruise we sail to the beautiful caves of Hang Luon. We then return to Hanoi where we have day rooms before boarding the overnight sleeper train for the journey to Hué - bedding provided.
Day 6: Arrive in Hue; boat along Perfume River to Thien Mu Pagoda
Location: Hue
Accommodation: Hotel
We arrive in Hué, one of the great cultural and religious centres of Vietnam, a quietly impressive place and a major highlight of our trip. The Perfume River divides the city in two and it has been the inspiration for poets and painters for many centuries. In the afternoon we take a trip by boat on the Perfume River to the Thien Mu Pagoda. This lovely monastery is the oldest in Hué.
Day 7: In Hue, visit the Imperial Citadel; free afternoon
Location: Hue
Accommodation: Hotel
To appreciate Hue's fascinating history we'll tour the Old Citadel in the morning. The citadel/palace built by the Nguyen dynasty (early 1800's to 1945) has formal moats and impressive ramparts and was an exact copy of the Forbidden City in Beijing. Although most of the Inner City was destroyed during the Tet Offensive (1968), the vast outer walls and the West Wing remain and are an eloquent reminder of the palace's former glory. The afternoon is free to wander at your own pace. You may choose to hire a bike or wander the back streets and lively markets (optional).
Day 8: Scenic drive via Danang to Hoi An
Location: Hội An
Accommodation: Hotel
Early this morning there is the option to drive out to the peaceful setting of Tu Hieu Pagoda, nestled in a pine forest a short distance outside the city. Here we can witness the morning chanting before taking part in a meditation lesson led by the head monk. The monk will explain how meditation is central to Buddhism, promoting a peace of mind and a healthy mental balance. He will then lead a meditation session for us in the quiet back corner of the temple. We return to Hue for breakfast, before driving on to Hoi An. We enjoy a scenic drive across the spectacular Col des Nuages, otherwise known as the Hai Van Pass observing rural scenes of thatched, wooden houses and lime-green rice paddies as well as enjoying panoramic sea views. Pausing in Danang, once the centre of the Kingdom of Champa (2nd century AD - 1720) we visit the Cham Museum, home to a fine collection of Cham sculptures. Our next stop is at the nearby five peaks of the Marble Mountains, said to represent the five elements of water, wood, fire, gold and earth. Naturally formed grottoes have been transformed into heavily carved Buddhist sanctuaries. A short distance from the mountains we find the white sands of My Khe Beach (nicknamed China Beach by American troops)- an ideal spot for a brief rest. Finally we reach our destination - the UNESCO World Heritage town of Hoi An.
Day 9: From Hoi An, visit ancient My Son; free afternoon in Hoi An
Location: Hội An
Accommodation: Hotel
The Portuguese arrived here in the 16th century and by the 18th century it had become one of the busiest international trading ports of South-East Asia. Hoi An still retains its medieval charm with old buildings and colourful markets. During our stay here we include an excursion to My Son. Declared a World Heritage Site by UNESCO, My Son is a striking complex of tower temples located in a secluded valley. The rest of our time is left free for personal exploration. A cookery class at one of Hoi An's restaurants is a popular choice, as is the lantern-making workshop where you can learn how to make the beautiful lanterns that are ubiquitous in Hoi An.
Day 10: Free day to explore Hoi An; optional visit to My Lai
Location: Hội An
Accommodation: Hotel
Bicycles here are inexpensive and a great way to get out into the surrounding countryside or perhaps take a trip to the nearby beaches. Hoi An is also renowned for its many craft and tailors' shops. You may wish to take an optional excursion to Quang Ngai, the site of the My Lai Massacre Memorial. The massacre was a significant turning point in the Vietnam War and the horrific story is told through a photo presentation - an emotional experience. Another option would be to take a fishing trip out to the Thu Bon River Delta, where we learn how to fish using a traditional cast net. We travel out by boat where we meet local fisherman and try our hand at cast net fishing as well as trying the bamboo winches used to haul in the huge drop nets from the river. We also have a chance to go out in a Vietnamese 'basket boat' - a circular boat constructed from bamboo that takes some practice to row!
Day 11: Drive through mountains to Kon Tum in Central Highlands
Location: Kon Tum
Accommodation: Hotel
Our journey takes us inland through the mountains of the Central Highlands to the market town of Kon Tum. It is a long day of travel but the stunning scenery and opportunity to see this rural area more than make up for it.
Day 12: In Kon Tum, walk through tribal villages
Location: Kon Tum
Accommodation: Hotel
On our second day here we walk out to Kon Ko Tu, one of the many Bahnar tribal villages in the surrounding area (approx 5 hours walking, graded easy to moderate). We walk through cassava and sugar plantations and pass several stilted villages en route. After lunch there is an opportunity to float back to the village on local dugout canoes. In the evening we can visit the Village Rong or communal house which is the most important building in the village - not only is it used for festivals and village meetings, but it acts as the court where people are tried for tribal offences.
Day 13: Drive to Western Highlands; take boat on Lake Lak
Location: Lắk Lake
Accommodation: Tented Camp
We drive south today through the Central Highlands, to Buon Me Thuot, Dak Lak Province's administrative centre and the Western Highlands' unofficial capital. Although a nondescript town, there are many minority Ede villages in this region, and we head south to Lak Lake to spend a night in a bungalow near the shores. After settling in to our picturesque accommodation, we have some free time to explore the area by foot, bicycle or by kayak.
Day 14: Drive to coastal Nha Trang
Location: Nha Trang
Accommodation: Hotel
We rise early this morning to take a boat out onto Lak Lake for sunrise. We then continue on foot to Yang Tao village where we learn about how this small community produces pottery and harvests its plentiful cacao supply to support the village. Later, we continue south by bus, where our drive sees us descending to the coastal plains, as we make our way to the fishing town and beach resort of Nha Trang. Some of the most impressive Cham towers can be seen on the outskirts of the town on our arrival.
Day 15: In Nha Trang, boat cruise on Ninh Van Bay
Location: Nha Trang
Accommodation: Hotel
Today we enjoy this seaside town, famed for its clear warm water, delicious seafood and white sand beach. We plan a boat trip to some of the outlying islands to swim and relax (dependent on local weather conditions).
Day 16: Fly to Ho Chi Minh City; explore Old Saigon; free afternoon
Location: Ho Chi Minh City
Accommodation: Hotel
Today we fly to Ho Chi Minh City where we have a walking tour of the city's central sights including the National Assembly, Hotel de Ville, Notre Dame Cathedral, the Independence Palace and the War Crimes Museum. The afternoon is free for you to walk around this charming city. This afternoon we will experience a different side of Ho Chi Minh City, away from the major sights where we take a walk through Old Saigon's back alleys. We make our way to District 3 and turn off the main thoroughfare and into the maze of narrow streets of this bustling district. Our walk takes us past ramshackle shopfronts, through local markets selling anything from colourful fruit to bootleg DVDs, and past houses, churches and schools, all squeezed into the small buildings that line the narrow alleys. It's a fascinating inter-connected community here that is a stones-throw from the city centre, yet feels a far cry from the modern buildings and throngs of tourists. We stop at a local stall for a traditional Vietnamese coffee (brewed coffee served sweet with condensed milk) where we can also sample 'Banh Mi' - a Vietnamese take on the humble French baguette - freshly baked and packed with a combo of traditional and more exotic, aromatic ingredients. The walk ends at a previously-secret weapons' bunker. A small unassuming 'tube house' nestled in a quiet neighbourhood hides a trap door in the floor, concealing a basement stocked full of rifles, grenades and ammunition. The bunker played a key role in the TET Offensive of 1968, it was the base from which the Viet Cong's "Team 5" launched their assault, and its location was only revealed after the end of the war. We have some time to explore the house and bunker, filled with decommissioned weapons and photographs, news clippings and memorabilia from the wartime.
Day 17: Drive to Mekong Delta; cruise Mekong River; overnight on boat
Location: Mekong River Delta
Accommodation: Boat
This morning we drive to Can Duoc, where we board our specially chartered river boat. Travelling along the backwaters by boat is by far the best way to see the delta, passing villages of stilted houses, abundant rice fields and a variety of cottage industries as we go. We travel down the Mekong River to Cho Gao, where we disembark for a walk around the local market. We then continue to Thoi Son Island where we'll meet the friendly locals and take a sampan ride through palm-shaded creeks. Back on our boat, we'll cruise to Cai Be, where we moor up for the night. Our accommodation is simple dormitory-style bunks on board the boat.
Day 18: In Mekong Delta, option to visit early morning floating market; overnight on boat
Location: Mekong River Delta
Accommodation: Boat
It is worth rising early to see the superb floating market at Cai Be. As it links the various towns and provinces, Cai Be is a very social and colourful place with the vendors advertising their wares on long poles. We spend some time paddling through the market and enjoying the friendliness of the locals before continuing on our boat journey. We stop off several times today to visit rural islands and some of the many family businesses along the canals. We then continue down the river to Long Xuyen Sadec, where we visit the Quach Temple and the colourful local market. We continue through the Lap Vo Canal to Long Xuyen.
Day 19: Drive to Ho Chi Minh City
Location: Ho Chi Minh City
Accommodation: Hotel
This morning we bid farewell to our boat crew and rejoin our vehicle and make the long journey back to Ho Chi Minh City, where we have the further chance to enjoy this bustling city.
Day 20: From Ho Chi Minh City, visit Cu Chi Tunnels
Location: Ho Chi Minh City
Accommodation: Hotel
This morning we take a short drive out of the city to the infamous Cu Chi Tunnels, which formed an incredible underground command base for 10,000 Viet Cong troops and were a major part of the 1968 Tet Offensive. The site is a fascinating insight into the resourcefulness of the Vietnamese. There is the opportunity to crawl through a small specially adapted section of the tunnels should you wish to sample the claustrophobic conditions the Viet Cong lived in. Afterwards we bid farewell to our tour leader who continues back to Ho Chi Minh City while you continue by road into Cambodia. Border formalities take place at Moc Bai (Vietnam) and Bavet (Cambodia) crossing point. Our final destination is Phnom Penh, Cambodia's capital.
Day 21: Discover the sights of Phnom Penh
Location: Phnom Penh
Accommodation: Hotel
Phnom Penh took over from Angkor as Cambodia's capital city in the 1440s. It is now a lively city with many French colonial buildings and plenty to see. Accompanied by a local guide we visit the National Museum, a treasure trove of beautifully preserved carvings and lintels rescued from Angkor; the Royal Palace and Silver Pagoda as well as the temple of Wat Phnom. This afternoon we visit the emotive Tuol Sleng Genocide Museum, formerly a high school that became the Khmer Rouge's main torture and interrogation centre; and the Killing Fields of Choeung Ek - the memorial stupa is a glass tower filled with human skulls - a gruesome reminder of the scale of Pol Pot's atrocities before returning back in the city.
Day 22: Free day in Phnom Penh; optional visit to Silk Island
Location: Phnom Penh
Accommodation: Hotel
Today is free allowing you the opportunity to explore the city or its surrounds further. Optional excursions close to the city include a trip to Silk Island, Chiso Mountain or the abandoned Royal City of Oudong. Each of these excursions are half a day in duration and may be combined, your tour leader will discuss in more detail. Silk Island or Koh Dach is reached by a short ferry journey along the Mekong where the majority of villagers on the island earn a living through producing handicrafts. It is a great opportunity to learn more about traditional ways of life and interact with locals as you learn about the island's iconic silk weaving. Chiso Mountain (380m), located in Sia village about 62 km south of Phnom Penh, is topped by the ruins of an 11th century Khmer Brahmanic Temple with fine views of the surrounding paddy fields. Oudong is about an hour north of the capital and offers the opportunity to explore attractive historic temples and stupas.
Day 23: Drive to Siem Reap; cruise on Tonle Sap Lake
Location: Krong Siem Reap
Accommodation: Hotel
This morning we make an early start for our drive to Siem Reap, stopping somewhere for lunch on the way. Later in the day we journey to nearby Tonle Sap Lake where we board our charter boat for a leisurely cruise through the fascinating floating village of Chong Kneas, where we see stilt houses, floating markets and an array of boats.
Day 24: From Siem Reap, explore Angkor temples with sunset
Location: Krong Siem Reap
Accommodation: Hotel
Our exact programme over the next three days may change slightly at our local guide's discretion (to avoid crowds, coincide with sunsets, etc.). Angkor was actually a series of cities, built between the 9th and the 13th centuries by the Khmer kings, with a population of 750,000 in its heyday. The Angkor complex is spread out over some 155 square kilometres, scattered with magnificent carved stone temples, elegant sculptures and incredible bas reliefs. We visit the Rolous group, which are some of the earliest temples. In the afternoon we visit the temples of Banteay Srei, a small but beautiful temples with exquisite carvings. We end the day at East Mebon, with a visit to Pre Rup temple for sunset.
Day 25: From Siem Reap, explore Angkor Thom
Location: Krong Siem Reap
Accommodation: Hotel
We continue our exploration with a visit to the temples of King Jayavarman Vll, reputedly Angkor's greatest king. The fortified city of Angkor Thom, which he built at the end of the 12th century is enclosed by a square wall with five monumental gates decorated with stone elephant trunks. Originally, crocodiles inhabited the moat and huge statues of 54 different gods protected each gate. The city contains another of Angkor's true gems - The Bayon. Although not as impressive as Angkor Wat from a distance, The Bayon is nevertheless incredible for its maze of corridors, gothic style towers and magical central temples. We'll explore The Terrace of the Elephants and the Leper King, the Baphuon and Phimeanakas, and some of the surrounding temples such as Preah Khan.
Day 26: From Siem Reap, explore Ta Prohm and Angkor Wat
Location: Krong Siem Reap
Accommodation: Hotel
On our final day we make a visit to the 2nd Angkor capital that includes the temples of Prasat Kravan, Banteay Kdei and Takeo. A highlight for many is a visit to the atmospheric temple of Ta Prohm, where the film Tomb Raider was filmed, lying half consumed by the jungle. We leave the best known and most breathtaking of all the sights, Angkor Wat, to the end - where we stay until the sun sets on the last night of our adventure.
Day 27: Tour ends in Siem Reap
Location: Krong Siem Reap
The trip ends after breakfast at our hotel in Siem Reap. There are no activities planned today, so you are free to depart from Siem Reap at any time. If your flight is departing later in the day luggage storage facilities are available at our hotel. If you would like to receive a complimentary airport transfer today, you need to depart from Siem Reap International Airport (REP), which is 20 minutes from the hotel. If you have time you may choose to browse the old market for some last minute bargains, or enjoy afternoon tea at The Foreign Correspondent's Club.
What's Included
Train Tickets

Fully Guided

Accommodation

2 nights simple boat 20 nights comfortable hotel 2 nights comfortable junk 1 nights simple overnight train 1 nights comfortable tented camp

All Domestic Transportation (including internal flights)

Meals – Breakfast Only

Breakfast: 25 Lunch: 5 Dinner: 6
What's Not Included
1 bottle of Mineral Water per person per day

Country Entry Visas

Tipping and Gratuities
Book with Confidence
Low Deposit

Explore! requires a deposit of 10% to secure a place on this tour, and the final balance is not due till 60 days before departure..

Secure payments

All payments to TourHub are deposited into an externally regulated Trust account.
---
Reviews
Vietnam Explorer + Cambodia Extension
A veryod trip. Aod experience for our first foray into organised trips.
A veryod trip.

Aod experience for our first foray into organised trips.

;
Travel, Your Way
Good reasons for travelling privately
Personalise your trip

Make changes to the itinerary, accommodation, or transport method

Increased safety during COVID

Spend the majority of time amongst your group to reduce exposure to others

Travel more exclusively

Your tour guide can focus all their attention on your group

Travel for a special occasion

Celebrate an important event by only travelling with your friends or family
Learn more