Walking in Morocco - Atlas to Atlantic
Start: Marrakech Finish: Marrakech
Visiting:
Marrakesh
,
Ouirgane
,
Oulad Berhil
,
Essaouira
---
---
Duration: 7 Nights
Physical rating: Medium, Easy
Special diets catered: Vegetarians, Vegans
Tour code: MAA
Tour operator: Explore!
Group size: 4 - 16
Age range: 14-99
Tour operated in: English
---
Tour Overview
This walking trip takes you among the foothills of the majestic High Atlas Mountains to the windswept Atlantic coast. Explore the beaches and valleys, dotted with fruit orchards and tiny villages. Discover ancient Marrakech and the lively craft markets of Essaouira. Riad - Spend four nights in traditional accommodation Berber people - Discover their homeland taking lunch with a family Essaouira - Relax in this laid back town sampling fresh fish
Highlights
Berber people - Discover their homeland taking lunch with a family
Essaouira - Relax in this laid back town sampling fresh fish
Riad - Spend four nights in traditional accommodation
Places You'll See
Countries:
Cities & Attractions:
Atlas Mountains Morocco
Old city of Essaouira
Moroccan village at sunrise in the High Atlas Mountains
Valley near Agadir
Essaouira port in Morocco
Itinerary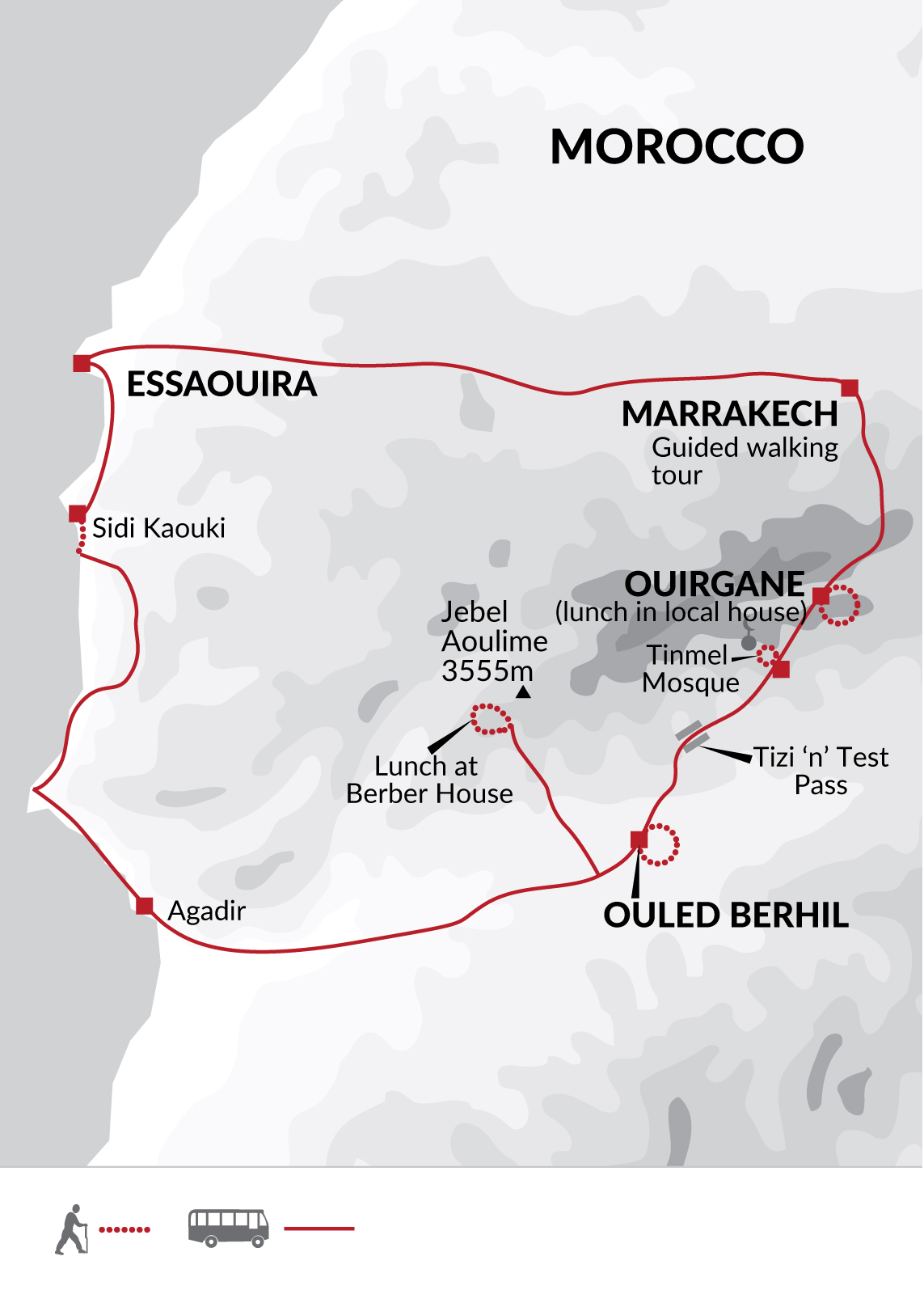 Day 1: Join trip in Marrakech
Location: Marrakesh
Accommodation: Hotel Almas
The trip starts today in Marrakech. Morocco's famous 'Red City', Marrakech is the spiritual heart of the country, a cultural melting pot of the mountain Berbers and the desert peoples of the south. Blessed with some of the most stunning architecture in Morocco, its mix of tradition, colour and history make it the ideal starting point for our week of walking and exploration of Morocco. For those arriving on time our Leader plans to meet you in the hotel reception at 6pm for the welcome meeting. There are no other activities planned today, so you are free to arrive in Marrakech at any time. If you would like to receive a complimentary airport transfer today, you'll need to arrive into Marrakesh Menara Airport (RAK), which is around 20 minutes' drive. If your flight arrives later in the evening, they will inform you of any essential information after breakfast on day two.
Day 2: Atlas Mountains hike through Berber villages; lunch with a local family
Location: Ouirgane
Accommodation: La Bergerie
Meals: Breakfast, Lunch
This morning we leave the bright lights of Marrakech behind and head to the small village of Ouirgane in the High Atlas Mountains . Located in the heart of Toubkal National Park, Ouirgane is surrounded by red earth hills and pine forests. On arrival we'll ravel to a nearby Berber village to have lunch in a local house, a great opportunity to sample traditional home-cooking and learn more about the Berber culture. In Morocco lunch tends to be the main meal of day, we'll have a fresh salad followed by a traditional Berber omelette cooked in a clay tagine blending eggs with delicious savoury spices. Following lunch we take a short drive out to the Bridge of Assiff Azdeb, from where we'll walk among the olive groves towards the village of Tikhfist. Stopping at a panoramic view point overlooking the valley we see Lalla Takerskout Lake shimmering below. Taking the path down to the villages of Torort and Anraz, we return to the hotel on foot, surrounded by the scent of juniper and pine. Our hotel tonight is set within an extensive landscaped garden with spectacular mountain views and a inviting outdoor swimming pool. The rustic rooms are traditionally decorated, arranged around the central courtyard. Today's eight kilometre walk is expected to take around three hours with 250 metres of ascent and descent.
Day 3: Walk to 12th century Tinmel Mosque, drive over Tizi 'n' Test Pass to Ouled Berhil
Location: Oulad Berhil
Accommodation: Riad Hida
Meals: Breakfast
Today we continue our journey through the mountains, to Ouled Berhil, stopping off along the way to visit the 12th century Tinmel mosque. We take a short walk crossing the Oued Nfiss Valley to view the red brick fortress from above before entering the site. Tinmel is one of the only two mosques in Morocco open to non-Muslims and was once considered the centre of the powerful Almohades dynasty. You can admire the brick arches and elaborate Mihrab of the roofless building. Continuing by bus we take a breathtaking drive crossing the High Atlas Mountains over the Tizi n Test pass (2,092 metres) to the Souss Plain. This scenic road is winding and spectacular. Weaving its way up into the mountains through a series of switchbacks, you can take in the fabulous views back across to the Toubkal Massif. Descending to the Souss Valley, across the agricultural plain, past orange groves to arrive at Ouled Berhil. For the next two nights we'll be staying in a traditional Moroccan house known as a riad. Riad Hida was built in 1860 and the property boasts lush gardens with fountains, palms, fruit trees and an outdoor swimming pool, you may even spot peacocks roaming the grounds. The lounge and dining rooms feature several collectors items, with colourful mosaic adorning the walls and ceilings.
Day 4: Hike in the Afensou Valley and enjoy lunch in a village house
Location: Oulad Berhil
Accommodation: Riad Hida
Meals: Breakfast, Lunch
Today we take an excursion to the valley of Afensou, a scenic drive northwards into the Western High Atlas. Arriving at a view point overlooking the valley, we walk down to Afensou village passing along farm terraces, observing people at work in their gardens and collecting vegetables, affording us an insight into Berber life. We have lunch in Afensou at a family-run guest house, feasting on the famed Moroccan tagine, accompanied by freshly baked Khobz bread, a rounded bread that forms a staple of the local diet. This slow cooked savoury stew is named after the clay dish it's cooked in, bursting with the sweet and sour flavours of dates and spices. On the way back to Ouled Berhil we make a stop at Taroudante, a walled city in the Souss Valley known as 'Little Marrakesh'. This thriving market town is a meeting place for the mountain Berbers trading their locally produced food and crafts, there will be time to stroll around the Medina. Today's four kilometre walk is expected to take around two hours with 100 metres of descent.
Day 5: Depart the Atlas Mountains for Essaouria; hike Atlantic Coast beaches en route
Location: Essaouira
Accommodation: Riad Al Madina
Meals: Breakfast
We leave the Atlas Mountains behind us today as we head to Agadir on the coast and drive alongside the Atlantic Ocean to Sidi Mbarek. This beautiful drive, hugging the coast, takes us past small villages, banana plantations and beaches where you can spot camels and surfers. During the journey keep an eye out for the bizarre sight of goats grazing in the trees! In the south west of Morocco, cloven-hoofed goats climb Argan trees attracted by the fruits' pulp. This afternoon's walk takes us from the small village of Sidi Mbarek down to the beach, walking along the deserted sand, surrounded by sand dunes and vast ocean views. Arriving at the sleepy surf town Sidi Kaouki the bus will be waiting to take us on to Essaouira. Essaouira is a colourful coastal fishing town set within 15th century Portuguese fortifications. Whilst here we'll stay in the Riad Al Madina in a beautiful setting within the city walls. This former 19th Century palace has been carefully restored to retain the charm and elegance of its original splendour. Rooms lead off from a central courtyard filled with plants and fountains and there are great views over the city's Medina from the sun terrace. Today's 12 kilometre walk is expected to take around three hours, along a flat route.
Day 6: Walking tour in Essaouira. Explore this charming walled Kasbah with its many craft shops
Location: Essaouira
Accommodation: Riad Al Madina
Meals: Breakfast
This morning we take a walking guided tour of Essaouira. Entering the old walled Medina, passing through a narrow, highly decorated arch, we are greeted by a host of merchants selling local handicrafts and women carrying out their daily routines, veiled in their traditional dress. We'll walk along the impressive ramparts, admiring the view of the wild Atlantic Ocean, to the port area of the town. This bustling port is crammed with bobbing blue fishing boats. We can observe fishermen mending their nets and try some delicious freshly grilled sardines. The rest of day is left free for you to explore further at your leisure, strolling around the craft stalls and along the fine sandy beach.
Day 7: Return to Marrakech, discover the city's souks and Jamaa el Fna Square on a walking tour
Location: Marrakesh
Accommodation: Hotel Almas
Meals: Breakfast
After breakfast we return by bus to Marrakech and in the afternoon take a guided walking tour of the Old City. Marrakech is a feast for the senses and Djemmael- Fna Square is a spectacle not to be missed with many street performers to watch and enjoy. The 70m-high tower of the 12th-century, Koutoubia Mosque dominates the skyline. Prohibited from entering this mosque, we'll admire the architecture from the outside. We visit the ornate 19th century Bahia Palace, with its lush gardens, rooms decorated in elegant Moroccan style and a grand marble-paved courtyard. We see further examples of Moroccan opulence at the Saadian Tombs and the lavish Mausoleum of el Mansour built during the reign of Sultan Ahmad el Mansour during the Saadian dynasty. There will be time to further explore the souks independently, losing yourself in the maze of narrow streets.
Day 8: Trip ends in Marrakech
Location: Marrakesh
Meals: Breakfast
The trip ends after breakfast at our hotel in Marrakech . There are no activities planned today, so you are free to depart from Marrakech at any time. If your flight is departing later in the day, luggage storage facilities are available at our hotel. If you would like to receive a complimentary airport transfer today, you need to depart from Marrakesh Menara Airport (RAK). Depending on the schedule of your flights, you may have some additional time to wander in the souks of Marrakech or buy your last souvenirs before departure.
What's Included
Meals – Breakfast Only

Breakfast: 7 Lunch: 2

Fully Guided

All Domestic Transportation (including internal flights)

Accommodation

2 nights comfortable hotel 1 nights premium hotel 4 nights comfortable riad
What's Not Included
1 bottle of Mineral Water per person per day

Country Entry Visas

Tipping and Gratuities
Book with Confidence
Low Deposit

Explore! requires a deposit of 10% to secure a place on this tour, and the final balance is not due till 60 days before departure..

Secure payments

All payments to TourHub are deposited into an externally regulated Trust account.
---