Walking in Sardinia
8 Days Starting and ending in Olbia Airport
Visiting:
Sardinia
,
Italy
Tour operator:
Physical rating:
None
Trip Styles:
Activities:
Tour code:
SAR
Age range:
16-99
Tour Overview
Rugged limestone mountains, deep boulder-strewn gorges, Bronze Age villages and idyllic coastal trails are the locations for scenic and exciting hikes on this Sardinian walking holiday. Explore the natural beauty of the east of this wild and unspoilt island staying at both a welcoming farm-stay in the tranquil interior and contemporary hotel on the stunning Gulf of Orosei coast.

Supramonte Mountains - Climb the rugged limestone summit of a wild and windswept mountain range
Nuragic ruins - Hike to Tiscali and explore the mysterious legacy of Sardinia's ancient past
Gorropu Gorge - Exciting trek through this geological wonder

Highlights
Dramatic mountain hikes and spectacular coastal walking
Uncover the legacy of Sardinia's ancient Nuragic civilization
Enjoy Sardinian food and welcoming hospitality
Itinerary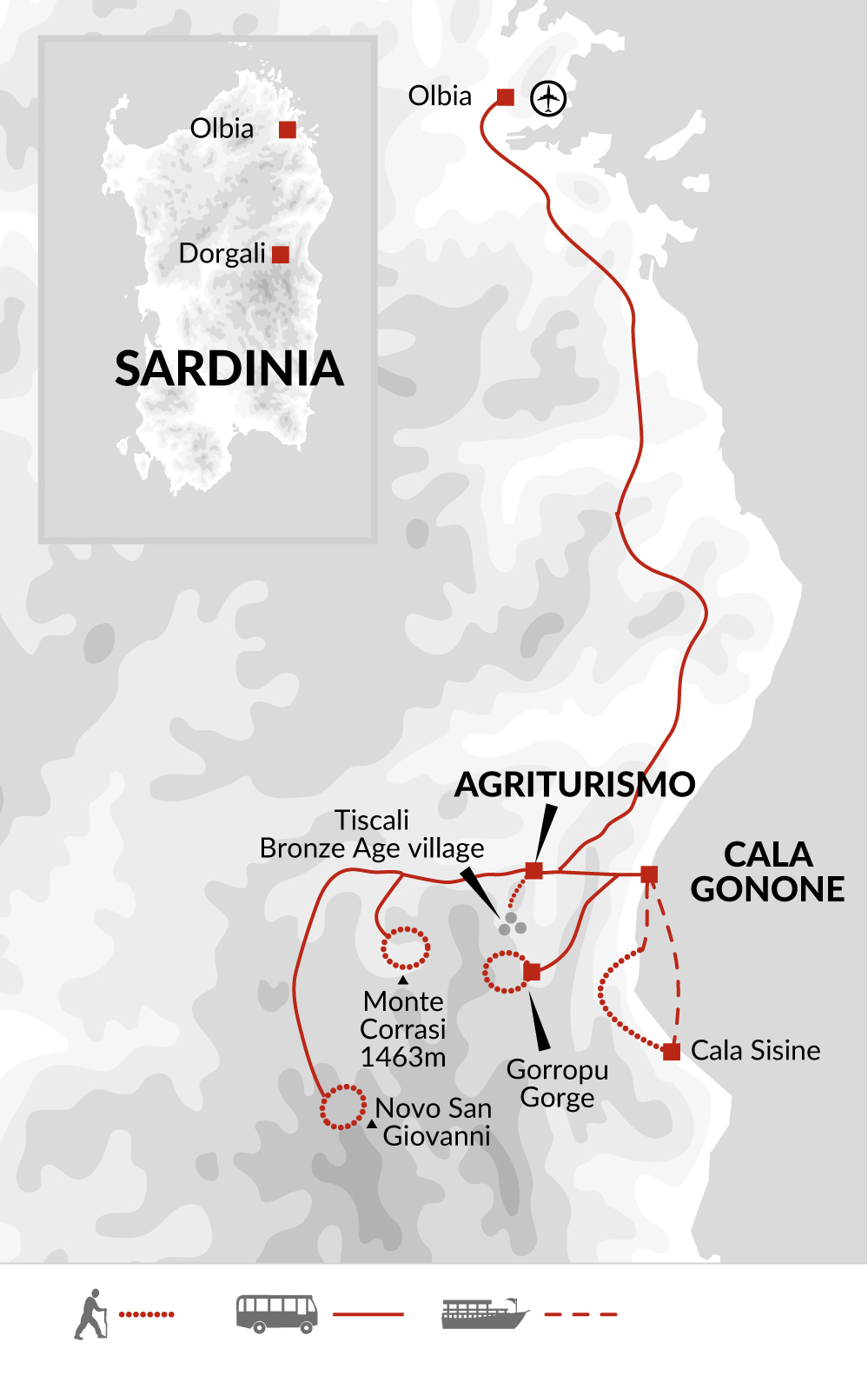 Expand All
Day 1: Join trip at Olbia (or Cagliari) Airport; drive to our agriturismo
Accommodation:
Agriturismo Canales
Meals Included:
Dinner
Our trip begins in the Arrivals Hall at Olbia Costa Smeralda Airport (OLB) at 5.15 pm. If you would like to join the complimentary airport transfer today, the latest time your flight can arrive is 4.45 pm. (Please note that the 23rd April 2023 departure only, will start at Cagliari Elmas Airport (CAG) at 1 pm and the latest time a flight can arrive for this departure will be 12.30 pm). We will travel together as a group to our base for the next four nights, the welcoming, family-run Agriturismo Canales, a journey of around an hour and 15 minutes (2 hrs 15 mins from Cagliari Airport).

Nanni and Lina's farm-stay occupies a tranquil setting overlooking Lake Cedrino, with views to the mountains beyond. The agriturismo's small restaurant serves up tasty cuisine including typical Sardinian fare such as hearty pasta dishes made with the local Gnocchetti and Seada, a sweet semolina fritter flavoured with pecorino cheese, lemon and honey.
Day 2: Supramonte Mountains trek including peaks of Monte Corrasi and Punta Sos Nidos
Accommodation:
Agriturismo Canales
Meals Included:
Breakfast, Lunch
Today's walk will take us to one the most spectacular viewpoints in Sardinia, offering panoramic views over the whole of the Supramonte Mountains and beyond. The Supramonte range is characterised by its rugged karst (limestone) topography from which rivers have carved out deep canyons and ravines.

After driving to the start point of our walk near the Hotel Monte Maccione, we climb up onto the barren limestone plateau that stretches between the peaks of Monte Corrasi and Punta Sos Nidos. We ascend Monte Corrasi first; at 1463 metres it's the highest peak in the Supramonte. The views from here are simply astounding, reaching from Punta La Marmora (Sardinia's highest peak)) and the Gennargentu Mountains to the west to the Oddoene Valley and the Mediterranean Sea to the east. After enjoying the view, we continue at first downhill and then uphill again to the summit of Punta Sos Nidos (1348 m) for a great view down into the Valley of Oliena, hundreds of metres below. The final stretch of our trek takes us back to our starting point.

Today's Challenging grade 12 kilometre walk is expected to take around seven hours with a total ascent and descent of 1000 metres.
Day 3: Hike through the homelands of the ancient Nuragic civilization to Tiscali archaeological site
Accommodation:
Agriturismo Canales
Meals Included:
Breakfast, Lunch, Dinner
We begin our day with a short drive into the Lanaittu Valley to the Sa Oche Refuge where our walk starts. We set out from Sa Oche, initially along a wide gravel road which later narrows to a rocky footpath, as we climb up to the ancient site of the village of Tiscali, located in a depression at the top of the mountain of the same name. Invisible until you climb down into the depression, it's thought the village was built here for defensive reasons. A number of nuraghe dating back to the first millennium BC can be seen. The Nuragic civilization of Sardinia lasted from the 1800 BC (Bronze Age) to the 2nd century BC, with its name deriving from the nuraghe, a fortress-tower construction, the remains of which now dot the Sardinian landscape. The cult of water was an important element of the Nuragic religion and many well-temples and sacred springs were constructed. In the centre of the site a wide window in the rock opens out onto the Lanaittu valley below. We descend to Sa Oche by a different route, taking us through a narrow gorge with lush vegetation where, if we are lucky, we could spot wild boar or a family of wild mouflon sheep.

Today's Moderate grade nine-and-a-half kilometre walk is expected to take around four hours with a total ascent and descent of 580 metres.
Day 4: Trek through the amazing Gorropu Gorge
Accommodation:
Agriturismo Canales
Meals Included:
Breakfast, Lunch, Dinner
Today's walk is in the amazing Gorge of Gorropu, dug out by the forces of the Flumineddu River. After breakfast we drive along one of the island's most panoramic roads, to the trailhead of the path at the Genna Silana Pass at a little over 1000 metres. From here we walk along a steep gravel track leading slowly down to the canyon entrance, passing through the fragrant Mediterranean maquis, coloured by wildflowers and the red fruits of the strawberry trees. On arrival at the gorge, local guides will explain the nature and geology of this amazing canyon after which we set out to walk and explore this wonder of nature on our own. The further we hike into the gorge, the bigger the boulders we have to climb over and the narrower the passages we have to squeeze through, until we reach the point where the base of the gorge is only five metres wide. From here we make our way to the gorge entrance and follow an easy trail along the river to our pick-up point near a bridge over the river.

Today's Moderate grade 10.5 kilometre walk is expected to take around five hours with a total ascent of 65 metres and descent of 800 metres.
Day 5: Visit Dorgali known for its artisan shops en route to Cala Gonone on the coast; free afternoon
Accommodation:
Hotel Cala Luna
Meals Included:
Breakfast
We say goodbye to the agriturismo this morning and head for the coast to experience a different side of Sardinia. En route we'll stop at Dorgali, a small agricultural town known for its crafts and ceramics. Travelling on to the coast by public bus (our luggage is transferred by private vehicle), our next three nights will be spent at a hotel in the seaside village of Cala Gonone on the Gulf of Orosei. This is a laid back place where life gravitates towards the long seafront promenade with a scattering of bars and restaurants and a gently shelving beach.

The rest of the day is left free. You may choose to take a break from walking to relax on the beach at Cala Gonone or nearby Cala Fuili or catch a boat further along the coast to visit various other remote and beautiful beaches and caves.
Day 6: Scenic hike from near to Dorgali back to the coast at Cala Gonone
Accommodation:
Hotel Cala Luna
Meals Included:
Breakfast
We catch a public bus inland this morning, to the trailhead close to Dorgali. We follow a track that connects Dorgali and Cala Gonone, passing through a short section (less than 200 metres) of tunnel blasted through the rock. The tunnel is wide enough for a vehicle to pass through and light enough not to require torches so claustraphobia isn't an issue. The trail then ascends with great views all the way to the top of Monte Bardia (881 m) from where there's a long and gradual descent to the coast. The trail is rocky and quite steep in parts.

Today's Challenging grade 11 kilometre walk has a total ascent of 485m and descent of 960 metres.
Day 7: Hike along part of the Selvaggio Blu coastal trail with fabulous sea views
Accommodation:
Hotel Cala Luna
Meals Included:
Breakfast
We catch a boat south to Cala Sisine this morning and enjoy fabulous coastal views of the limestone cliffs and turquoise waters of the Tyrrhenian Sea. Cala Sisine is an unspoilt sandy beach in a gorgeous cove from where we start our trek along a section of the renowned Selvaggio Blu trail. The Selvaggio Blu (Wild Blue) is a multi-day trek, abseiling and climbing expedition that runs for over 50 kilometres along a stretch of Sardinia's remote limestone east coast. But don't worry - the section from Cala Sisine to Cala Gonone that we hike involves only walking! The rocky trail undulates up and down the cliffs from Sisine to another beautiful beach, Cala Luna at nine kilometres from where there's an option to return to Cala Gonone by boat. For those wishing to continue, it's another five-and-a-half kilometres on to the end of the trek, the beach at Cala Fuili , a 20 minute walk back to our hotel.

Today's Moderate grade 14.5 kilometre walk is expected to take approximately five-and-a-half hours with a total ascent of 845m and descent of 910 metres.
Day 8: Drive to Olbia (or Cagliari) Airport where the trip ends
Meals Included:
Breakfast
Departing Cala Gonone we drive to Olbia Costa Smeralda Airport (OLB) where we will arrive about at 3.00 pm and this is where the holiday ends. The earliest time you should book a flight to depart today is 5.00 pm. (Please note that the 23rd April 2023 departure only will depart from Cagliari Elmas Airport where we will arrive at around 11.30 am and the earliest time your flight can depart will be 1.30pm).
Check out our Q&As
I'm going on a walking/cycling trip-do I need to train?
It will depend on the grade and how fit you already are. Check the trip page for details of the walking or cycling grade and how far you'll be walking/cycling each day. For moderate or challenging trips in particular we'd recommend doing some walks or cycles before you leave to build up your fitness and prepare you for the distances being covered.
Who will be my travelling companions on the tour?
We have a wide range of ages nationalities on our small group trips and they come from all walks of life.
Should I get travel insurance?
Yes–it is a condition of booking that you are fully insured when travelling with us
How long has the tour company been trading?
At Explore, we're the experts in adventure travel. Our small group adventure holidays have been running since 1981. Today, Explore is one of the most trusted travel companies in the UK with over 500 trips to more than 120 countries.
Can I join the tour once it has departed?
Yes, but there are no concessions for doing so, and we must have a record in your booking advising as such before the trip departs.
Am I contributing to any charity by booking the tour?

Being a responsible company is a large statement, something that has to be entwined within the very fibre of a company. Discover the charities and partnerships we support as part of this at https://www.explore.co.uk/about/sustainability/charities-and-partners

What happens if I need to change my holiday date once I've booked?

We want to be as clear as and as honest as possible about what happens if you decide to that you no longer wish to travel on your trip. Our booking conditions have details of the costs you'll incur when you cancel-these charges depend on how long it is before your planned departure.

What is the accommodation like?

We choose comfortable accommodation in the best locations possible. We opt for small, local and family-run accommodation where we can, as opposed to large chain hotels. We typically use hotels that are the equivalent of European 3-star, and you'll usually have an en suite room. Occasionally, where we want to get off the beaten trail we may stay in more basic accommodation.

What Ethical Travel credentials does the tour company have?

Sustainability is embedded within the fibre of Explore, it emanates from the inside out. But as we enter a new decade it is clearer than ever that our world needs help, and Explore has created a sustainability strategy based on the 2015 UN's Sustainable Development Goals.

What policies are in place for Covid-19?

Our flexible booking and safety policies mean you're protected before and during your travels with us. Receive a full refund if your trip is cancelled, transfer your trip free of charge up to 10 days before departure minus any irrocoverable costs.

Do I need to be very fit to book with you?

All our trips require some level of active participation. This could be on a cultural trip, trek, safari, expedition or voyage. It is in the interests of all members of the group that everyone should be capable of fully participating in the activities of their chosen trip.

What documents will I receive before I travel?

Final documents will include a comprehensive trip itinerary, climate and country information, budgeting and packing advice visa and passport information and details on optional activities available.

Do you operate a "single share" option and how does it work?

Yes on most of our trips. Most trips are based on customers sharing twin-bedded rooms. If you book a group trip as an individual, you will share a room with someone of the same sex. However, on many trips we offer the opportunity to pay a supplement to pre-book a single room, known as our single room option. On some trips a single room will be provided every night, on others it will be provided o

Do we have to be vaccinated against Covid-19 to travel

It's now a condition of booking a trip with us that customers should have one of the following before they travel - — Be vaccinated against COVID, having received the full recommended course, and allowing enough time for immunity to take effect. Full vaccination includes any booster required to keep the vaccine valid. — Have taken a negative test (rapid antigen or PCR) within 72hrs of departure.

Will the accommodation included meet local health and safety regulations?

Explore will only offer hotels that have specific COVID-19 protocols in place and comply with local government guidelines. We will ensure these measures include; enhanced room cleaning, ventilation, social distancing, regular cleaning and disinfection of high frequency touch points in public areas, food safety, staff re-training and minimising contact within the properties.
Dates & Availability
Instant Booking Available
Instant Booking Available
Instant Booking Available
Instant Booking Available
Instant Booking Available
Instant Booking Available
Instant Booking Available
Instant Booking Available
Instant Booking Available
Instant Booking Available
Instant Booking Available
Instant Booking Available
Instant Booking Available
Instant Booking Available
Instant Booking Available
Instant Booking Available
Book with Confidence
Free Date Changes

Explore! allows you to make 1 free date changes, as long as the change is made at least 60 days before the start of the tour.

Low Deposit

Explore! requires a minimum deposit of 10% or the full booking value, whichever is less, with the final balance not due until 60 days before departure.

Cancellation Policy

We don't charge a cancellation fee, here is a summary of explore! charges.

Up to 60 days before tour starts: 100% of deposit.

At 59 days before tour starts: 30% of booking price.

At 41 days before tour starts: 60% of booking price.

At 27 days before tour starts: 90% of booking price.

At 13 days before tour starts: 100% of booking price.
Walking in Sardinia
8 Days Starting and ending in Olbia Airport
Visiting:
Sardinia
,
Italy
Tour operator:
Physical rating:
None
Trip Styles:
Activities:
Tour code:
SAR
Age range:
16-99
Why book with tourhub?
Safe & Secure
Your money is protected in an external trust until you travel.
---
100% Guaranteed Refunds if your trip is cancelled.
---
The safest way to make overseas, multi-currency payments.
Guaranteed Best Value
Industry leading discounts, we won't be beaten on price.
---
No cancellation or amendment fees from tourhub.
(Operator terms may apply)
Expert Knowledge
Reliable & unbiased advice from travel experts.
---
Direct contact with the tour operator via our messaging service.
---
Inspiration & advice from a community of 6000+ real travellers, influencers & content creators.
Trusted Service
Official partners & licensed agents of 1000+ tour operators worldwide.
---
Don't just take our word for it...
"Tourhub: Friendliness, Professionalism & Integrity I would happily give tourhub a 6* review if I could..."