Best of Antarctica: Whale Discovery (Ocean Endeavour)
12 Days Starting in Ushuaia, Tierra del Fuego Province, Argentina and ending in Ushuaia
Visiting: Ushuaia, Drake Passage, South Shetland Islands, Hurd Peninsula
Tour operator:
Special diets catered:
Vegetarians
Tour operated in:
English
Trip Styles:
Interests:
Activities:
Tour Overview
All aboard – the journey of a lifetime awaits. Set sail towards the Antarctic Peninsula, where whales gather in their largest numbers, on this extended 12-day journey designed especially for wildlife-lovers and epic adventurers. Follow the migration paths of these gigantic sea creatures and spot seals, penguins and seabirds along the way. Explore the frozen wilderness from the deck of the Ocean Endeavour and from our fleet of up-close-and-personal Zodiacs, scanning for underwater silhouettes. Take an optional expedition by day paddle or choose a photography lesson on the White Continent from an expert. Among electric blue glaciers, this by-sea adventure provides the best opportunity for whale-spotting and once-in-a-lifetime exploration.
Highlights
Witness an incredible abundance of humpback whales, as these marine mammals migrate south to feed on krill. Take daily Zodiac excursions to get closer to the whales, when spotted by your Expedition Team.

Admire the breathtaking scenery and wildlife that surrounds you, such as Gentoo and chinstrap penguins, fur seals, albatross and so much more, backed by imposing icebergs and glaciated mountains.

Personalise your expedition with a wide range of optional adventure activities. Kayak among icebergs, day paddle with expert guides or take photography lessons from a pro.

Keep learning with onboard educational lectures on history, geology and ecology, and participate in our Citizen Science Program, all led by our expert Expedition Team.

Defrost from the day and reflect on your epic adventure aboard the Ocean Endeavour, with amenities like the Aurora lounge, sun deck, Polaris Restaurant, bar, library, saltwater pool, jacuzzi, gym, day spa and sauna.
Itinerary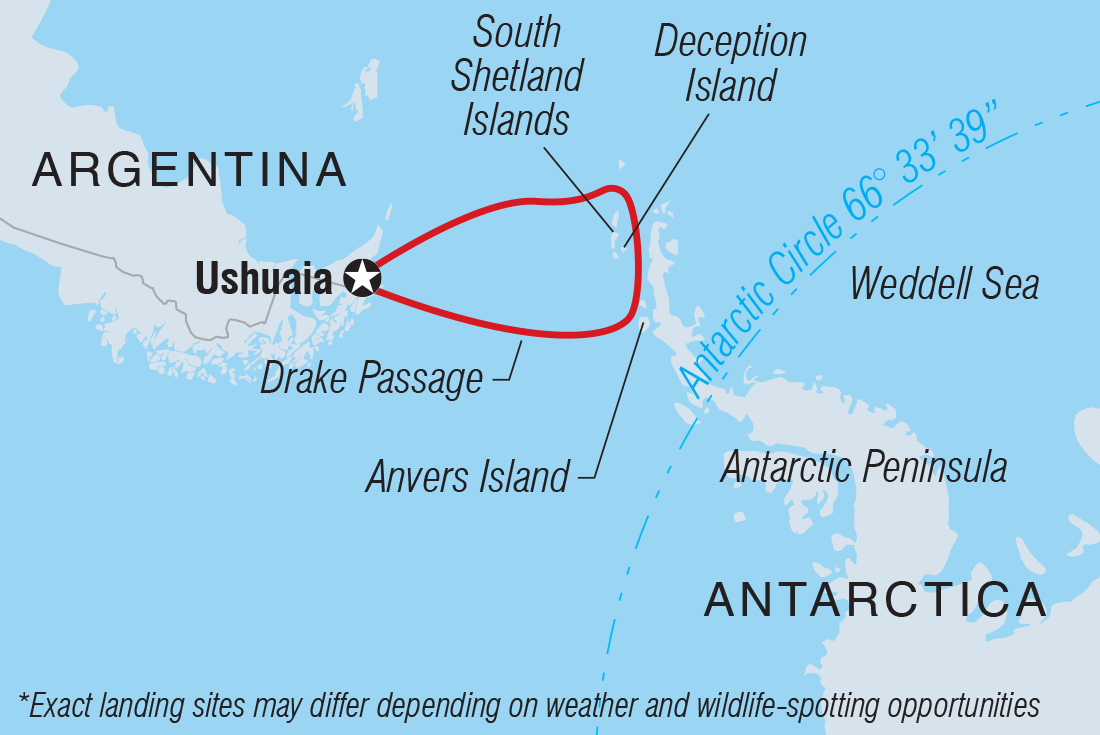 Expand All
Location:
Ushuaia
Accommodation:
Hotel
Meals Included:
No Meals
Welcome to Ushuaia, Argentina – the gateway to Antarctica. Before you embark on this epic journey, take an included transfer from the airport to your hotel. Tonight, you'll meet your fellow travellers and Expedition Team in Ushuaia with a welcome meeting at 6 pm. If you arrive early, why not head downtown for some souvenir shopping or taste some classic Argentinian flavours at one of Ushuaia's fantastic local restaurants? If you get the chance, watching the sun go down at 'The End of the World' (the nickname for the Tierra del Fuego archipelago) is the perfect way to cap off your first night.
Day 2 :

Embarkation In Ushuaia, Argentina
Location:
Ushuaia
Accommodation:
Expedition Cruise Ship
Meals Included:
Breakfast, Dinner
This morning is yours to explore Ushuaia. You can always ask your Expedition Leader for suggestions, but exploring this remote town on foot makes for a beautiful start to the day. Ushuaia offers enough stunning scenery for any nature-buff, so make sure you've grabbed your camera to snap that snow-capped backdrop. In the afternoon, transfer to the port of Ushuaia where you will board the Ocean Endeavour – your home on the sea for the next 10 nights. After meeting your fellow passengers and Expedition Team and settling into your cabin, you'll set sail through the historic Beagle Channel towards Antarctica. Soak up incredible views as you glimpse your last sight of Argentina, then head inside to join the excitement and learn more about what to expect over the coming days.
Day 3 :

3-4 At Sea, Drake Passage
Location:
Drake Passage
Accommodation:
Expedition Cruise Ship
Meals Included:
No Meals
Spend two days travelling across the legendary waters of the Drake Passage, named after the British seafarer Sir Francis Drake, towards the Antarctic Peninsula and the South Shetland Islands. If conditions allow, there will be a chance to enjoy the outer deck spaces, scouting for dolphins, whales and a variety of seabirds that pass by – including the iconic wandering albatross, with its enormous three-meter wingspan. Our comprehensive lecture program will also get underway for you to join at your leisure, with our team of polar experts sharing fascinating insights into
Antarctic history, geology, biology and everything in between! If the weather is on your side, you should reach the Islands of the Antarctic Peninsula by early evening on day four. Make sure you're on deck for this, as the first sighting of land always builds great anticipation on any expedition south.
Day 5 :

5-9 South Shetland Islands & Antarctic Peninsula
Location:
South Shetland Islands, Hurd Peninsula
Accommodation:
Expedition Cruise Ship
Meals Included:
No Meals
The Antarctic Peninsula is known for a high number of wildlife sightings, not to mention the stunning backdrop of mountains, icy landscapes and water. The perfect combination, as you search for migrating whales. This is why you have five full days to enjoy wildlife opportunities, both from the expansive outer decks of the Ocean Endeavour and via Zodiac cruises and shore excursions. The peak of the migration season is the best opportunity to see these majestic ocean dwellers, as all Antarctic whale species migrate long distances, feeding in the cold, nutrient-rich Southern Ocean during the southern summer. The most common species found in the region are humpback, Minke and fin whales, as well as orcas.

An average day on board begins with a wake-up call from your Expedition Leader around 7 am, giving you time to prepare for the day before joining your fellow expeditioners for breakfast in the Polaris restaurant. You will usually have two excursions per day, one in the morning and one in the afternoon, with lunch served on the Ocean Endeavour in between excursions.

As whale season is in full swing, you may like to participate in one of our exciting onboard Citizen Science projects – the Happy Whale Project, where you can upload photos of whale's tails (called flukes) online, along with details of where the images are taken. These are used to analyse and identify the individual whales and track their movement across the oceans. Sightings can happen from the outer decks of the ship, on the ship's bridge with your Captain or during a Zodiac excursion. Our open bridge policy allows you into the command centre of the Ocean Endeavour for the ultimate behind-the-scenes access and the best place to spot whales.

You will also have the daily opportunity for optional adventure activities, including kayaking or day paddle excursions through ice floes, or photography sessions and workshops led by our expert photography guides.
Day 10-11: At Sea, Drake Passage
Location:
Drake Passage
Accommodation:
Expedition Cruise Ship
Meals Included:
No Meals
As the Ocean Endeavour starts its return journey north to our home port of Ushuaia, now is the time to reflect on your amazing adventure. We're scheduled to reach the relatively calm waters of the Beagle Channel by the evening of day 11. This evening, your final meal together in the Polaris restaurant is often a highlight, so make sure to live it up and enjoy the moment as you celebrate an incredible adventure with your fellow travellers and Expedition Team. Don't forget the group selfie!
Day 12 :

Disembarkation In Ushuaia, Argentina
Location:
Ushuaia
Meals Included:
Breakfast
Disembark the Ocean Endeavour after breakfast as your Antarctic expedition comes to an end and the memories of an amazing experience begin. A transfer to Ushuaia airport or downtown is included if you're departing today.
What's Included
Fully Guided

Accommodation

As detailed in the itinerary

Meals

As detailed in the itinerary
What's Not Included
Insurance

International Travel
Transport
The Ocean Endeavour has a fleet of 20 Zodiacs which means that all passengers can enjoy a landing at the same time.
Accommodation
Comfortable hotel (1 night), Expedition cruise ship (10 nights)
Important Information
SPECIAL BOOKING CONDITIONS
You are required to pay a non-refundable deposit of AUD1500, USD1000, EUR900, NZD1600, GBP800, CAD1300, CHF900 or ZAR17,000 per person per trip for your booking to be confirmed. Full payment is required 95 days prior to departure.
Please refer to our "Booking and Conditions" section on our website including the special conditions that apply to Antarctica Voyages (Ocean Endeavour)
COVID 19 VACCINATION
COVID-19 vaccination is a pre-embarkation requirement for all guests, staff, and crew on all Ocean Endeavour voyages. We will request a copy of your COVID-19 vaccination status on Day 1
ADVENTURE OPTIONS
Approaching a looming glacier in a sea kayak, strapping on snowshoes to reach the best icy viewpoints, capturing the perfect photo of a seal hunting its prey or camping under an Antarctic perpetual twilight – these are just some of the ways you can enrich your exploration of the great White Continent with our additional activities. A range of Paid Adventure Options is available on the Ocean Endeavour, on selected voyages, subject to availability. Your booking agent can assist with availability and pricing.
• Kayaking or Photography Program - Voyage-duration program available on all voyages. Pre-book via your booking agent.
• Day Paddle or Stand Up Paddleboarding - One-off excursion available on all voyages. Pre-book via your booking agent. Additional spaces may be available to book on board via the Expedition Team
Check out our Q&As
Are airport transfers included in this tour?

Usually 'NO' but check itinerary

Will there be an escort accompanying this tour?

What is the fitness level required to do this tour?

LOW - Some easy physical activities included in your trip. No physical preparation is required to make the most of the journey.

Is this trip right for you

The Ocean Endeavour is an ice-strengthened ship – large, sturdy and suited to the unpredictable Antarctic waters. Some people may experience seasickness in occasional rough seas however, we do have a doctor on board should you need assistance. Over-the-counter seasickness medication is usually an easy fix.

Temperatures in the Antarctic can get very cold, but it also can get surprisingly warm when the sun comes out. We recommend dressing in layers when you journey outside. We'll provide you with waterproof boots on loan that are sturdy and warm, as well as an inner jacket that is yours to keep. Please see the Essential Trip Information for notes on what to pack.

Depending on the weather, you'll be travelling around in a Zodiac boat quite regularly to explore the area and search for wildlife. It can get cold and wet on the Zodiac, so make sure you dress appropriately and keep your camera safe and dry. A fair level of mobility is needed for wet and dry landings from the boat, as well as on steep terrain, snow and other uneven surfaces. The Ocean Endeavour has a lift, but you'll need to take the stairs to get to the gangway and some other parts of the ship that the lift does not provide access to.

The weather plays a pivotal part in this adventure and, although there's an itinerary in place, there are no guarantees that you'll be able to do everything that is planned. A level of flexibility and openness to embracing the unexpected are important in expedition travel, especially in such a remote area like the Antarctic. There are nearly 200 recognised sites in the Antarctic Peninsula and South Shetlands and the places mentioned in the itinerary may need to be changed to other locations – which are just as interesting and beautiful! We may also be confined to the ship during rough weather, but there are plenty on onboard resources and activities. The ship's library and educational lectures are ideal ways to stay entertained, while the wellness spa, saunas, gym and yoga classes will keep you fresh for when the weather clears.

Is there any free time to explore places during the tour?

As detailed in the itinerary
Are all the relevant entry visa's included in the price of the tour?

Are children permitted to take part in the tour?

Yes, 5 years old or above or Yes, 15 years old or above

What policies are in place for Covid-19?

Please contact us for latest COVID-19 policies

How long has the tour company been trading?

Intrepid Travel has been taking travellers around the world for over 30 years

Will the accommodation included meet local health and safety regulations?

What Ethical Travel credentials does the tour company have?

Since 2002, The Intrepid Foundation has supported over 130 organisations across the world. We're creating positive impact through the joy of travel, community and connection.

Do you operate a "single share" option and how does it work?

Over 50% of traveller travel solo with Intrepid. You can choose to share a room with another solo travelle of the same sex for no additional charge, or choose to pay a single supplement if you'd like your own room. Please request this when booking, and we will secure you a single supplement wherever possible. Please note, if you are booking a last-minute trip, it may be harder for us to secure a single room
Dates & Availability
Instant Booking Available
Sunday - Thursday
Mar 09, 2025 - Mar 20, 2025
Book with Confidence
Free Date Changes

Intrepid Travel allows you to make 10 free date changes, as long as the change is made at least 56 days before the start of the tour.

Transfer as credit to Future Tours

Intrepid Travel allows you to transfer existing payments to a future tour to avoid cancellation fees if you can't travel and inform intrepid travel, 56 days before departure.

Low Deposit

Intrepid Travel requires a minimum deposit of 200 GBP per person or the full booking value, whichever is less, with the final balance not due until 56 days before departure.

Cancellation Policy

We don't charge a cancellation fee, here is a summary of intrepid travel charges.

Up to 56 days before tour starts: Forfeit 100% of deposit.

At 55 days before tour starts: Forfeit 30% of booking price.

At 30 days before tour starts: Forfeit 60% of booking price.

At 14 days before tour starts: Forfeit 100% of booking price.

COVID Protection

Trips from 1 January 2023 onwards
From 1 January 2023, Intrepid will no longer require travellers to provide proof of vaccination against COVID-19.

However, we continue to strongly recommend that all travellers and leaders get vaccinated to protect themselves and other Specific proof of testing or vaccination may still be required by your destination or airline. Please ensure you check travel and entry requirements carefully.

This policy excludes all Polar trips and select adventure cruises, where testing and vaccination remains a requirement. Please refer to the Essential Trip Information of your chosen tour for more details.

Why book with tourhub?
Safe & Secure
Your money is protected in an external trust until you travel.
---
100% Guaranteed Refunds if your trip is cancelled.
---
The safest way to make overseas, multi-currency payments.
Guaranteed Best Value
Industry leading discounts, we won't be beaten on price.
---
No cancellation or amendment fees from tourhub.
(Operator terms may apply)
Expert Knowledge
Reliable & unbiased advice from travel experts.
---
Direct contact with the tour operator via our messaging service.
---
Inspiration & advice from a community of 6000+ real travellers, influencers & content creators.
Trusted Service
Official partners & licensed agents of 1000+ tour operators worldwide.
---
Don't just take our word for it...
"Tourhub: Friendliness, Professionalism & Integrity I would happily give tourhub a 6* review if I could..."
Similar Tours
Travel Guru Features
Our Reviews