Budapest & the Balkans
10 Days Starting in Budapest and ending in Dubrovnik
Visiting: Budapest, Belgrade, Sarajevo, Mostar, Kotor, Dubrovnik
Tour operator:
Special diets catered:
Vegetarians
Tour operated in:
English
Trip Styles:
Interests:
Activities:
Tour Overview
Veer off the usual route and discover some of Central Europe's up-and-coming hotspots on this ten-day Lonely Planet Experience, powered by Intrepid. Starting off in cultured and cosmopolitan Budapest, travel to the Serbian capital of Belgrade for a taste of a city on the rise. Learn about Bosnia and Herzegovina's war years in Sarajevo, stop by the famed Old Bridge of Mostar and finish things up in wonderful Dubrovnik. Melding the past with the present and the raw with the cultivated, this Balkans adventure gives you the power to see Central Europe your way, with a local leader on hand to steer you in the right direction.
Highlights
Enjoy plenty of free time at your own pace to discover the communist past and progressive present of Budapest – the Pearl of the Danube.

Immerse yourself in the edgy street scene of Belgrade's Bohemian Quarter, then dance the night away in one of Europe's nightlife hotspots with your crew of likeminded adventurers.

Visit Mostar's famous Old Bridge and – if you're lucky – witness a traditional bridge jumper hurl themselves into the icy waters below.

Admire the restored architecture of World Heritage-listed Kotor in Montenegro on a climb along the ancient city fortifications.

Wind up along Croatia's Dalmatian coastline in the historic hotspot of Dubrovnik. With walls to scale and beaches to laze on, why not consider extending your stay a day or two here?
Itinerary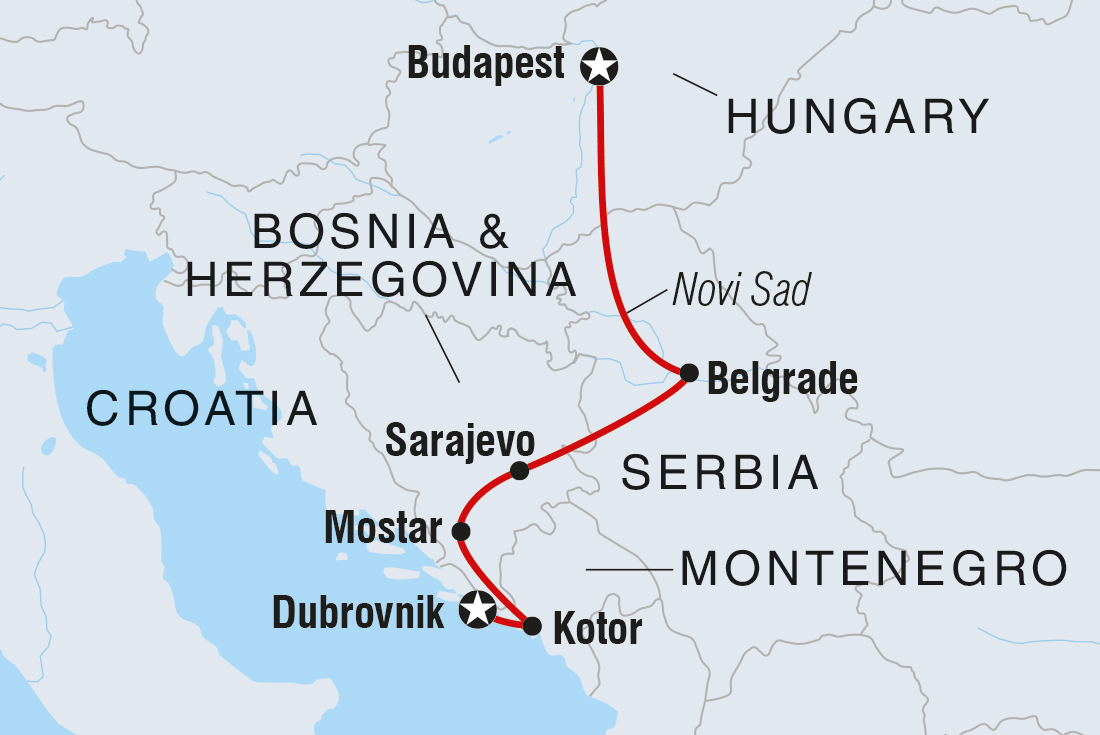 Expand All
Location:
Budapest
Accommodation:
Hotel
Meals Included:
No Meals
Szia! Welcome to Budapest, Hungary's vibrant capital. This is a city split in two – Buda and Pest – right on the banks of the Danube River. In the evening, after the welcome meeting at 6 pm, perhaps head out with your new travel pals and group leader for dinner, then take a night walk along the Danube to see the buildings and bridges lit up in lights. Why not continue the night going in one of Budapest's quirky ruin bars, full of good vibes and eclectic decor.

Optional Activities:
-Budapest - Buda Castle Explorer Urban Adventure
-Budapest - Bites & Sights Food Tour Urban Adventure
-Budapest - Best Beers of Budapest Urban Adventures
Location:
Budapest
Accommodation:
Hotel
Meals Included:
Breakfast
This morning you have the option to join your leader on a short orientation walk of the city. Afterwards you have a full free day to explore Budapest. This is a great city to enjoy from the water, so perhaps take a boat trip along the river, or catch a funicular up to the castle for spectacular views of the Parliament Building. With so much to see and do, hiring a bicycle is another great way to move between the sights. You could head to Statue Park to see the communist monuments that were removed from the city after the fall of the Iron Curtain. Alternatively, you might like to take a tour of the beautiful Hungarian State Opera House or check out the Hungarian National Museum. One unmissable activity is a healing soak in one of Budapest's thermal bath complexes, so try and fit that in your schedule, too.

Optional Activities:
-Budapest - Parliament Tour
-Budapest - Szechenyi Thermal Baths (starting from)
-Budapest - Hungarian State Opera House Tour
-Budapest - Transport and Entry to Statue Park
-Budapest - House of Terror
-Budapest - Hungarian National Museum
-Budapest - Bike Ride
-Budapest - Great Synagogue
-Budapest - Central Market - Free
Location:
Belgrade
Accommodation:
Hotel
Meals Included:
Breakfast
Take private transport and head to Belgrade, Serbia's surprising capital and one of the oldest cities in Europe. Sitting at the junction of two major rivers – the Sava and the Danube – it's an important intersection between Eastern and Western Europe. Upon arrival, there is the option to join a guided tour, then you'll have plenty of free time to explore the city. Perhaps begin with a wander around the city's wide boulevards and squares, and the historic and green heart of Kalemegdan Park. The park is home to Kalemegdan Fortress, which has overlooked the river here for centuries. In the evening, head down to Skadarska Street in the bohemian quarter of Skadarlija to sample some authentic local food and enjoy the lively atmosphere, in a place where Orthodox churches vie for space next to heaving nightclubs.
Location:
Belgrade
Accommodation:
Hotel
Meals Included:
No Meals
Today is another day to discover Belgrade. You might like to take a cruise along the Danube River, passing Kalemegdan Fortress, Pancevo Bridge and Zemun. Otherwise, the local market Zeleni Venac can keep you occupied for hours. Perhaps take a stroll through the Nikola Tesla Museum to learn about the life and work of Serbia's greatest inventor, or check out the city's Ethnographic or Military museums. If the weather is warm, you could brave the crowds on Ada Ciganlija beach, where you can swim, take up some water sports or soak up the sun. During summer months, Belgrade hosts a variety of musical and cultural events and the city is abuzz with people and activities.

Optional Activities:
-Belgrade - Nikola Tesla Museum
-Belgrade - Ethnographic Museum
-Belgrade - Military Museum
-Belgrade - Danube River Cruise
-Belgrade - City Tour with Local Guide
-Belgrade - Sveti Sava Church - Free
-Belgrade - Tito's Mausoleum (House of Flowers)
Location:
Sarajevo
Accommodation:
Pension
Meals Included:
No Meals
Travel by bus through the countryside to Sarajevo. The journey will take around 8 hours in total, so sit back and enjoy the scenery. Sarajevo is Bosnia and Herzegovina's small but vibrant capital. The city often draws comparisons with Istanbul as a place that mixes east and west – dotted with minarets, mosques, bazaars and the aroma of coffee. On arrival, perhaps head on an optional guided tour to gain insight into the history and culture of the city. Sarajevo is one of the few cities in the world that features an Orthodox church, a Catholic church and a mosque (the famous Begova Dzamija) all within close proximity. Make sure you explore Bascarsija – Sarajevo's old bazaar. Out from here the city's history unfolds – Ottoman-era buildings beside elaborate Austro-Hungarian and communist structures. In the evening, be sure to keep a look out for the local speciality of bosanski cevapi – local grilled and spiced meats.

Included Activities:
-Sarajevo - Burek Snack in Bascarsija
Location:
Sarajevo
Accommodation:
Pension
Meals Included:
No Meals
Enjoy a free day in and around Sarajevo. You could take an optional day trip out to the thermal springs and green parks of Ilidza, the source of the River Bosna. You might prefer to discover local history with a visit to the History Museum, the Sarajevo War Tunnels and Sniper Alley, or learn about the tragedies faced by the city's Jews at the Jewish Museum. Maybe get cultural with a stroll through the Art Gallery of Bosnia and Herzegovina or return to Bascarsija and get lost in the mosques, caravanserais, and stone-vaulted bazaars while snacking on burek. The Pivnica HS brewery, which also has a restaurant, is a good place to sample local award-winning beer and spend the night with your travel crew.

Optional Activities:
-Sarajevo - Jewish Museum
-Sarajevo - City Tour with Local Guide
-Sarajevo - Times of Misfortune Tour & Tunnel Museum
-Sarajevo - Ilidza Park and Springs
-Sarajevo - National Museum
-Sarajevo - Svrzo's House
-Sarajevo - Gazi Husrev-beg Mosque
-Sarajevo - City Hall & Old National Library
-Sarajevo - Scars and Smiles Urban Adventure
-Sarajevo - Story of Sarajevo Urban Adventure
Location:
Mostar, Kotor
Accommodation:
Hotel
Meals Included:
No Meals
Early this morning, head out of Sarajevo by train to Mostar (approximately 3 hours). Thanks to the river Neretva, Mostar was able to develop as a city in the barren landscape of Herzegovina. On arrival, perhaps head to the famous Stari Most (Old Bridge), first built by the Ottomans in 1565 – it was the great architect Mimar Hajrudin who succeeded with the impossible mission to cross the Neretva River with a single span stone bridge. If you're lucky, you might see the famous brave members of Mostar's diving club hurl themselves into the icy waters below. It's tradition for the young men of the town to make the jump, and it's now an annual competition. However, it's definitely not advised to have a go yourself, as the bridge is super high and water freezing. Instead, follow the local custom and hand the divers a few Marks (the local currency). Later today, continue to Kotor where you will spend the night (approximately 4 hours).

Optional Activities:
-Mostar - War Photo Exhibition
-Mostar - Koski Mehmed Pasa Mosque & Minaret
-Mostar - Old Bridge Museum
Location:
Kotor
Accommodation:
Hotel
Meals Included:
Breakfast
Explore Europe's most southerly fjord, Boka Kotorska (Bay of Kotor) and Kotor town, with free time to discover the city's narrow alleyways by yourself today. This fifth-century World Heritage-listed city is set on a secluded bay, with towering peaks surrounding a rocky coastline dotted with pretty waterside towns. Check out the 12th-century Cathedral of St Tryphun, the South Gates of Kotor (the Gurdich Gate) and the Armoury Square (Trg od oruzija). Afterwards, you might like to get lost in the crooked alleyways, checking out the boutiques and cafes, or climb the hills behind the city to visit Kotor's ruined fortification walls. A 1.5-hour hike up the stone steps, past churches, gates, and bastions to the Fortress of Sveti Ivan at the top rewards you with magnificent views across town and the Bay of Kotor. In the evening, the city walls are lit up to provide a unique night-time perspective.

Optional Activities:
-Kotor - Cruise on Kotor Fjord
-Kotor - St. Tryphon's Cathedral
-Budva - Day Trip (by public bus)
-Kotor - Fortress
-Kotor - Maritime Museum
Location:
Dubrovnik
Accommodation:
Hostel
Meals Included:
Breakfast
Leave Montenegro by bus, riding along the beautiful southern coast of Croatia to Dubrovnik (approximately 2.5 hours). Once arrived, the day is free for you to explore Dubrovnik at your own pace. Take a walk along the city walls of 'Game of Thrones' fame, enjoying views of the sparkling Adriatic Sea in this renowned jewel of the Dalmatian Coast. Perhaps check out the 13th-century Franciscan monastery or the Sponza and Rector's palaces – the only Renaissance buildings in the city to survive a devastating earthquake and fire in 1667. You might like to check out the city's War Photography Museum, or if you have time, even take a boat trip to nearby Lokrum Island, where you will find the French-built Fort Royal Castle, a monastery, and a botanical garden that dates back to when the Austrian archduke Maximilian had his holiday home on the island. Otherwise, find a secluded beach spot and have some time to unwind. Tonight, why not enjoy a harbourside meal with the group and toast to your adventures.
Location:
Dubrovnik
Meals Included:
Breakfast
With no activities planned for today, you are free to depart at any time. As there is so much to do in Dubrovnik you might like to extend your stay here. We are happy to organise accommodation for you (subject to availability).

Optional Activities:
-Dubrovnik - Game of Thrones Tour
-Dubrovnik - Lokrum Island Boat Trip
-Dubrovnik - Franciscan Monastery
-Dubrovnik - War Photography Museum
-Dubrovnik - City Walls Walk
-Dubrovnik - Rector's Palace
-Dubrovnik - Church of St. Blaise - Free
-Dubrovnik - Hike up Mt Srd - Free
-Dubrovnik - Mt Srd Museum of Croatian War of Independence
What's Included
Sarajevo - Burek Snack in Bascarsija

Accommodation

Hotel (6 nights), Pension (2 nights), Hostel (1 night)

Transport

Train, Public bus, Private vehicle, Metro, Taxi
What's Not Included
Tipping and Gratuities

International Travel
Included Activities
Sarajevo - Burek Snack in Bascarsija
Accommodation
Hotel (6 nights), Pension (2 nights), Hostel (1 night)
Transport
Train , Public bus , Private vehicle , Metro , Taxi
Check out our Q&As
Is this trip right for you

As this trip only has limited time in Budapest, we highly recommend staying a few extra days before your tour to enjoy all this amazing destination has to offer.

This trip is made for travellers who value their independence but also want the benefit of a local guide and a group of like-minded travellers. The itinerary has a mix of included activities and free time when your leader will offer suggestions. Please budget spending money for optional activities you want to partake in.

As accommodation on this trip is twin-share, single travellers will share a room with other travellers of the same gender. This trip is an excellent opportunity to get to know other like-minded people, so embrace it! European hotels often don't have double beds but two single beds that can be pushed together/apart. Rooms can be small, especially compared to American or Australian standards, and in most cases, bathroom facilities will be shared. A single supplement is not available on this trip.

Summer temperatures can be very high in many regions visited (over 40°C), which can be uncomfortable. It's essential to use sun protection, wear layers to combat the heat and drink plenty of water. Many European hotel rooms are not equipped with air-conditioning. Please carefully consider the time of the year you wish to travel and your suitability for that season.

Are airport transfers included in this tour?

Are the local guides on the tour English speaking?

Are all the relevant entry visa's included in the price of the tour?

Are all entrance fees included in the price?
Are children permitted to take part in the tour?

Yes if aged 15+ and accompanied by an adult

Are international flights included in this tour?

What policies are in place for Covid-19?

Please contact us for latest COVID-19 policies

How long has the tour company been trading?

Intrepid Travel has been taking travellers around the world for over 30 years

Will the accommodation included meet local health and safety regulations?

What Ethical Travel credentials does the tour company have?

Since 2002, The Intrepid Foundation has supported over 130 organisations across the world. We're creating positive impact through the joy of travel, community and connection.

Do you operate a "single share" option and how does it work?

Over 50% of traveller travel solo with Intrepid. You can choose to share a room with another solo travelle of the same sex for no additional charge, or choose to pay a single supplement if you'd like your own room. Please request this when booking, and we will secure you a single supplement wherever possible. Please note, if you are booking a last-minute trip, it may be harder for us to secure a single room
Reviews of this Operator
Nicole
North American Adventure
This was my first international solo trip, but I never felt "alone" - there was always someone to go shopping, hike, or grab a quick bite with. The itinerary was a great balance between organized activities, while still allowing free time for exploring. Each location was unique and charming in its own way. Spending the night in the holy city of Moulay Idriss and wandering the winding streets of Chefchaouen were especially memorable. Thank you Mustapha and Intrepid for an incredible adventure!
Ann
Amazing Guatemala and beyond tour with Intrepid
Did Guatemala and beyond trip in November 22. It was amazing, we were so well looked after by our guide Aura. She was very knowledgeable and during our bus trips she gave us the history of the 4 countries. The border crossings can be tricky but handled very well by our guide. We saw all the most interesting and beautiful places. The hotels were lovely comfortable colonial style. I will travel with intrepid again
Trustpilot
Joanne W
Wonderful Croatian tour
Our tour guide,Tamara, was the highlight of our Explore Croatia tour. She was knowledgeable, organized, and so kind and fun. Croatia is a beautiful country. I loved the people, the scenery, the food, the history. I hope to go back one day. Intrepid was perfect for me. There was group time and there was plenty of free time. It wasn't a luxury tour but all of our accommodations were clean and safe. The dinner in Hvar was SO special!
Trustpilot
Kelly
North Morocco Adventure
Touring the beautiful North of Morocco I learned far more than I'd anticipated in this 9 day tour. Interesting sights to see, with knowledgeable local guides, this tour provides a great balance of exposure to a different culture with ample time for relaxation. Chefchaouen is an absolute highlight, & not a place many Morocco trips of this kind go to. Loved it!
Sharik
Essential Morocca
Essential Morocco was an absolute dream. Every single day had such informative walking tours and tours of local facilities. Whether it was dinner with a local family or visiting a pottery factory, I learned so much about Moroccan culture. The accommodations were safe and I felt secure the entire 11 days. This trip wouldn't have been the same without one person. That person is Youssef. If you are coming to Morocco with Intrepid and you don't request Youssef, you're doing it wrong. Words cannot describe how incredible of a guide he is. There were 3 of us on our trip of 18-29 year olds and he made us all feel so welcome and safe all the time. Whether that is cracking jokes on long drives or giving us the itinerary for the next day, Youssef ensured we felt respected and seen.
Dates & Availability
Instant Booking Available
Tuesday - Thursday
May 14, 2024 - May 23, 2024
Instant Booking Available
Tuesday - Thursday
May 28, 2024 - Jun 06, 2024
Instant Booking Available
Tuesday - Thursday
Jun 04, 2024 - Jun 13, 2024
Instant Booking Available
Tuesday - Thursday
Jun 18, 2024 - Jun 27, 2024
Instant Booking Available
Tuesday - Thursday
Jul 02, 2024 - Jul 11, 2024
Instant Booking Available
Tuesday - Thursday
Jul 16, 2024 - Jul 25, 2024
Instant Booking Available
Tuesday - Thursday
Aug 06, 2024 - Aug 15, 2024
Instant Booking Available
Tuesday - Thursday
Aug 20, 2024 - Aug 29, 2024
Instant Booking Available
Tuesday - Thursday
Sep 03, 2024 - Sep 12, 2024
Instant Booking Available
Tuesday - Thursday
Sep 17, 2024 - Sep 26, 2024
Instant Booking Available
Tuesday - Thursday
Oct 01, 2024 - Oct 10, 2024
Book with Confidence
Free Date Changes

Intrepid Travel allows you to make 10 free date changes, as long as the change is made at least 56 days before the start of the tour.

Transfer as credit to Future Tours

Intrepid Travel allows you to transfer existing payments to a future tour to avoid cancellation fees if you can't travel and inform intrepid travel, 56 days before departure.

Low Deposit

Intrepid Travel requires a minimum deposit of 200 GBP per person or the full booking value, whichever is less, with the final balance not due until 56 days before departure.

Cancellation Policy

We don't charge a cancellation fee, here is a summary of intrepid travel charges.

Up to 56 days before tour starts: Forfeit 100% of deposit.

At 55 days before tour starts: Forfeit 30% of booking price.

At 30 days before tour starts: Forfeit 60% of booking price.

At 14 days before tour starts: Forfeit 100% of booking price.

COVID Protection

Trips from 1 January 2023 onwards
From 1 January 2023, Intrepid will no longer require travellers to provide proof of vaccination against COVID-19.

However, we continue to strongly recommend that all travellers and leaders get vaccinated to protect themselves and other Specific proof of testing or vaccination may still be required by your destination or airline. Please ensure you check travel and entry requirements carefully.

This policy excludes all Polar trips and select adventure cruises, where testing and vaccination remains a requirement. Please refer to the Essential Trip Information of your chosen tour for more details.

Why book with tourhub?
Safe & Secure
Your money is protected in an external trust until you travel.
---
100% Guaranteed Refunds if your trip is cancelled.
---
The safest way to make overseas, multi-currency payments.
Guaranteed Best Value
Industry leading discounts, we won't be beaten on price.
---
No cancellation or amendment fees from tourhub.
(Operator terms may apply)
Expert Knowledge
Reliable & unbiased advice from travel experts.
---
Direct contact with the tour operator via our messaging service.
---
Inspiration & advice from a community of 6000+ real travellers, influencers & content creators.
Trusted Service
Official partners & licensed agents of 1000+ tour operators worldwide.
---
Don't just take our word for it...
"Tourhub: Friendliness, Professionalism & Integrity I would happily give tourhub a 6* review if I could..."
Similar Tours
Travel Guru Features
Our Reviews