Costa Rica Family Holiday with Teenagers
9 Days Starting and ending in San Jose
Visiting: San José, Poás Volcano, La Tigra, Parque Nacional Volcán Arenal, La Fortuna, Tilaran, Monteverde, Parque Nacional Manuel Antonio
Tour operator:
Recommended For:
Special diets catered:
Vegetarians
Tour operated in:
English
Trip Styles:
Interests:
Activities:
Tour Overview
Travel to Costa Rica on a tailored family tour and experience a country that's brimming with natural beauty and adventure activities. Hike to a crater lagoon, soak in hot springs, gaze at precious pre-Colombian treasures, take in mind-blowing views of Arenal Volcano, do some whitewater rafting, explore cloudforest, go on a crocodile safari, and look out for monkeys and armadillos in a jungle right next to the beach. With expert local guidance, photo-ops galore, chances to try your Spanish skills and plenty of swimming pool action, this ticks all the boxes for an epic family getaway.
Highlights
Dive into the heart of one of the world's most biologically diverse countries, travelling along rivers, through dense rainforest, past towering volcanoes and to blissful beaches on a journey that will awaken your inner nature-lover

Get active on an incredible range of outdoor pursuits – rafting along rapids, climbing up to volcanic craters, safari-ing for crocs, and hiking through jungle

Enjoy close-up encounters with Costa Rica's endless wildlife, then enjoy plenty of time to let off some steam in thermal springs and swimming pools

End this adventure by hitting Manuel Antonio National Park, where the evergreen forest grows right up to the long, white beaches and irresistible water
Itinerary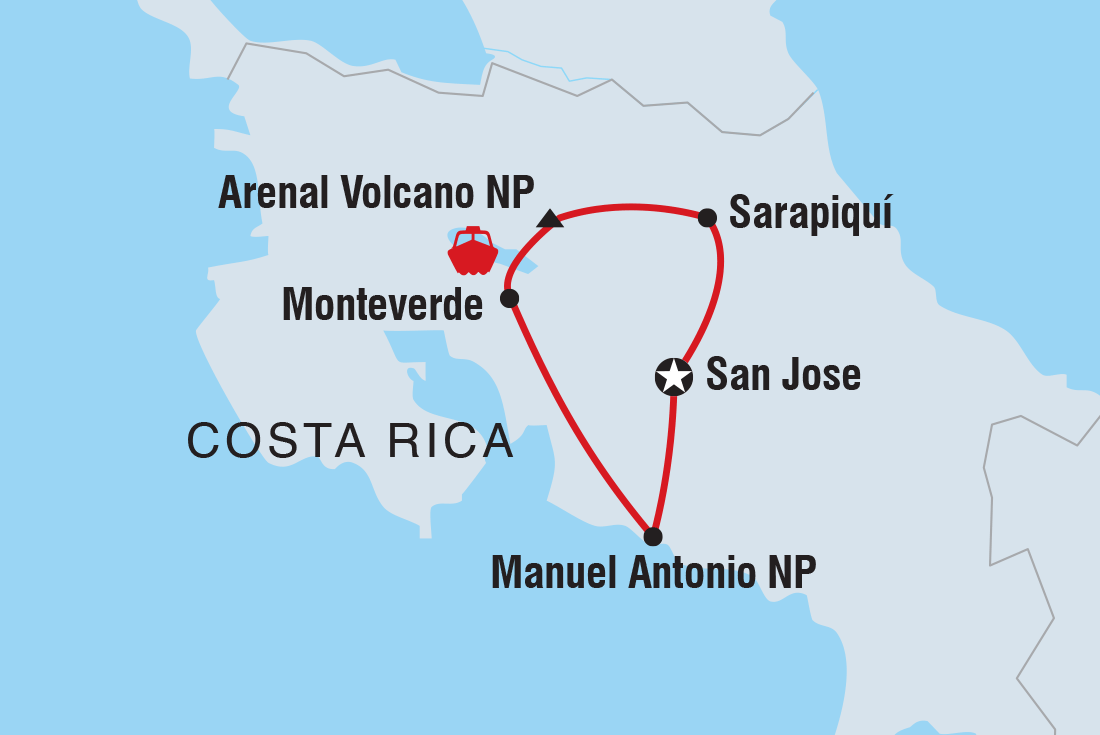 Expand All
Location:
San José
Accommodation:
Hotel, Autentico or similar
Meals Included:
No Meals
Welcome to Costa Rica. The adventure begins with a welcome meeting at
5 pm at the hotel in San Jose. You can arrive at any time today, as there are no activities planned until this group meeting. San Jose sits in the heart of the country in the lush, wide Central Valley, and has a comfortable subtropical climate. With over half the country's population living within its limits, it's a bustling city with lively markets, intriguing museums and a fun atmosphere. Its grid pattern makes it easy to navigate too – the avenidas run east to west and the calles run north to south. After the meeting tonight, perhaps get to know the rest of the group by heading out for your first taste of the local 'tico' food.
Location:
Poás Volcano, La Tigra
Accommodation:
Lodge, LodgeLa Tigra Lodge
Meals Included:
Breakfast, Lunch, Dinner
Kick off this Costa Rican adventure with a hearty breakfast, fuelling up for an exploration of the Poas Volcano National Park. In the park you'll discover untouched nature, an active volcano, and have the chance to breathe fresh, cool mountain air. At the top of this volcano, 2,700 metres above sea level, you can step to the edge of a platform and look down on a smoking sleeping giant – steam can pour out around a sulphuric, bubbling, green crater lake.

You can also take a gentle hike to the other side of dense green cloud forest, along a meandering trail to a second, inactive crater. The crystal blue Botos Lagoon is surrounded by bird-filled trees, and if you've got extra sharp eyesight you might catch sight of a hummingbird. Later, back at the bottom, take a city tour of San Jose; you may pass areas like the Plaza de la Culture and the Mercado Central, which are great places to get a real sense of daily Costa Rican life.

You'll also make a stop at the Pre-Colombian Gold Museum to explore its glittering collection. Gold had an important function in the indigenous social hierarchy, and it was of course a big reason why the Spanish were attracted to the area.

in the afternoon we make our way to La Tigra Rainforest where we spend the night amongst the rainforest. The conservation area directly supports the local School, supports join opportunities for the community and assist with re-foresting projects. Our accommodation for the night is in permanent tent cabins on raised platforms. Each tent has a balconies overlooking the rainforest. The rooms are made fof reforested wood taken from the property. All tents have provide bathroom facilities.


Included Activities:
-San Jose - Leader-led walking tour
-San Jose - Pre-Colombian Gold Museum
Location:
Parque Nacional Volcán Arenal, La Fortuna
Accommodation:
Hotel, Las Cabañitas or similar
Meals Included:
Breakfast
After breakfast, it's time to head out to Arenal Volcano National Park. The scenery is made up of primary cloud forest and rainforest, and it's a land of rivers, lakes and, thanks to the volcano's inner workings, a number of thermal springs where hot, lava-heated water gushes to the surface. Some of these springs have been turned into thermal pools, often surrounded by dense foliage, making them a great place to relax and chill out.

There is time to relax and have a splash here on arrival, before visiting the volcanic thermal pools at the Ecotermales Hot Springs, where you can enjoy a soak before dinner.

Included Activities:
-Arenal - Ecotermales Hot Springs
Location:
La Fortuna
Accommodation:
Hotel, Las Cabañitas or similar
Meals Included:
Breakfast
Get and explore the lush tropical surrounds of this idyllic location with the family. For many, one of the highlights of this trip is the exhilarating fun of battling the gushing rapids of the Balsa River. The level of rafting here is very suitable for families (Class 2 to 3), but please note that the minimum age is 8 years old. After a safety briefing and getting kitted out with an orange vest, you'll get wet and wild, working your way as a team through increasingly challenging rapids with names like 'Magnetic Rock', 'Congo Loco' and 'Dredges'.

Along the way, look out for wildlife such as sloths and Toucans – if you're not too busy getting wet that is. When you finish and return to the hotel, there may be time for additional activities like hiking.

If you're worn out from the day's action, then not much can beat chilling by the pool and gazing up at the much-loved famous volcano. It isn't spewing lava every day and night like it used to, but it is still rumbling and puffing out plumes of gas.

Included Activities:
-Whitewater Rafting
Location:
Tilaran, Monteverde
Accommodation:
Jardines de Monteverde or similar
Meals Included:
Breakfast
Travel along the Arenal Lake – a famous hangout for windsurfers – via Tilaran to Monteverde de Santa Elena (approximately 4–5 hours).

Enjoy superb views across the lake back towards the Arenal Volcano, and stop on the roadside for some homemade cakes and refreshments. Climb to Monteverde, feel the climate cooling and see the vegetation change from tropical to cloud forest. The surrounding hills are scattered with fair-trade co-operative coffee plantations, famous for producing some of the best coffee beans in the country.

Teeming with wildlife, the Monteverde Cloudforest Biological Preserve is a nature lover's paradise. Cloud forests are similar to rainforests, but instead of relying on rain for essential moisture, the water comes from the semi-permanent cloud that covers the region. More than 2,000 species of plants, 320 bird species and 100 different types of mammals call Montverde home. You'll have lots of time to discover the natural wonders here. In the afternoon there may be time to visit a butterfly farm (optional).
Location:
Monteverde
Accommodation:
Jardines de Monteverde or similar
Meals Included:
Breakfast
Today everyone will become an ornithologist! Explore a forest that's home to the Resplendent Quetzal (one of the most reclusive birds in the world), the blue-crowned motmot, the emerald toucanet and some 30 species of iridescent hummingbird – and that's just a few of the 400-odd bird species recorded here. There are also 100 mammal species, 1200 amphibian and reptile species, and many thousands of insect species. Experience the Sky Walk, which is made possible by hanging bridges suspended among the trees. It's not for vertigo sufferers, but it provides a fantastic view of everything from above rather than below. As well as optional activities like zip-lining, there might be the option to hike through the forest as dusk as nocturnal creatures begin to stir.

Included Activities:
-Monteverde - Sky Walk

Optional Activities:
-Monteverde - Canopy Zip Lining (Entrance, Equipment & Transport)
-Monteverde - Night walk through Cloud Forest
Location:
Parque Nacional Manuel Antonio
Accommodation:
Hotel, El Faro or similar
Meals Included:
Breakfast
Departing Monteverde, descend to the Pan-American Highway, which you'll follow southward across the flat coastal plain. Your journey takes you along a coastline of fine sand beaches, separated by the occasional area of mangrove and endless plantations of African palm.

Your journey ends at Manuel Antonio, Quepos.(approximately 6 hours plus stops). Your accommodation is on the Pacific Ocean and the tropical forest, and part of the property has been officially declared a Wildlife Reserve thanks to its biodiversity in plant species and fauna, such as spider monkeys, sloths, coati, and armadillos. Soak up some rays and relish the spoils of this unique beach setting, where lush rainforests sprawl gently towards the sand and white-faced capuchin monkeys peer cheekily from the treetops. It's a 300meter walk to the beach.
Location:
Parque Nacional Manuel Antonio
Accommodation:
Hotel, El Faro or similar
Meals Included:
Breakfast
Manuel Antonio National Park stands a few kilometres south of Quepos on the shores of the Pacific. Incorporating 12 small islands scattered just off a coast where migrating whales can sometimes be seen, the park is home to hundreds of mammal and bird species in a region of lagoons and fertile mangrove swamps.

During your time in the region, you'll enjoy a three-hour guided walk along the trails within the park and have plenty of time to relax on one of the idyllic palm-lined bays. The turquoise seas are perfect for swimming, kayaking, sailing or fishing. It would be easy to spend your whole time here in, or by, the water, where lush rainforests sprawl gently towards the sand and white-faced capuchin monkeys peer cheekily from the treetops. This is a great spot for a family holiday, with fully equipped apartments, swimming pools, water sports and many activities for both children and adults.

Included Activities:
-Manuel Antonio National Park - (Entrance fee)
-Manuel Antonio National Park Guided Hike
After breakfast, leave the accommodation and retrace your steps northward along the coastal road to San Jose (approximately 2–4 hours). The adventure comes to an end on arrival at Juan Santamaria International Airport (SJO) and there is no accommodation included for tonight.

If you're flying out today, it's important to book your flight for no earlier than midday. If you wish to stay longer we'll be happy to book additional accommodation for you (subject to availability) and provide a complimentary transfer back to the hotel. Please enquire about these services at the time of booking the trip.
What's Included
Manuel Antonio National Park Guided Hike

San Jose - Leader-led walking tour

Arenal - Ecotermales Hot Springs

San Jose - Pre-Colombian Gold Museum

Whitewater Rafting

Manuel Antonio National Park - (Entrance fee)

Monteverde - Sky Walk

Meals

7 breakfasts, 1 lunches, 1 dinners

Accommodation

Hotels (7 nights), Permanent tent cabin (1 night)
What's Not Included
Tipping and Gratuities

International Travel

Airport Transfers at Destination
Included Activities
San Jose - Leader-led walking tour
San Jose - Pre-Colombian Gold Museum
Arenal - Ecotermales Hot Springs
Whitewater Rafting
Monteverde - Sky Walk
Manuel Antonio National Park - (Entrance fee)
Manuel Antonio National Park Guided Hike
Accommodation
Hotels (7 nights), Permanent tent cabin (1 night)
Check out our Q&As
Is this trip right for you

Make sure you pack some sturdy and comfortable shoes as you'll be walking around cities and towns and through forests and jungles on this trip.

There are a few days of long travel on this trip as you'll be covering a lot of Costa Rican ground. These drives are along smooth roads in new and comfortable vehicles, and are great for games, chats and scenery spotting. You'll also make interesting stops along the way to break up the longer drives.

Is it hot in here? You're in tropical Central America so it can get very humid. Carry plenty of water, dress in light clothing and we'll give you every opportunity to cool off with a swim.

With so much to see and do, Costa Rica can sometimes be expensive. Expect to pay more than you would in other Central American countries for a lot of things.

Are airport transfers included in this tour?

Are all entrance fees included in the price?

Yes, except optional activities

Are international flights included in this tour?

Are children permitted to take part in the tour?

Yes if aged 15+ and accompanied by an adult
Are the local guides on the tour English speaking?

What policies are in place for Covid-19?

Please contact us for latest COVID-19 policies

How long has the tour company been trading?

Intrepid Travel has been taking travellers around the world for over 30 years

Will the accommodation included meet local health and safety regulations?

What Ethical Travel credentials does the tour company have?

Since 2002, The Intrepid Foundation has supported over 130 organisations across the world. We're creating positive impact through the joy of travel, community and connection.

Do you operate a "single share" option and how does it work?

Over 50% of traveller travel solo with Intrepid. You can choose to share a room with another solo travelle of the same sex for no additional charge, or choose to pay a single supplement if you'd like your own room. Please request this when booking, and we will secure you a single supplement wherever possible. Please note, if you are booking a last-minute trip, it may be harder for us to secure a single room
Dates & Availability
Instant Booking Available
Sunday - Monday
Dec 17, 2023 - Dec 25, 2023
Book with Confidence
Free Date Changes

Intrepid Travel allows you to make 10 free date changes, as long as the change is made at least 56 days before the start of the tour.

Transfer as credit to Future Tours

Intrepid Travel allows you to transfer existing payments to a future tour to avoid cancellation fees if you can't travel and inform intrepid travel, 56 days before departure.

Low Deposit

Intrepid Travel requires a minimum deposit of 200 GBP per person or the full booking value, whichever is less, with the final balance not due until 56 days before departure.

Cancellation Policy

We don't charge a cancellation fee, here is a summary of intrepid travel charges.

Up to 56 days before tour starts: Forfeit 100% of deposit.

At 55 days before tour starts: Forfeit 30% of booking price.

At 30 days before tour starts: Forfeit 60% of booking price.

At 14 days before tour starts: Forfeit 100% of booking price.

COVID Protection

Trips from 1 January 2023 onwards
From 1 January 2023, Intrepid will no longer require travellers to provide proof of vaccination against COVID-19.

However, we continue to strongly recommend that all travellers and leaders get vaccinated to protect themselves and other Specific proof of testing or vaccination may still be required by your destination or airline. Please ensure you check travel and entry requirements carefully.

This policy excludes all Polar trips and select adventure cruises, where testing and vaccination remains a requirement. Please refer to the Essential Trip Information of your chosen tour for more details.

Why book with tourhub?
Safe & Secure
Your money is protected in an external trust until you travel.
---
100% Guaranteed Refunds if your trip is cancelled.
---
The safest way to make overseas, multi-currency payments.
Guaranteed Best Value
Industry leading discounts, we won't be beaten on price.
---
No cancellation or amendment fees from tourhub.
(Operator terms may apply)
Expert Knowledge
Reliable & unbiased advice from travel experts.
---
Direct contact with the tour operator via our messaging service.
---
Inspiration & advice from a community of 6000+ real travellers, influencers & content creators.
Trusted Service
Official partners & licensed agents of 1000+ tour operators worldwide.
---
Don't just take our word for it...
"Tourhub: Friendliness, Professionalism & Integrity I would happily give tourhub a 6* review if I could..."
Similar Tours
Travel Guru Features
Our Reviews