Croatia Real Food Adventure
6 Days Starting in Split and ending in Dubrovnik
Visiting: Split, Split / Brac, Korcula, Dubrovnik
Tour Overview
The Dalmatian coast is home to some of the finest fresh produce and seafood in the world, and this six-day trip takes you through all the best samples. Travelling through southern Croatia, you'll taste your way from Split to Dubrovnik, with a fair share of island hopping as you go. Visit the region's largest olive grove and sample the oils, marmalades and tapenades created here. Taste local delicacies, from hand-rolled pasta to sugary walnut cakes and indulge in plates of fresh seafood, including some of the finest oysters in the world, harvested fresh and delivered straight to your plate. With a local leader who knows all the best spots, you can enjoy all the flavours Croatia has to offer, with the backdrop of stunning, historic cities that sit on the edge of the Adriatic Sea.
Highlights
Take a day trip to the island of Brac and indulge in the finest organic olive oils from the largest olive grove in Croatia, followed by a sugared walnut cake that has become 'a protected item of intangible heritage'!

Learn how to make a hand-formed pasta shape in a local konoba, before cooking and eating your creation with lunch.

Sample Croatian wines grown in the mountains of the Peljesac peninsula, and taste some of the world's best oysters in Ston.

Visit iconic Croatian cities Split and Dubrovnik, and island hop out to Brac and Korcula, where you can lounge on beaches and enjoy island living.

Get a taste for authentic Croatian cuisine, including cured meats, makaruni, olive oils, fresh breads, local jams and marmalades, cheeses, candied oranges and ocean-fresh seafood.

By travelling on this trip, you'll directly support our Intrepid Foundation partner, Humana Zagreb. Donations help provide job opportunities and education programs in sustainable fashion and textiles for people with disabilities.
Itinerary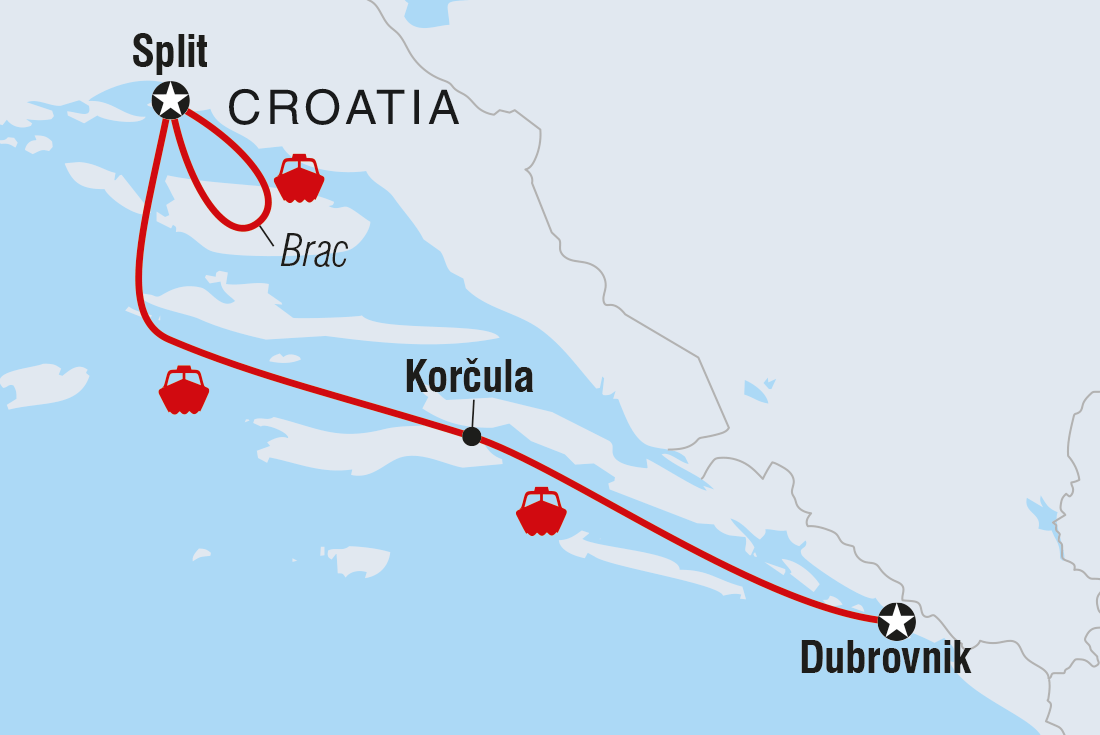 Not what you're looking for?
People that have booked this tour have also searched for the following:
Tours in Croatia
Expand All
Location:
Split
Accommodation:
Hotel
Zdravo! Welcome to Croatia. Your adventure begins in Split, with a welcome meeting at 6 pm tonight, followed by an optional dinner. If you arrive early, make sure you take the opportunity to explore this beautiful city on foot. Sitting on a peninsula jutting out into the Adriatic Sea, Split is a jewel on the Dalmatian coast. Why not take a stroll along the Riva Promenade – a waterfront walkway that stretches between Split Harbour and the Marjan Forest Park. Spend some time in the park and take the walk to the top of the hill for some of the best views along the coastline and across the city. Prefer to soak up some city culture? Wander the streets of the Old City and learn the history of the city that once was the residence of a Roman Emperor. Looking for a light lunch or a snack? Get your hands on some fresh octopus salad or find a serving of soparnik (a savoury pie with layers of silverbeet, garlic, parsley and olive oil).
Location:
Split / Brac
Accommodation:
Hotel
Meals Included:
breaksfast, lunch
Today, you'll be hopping on a short ferry to take you to the Adriatic Island of Brac, just off the Split coast. Known for being the largest olive grove in Croatia (with over one million olive trees!), this small island is home to a range of delicious regional dishes. Making your way to the small town of Skrip, you'll visit the olive oil museum, where you'll learn about this extraordinary crop and be treated to an olive-themed feast of tapenade, cheeses, onion marmalade, anchovies, cured meats, salad, bread and wine.​ After lunch, enjoy a slice of hrapocusa – a layered cake of sponge and sticky sugared walnuts. This cake is so iconic to the island town of Dol that the Croatian Ministry of Culture has listed it as a protected item of intangible heritage. Finish your day in the coastal town of Bol, where you can lay by the beach, full and happy, before heading back to Split for the night.

Included Activities:
-Brac - Olive oil museum
-Brac - Hrapoćuša cake tasting
Location:
Korcula
Accommodation:
Apartment
Meals Included:
breaksfast
Wake up bright and early to explore Split's Old City and the fish, fruit and vegetable markets. Wandering the historic city centre with your local leader, enjoy your last morning in this beautiful city before jumping on a ferry to the island of Korcula. Steeped in a long history of Greek, Slav and Roman settlers, Korcula's Old Town is a tightly packed homage to the Renaissance architecture of Venice with plenty of narrow streets and squares for you to explore. What's more, the town boasts plenty of beaches to relax on if that's more your speed. Following an orientation walk with your leader, you might like to take a swim, walk around the bays and villages near Korcula town, pay a visit to the Marco Polo Tower, go shopping, or just soak up the ambience. Later, you'll have the option to visit the tiny village of Pupnat in the interior of the island. Maybe have dinner in the village and enjoy a meal made entirely from local produce.

Included Activities:
-Split - Old Town markets & culture tour
Location:
Korcula
Accommodation:
Apartment
Meals Included:
lunch
The morning in Korcula is yours to enjoy. For a sweet start to the day, why not see if you can find some amareta (a local dessert with a crunchy outside and soft inside made of whipped egg whites, almonds and citrus zest) or some kalsuni (a crescent-shaped cookie made of buttery dough and traditionally filled with a nut-based stuffing). Relax into island life in the morning before heading to Zrnovo village for a hands-on cooking class in a local konoba – traditionally a tavern or wine cellar, konobas are now often popular restaurants where you can find the best of local Croatian cuisine. Today you'll learn how to make zrnovo makaruni (a local hand-rolled pasta), before enjoying the fruits of your labour over lunch, paired with local wines. In the afternoon, return to Korcula town for some free time – beach, anyone?

Included Activities:
-Zrnovo - Cooking Class
Location:
Dubrovnik
Accommodation:
Hotel
Meals Included:
lunch
Leaving Korcula behind, you'll travel to Peljesac, a peninsula off southern mainland Croatia. Here, you'll have the opportunity to sample what is considered some of the country's finest local wines. Vineyards are scattered all along the peninsula, with the fertile soil in the region making for ideal growing environments. Here, you can find a wide range of wine varieties to tingle your tastebuds. Continue to the southern town of Ston and indulge in an oyster tasting and seafood lunch. This region is known to have the best seafood in Croatia and produces some of the best oysters in the world, so get ready for something special. Leaving Ston full and satisfied, make your way to Dubrovnik – the country's iconic walled city. You'll have the evening to explore the city at your leisure (maybe see how many Game of Thrones filming locations you can find!), before having the option to catch up with your group for a farewell dinner.

Included Activities:
-Peljesac - Wine tasting
-Ston - Oyster tasting
Location:
Dubrovnik
Meals Included:
breaksfast
Today your adventure comes to an end. There's lots to see and do here in the wonderful city of Dubrovnik, so perhaps stay a few extra days. Check in with your leader for any hot tips to make the most of your extended stay.
What's Included
Accommodation
Hotel (3 nights), Apartment (2 nights)

Meals
3 breakfasts, 3 lunches

Brac - Olive oil museum

Brac - Hrapocuša cake tasting

Split - Old Town markets & culture tour

Zrnovo - Cooking Class

Peljesac - Wine tasting

Ston - Oyster tasting

Brac - Hrapocuša cake tasting

Brac - Hrapocuša cake tasting

Brac - Hrapocuša cake tasting

Brac - Hrapocuša cake tasting
Accommodation
The style of accommodation indicated in the day-to-day itinerary is a guideline only and may change. On some occasions, alternative arrangements may need to be made due to the lack of availability of rooms in our preferred accommodation. In these cases, we will use a similar standard of accommodation.
Throughout the trip, we request that our properties prepare rooms in time for our arrival, especially if we're arriving prior to normal check-in time. However, this isn't always possible which means we won't be able to check-in immediately on arrival at some hotels. Instead, we can store our luggage and explore our new destination or on some trips, have use of shared day rooms until all rooms are available.
Important Information
1. A single supplement is available if you'd prefer not to share a room on this trip. The single supplement applies to all nights of your trip and is subject to availability. Please speak to your booking agent for further information.
2. While we endeavour to cater for specific dietary requirements, some meals and food activities are set in advance and may be difficult to adjust. Please advise us of any dietary requirements at the time of booking so that we can ensure you'll enjoy this trip.
Check out our Q&As
Is this trip right for you

The cuisine of Croatia includes a lot of meat and seafood. For vegetarians and vegans, we recommend reviewing the itinerary and inclusions to ensure that you will be able to fully participate and enjoy this trip. We also have many other trips to Croatia which can accommodate a range of dietary requirements.

The Croatian coast is very hilly and mountainous and stairs are commonplace. You will have to be able to easily lift your luggage and carry it up and down stairs and inclines, so packing light is recommended. The cobblestone streets become very slippery when wet. Some people may find Croatia's topography very demanding.

Summer temperatures can reach 40C/105F or higher in some areas, so it's important to use sun protection, wear layers to combat the heat and drink plenty of water. Please carefully consider the time of the year you wish to travel and your suitability to that season.

What policies are in place for Covid-19?

Please contact us for latest COVID-19 policies

How long has the tour company been trading?

Intrepid Travel has been taking travellers around the world for over 30 years

Will the accommodation included meet local health and safety regulations?

What Ethical Travel credentials does the tour company have?

Since 2002, The Intrepid Foundation has supported over 130 organisations across the world. We're creating positive impact through the joy of travel, community and connection.
Do you operate a "single share" option and how does it work?

Over 50% of traveller travel solo with Intrepid. You can choose to share a room with another solo travelle of the same sex for no additional charge, or choose to pay a single supplement if you'd like your own room. Please request this when booking, and we will secure you a single supplement wherever possible. Please note, if you are booking a last-minute trip, it may be harder for us to secure a single room
Dates & Availability
Instant Booking Available
Saturday - Thursday
May 18, 2024 - May 23, 2024
Instant Booking Available
Saturday - Thursday
Jun 01, 2024 - Jun 06, 2024
Instant Booking Available
Saturday - Thursday
Jun 15, 2024 - Jun 20, 2024
Instant Booking Available
Wednesday - Monday
Jul 10, 2024 - Jul 15, 2024
Instant Booking Available
Saturday - Thursday
Jul 20, 2024 - Jul 25, 2024
Instant Booking Available
Saturday - Thursday
Aug 03, 2024 - Aug 08, 2024
Instant Booking Available
Saturday - Thursday
Aug 17, 2024 - Aug 22, 2024
Instant Booking Available
Saturday - Thursday
Sep 14, 2024 - Sep 19, 2024
Instant Booking Available
Saturday - Thursday
Sep 21, 2024 - Sep 26, 2024
Instant Booking Available
Saturday - Thursday
Oct 05, 2024 - Oct 10, 2024
Book with Confidence
Free Date Changes

Intrepid Travel allows you to make 10 free date changes, as long as the change is made at least 56 days before the start of the tour.

Transfer as credit to Future Tours

Intrepid Travel allows you to transfer existing payments to a future tour to avoid cancellation fees if you can't travel and inform intrepid travel, 56 days before departure.

Low Deposit

Intrepid Travel requires a minimum deposit of 200 GBP per person or the full booking value, whichever is less, with the final balance not due until 56 days before departure.

Cancellation Policy

We don't charge a cancellation fee, here is a summary of intrepid travel charges.

Up to 56 days before tour starts: Forfeit 100% of deposit.

At 55 days before tour starts: Forfeit 30% of booking price.

At 30 days before tour starts: Forfeit 60% of booking price.

At 14 days before tour starts: Forfeit 100% of booking price.

COVID Protection

Trips from 1 January 2023 onwards
From 1 January 2023, Intrepid will no longer require travellers to provide proof of vaccination against COVID-19.

However, we continue to strongly recommend that all travellers and leaders get vaccinated to protect themselves and other Specific proof of testing or vaccination may still be required by your destination or airline. Please ensure you check travel and entry requirements carefully.

This policy excludes all Polar trips and select adventure cruises, where testing and vaccination remains a requirement. Please refer to the Essential Trip Information of your chosen tour for more details.

Why book with tourhub?
Safe & Secure
Your money is protected in an external trust until you travel.
---
100% Guaranteed Refunds if your trip is cancelled.
---
The safest way to make overseas, multi-currency payments.
Guaranteed Best Value
Industry leading discounts, we won't be beaten on price.
---
No cancellation or amendment fees from tourhub.
(Operator terms may apply)
Expert Knowledge
Reliable & unbiased advice from travel experts.
---
Direct contact with the tour operator via our messaging service.
---
Inspiration & advice from a community of 6000+ real travellers, influencers & content creators.
Trusted Service
Official partners & licensed agents of 1000+ tour operators worldwide.
---
Don't just take our word for it...
"Tourhub: Friendliness, Professionalism & Integrity I would happily give tourhub a 6* review if I could..."
Not what you're looking for?
People that have booked this tour have also searched for the following:
Tours in Croatia
Similar Tours
Travel Guru Features
Our Reviews