Croatia Sailing Adventure: Split to Dubrovnik
8 Days Starting in Split and ending in Dubrovnik
Visiting: Split, Brač, Hvar, Vis, Korčula, Lastovo, Mljet, Elaphiti Islands, Dubrovnik
Tour operator:
Special diets catered:
Vegetarians
Tour operated in:
English
Interests:
Activities:
Tour Overview
Become immersed in Croatia's natural beauty while sailing the stunning Adriatic coast. Mix lazy days of swimming and beach going with time spent exploring medieval fortresses, sitting in lively restaurants, wandering cobbled streets and hiking to ancient ruins. Wind down in the evening and fall asleep onboard the boat, being lulled to sleep by the sound of lapping waves.
Highlights
What better way to see the historic towns, protected forests and stunning islands of Croatia's Dalmatian Coast than aboard a private yacht? All aboard for a week in paradise

Explore beautiful Split, where tradition, modernity and a variety of European influences come together. A visit to the Diocletian's Palace reveals some of the Adriatic Coast's most important surviving Roman buildings

Bliss out on Brac's world famous Zlatni Rat beach, a spit of white sand jutting out into turquoise waters

Opened to the public only in 1989, the island of Vis boasts coastal scenery and a military history just waiting to be discovered. Also, the local vugava wine is rather nice

Stari Grad, Hvar's Old Town, is quite literally one of the oldest towns in Europe, and a charming one at that. It provides a great base from which to explore the island
Itinerary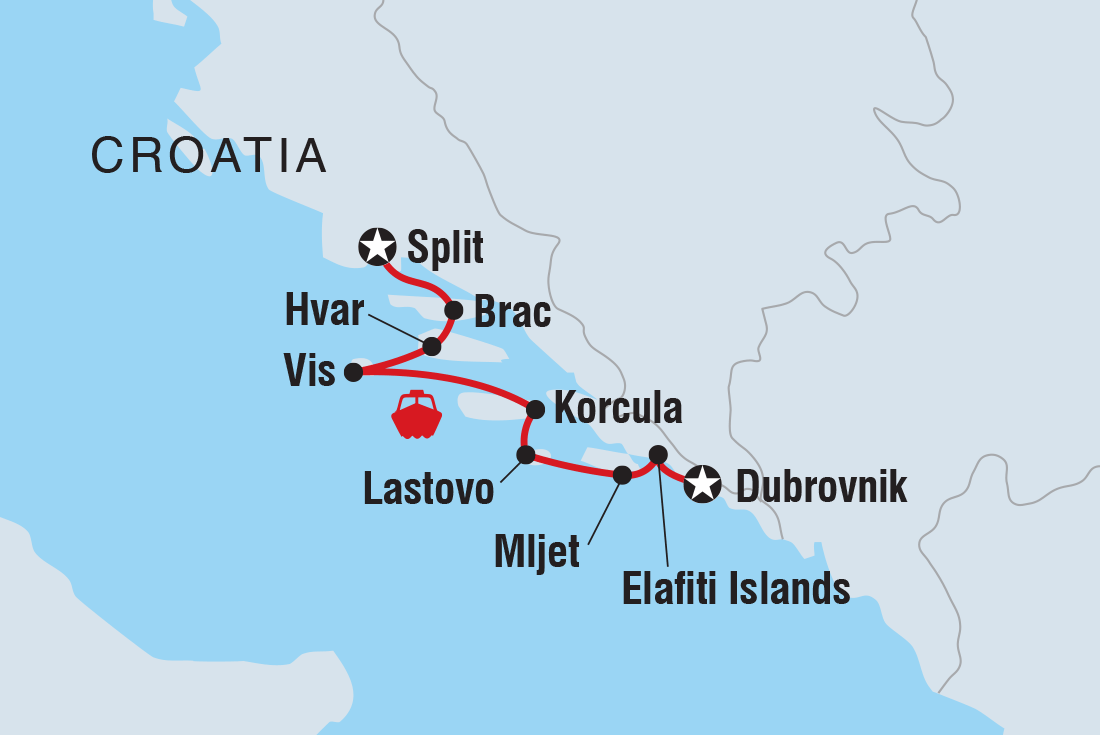 Expand All
Location:
Split, Brač
Accommodation:
Overnight boat
Meals Included:
No Meals
Dobro Dosli! Welcome to Croatia. Croatia has a perfect mix for the curious traveller – sunshine, sand and scenery, the chic cities of the glittering Adriatic coast, and charming cobblestone towns. World Heritage sites and thriving food and wine scene ensure visitors' curiosity is amply rewarded. Like many others, fall in love with the treasures of this Balkan beauty. Your sailing adventure begins with a group meeting at 3pm with your skipper at the ACI Marina in Split. The first port of call is then the local supermarket to buy supplies for your trip as a group. If you have any special dietary requirements, please make sure you notify us at the time of booking so we can accommodate your requests.

As we set sail this afternoon, we recommend arriving a few days earlier if you would like to see the sites of Split. If Dubrovnik is considered the heart of Dalmatia, Split is certainly its soul. Situated on a small peninsula on the eastern shores of the Adriatic Sea, it's the second largest city in Croatia. Split grew out from Diocletian's Palace and you can almost see it evolving in a multitude of different ways right before your eyes. Some cultures might have made the palace a museum, but the city of Split has always been a dynamic, vibrant place and the palace houses many businesses as well as being home to locals. You can get lots of local interaction in Split, such as at the fish market on Marmontova or the markets just outside the palace walls. Cast off and say goodbye to Split as you sail from city wonderland to island idyll and head for Brac.

Brac
Sunny Brac is the largest island in central Dalmatia, set among steep cliffs and a distinctly Mediterranean landscape. Villagers have farmed wine, olive oil, figs and almonds in the difficult interior of this rock-strewn island for centuries, but it's the small, beach-side towns that draw the crowds. Brac's most famous export is the gleaming white stone mined from the island's quarries, cladding buildings as deep in antiquity as Diocletian's Palace in Split, and as far afield as the White House in Washington DC. Take a leisurely cruise along the coast, soaking up the sunshine and the scenery. Weigh anchor and go for a paddle in the aquamarine sea, or snorkel and spot sea anemones, crabs, sea urchins and small fish in the pristine waters. Anchor for the Night in the main town of Bol or in a nearby cove, depending on the weather.

Notes: The beauty of sailing is that each day is unique and, while we have a destination to reach, if the weather changes or something takes the group's fancy, we are flexible on the day's itinerary. The itinerary is subject to change and may vary depending on weather. Your skipper will make the final call to ensure your safety at all times.
Day 2 :

Sailing The Dalmatian Coast
Location:
Hvar, Vis, Korčula, Lastovo, Mljet, Elaphiti Islands, Dubrovnik
Accommodation:
Overnight boat
Meals Included:
No Meals
Hvar (Brac to Hvar: 3 - 4 hours*)
Voyage along the Neretvanski Channel away from mainland Central Dalmatia. Settling in for an afternoon of beach-hopping, enjoying seafood fresh from the day's catch and kicking back with cocktails on the waterfront.
Hvar has an air of Venice about it, and is known as the 'Queen of the Dalmatian Islands'. Wander around towns with wonderfully preserved Renaissance facades, hike past dramatic jagged limestone cliffs and slow your pace to enjoy the undulating farms, ancient olive groves and fields of rosemary and lavender.

Vis (Hvar to Vis: 3- 4 hours*)
Cruise to Vis, which is the furthest island from the mainland. In 1944 the island was declared a military zone and foreigners were unable to access this island until 1989. Because of this long isolation, Vis has retained it charm and laid back lifestyle, and the south side of the island is home to some of the most eye catching coves and beaches. Your skipper can help organise an optional island tour so that you can learn all about the history of this island which passed between Greek, Roman, Venetian, Napoleonic, Austrian and Italian hands. On this tour you'll visit nuclear fallout shelters, churches and vantage points with great views across the ocean. If the tide is low, visit the stunning blue grotto of Cave Bisevo.

Korcula (Vis to Korcula: 4 - 5 hours*)
Sail for a blissful five hours along the pebbled beaches, black pine groves and stony cliffs of the Peljesac Peninsula, through the jewel-like waters towards Korcula. Sweep in past the round, defensive towers of Korcula Town via the Peljeski Channel and weigh anchor in Korcula. Natives of Korcula believe Marco Polo was born on the island. Whether or not this can be proved (the Venetians have a similar claim), Korcula is steeped in a long history and the islanders are proud owners of this little gem, smaller than Dubrovnik but no less precious to its inhabitants. Greeks settled in the 6th century BC (they called the island Black Korcula), but the town was also occupied by the Romans, the Slavs, and then the longest period of rule passed to the Venetians between 1420 and 1797. Even Napoleon was ruler for a while. As a result of all these influences, Korcula has a stunning Old Town – romantic and evocative. And what's more, there are plenty of warm beaches to relax on if that's more your speed.

Lastovo (Korcula to Lastovo (3 - 4 hours*)
This is the largest island in the Lastovo archipelago, which branches to the northeast towards the islands and Lastovnjaci Vrhovnjaci, being about 10 km long, 5.8 km wide, and 41 square kilometres. The islands highest peak is Hum at 417 metres, and there are 46 islets and reefs around its edges. Along with Mljet, this very mild Mediterranean climate island is the most wooded Croatian island, with over 70 per cent of it forested, part of the reason it was declared a national park in 2007. Lastovo has been permanently inhabited for several thousand years. The first inhabitants were the Illyrians, and then the Romans after they conquered Dalmatia. They named it Agusta Insula – 'Emperor's Island'. The island is noted for its Ventian architecture from the 15th and 16th centuries and high number of churches.

Mljet (Lastovo to Miljet: 3 - 4 hours*)
Head southeast and sail for six hours across the sea to Mljet. Set sail for the picturesque island of Mljet. Legendary in ancient history as the idyllic island where the shipwrecked Odysseus lived for seven years, today the island is a haven of lush national park, forests and small villages. Since Greek sailors sought haven here from storms, filling up on fresh water from the springs, the island has been inhabited by Illyrians, Romans, Slavs and Avars. In the 13th century the island was given to the Benedictine order who built a monastery in the middle of one of the island's western lakes, Veliko Jezero. In 1410, Mljet was formally annexed to Dubrovnik. Why not explore karst valleys and catch your reflection in inky blue lakes on a guided tour through the national park. Wander beneath cool pine forests, through chasms and gorges, and discover ruins such as the remains of an Illyrian fortification, a Roman palace and a 5th-century church. These ruins are on opposite ends of the island, so keep this in mind when exploring. In the evening perhaps try the local wine – the fields and vineyards that dot the island are the foundation of the local economy, with Mljet's villagers producing wine and olive oil as they have been for hundreds of years.

Elafiti Islands (Miljet to Elafiti Islands: 4 - 5 hours*)
Depart the picturesque Mljet and head to the hidden paradise of Elafiti Islands. Elafiti is made up of three main islands: Kolocep – Known as the green island because of its 100 year old pine groves, carol-trees, olive groves and citrus trees. There are also two villages to explore – Donje Celo and Gornje Celo. Lopud – This island has spectacular parks and beaches and is one of the best developed touristic islands in the Dubrovnik area. The island is also home to several monasteries and ruins to explore. Sipan – This is the largest of the island group with a long history full of stories and legends and considered one of the jewels of the area.
Location:
Dubrovnik
Meals Included:
No Meals
Set sail to your final destination, Dubrovnik, where the trip ends around 10am. Sail time is appoximately 2 hours. There are no activities planned for today and you're free to depart at any time. Please don't book a flight earlier than 3pm in case your arrival is delayed due to weather conditions. If you are staying on in Dubrovnik, often referred to as the 'Pearl of the Adriatic', there is plenty to see and do. Walk along the ancient city walls, explore the Old Town or take the cable car up to the hill behind the city for breathtaking views.

* Please note that the sailing times listed above are a guide only and subject to change. They are dependent on weather and sailing conditions.
What's Included
Accommodation

Overnight boat (7 nights)

Meals

No meals are included on this tour
What's Not Included
Tipping and Gratuities

International Travel
Accommodation
Overnight boat (7 nights)
Check out our Q&As
Are children permitted to take part in the tour?

Yes if aged 15+ and accompanied by an adult

Are all the relevant entry visa's included in the price of the tour?

Are international flights included in this tour?

Are the local guides on the tour English speaking?

Is this trip right for you

A zodiac is used to transport passengers from the boat to the mainland, with landings taking place at piers (dry landings) and on beaches (wet landings). Zodiacs can sometimes be awkward to climb in and out of, but a sense of humour and a can-do attitude is all you need.

This is an adventure on board a real yacht, which means living spaces, cabins, bathrooms and showers need to be shared with other passengers. Sleeping quarters can be relatively compact, but you will spend most of your time above board in the open air.

Please note that smooth sailing depends on the weather, so itinerary changes may occur at the last minute if the weather becomes unfavourable. You can trust your knowledgeable skipper to choose an alternative route or activity if any changes are made.
Are the local guides on the tour English speaking?

Are all entrance fees included in the price?

Are airport transfers included in this tour?

What policies are in place for Covid-19?

Please contact us for latest COVID-19 policies

How long has the tour company been trading?

Intrepid Travel has been taking travellers around the world for over 30 years

Will the accommodation included meet local health and safety regulations?

What Ethical Travel credentials does the tour company have?

Since 2002, The Intrepid Foundation has supported over 130 organisations across the world. We're creating positive impact through the joy of travel, community and connection.

Do you operate a "single share" option and how does it work?

Over 50% of traveller travel solo with Intrepid. You can choose to share a room with another solo travelle of the same sex for no additional charge, or choose to pay a single supplement if you'd like your own room. Please request this when booking, and we will secure you a single supplement wherever possible. Please note, if you are booking a last-minute trip, it may be harder for us to secure a single room
Reviews of this Operator
Nicole
North American Adventure
This was my first international solo trip, but I never felt "alone" - there was always someone to go shopping, hike, or grab a quick bite with. The itinerary was a great balance between organized activities, while still allowing free time for exploring. Each location was unique and charming in its own way. Spending the night in the holy city of Moulay Idriss and wandering the winding streets of Chefchaouen were especially memorable. Thank you Mustapha and Intrepid for an incredible adventure!
Ann
Amazing Guatemala and beyond tour with Intrepid
Did Guatemala and beyond trip in November 22. It was amazing, we were so well looked after by our guide Aura. She was very knowledgeable and during our bus trips she gave us the history of the 4 countries. The border crossings can be tricky but handled very well by our guide. We saw all the most interesting and beautiful places. The hotels were lovely comfortable colonial style. I will travel with intrepid again
Trustpilot
Joanne W
Wonderful Croatian tour
Our tour guide,Tamara, was the highlight of our Explore Croatia tour. She was knowledgeable, organized, and so kind and fun. Croatia is a beautiful country. I loved the people, the scenery, the food, the history. I hope to go back one day. Intrepid was perfect for me. There was group time and there was plenty of free time. It wasn't a luxury tour but all of our accommodations were clean and safe. The dinner in Hvar was SO special!
Trustpilot
Kelly
North Morocco Adventure
Touring the beautiful North of Morocco I learned far more than I'd anticipated in this 9 day tour. Interesting sights to see, with knowledgeable local guides, this tour provides a great balance of exposure to a different culture with ample time for relaxation. Chefchaouen is an absolute highlight, & not a place many Morocco trips of this kind go to. Loved it!
Sharik
Essential Morocca
Essential Morocco was an absolute dream. Every single day had such informative walking tours and tours of local facilities. Whether it was dinner with a local family or visiting a pottery factory, I learned so much about Moroccan culture. The accommodations were safe and I felt secure the entire 11 days. This trip wouldn't have been the same without one person. That person is Youssef. If you are coming to Morocco with Intrepid and you don't request Youssef, you're doing it wrong. Words cannot describe how incredible of a guide he is. There were 3 of us on our trip of 18-29 year olds and he made us all feel so welcome and safe all the time. Whether that is cracking jokes on long drives or giving us the itinerary for the next day, Youssef ensured we felt respected and seen.
Dates & Availability
Instant Booking Available
Saturday - Saturday
May 18, 2024 - May 25, 2024
Instant Booking Available
Saturday - Saturday
May 25, 2024 - Jun 01, 2024
Instant Booking Available
Saturday - Saturday
Jun 01, 2024 - Jun 08, 2024
Instant Booking Available
Saturday - Saturday
Jun 15, 2024 - Jun 22, 2024
Instant Booking Available
Saturday - Saturday
Jun 22, 2024 - Jun 29, 2024
Instant Booking Available
Saturday - Saturday
Jul 13, 2024 - Jul 20, 2024
Instant Booking Available
Saturday - Saturday
Jul 20, 2024 - Jul 27, 2024
Instant Booking Available
Saturday - Saturday
Jul 27, 2024 - Aug 03, 2024
Instant Booking Available
Saturday - Saturday
Aug 10, 2024 - Aug 17, 2024
Instant Booking Available
Saturday - Saturday
Aug 17, 2024 - Aug 24, 2024
Instant Booking Available
Saturday - Saturday
Aug 24, 2024 - Aug 31, 2024
Instant Booking Available
Saturday - Saturday
Sep 07, 2024 - Sep 14, 2024
Instant Booking Available
Saturday - Saturday
Sep 14, 2024 - Sep 21, 2024
Instant Booking Available
Saturday - Saturday
Sep 21, 2024 - Sep 28, 2024
Book with Confidence
Free Date Changes

Intrepid Travel allows you to make 10 free date changes, as long as the change is made at least 56 days before the start of the tour.

Transfer as credit to Future Tours

Intrepid Travel allows you to transfer existing payments to a future tour to avoid cancellation fees if you can't travel and inform intrepid travel, 56 days before departure.

Low Deposit

Intrepid Travel requires a minimum deposit of 200 GBP per person or the full booking value, whichever is less, with the final balance not due until 56 days before departure.

Cancellation Policy

We don't charge a cancellation fee, here is a summary of intrepid travel charges.

Up to 56 days before tour starts: Forfeit 100% of deposit.

At 55 days before tour starts: Forfeit 30% of booking price.

At 30 days before tour starts: Forfeit 60% of booking price.

At 14 days before tour starts: Forfeit 100% of booking price.

COVID Protection

Trips from 1 January 2023 onwards
From 1 January 2023, Intrepid will no longer require travellers to provide proof of vaccination against COVID-19.

However, we continue to strongly recommend that all travellers and leaders get vaccinated to protect themselves and other Specific proof of testing or vaccination may still be required by your destination or airline. Please ensure you check travel and entry requirements carefully.

This policy excludes all Polar trips and select adventure cruises, where testing and vaccination remains a requirement. Please refer to the Essential Trip Information of your chosen tour for more details.

Why book with tourhub?
Safe & Secure
Your money is protected in an external trust until you travel.
---
100% Guaranteed Refunds if your trip is cancelled.
---
The safest way to make overseas, multi-currency payments.
Guaranteed Best Value
Industry leading discounts, we won't be beaten on price.
---
No cancellation or amendment fees from tourhub.
(Operator terms may apply)
Expert Knowledge
Reliable & unbiased advice from travel experts.
---
Direct contact with the tour operator via our messaging service.
---
Inspiration & advice from a community of 6000+ real travellers, influencers & content creators.
Trusted Service
Official partners & licensed agents of 1000+ tour operators worldwide.
---
Don't just take our word for it...
"Tourhub: Friendliness, Professionalism & Integrity I would happily give tourhub a 6* review if I could..."
Similar Tours
Travel Guru Features
Our Reviews