Introduction to Spitsbergen
Start: Oslo Finish: Oslo
Visiting:
Oslo
,
Ermbarkation in Longyearbyen
,
Exploring Spitsbergen
---
---
Duration: 9 Nights
Physical rating: Low
Special diets catered: Vegetarians
Tour code: BQMI
Tour operator: Intrepid Travel
Group size: 1 - 132
Age range: 8-99 years
Tour operated in: English
---
Tour Overview
Discover the shivery essence of the Arctic as you explore Spitsbergen and its outlying islands. Search for wildlife at every turn, and be prepared for close encounters with lumbering polar bears, noisy walruses and huge colonies of seabirds. This is the largest island in Svalbard and boasts an astonishing array of wild, natural landscapes. Hike flowering tundra at the base of the 14th of July Glacier, roam the rocky, cliff-lined shores of Alkefjellet or grab your snowshoes for an inland excursion to the abandoned whaling sites of Smeerenburg. Along the rugged western coast, be captivated by untouched fjords and discover the many enchanting shades of ice. This trip captures the icy spirit of the polar regions, giving you a unique perspective of the history and geology of this mystical place at the northern reaches of the world.
Highlights
Scour sheets of ice and hopefully be rewarded with unforgettable sightings of the ruler of the Arctic – the Polar Bear
Experience the unique and memorable sensation of 24 hours of sunlight
Uncover the incredible landscape of Spitsbergen, from the quirky northernmost city of Longyearbyen and brilliantly blue glaciers like the '14th July Glacier', to stunning fjords and towering mountains and cliffs
With endless daylight there are also endless wildlife-viewing opportunities – elusive Arctic foxes, breaching whales, lounging masses of walruses, and enchanting seabirds dotted along the cliffs of Alkefjellet
Choose to get even closer to this amazing environment with optional activities like snowshoeing, hiking, and gliding along pristine waters between icebergs in a sea kayak
Places You'll See
Countries:
Cities & Attractions:
Itinerary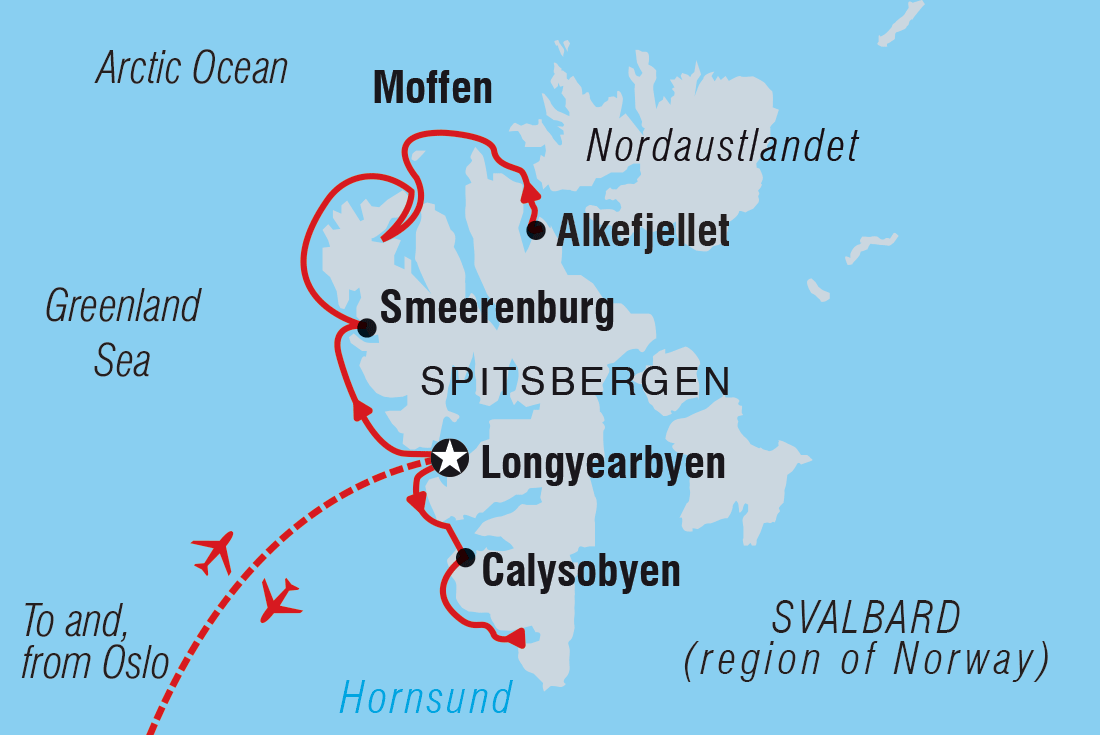 Day 1: Oslo
Location: Oslo
Your arctic voyage begins in Oslo, Norway's vibrant capital city.  If you arrive early, there are many museums, restaurants and green spaces to keep you busy before retiring to your included airport hotel.
Day 2: Ermbarkation in Longyearbyen
Location: Ermbarkation in Longyearbyen
Meals: breaksfast, dinner
This morning, the group will transfer to Olso airport and board our private charter flight to Longyearbyen, Spitsbergen's largest settlement, where you'll have some time to explore before being transferred from a designated meeting point to the pier for embarkation. As your ship sets sail, enjoy your first view of the island's rugged, glacier-topped mountains rising majestically from icy waters,
Day 3-9: Exploring Spitsbergen
Location: Exploring Spitsbergen
You'll cruise around this magical island on a constant search for wildlife. Your expedition will cover western Spitsbergen as well as stunning fjords and outlying islands to the north. From polar flora to immense glaciers, the natural landscape here is just as varied as the wildlife. Each expedition presents new opportunities and different weather and ice, so there is no fixed itinerary; however, we do have some favorite destinations, including the 14th of July Glacier, Smeerenburg, Alkefjellet and the Hinlopen Strait. The destinations visited will be selected for optimum wildlife viewing and appreciation of the history and geology of Spitsbergen. Polar bear viewing is almost guaranteed, with Hornsund being one of their preferred hunting areas, and the towering cliffs of Alkefjellet providing many free bird egg meals for both them and the arctic fox. Poolepynton is great for walrus viewing and photography. Coming across a walrus haul-out is a moment you won't forget. These lumbering giants of the Arctic create quite a noisy scene as each walrus vies for a choice spot of coastline. If you're itching for a more personal and intimate view of the arctic scenery, then taking an optional kayaking excursion to some of the more isolated pockets of Spitsbergen is highly recommended. Smeerenburg is a great place for an optional snowshoeing excursion, if conditions permit. You can visit a memorial erected in 1906. This historical site honors the whalers who lost their lives in the 17th and 18th centuries while working in extreme arctic conditions. There is no shortage of natural beauty in Spitsbergen. The tundra can be surprisingly colorful in summer, with wildflowers bursting for a taste of sunshine. Each day, you'll see something new, whether it is a rare bird species, a polar bear on the hunt, or a century-old abandoned hut. POSSIBLE LANDINGS AND WILDLIFE SIGHTINGS ALKEFJELLET This cliff is a seabird center, where Brünnich's guillemots (thick-billed murres) raise their young. An estimated 100,000 breeding pairs reside in the basalt cliffs. The birds do not build nests; rather, they lay eggs on the bare ledge. LILLIEHÖÖK GLACIER In 1906, His Serene Highness Prince Albert I of Monaco visited Lilliehöök Glacier to conduct scientific investigations. His great-great-grandson, HSH Albert II, visited the glacier a hundred years later as part of a scientific investigation, this time to further our understanding of the arctic clam, a species that lives for more than a century. The growth rings of a single clam's shell contain evidence of the chemicals encountered by the clam. Scientists can determine the variations of the water's temperature and pollutant content by studying the shell. LONGYEARBYEN Eighteen hundred people inhabit the administrative capital of Svalbard, which is situated on the shore of Isfjorden. The settlement was founded in 1905 by John Munroe Longyear, the majority owner of the Arctic Coal Company of Boston. MONACO GLACIER HSH Prince Albert I of Monaco, a pioneer of oceanography, led an expedition to Svalbard in 1906. His team used sophisticated photographic techniques to understand the shape and position of several glacier fronts. Monaco Glacier honors the expedition, the prince and the principality over which he reigned. NORDAUSTLANDET ISLAND This is the second-largest island in the entire Svalbard archipelago. The largest glacier in Europe is located on the island, which is a known habitat for reindeer and walrus. PALANDERBUKTA On the western coast, this bay stretches south and east from the Wahlenberg Fjord. This is a typical polar desert, where the "ice bear" (polar bear) can sometimes be seen roaming in search of food. The following Optional Activities are available to participate in, on some or all of the departures of this itinerary. These must be booked in advance (additional costs apply) and space is limited. KAYAKING – Our kayaking adventures are the best way to feel at one with the sea. Taken in small groups of maximum 16 people, multiple times per voyage, kayaking adventures are only conducted during calm weather conditions. Kayaking is open to all levels of experience, however kayaking in the polar waters is not suitable for novice kayakers. Beginners interested in kayaking should first take an introductory course prior to the voyage which includes how to do a wet exit. In addition regardless of your experience, we recommend you take part in some kayaking practise prior to the voyage to ensure that you are comfortable on the water in the icy conditions. INCLUDED OPTIONAL ACTIVITIES SNOWSHOEING - A novel way to experience the beauty of the polar landscape, and discover remote alcoves and hidden valleys. The rewards of walking atop the snow are well worth the effort, as we'll be able to visit new places that may be inaccessible on foot. This traditional means of transport across the snow comes from the indigenous people of North America. While you can appreciate a connection with the past, the snowshoes we use today are much lighter and more forgiving than the old wood-weave snowshoes used during the days of the North American fur trade. HIKING - Hiking is a great way to appreciate the immense windswept landscapes of the Arctic. The tundra comes alive during the brief arctic summer, with bursts of colour from shrubs and plants that eke out a living in this polar environment. You'll find each hike is different - exploring communities, shorelines or glaciated landscapes, often on the lookout for wildlife. Hiking participation is optional and your Expedition Team will advise you of what levels of activity you can expect prior to each excursion.
Day 10: Oslo
Location: Oslo
Meals: breaksfast
The time to say goodbye to your Expedition Team and shipmates has come. Your adventure ends as it began, in the historic frontier-style settlement of Longyearbyen after breakfast. From here, we will transfer you to the airport for your return group charter flight to Oslo.
Accommodation
Hotel (1 night), Expedition cruise ship (8 nights)
Transport
Expedition cruise ship , Zodiac
Book with Confidence
Low Deposit

Intrepid Travel requires a deposit of 200 GBP to secure a place on this tour, and the final balance is not due till 21 days before departure..

Secure payments

All payments to TourHub are deposited into an externally regulated Trust account.
---
Travel, Your Way
Good reasons for travelling privately
Personalise your trip

Make changes to the itinerary, accommodation, or transport method

Increased safety during COVID

Spend the majority of time amongst your group to reduce exposure to others

Travel more exclusively

Your tour guide can focus all their attention on your group

Travel for a special occasion

Celebrate an important event by only travelling with your friends or family
Learn more
Dates & Availability