Northwest Passage: In the Footsteps of Franklin
Start: Toronto Finish: Toronto
Visiting:
Toronto
,
West Greenland
,
At Sea
,
Canadian High Arctic
---
---
Duration: 16 Nights
Physical rating: Low
Special diets catered: Vegetarians
Tour code: BQMWW
Tour operator: Intrepid Travel
Group size: 1 - 200
Age range: 8-99 years
Tour operated in: English
---
Tour Overview
Put down your mobile phone and answer the call of the wild on this adventure across the waters of the Canadian Arctic. Encounter Inuit culture, explore landscapes that bring the drama, spot unique wildlife and holiday like an explorer of old (except, you know, with a sauna and helicopters). From Toronto, fly to the western shores of Greenland and begin your Arctic exploration on board a state-of-the-art expedition vessel. Cross the Davis Strait to remote landing sites on Baffin Island, scouring the skies for migrating birds and the waters for whale pods. Your journey will take you high to the Northwest Passage, sailing through immense fjords, past calving glaciers and to some of the world's most remote shores. True wilderness has never been closer than during these 17 days in the Arctic.
Highlights
Take to the water – and the skies – on a series of included Zodiac cruises and helicopter jaunts, taking you to places otherwise inaccessible to human beings.
After days spent exploring the Arctic wilderness, chill out (and warm up) in an ultra-modern vessel complete with multiple dining, bar and lounge areas, plus health and wellness facilities.
Enjoy encounters with the Arctic's impressive wildlife, including whales, walrus and musk oxen, and appreciate the sweeping vistas of colourful tundra, striking fjords and calving glaciers.
Discover highlights of both Greenland and the Canadian Arctic on a polar expedition that focuses on remote natural landscapes, ancient Inuit cultures and unique wildlife sightings.
See the colourful villages of Greenland's western shores, framed by natural canals and jagged peaks, stopping in to learn about Inuit and Thule histories.
Places You'll See
Cities & Attractions:
Itinerary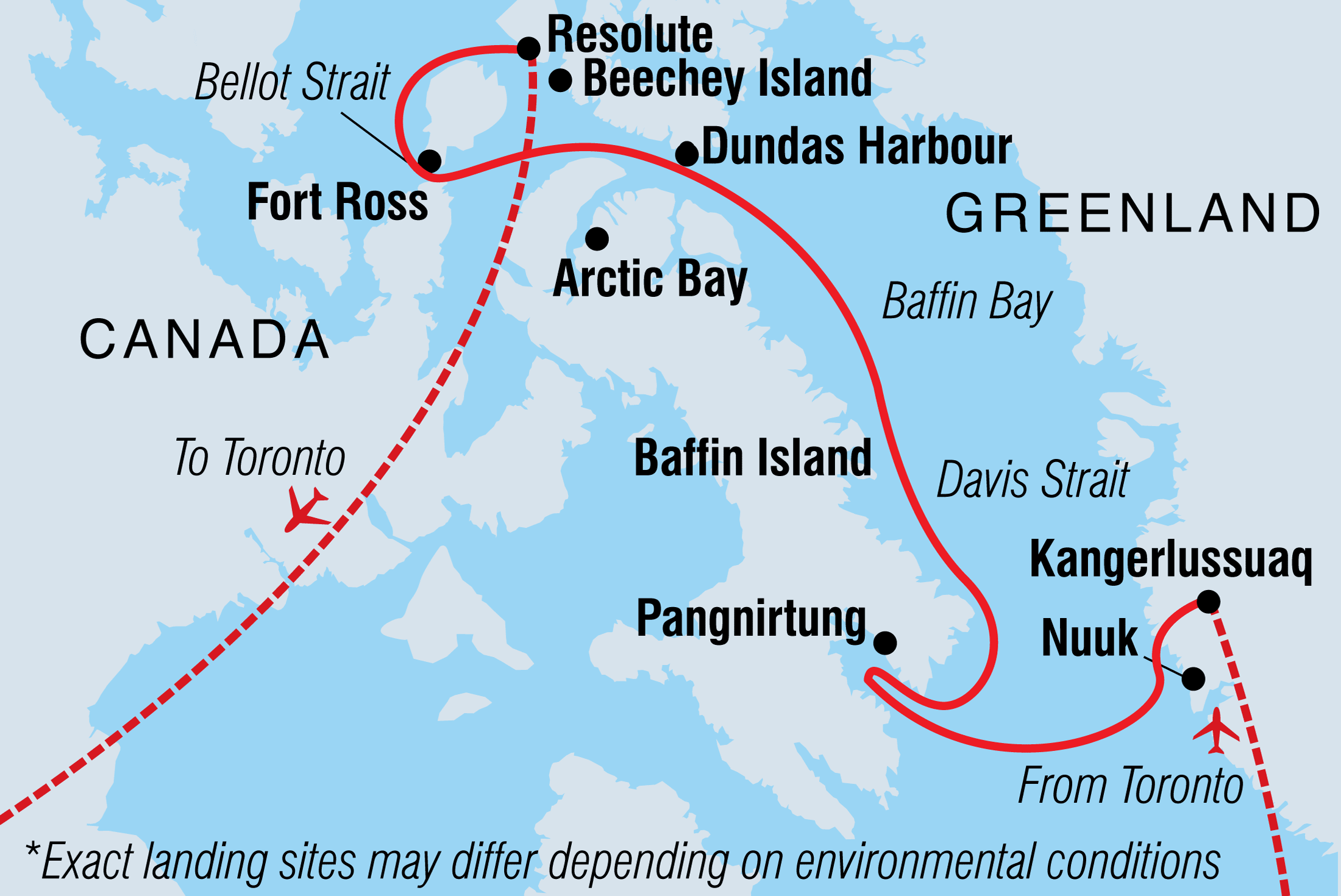 Day 1: Toronto
Location: Toronto
Welcome to Toronto – the capital of Ontario and the gateway to the Canadian Arctic. You are free to arrive at any time today and make your own way to your included pre-trip accommodation. On arrival at the hotel, you'll receive a welcome letter outlining the departure information for your flight to Greenland tomorrow. An expedition representative will be available in the lobby this evening to answer any questions you may have.
Day 2: Kangerlussuaq – Embarkation Day
Location: Kangerlussuaq – Embarkation Day
After breakfast, transfer to Toronto Airport and board your charter flight to Kangerlussuaq – a small seaside community on Greenland's west coast. Enjoy your first Zodiac ride as you transfer from shore to ship. Once on board, settle into your cabin and take in your new surroundings.
Day 3-4: West Greenland
Location: West Greenland
For the next couple of days, your vessel will follow the coast so you can explore Greenland. Cruise around settlements like Maniitsoq – an archipelago broken by natural canals – and Nuuk, the colourful capital. Here, explore the Hans Egede church and statue, named for the missionary who established the settlement in 1728. You may also enjoy visits to the Greenland National Museum, Nuuk Art Museum or Katuaq Cultural Centre. Marvel at your picturesque surroundings as you explore one of the world's most remote capital cities.
Day 5: At Sea
Location: At Sea
Cruise away from Greenland's shores as you traverse the Davis Strait to the Canadian Arctic. Your expert crew will be giving talks and presentations to get you ready for the Arctic adventures that lie ahead. You might want to take advantage of the ship's fully equipped fitness centre and spa facilities, too.
Day 6-15: Canadian High Arctic
Location: Canadian High Arctic
Enjoy almost ten days of exploration in Canada's Arctic, following in the footsteps of old-school explorers. Your expedition crew will have a tentative itinerary set; however, weather, sea and ice conditions will all affect the voyage's shore landings and wildlife-spotting opportunities. We plan to visit the Inuit hamlet of Pangnirtung, nestled beneath the peaks of Mt Duval. Here, you can learn about traditional lithographs and tapestries from local craftspeople. Your vessel will also traverse the Davis Strait and Baffin Bay, during which time you can take Zodiac and helicopter jaunts on sightseeing and shore visits. Continue to the Northwest Passage, stopping to see Inuit communities, ancient Thule remains, reminders of past voyages and a dazzling array of natural wonders on the way. Expect to cruise past pods of whales and the soaring mountains of the region's fjords, as well as glaciers, icebergs, and majestic mountain sites. Keep your eyes peeled for rare bird and polar bear sightings. Your journey will be enhanced with hiking and kayaking opportunities, plus time to simply relax on deck and soak in the purity of the landscape.
Day 16: Resolute – Disembarkation Day – Toronto
Location: Resolute – Disembarkation Day – Toronto
This morning, your ship will cruise towards Resolute, where you will disembark on arrival. On land, transfer to the airport and take your included charter flight back to Toronto, then take a group transfer to your accommodation for the evening.
Day 17: Toronto
Location: Toronto
Your Greenland and Canadian High Arctic adventure comes to an end this morning, with no other activities planned.
What's Included
Accommodation

Expedition Cruise Ship, Comfortable Hotel
Book with Confidence
Low Deposit

Intrepid Travel requires a deposit of 200 GBP to secure a place on this tour, and the final balance is not due till 21 days before departure..

Secure payments

All payments to TourHub are deposited into an externally regulated Trust account.
---
Dates & Availability