Spitsbergen, Jan Mayen, Greenland and Iceland
Start: Oslo Finish: Reykjavik
Visiting:
Arrive Oslo
,
Longyearbyen
,
Exploring Spitsbergen
,
At Sea
,
Jan Mayen
,
Exploring Scoresbysund
,
Reykjavik
---
---
Duration: 17 Nights
Physical rating: Low
Special diets catered: Vegetarians
Tour Operator: Intrepid Travel
Group size: 1 - 132
Age range: 8-99 years
Tour operated in: English
---
Tour Overview
There aren't many people who get the chance to set foot on the rarely visited island of Jan Mayer – this foggy nature reserve is set deep in the North Atlantic Ocean and is inhabited by less than 20 Norwegian military and metrology personnel. You also might not expect to see a volcano in the Arctic, but you will, amid glaciers and ice. Throw in the usual (albeit amazing) suspects – unforgettable Zodiac rides, spectacular fjords and time spent searching for illusive polar bears and other iconic wildlife, and you'll find that this is not your standard Arctic adventure.
Highlights
Discover the history of Greenland with explorations of the ruins of ancient Thule settlements and learn about the Inuit life in Ittoqqortoormiit
Experience how this incredible environment is ever-changing while cruising through freshly birthed icebergs in Scoresbysund
Kayaking on crisp, clear Arctic waters is a unique and intimate way of exploring this amazing region. Book early as these activities can sell out fast
Seek out unforgettable Polar Bears sightings while roaming the hunting grounds of this ruler of the Arctic
Places You'll See
Cities & Attractions:
Itinerary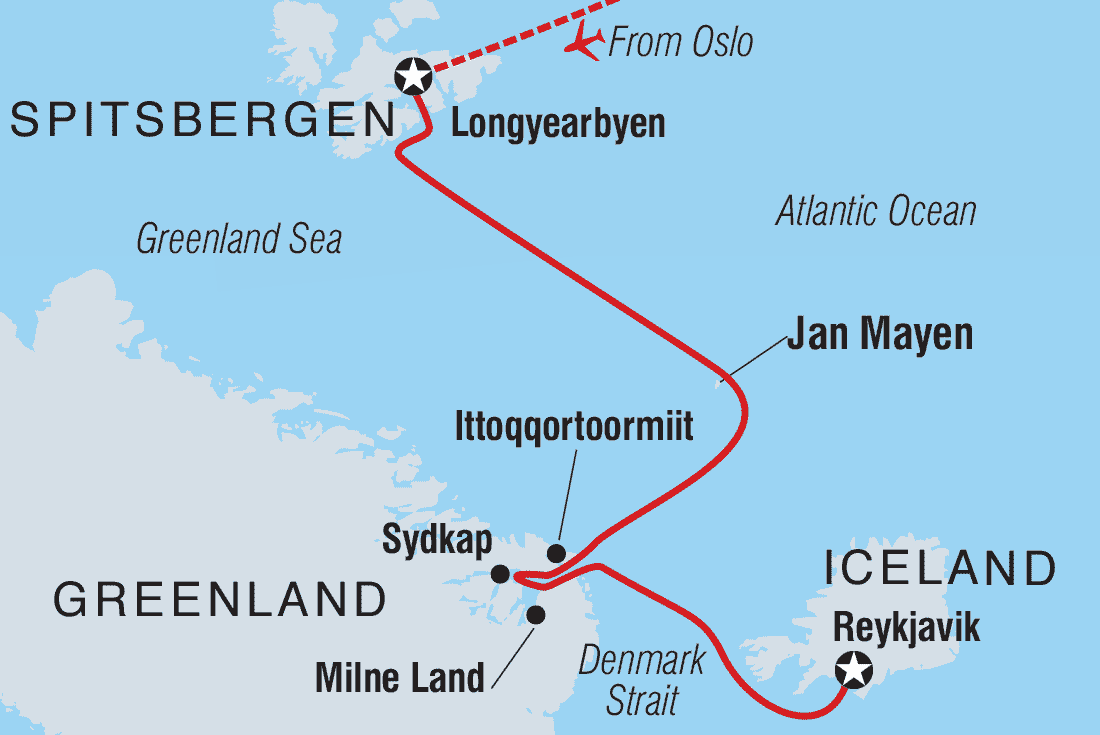 Day 1: Arrive Oslo
Location: Arrive Oslo
Your arctic adventure begins in Oslo, where you may arrive at any time during Day 1 of your itinerary. Upon arriving in this splendid capital city, known for its green spaces and museums, you will check into your included airport hotel.
Day 2: Longyearbyen
Location: Longyearbyen
Meals: breaksfast, dinner
This morning, the group will transfer to the airport and board our private charter flight to Longyearbyen, Spitsbergen's largest settlement. As you embark this afternoon, you'll enjoy great views of the mountainous landscape that serves as a backdrop for this seaside town.
Day 3-6: Exploring Spitsbergen
Location: Exploring Spitsbergen
Exploring Spitsbergen, the largest island in the Norwegian Svalbard archipelago, rewards you with abundant wildlife and austere beauty. Here, you'll visit spectacular glacier fronts and steep-walled fjords, with walrus, polar bears and Svalbard reindeer amongst your possible wildlife sightings. Birders will be thrilled to see arctic terns, skuas, long-tailed ducks, kittiwakes and ivory gulls. If conditions permit, you could sail within 10 degrees of the North Pole!
Day 7-8: At Sea
Location: At Sea
While sailing south through the historic Greenland Sea toward Jan Mayen, your Expedition Team will keep you informed with presentations about the storied history and politics of the Arctic, its fascinating wildlife, geology, ecology and climate, and the incredible sights you will soon explore. On deck, you'll learn to identify seabirds "on the wing." The team will also keep a lookout for the whales that frequent the waters here.
Day 9-10: Jan Mayen
Location: Jan Mayen
North of the Arctic Circle, about 280 miles (450 km) east of Greenland and 340 miles (550 km) north of Iceland, is the mysterious Jan Mayen, deep in the North Atlantic Ocean. Often shrouded in thick fog, the small mountainous island was declared a nature reserve in 2010 and is rarely visited, save for the 18 rotating personnel of the Norwegian military and Norwegian Meteorological Institute, who are the only inhabitants. Landing here will be dictated by the weather and sea. If conditions allow, as we approach, keep watch on deck as the spoon-shaped island's highest summit emerges. At 7,470 feet (2,277 meters) high, the breathtaking Beerenberg volcano features a symmetrical cone shape and impressive glaciers that spill into the sea. If we're fortunate, we may get a close-up view of the volcano and the stratified cliffs of the spectacular north coast as we Zodiac cruise around the island, searching for wildlife. Designated an Important Bird Area by BirdLife International for the large numbers of breeding seabirds, Jan Mayen supports colonies of northern fulmars, little auks, glaucous gulls, kittiwakes, and black and Brünnich's guillemots (thick-billed murres).
Day 11-15: Exploring Scoresbysund
Location: Exploring Scoresbysund
Your tour of Scoresbysund—the largest, deepest and, some say, most beautiful multi-armed fjord system in the world— will offer plenty of opportunities to explore ashore or by Zodiac cruise. At one moment you'll be stepping back in time, exploring the remains of ancient Thule settlements with views of icebergs and towering mountains rising straight out of the sea, and the next you'll be immersed in contemporary culture, meeting the locals and gaining an appreciation for their way of life in Ittoqqortoormiit, Greenland's most remote community. At the mouth of the sound, this remote settlement boasts a blend of traditional and modern lifestyles and is actually closer to Iceland than it is to its nearest Greenlandic neighbours to the southwest. Here, you'll have the chance to support local Inuit artisans by purchasing unique handicrafts. In terms of wildlife, grazing muskoxen are a possible sight, as 40 percent of the world's muskoxen population lives in this region. Polar bear sightings are also a remote possibility, as are encounters with more elusive arctic wildlife, such as the arctic hare. Seabirds to watch out for nesting atop the steep cliffs of the sound include little auks, fulmars and guillemots.
Day 16-17: At Sea
Location: At Sea
As we cruise south, the Denmark Strait is your pathway toward Iceland. Take in a lecture, share your photos, sip an icy cocktail in the bar or watch a movie— there are many things to do during your time at sea. Your Expedition Team will also be on hand to answer any questions and point out wildlife.
Day 18: Reykjavik
Location: Reykjavik
Meals: breaksfast
You'll disembark in Reykjavik, Iceland's capital, at the end of your journey. If you have booked post-expedition accommodation, we provide a transfer to a central downtown location.
Your Peace of Mind Options
Low Deposit

Intrepid Travel requires a deposit of 200 GBP to secure a place on this tour, and the final balance is not due till 21 days before departure..

Secure payments

All payments to TourHub are deposited into an externally regulated Trust account.
---