Uncharted Antarctica: East and West Peninsula
Start: Ushuaia Finish: Ushuaia
Visiting:
Ushuaia
,
Drake Passage
,
East Antarctic Peninsula
,
West Antarctic Peninsula
---
---
Duration: 13 Nights
Physical rating: Low
Special diets catered: Vegetarians
Tour code: GQMAW
Tour operator: Intrepid Travel
Group size: 1 - 200
Age range: 8-99 years
Tour operated in: English
---
Tour Overview
Discover what it means to be a true Antarctic explorer on a 14-day expedition to wild western side of the Antarctic Peninsula. This voyage gives you the best of both sides of the Peninsula – the wildlife-filled, ice-packed channels and explorer-history of the west, and the rugged remoteness of a vast wilderness found through an expedition through the Antarctic Sound. It's here that huge tabular icebergs dominate the view and a true sense of isolation and the landscape's purity can be found on Paulet Island, the Danger Islands and the Eagle Group. It's here that Shackleton and his crew fought for survival, but you'll be in the much more comfortable surrounds of the state-of-the-art Ocean Endeavour. Sail through sweeping landscapes and channels navigated only a few times per year in search of a feeling for exploration found few other places on earth, before returning to the more familiar but no less thrilling shore of the western coastline. For the more adventurous traveller this is a rare opportunity to see Antarctica's wildest side.
Highlights
Towering icebergs, blue glaciers, rugged islands, white mountains, abundant and curious wildlife – the western side of Antarctica is a lifechanging destination in itself.
Zodiac excursions open up exploration opportunities on both sides of the Peninsula – from the Dangers Isles to Paradise Harbour – and the shores of the South Shetland Islands. Get on board with a number of trips scheduled during your Antarctic expedition.
You won't spend sea days between Ushuaia and Antarctica in your cabin. Get insider info with a series of presentations from expert guides, as well as an expedition vessel decked out with all the mod cons.
Encounter Antarctica's incredible wildlife – Adelie and gentoo penguins, leopard seals, sea birds, whales – your expedition crew will curate your adventure to ensure you've got the best chance of multiple sightings.
Cross Antarctic Sound on your way to the Antarctic Peninsula's remote and rugged east side, a sweeping landscape full of huge icebergs, and islands famous for their enormous penguin colonies, exploration history and geological features.
Places You'll See
Countries:
Cities & Attractions:
Itinerary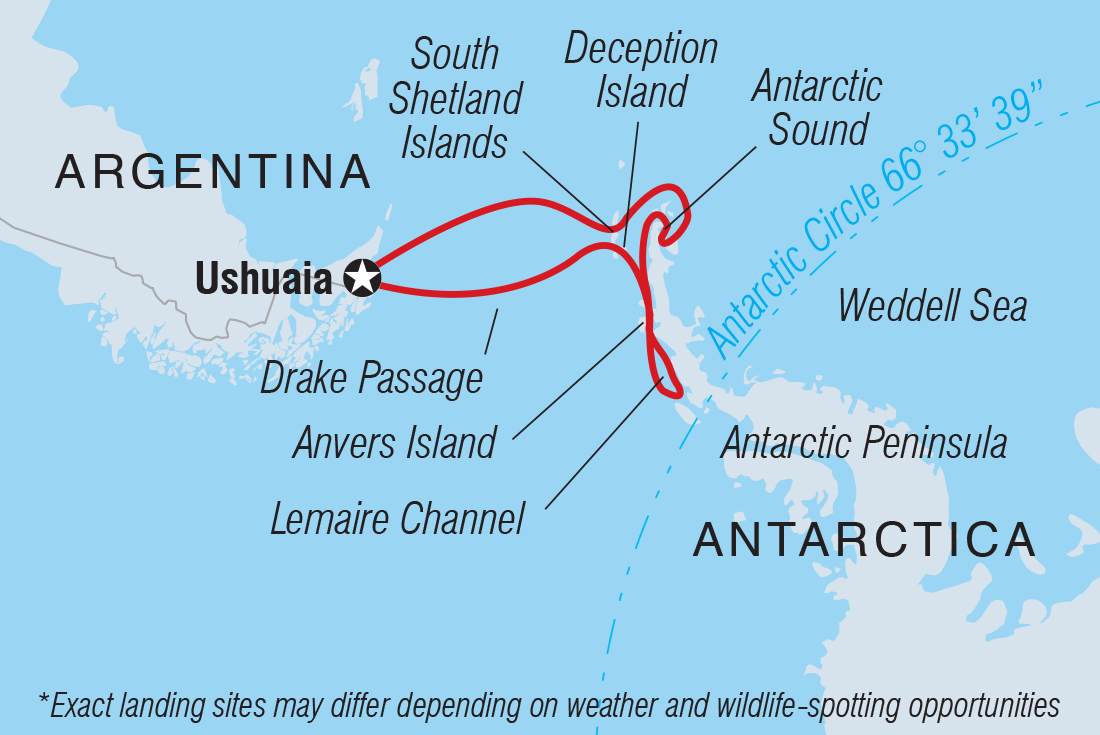 Day 1: Ushuaia
Location: Ushuaia
Accommodation: Hotel
Welcome to the port city of Ushuaia for the start of your Antarctic adventure. Upon arrival you will be transferred to the hotel and settle in before meeting your fellow travellers. If you're arriving earlier there are plenty of activities to choose from. Visit Tierra del Fuego National Park on a full day's adventure, tackle part of the Martial Mountains for a memorable view over the Beagle Channel, or perhaps just a walk around town and enjoy the cafe scene. Tonight's all about introductions, and what better place to do it than to try a traditional asado – an Argentinean-style barbecue.
Day 2: Ushuaia – Embarkation Day
Location: Ushuaia – Embarkation Day
Accommodation: Expedition Cruise Ship
Meals: breaksfast, dinner
You'll jump aboard the Ocean Endeavour for your Antarctic expedition later in the day, so this morning continue to explore Ushuaia. Perhaps check out the Museo Maritimo to brush up on local history, or just enjoy a morning strolling this languid town. Once you've boarded the ship, meet your expert crew and take a tour of the amenities and services available on the ship. Wave goodbye to Argentina and say hello to the legendary Drake Passage. Next stop: the Antarctic.
Day 3-4: Drake Passage
Location: Drake Passage
Accommodation: Expedition Cruise Ship
The next two days are all about relaxing and getting to know your team of polar experts as they share their in-depth knowledge. You'll have the opportunity to enjoy presentations about the continent's geography, environment and wildlife to get you up to speed on all things Antarctica. Spot seabirds flying with your ship to the Great White Continent, keeping an eye out for albatross on their migration route. Keep your eyes peeled for breaching whales and other marine mammals in the southern oceans, and cosy up with a drink, getting to know your shipmates at the bar. There are things on at different times of the day, so do as little or as much learning (and chatting) as you like. The Ocean Endeavour is equipped with a gym, library, heated saltwater pool, jacuzzi, sauna and more, so there's always something to keep you busy while crossing the Drake Passage.
Day 5-7: East Antarctic Peninsula
Location: East Antarctic Peninsula
Accommodation: Expedition Cruise Ship
This is a true exploration so, all going to plan, day five will see the ship's bow round the eastern end of Antarctic Sound and face you south to the wild coastlines of the Peninsula's eastern side. The vast Weddell Sea is edged by a seemingly endless coastline of basaltic beaches, islands that tower from the sea, and collections of islands that few humans have laid eyes on. This is where British explorer Ernest Shackleton and his crew began their legendary journey north after their ship was crushed and sunk. There are so many potential landing sites from this location, like Paulet Island with its large Adelie penguin rookery and Swedish Antarctic Expedition history; the sweeping Prince Gustav Channel to the south; and the protected and glacier-lined coves of Duse Bay. Spend the next few days exploring on Zodiac boat rides and onshore excursions across a number of potential remote landing sites around the Eagle Island group. Keep an eye out for minke whales and don't forget about the chance to take an unforgettable polar plunge, to step onto your very own piece of sea ice or any other optional extras. No two days on any expedition are the same, and landing sites are subject to change depending on the elements and potential wildlife-spotting opportunities, but our expert expedition crew will make sure each day is memorable with a sense of exploration unlike anywhere else on earth.
Day 8-11: West Antarctic Peninsula
Location: West Antarctic Peninsula
Accommodation: Expedition Cruise Ship
After three days exploring the Peninsula's lesser visited east side, it's time to cross back through the Antarctic Sound for the better known, but no less spectacular, western shores. Huge icebergs that have broken off from an ice shelf often greet you as the ship makes its way from east to west, and there may be opportunities to land at locations like Esperanza Station (the Argentine research hut) and Brown Bluff – a mass of volcanic rock that towers 678 metres high above the homes of the thousands of Adelie and gentoo penguins. For the next four days, explore well-known sites like Orne Harbour, Paradise Bay or Port Lockroy as you head on wildlife sightings, take to Zodiacs for small-group outings and soak up the unforgettable vistas that greet you at every turn. With multiple landing sites available, your Ocean Endeavour crew will work out the best places to stop, taking into account the elements, accessibility and the possibility for wildlife sightings. You'll soon notice the contrast with the sense of isolation on the east side, as you won't find an excursion on the western side lasts long without a parade of penguins or marine mammal sighting. After four memorable days the ship will turn north again and cross the Bransfield Strait and head through the South Shetland Islands. Now's the perfect time to join your crew and fellow explorers on the aft deck for a final toast to the Antarctic.
Day 12-13: Drake Passage
Location: Drake Passage
Accommodation: Expedition Cruise Ship
Settle back into your comfortable surroundings for the return journey across the Drake Passage. The Ocean Endeavour will track north towards Cape Horn and your destination in Ushuaia, Argentina. This is your last chance to soak up the experience and knowledge of your expert expedition crew before the end of the trip, so make sure you join them on deck with binoculars in hand to spot the surrounding wildlife. Now is also the chance to catch up with your shipmates and share stories about your voyage over a meal or a drink at the bar.
Day 14: Ushuaia - Disembarkation Day
Location: Ushuaia - Disembarkation Day
Meals: breaksfast
This morning, farewell the Ocean Endeavour as you disembark in Ushuaia. With no further activities planned for today, you're free to depart at any time, with short drives to the airport for any afternoon flight departures. Your guides will join you on the dock to say farewell and to wave goodbye to the ship's team and crew who have shared the journey with you.
What's Included
Accommodation

Comfortable Hotel (1 night), Expedition Cruis Ship (12 nights)

Meals

13 breakfasts, 11 lunches, 12 dinners
Transport
Expedition cruise ship , zodiac
Book with Confidence
Low Deposit

Intrepid Travel requires a deposit of 200 GBP to secure a place on this tour, and the final balance is not due till 21 days before departure..

Secure payments

All payments to TourHub are deposited into an externally regulated Trust account.
---
Dates & Availability
Select departure month