Adriatic Explorer from Dubrovnik - 8 days
Adriatic Explorer from Dubrovnik - 8 days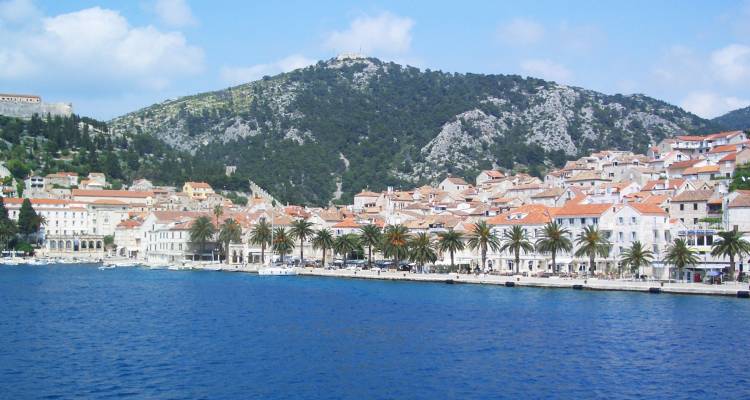 Adriatic Explorer from Dubrovnik - 8 days
8 Days Starting in Dubrovnik and ending in
Visiting: Dubrovnik, Šipan, Slano, Mljet, Korčula, Vis, Hvar, Brač, Makarska, Pučišća, Split
Tour operator:
Specialist Group:
Family/Kids
Age range:
Child discount - children under 10 years (in double cabin only) 
Trip Styles:
Interests:
Activities:
From:
$1025
$847 (USD)
Operator discount:
$154
WINTER SALE @ Tourhub Discount:
$24
-17%
Tour Overview
SAILING HOLIDAY: Journey in style from delightful Dubrovnik northward towards stunning Split. Visit gorgeous islands en route including Brac and the eye-catching Zlatni Rat Beach and world class National Park, Mljet. Experience 8 glorious days aboard a beautiful cruise boat - complete bliss!
Highlights
Dubrovnik - Begin your Croatian cruise from the 'Pearl of the Adriatic', the famous walled city which starred in the Game of Thrones

Mljet Island - Stroll around the two salt lakes and through the lush forests of Mljet National Park

Pakleni Islands - Swim in the azure waters and secluded bays of this small group of islands off the coast of Hvar

Korcula - Wander through the quaint old town and enjoy a refreshing pint in one of the many taverns

Hvar - Visit the town of Hvar on the island of the same name, which is the sunniest island in the Adriatic

Brac - Stop at the delightful fishing town of Bol and Zlatni Rat, the most famous beach in Croatia

Makarska - Explore this charming town to discover beautiful churches and a swathe of architectural and cultural sites

Split - End your tour in the charming port city of Split, take in the history, opt to visit the UNESCO World Heritage Site - Diocletian's Palace and enjoy delicious cuisine
Itinerary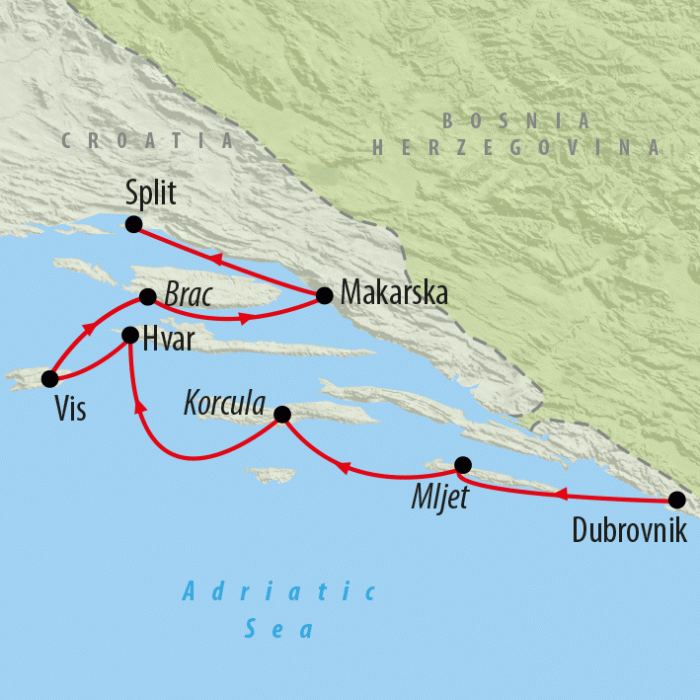 Expand All
Location:
Dubrovnik, Šipan, Slano
Meals Included:
Lunch
Saturday. Dubrovnik - Sipan/Slano. Departure from Gruz Harbour in Dubrovnik is at 1pm today. Cruise along the beautiful south Dalmatian Coast down to one of the Elaphite Islands - Sipan or to the small village Slano, where we overnight. Enjoy your evening meal at one of the many restaurants and experience the fantastic sunset in this small fishermen's village.
Day 2: Beautiful Mljet National Park And Korcula
Location:
Šipan, Slano, Mljet, Korčula
Meals Included:
Breakfast, Lunch
Sipan/Slano - Mljet - Korcula. We continue our journey towards one of the greenest Adriatic Islands - Mljet. This afternoon we take time to enjoy the beauties of the National Park, two salt lakes connected by a narrow channel to the sea and a boat ride to the St Mary Isle in the Great Lake, where the old church and monastery are situated. Enjoy a swim in lakes or cycling around them. After lunch, we continue towards Korcula, the birthplace of famous explorer and adventurer Marco Polo. Surrounded by medieval walls, Korcula resembles a miniature Dubrovnik when approaching from the sea. The town has more legends, tales and monuments than you can find anywhere else. Today, Korcula is the only place in the world where the Spanish medieval knight's game – Moreska is still performed. Before arriving in Korcula in the afternoon hours, we stop for a swim in one of the beautiful little bays. Upon arrival enjoy a walk through the streets of the old town, built in the shape of a fish bone. Visit the numerous konobas/taverns, restaurants, cocktail bars or night-clubs located within and around the city walls.
Day 3: Stunning Vis And Optional Blue Cave Visit
Location:
Korčula, Vis
Meals Included:
Breakfast, Lunch
Korcula - Vis. This morning we cruise towards the little island of Bisevo and visit the Blue cave, a magnificent natural phenomenon. Our next destination is the island of Vis, which was because of its unique geographical position, a strategic harbour for the Navy and was closed to the public until recently. Because of this isolation, Vis has a special charm, 'the Mediterranean as it once was' which makes it a really interesting place to see. We overnight in the town of Vis, situated on the northern side of the island, developed near the remains of the ancient Issa, the first urban centre in Croatia. If interested, visit the remains of the Roman Thermal Place, City Museum or simply take a walk and enjoy the views of the beautiful Roman styled villas along the waterfront.
Location:
Vis, Hvar
Meals Included:
Breakfast, Lunch
Vis - Hvar. This morning we depart for the island of Hvar, the longest and sunniest Adriatic Island, a favourite destination for jet setters from all around the world. After lunch, we stop for a swim at nearby Pakleni Island and free time is offered for relaxing and refreshment in the clear, crystal blue sea before arrival to Hvar this afternoon. Hvar Town offers many cultural and historical sites, the Renaissance Cathedral, the oldest communal theatre in Europe founded in 1612, Franciscan Monastery, the Benedictine Convent famous for their lace and listed on the UNESCO World Heritage List, Spanjola Fortress towering above the town... plus enjoy the many restaurants, bars and nightclubs open late.
Day 5: Brac Island And Zlatni Rat Beach (Golden Horn)
Location:
Hvar, Brač, Makarska
Meals Included:
Breakfast, Lunch
Hvar - Bol - Makarska. This morning we continue our cruise to the island of Brac, more precisely to the town of Bol, a typical Dalmatian fishermen's village turned into tourist destination. Bol is best known for its beautiful Zlatni Rat Beach (aka Golden Horn). After a swim at the horn we continue towards Makarska, with it's Mediterranean feel. A famous tourist destination with many restaurants and bars and an interesting beach promenade. Enjoy the magic of the central spot of the Makarska Riviera, and be sure to take a walk along the city streets – with an abundance of churches and other historical cultural sites.
Location:
Makarska, Pučišća
Meals Included:
Breakfast, Lunch, Dinner
Makarska - Pucisca. We continue towards Pucisca, a typical Mediterranean town, situated on the northern side of Brac Island at the bottom of a deep bay. This place is home to the world famous white stone of Brac. There maybe an option of visiting one of the few remaining stone masonry workshops left in Europe. Tonight we'll enjoy a scrumptious Captain's Dinner.
Day 7: Famous And Historic Split
Location:
Split
Meals Included:
Breakfast, Lunch
Pucisca - Split. We continue our cruise towards our last destination – the town of Split, a city under UNESCO protection. Its historical richness and beauty does not belong to only to people who live near its walls, but are offered to those that want to experience the centuries-old beauty. Upon arrival we recommend that you join our optional guided tour of Split with an English speaking guide for walk through the old city centre, and 1700 year old Diocletian's Palace.
Location:
Split
Meals Included:
Breakfast
Saturday. Split. After breakfast, we say goodbye to the crew and our new friends! Opt to stay on and explore more of historic Split.
What's Included
Accommodation
Traditional En suite, Premium and Premium Plus Ship options are available

Breakfast daily, 6 (3-course) lunches

7 nights accommodation onboard an air conditioned ship

7 days sailing off the Dalmatian Coast in the Adriatic Sea

Opportunities to swim, snorkel, hike and bike ride

Services of onboard captain and crew

Complimentary water from water fountain

Complimentary WiFi onboard
What's Not Included
International flights and visa.

Tip for your crew. We recommend you allow EUR 5-10 per day, per traveller. Tipping is an entirely personal gesture

Port tax of EUR 60 per person, to be paid upon cruise check-in.

National park entrance fees - prices vary from EUR 10 - 35 per person depending on season
Check out our Q&As
What Ethical Travel credentials does the tour company have?

Ensuring our footprint is light and that the benefits of travelling reach the local communities you visit is paramount to us. We're proud to say that when travelling with us, the large majority of your holiday funds remain within the countries you visit, supporting local economies at a grass roots level.

How long has the tour company been trading?

Who will be my travelling companions on the tour?

With English-speaking tours, it's not a huge surprise that most on our travellers are from English-speaking countries or have English as their second language. Our group tours cater for everyone from 18 years old to 70+

Will the accommodation included meet local health and safety regulations?
Reviews of this Operator
Calvin
Wonderful experience
Jamal is our tour guide. Right from the start, he created a group chat in whatsapp and if any issues to make sure we contact him. He was on the ball with every issue thrown at him. Luggage being left behind, stragglers wondered off in a different path, hotel room etc. He explains the various site along our route to give us a better understanding of the local cultures. We had a great time, thanks to Jamal.
Trustpilot
Norma Sullivan
Land of the Northern Lights 5 day tour of Iceland
The Land of Northern Lights tour was a triumph! My tour of Southern Iceland was absolutely wonderful. The venues chosen, the timing allotted at each venue and the variety of things to experience was nearly perfect. Our guide, "Thor", was smart, amusing, full of history and anecdotal stories as well as being incredibly hospitable and helpful. This small group experience was my first, but not my last thanks to On the Go.
Xtreme Floor Care (Google Reviewer)
Traveled through Egypt with On the Go Tours, professional service, very informative and helpful tour guides. The choice of hotels was excellent... Definitely recommend this company
Gavin Harrigan
King Tutankhamun 10 day tour of Egypt
I have just returned from my tour with On The Go and it was an amazing trip! From arriving at the airport and meeting the OTG representative, everything was well organised and hassle free.  Our tour guide was Amir. He is awesome!! From the beginning he was so friendly and enthusiastic about showing us around Egypt, giving us loads of information at each place and time to explore ourselves. Learnt so much from him about this fascinating place, and he was always happy to answer more questions.   The trip itself was amazing. There's lots of travelling on this trip, but it's really not too bad, and the sights you see when you get to where you are going are worth it. I'm not a big fan of boats, but the Felluca ride across the Nile was pretty fun too.  On the first day I also did the optional tour of Cairo with Ahmed Helal - another excellent guide from OTG. It's worth doing this add on as you don't spend much time in Cairo, and you go to three very different places.  I'm so glad that I decided to do this trip. It was just ace.  If you're thinking about it too, you should probably just book it. And hopefully you get Amir as your guide.
Paul Kelly (Google Reviewer)
TOTALLY MOROCCO We booked a 9 day tour of Morocco visiting many main cities and places of interest. The coach was very comfortable and we felt safe with the driver Suliman. The guide was Hicham Touraouine and he was fantastic. He spoke perfect English as well as French, Arabic and Berber. He was so kind and considerate and made a good tour great. We particularly enjoyed 'glamming in the Sahara Desert. So much to see and do and great food and company. We would definitely use On The Go Tours again, especially if Hicham was the guide. Paul & Penny
Tina Ebrahim
Totally Morocco - 9 days
This was a great tour through Morocco! There was quite a bit of time spent on the bus but the stops to see the sites and breaks were timed perfectly. It allowed us to see so much of Morocco in a short amount of time. What really made this trip extra special was our tour guide Hicham! He was so friendly, professional, knowledgeable and had an infinite amount of patience. You could tell that he is very proud of his country - as he should be! When I arrived, I mentioned that I was sad about missing Chefchaoen and he went out of his way to make sure we could add it to our itinerary (luckily the other 2 people on the trip also wanted to go). It was a highlight for me! This was my second On The Go tour. The first tour was amazing (Pyramids, Petra and Promised Land) so the bar was set high but Hicham and Hussein made this trip just as memorable!
Rolly Hay hay (Google Reviewer)
Gallipoli tour. The guide was awesome. Everything went like clockwork.. My complaint is that you expect 4 people to cramp together on the back seat of the van for 4 hours. That is poverty travel. Not really acceptable for the price paid. So uncomfortable. If was to do this trip again I'd just rent a car. Although the guide was amazing, but that's 3 hours of the trip.
Jane Elson (Google Reviewer)
We booked the Land of Northern Lights and the actual trip was a wonderful experience we had a great guide and driver. The problem we had was with On the Go Tours. We accept meals are not included but did expect meals to be available. When in Hella the hotel restaurant was closed and there bistro was full, but we were told we could eat at about 7.45pm - when we asked again at 8pm we were told it would be another 15 - 30 mins. There is a street van, pizza and burger bar but all close at 8pm so we could not grab anything there - we had a Northern Lights presentation at 8.30pm so no chance of us getting meal at the only other restaurant. The next day our lunch stop was unable to provide lunch just coffee & cake! I have raised this with On the GO Tours and the bottom line is they do not include meals!!!!
brandy hoffman (Google Reviewer)
I had used them once before and loved them. I decided to try them again for a Baltic tour not knowing that they put me on another Tour group- Baltic vision. Loved that tour but was not impressed they marked up the cost for me over 100%. I understand taking some for yourself because of paperwork, but over double the cost everyone else paid on the tour. Just double check before you book with them that you're not over paying.
Giovanni Guidi (Google Reviewer)
I booked three tours with this agency. While the first two experiences were very nice, with well-thought-out itineraries and knowledgeable guides, the third tour was an absolute nightmare for us. Due to the unavailability of an hotel from the trip notes, the agency opted to replace it with another they claimed was "similar." To our dismay, this alternative was nothing short of a decrepit, filthy establishment that threatened to ruin our entire safari experience in South Africa. But the fiasco didn't end there. This so-called hotel began proposing and organizing activities starkly different from what we were promised in the trip notes, together with an awful services of their guides and vehicles. And when this disaster struck and we desperately needed their support? The agency ghosted us. It took them an entire day to respond, and when they did, they simply shrugged off our concerns, asserting it was too late to fix anything, even though three nights of our trip were still ahead. The level of unprofessionalism was staggering. Forced to salvage our experience, we took matters into our own hands, leaving that awful place to book another hotel and activities for the remainder of our trip—all at my own expense. Based on my experience, I suggest travelers to think twice before considering this agency. Seek out reputable companies known for their commitment to customer service and integrity.
Dates & Availability
Instant Booking Available
Saturday - Saturday
Apr 27, 2024 - May 04, 2024
Instant Booking Available
Saturday - Saturday
May 11, 2024 - May 18, 2024
Instant Booking Available
Saturday - Saturday
May 18, 2024 - May 25, 2024
Instant Booking Available
Saturday - Saturday
Jun 29, 2024 - Jul 06, 2024
Instant Booking Available
Saturday - Saturday
Jul 06, 2024 - Jul 13, 2024
Instant Booking Available
Saturday - Saturday
Jul 20, 2024 - Jul 27, 2024
Instant Booking Available
Saturday - Saturday
Aug 03, 2024 - Aug 10, 2024
Instant Booking Available
Saturday - Saturday
Aug 17, 2024 - Aug 24, 2024
Instant Booking Available
Saturday - Saturday
Sep 21, 2024 - Sep 28, 2024
Book with Confidence
Transfer as credit to Future Tours

On The Go Tours allows you to transfer existing payments to a future tour to avoid cancellation fees if you can't travel and inform on the go tours, 60 days before departure.

Low Deposit

On The Go Tours requires a minimum deposit of 200 GBP per person or the full booking value, whichever is less, with the final balance not due until 60 days before departure.

Cancellation Policy

We don't charge a cancellation fee, here is a summary of on the go tours charges.

Up to 60 days before tour starts: Forfeit 100% of deposit.

At 59 days before tour starts: Forfeit 50% of booking price.

At 30 days before tour starts: Forfeit 100% of booking price.
Why book with tourhub?
Safe & Secure
Your money is protected in an external trust until you travel.
---
100% Guaranteed Refunds if your trip is cancelled.
---
The safest way to make overseas, multi-currency payments.
Guaranteed Best Value
Industry leading discounts, we won't be beaten on price.
---
No cancellation or amendment fees from tourhub.
(Operator terms may apply)
Expert Knowledge
Reliable & unbiased advice from travel experts.
---
Direct contact with the tour operator via our messaging service.
---
Inspiration & advice from a community of 6000+ real travellers, influencers & content creators.
Trusted Service
Official partners & licensed agents of 1000+ tour operators worldwide.
---
Don't just take our word for it...
"Tourhub: Friendliness, Professionalism & Integrity I would happily give tourhub a 6* review if I could..."
Similar Tours
Travel Guru Features
Our Reviews