Cape to Kenya - 43 days
Start: Cape Town Finish: Nairobi
Visiting: Cape Town
---
---
Duration: 42 Nights
Special diets catered: Vegetarians, Please contact On The Go Tours with specific dietary requests
Tour code: 174/KCSN
Tour operator: On The Go Tours
Group size: 2 - 30
Age range: 18 and over.Overland Age Policy:To travel on one of our overland family departure safaris children need to be a minimum age of 6 for Southern Africa safaris (Zimbabwe, Botswana, Namibia, South Africa) and a minimum of 8 years old for East Africa safaris (
Tour operated in: English
---
Tour Overview
Embark on an overland journey across almost half the African Continent from Cape Town to Kenya. A heady mix of game, beaches, the Okavango Delta, exotic Zanzibar, adrenaline activities for the taking, giant dunes and exciting places.
Highlights
South Africa - set off from Cape Town, enjoy wine tasting in the Cederberg Mountains and camp along the Gariep River
Zambia - see the Zambian side of Victoria Falls and head out on safari in the wildlife-rich South Luangwa National Park
Tanzania - relax on the beaches of Zanzibar and spot wildlife in the Serengeti and Ngorongoro Crater
Zimbabwe - take time to visit cascading Victoria Falls and enjoy optional activities including bungee jumping and helicopter rides
Namibia - marvel at the Fish River Canyon, explore the beautiful Namib Desert, unwind on the beach in Swakopmund and search for wildlife in Etosha National Park
Kenya - finish your adventure in the Kenyan capital, Nairobi and opt to extend your stay in the country
Botswana - explore the Okavango Delta from a mokoro canoe and camp in the wilderness of Chobe National Park, surrounded by the sounds of wildlife
Malawi - visit the Malawian capital Lilongwe and enjoy three days of exploring the length of stunning Lake Malawi
Itinerary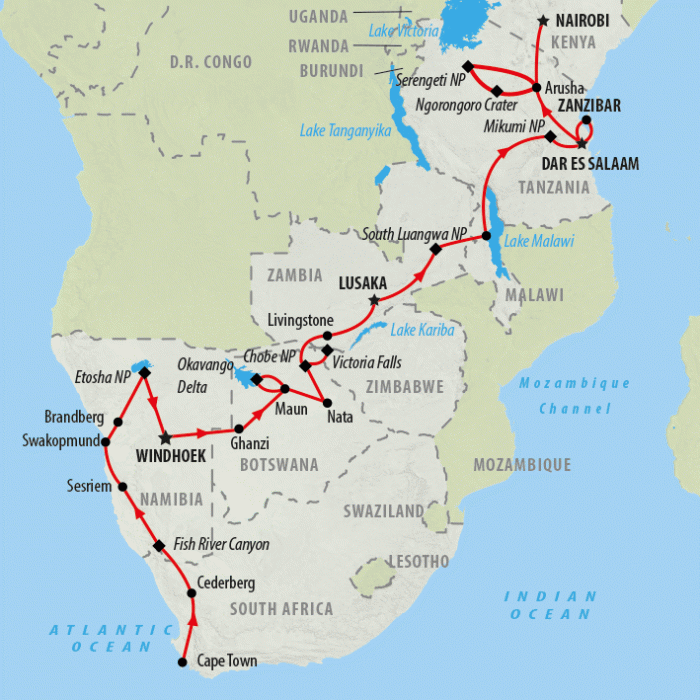 Day 1: Cape Town
Saturday. Welcome to Cape Town, South Africa! Upon arrival at Cape Town airport you will be met and transferred to the Ashanti Lodge Backpackers in the Gardens area of Cape Town. Our first night's accommodation is in shared dormitories. Meet the rest of your group at 17:00 this evening where your tour leader will conduct a welcome meeting.
Day 2: Cederberg
Meals: Lunch, Dinner
Cape Town - Cederberg. Leaving Cape Town, we travel north to a picturesque campsite, surrounded by wine farms in the Cederburg Area. This afternoon we sample some of the nectar of the gods with included wine tasting after taking a short walk in the surrounding vineyards to explore the exquisite views of the Cederberg Mountains.
Day 3: Gariep River
Meals: Breakfast, Lunch, Dinner
Cederberg - Gariep River. Continuing north we pass by the mining town of Springbok in the Namaqualand area before arriving at the Gariep (Orange) River on the border with Namibia. We camp tonight on the South African side.
Day 4: Fish River Canyon
Meals: Breakfast, Lunch, Dinner
Gariep River - Fish River Canyon (Namibia). Our morning begins with an included canoe trip on the Gariep River before we cross the border into Namibia and head for the world's second largest canyon - Fish River Canyon.
Day 5: Sesriem
Meals: Breakfast, Lunch, Dinner
Fish River Canyon - Sesriem. We rise early today as we enter the famous Namib-Naukluft desert. Our base for the night is in Sesriem - a short distance from Sossusvlei - home to some of the world's tallest sand dunes.
Day 6: Namib Naukluft National Park
Meals: Breakfast, Lunch, Dinner
This morning we attempt to climb the impressive Dune 45 in time for sunsrise. Watching the colours change amongst the massive sand dunes is really a sight to behold. We will also take a desert walk in Sossusvlei and Deadvlei.
Day 7-8: Swakopmund
Meals: Breakfast
Sesriem - Swakopmund. On day 7 we leave the desert and cross the famous Tropic of Capricorn with stops at the sign for the obligatory photos. Our final destination on day 7 is the colonial German town of Swakopmund where we spend the next 2 nights. There are lots of optional excursions payable locally in Swakopmund including sky diving, quad biking, sand boarding, scenic desert flights, dolphin cruises, fishing trips, golf, horse riding and more. An activity briefing will be held on arrival in Swakopmund.
Day 9: Spitzkoppe
Meals: Breakfast, Lunch, Dinner
Swakopmund - Brandberg. We depart Swakopmund this morning stopping briefly at the famous rock formations of Spitzkoppe before continuing to our final destination of the day - Brandberg.
Day 10-11: Etosha National Park
Meals: Breakfast, Lunch, Dinner
Brandberg - Etosha National Park area. We depart Brandberg for Etosha - Namibia's premier game park. We spend the whole day exploring the park in our truck on day 11 on the look out for resident animals which include 4 of the Big 5.
Day 12: Etosha National Park
Meals: Breakfast, Lunch, Dinner
Today is another day of game viewing as we travel 150km across the park to the north where we camp for the night at Namutoni. Namutoni has a waterhole we can visit in the evening when the animals come down to drink.
Day 13-15: Windhoek & Ghanzi
Meals: Breakfast, Lunch, Dinner
Etosha - Windhoek - Ghanzi - Maun (Botswana). From Etosha, we have a night in the capital Windhoek before entering Botswana on day 14 where stop for the night in in Ghanzi in the middle of the Kalahari Desert - home to the famous San Bushmen.

On day 15 we head to Maun - our base for the Okavango Delta. Tonight we prepare our provisions and packs for our 1 night excursion. Your trip leader will brief you fully on what is needed, and what to expect prior to your trip to the Delta.
Day 16: Okavango Delta
Meals: Breakfast, Lunch, Dinner
Maun - Okavango Delta. After an early rise we depart for the poling station where we meet our polers who will guide us in our mokoros (dug out canoes) effortlessly through the Delta to our bush camp.

Upon arrival we meet the local staff and have a brief introduction to the camp and will show you your dome tent with twin beds then time to relax in the tent with a cold drink or take a paddle in the Delta in a canoe. The activities at the camp include Mokoro trails and guided walking.
Day 17: Maun
Meals: Breakfast, Lunch, Dinner
Okavango Delta - Maun. Departing the Delta by mokoro this morning we return to Maun where if conditions are right there is a chance to take a scenic flight over the Delta.
Day 18: Chobe National Park
Meals: Breakfast, Lunch, Dinner
Maun - Nata Region. Today we continue to drive through rural Botswana as we travel along roads frequented by cows and donkeys. Our campsite today is the lush Elephant Sands campsite where there may be opportunities to bush walk or game drive.
Day 19-20: Victoria Falls
Meals: Breakfast
Nata Region - Chobe. Our destination today is the town of Kasane and a campsite on the banks of the River Chobe - the natural border between Botswana, Namibia and Zambia. On day 20 we head into Chobe National Park for our overnight excursion in the wilds of the Chobe National park.
Day 21-23: Chobe National Park
Meals: Breakfast
Chobe - Victoria Falls (Zimbabwe). We awake early in the national park and we continue to game drive as we leave. We return to Kasane to rejoin our truck and cross the border into Zimbabwe and Victoria Falls. Famous for its plethora of adrenaline activities - we have an activity briefing upon arrival.

The next 2 days are spent relaxing or participating in a myriad of Optional Excursions. Some of our fellow passengers will leave us in Vic Falls, to be replaced by new passengers joining us for the next leg of our trip.

Optional excursions include horseback safaris, a visit to the crocodile ranch, boat cruises and golf at The Elephant Hills Resort. Adrenalin junkies can bungee from the Victoria Falls Bridge connecting Zimbabwe and Zambia or abseil down the Batoka Gorge - neither activity is for the faint hearted! Flights in fixed wing, micro light and ultra light aircraft or helicopters provide an aerial perspective over this magnificent World Heritage Site. White water rafting on the Zambezi is world class. Beside the excitement of the Grade 5 rapids, there are the "floats," where there is time to admire the scenic cliffs and the occasional wildlife on the riverbanks.
Day 24-25: Chobe National Park
Meals: Breakfast, Lunch, Dinner
Victoria Falls - Kasane (Botswana) - Livingstone (Zambia). Leaving Vic Falls on this morning we cross back into Botswana and back to the town of Kasane, situated on the banks of the Chobe River.

The following morning, we get back on our truck and continue to the town of Livingstone in Zambia. This afternoon we have the opportunity to view Victoria Falls from the Mosi-oa-Tunya National Park, Zambia or partake in a sunset boat cruise on the Zambezi River. Another fantastic photo opportunity!
Day 26-28: South Luangwa NP
Meals: Breakfast, Lunch, Dinner
Livingstone - Lusaka Area - South Luangwa. We continue through Zambia today as we head near to the capital Lusaka. On day 27 we visit South Luangwa National Park where we camp for the night and take included game drives.
Day 29-31: Lake Malawi
Meals: Breakfast, Lunch, Dinner
South Luangwa - Lake Malawi (Malawi). Crossing into Malawi, known as the 'Warm Heart of Africa'. We make a brief stop in the capital, Lilongwe before arriving at our camp on the lake.

Malawi's temperate climate allows for swimming in the clear blue fresh-water lake all year round. You can also explore the beautiful shore where you'll happen upon the local fishermen sorting their catch. The various beachside campsites along Lake Malawi's shores offer many optional excursions including water sports, horseback rides and visits to a local village.
Day 32: Iringa
Meals: Breakfast, Lunch, Dinner
Lake Malawi - Iringa (Tanzania). Today we enter Tanzania through the border post at Songwe. Our campsite this evening is at Iringa at a beautiful rustic 'Farmhouse' campsite famous for its Amarula Hot Chocolates and its steamy showers!
Day 33: Dar es Salaam
Meals: Breakfast, Lunch, Dinner
Iringa - Dar es Salaam. Continuing north we continue to Dar Es Salaam through Mikumi National Park. We camp tonight by the beach and prepare for our trip to the Spice Island of Zanzibar tomorrow.
Day 34-36: Zanzibar
Meals: Breakfast
Dar es Salaam - Zanzibar. Today we take the ferry over to Zanzibar for 3 nights on this tropical paradise. Our first night is in the port city of Stone Town and we spend two further nights up on the northern beaches. Whilst on Zanzibar we also enjoy an informative Spice Tour and sunset cruise on a traditional dhow boat.
Day 37-39: Dar es Salaam
Meals: Breakfast, Lunch, Dinner
Zanzibar - Dar es Salaam - Pangani - Arusha. We depart Zanzibar this afternoon and return to Dar Es Salaam. On day 38 we continue north and stop for the night in Pengani before continuing our journey the next day for Arusha - our base for our trip out to the Serengeti and Ngorongoro Crater.
Day 40-42: Serengeti National Park
Meals: Breakfast, Lunch, Dinner
Arusha - Serengeti & Ngorongoro. On day 40 we depart Arusha and embark on our 3 day/2 night included Serengeti and Ngorongoro excursion. We'll game drive in both areas and camp in the wild. On day 42 we head back across the plains and the Crater rim to return to Arusha and exchange exciting wildlife stories.
Day 43: Nairobi
Meals: Breakfast
Arusha - Nairobi (Kenya). We have an early start this morning as we head to north and cross in to Kenya. Our final destination is the capital Nairobi. We recommend staying an extra night in Nairobi in case of any delays on our way into Kenya.
What's Included
37 breakfasts, 28 lunches and 29 dinners

3 night Zanzibar Excursion including ferry transfer, accommodation, Spice Tour and Dhow Sunset Cruise

1st night dormitory accommodation at Ashanti Lodge in Cape Town (upgrades available), and 37 nights camping. Tents and sleeping mats provided

Arrival transfer from Cape Town Airport on day 1

All camping fees and appropriate equipment

A fully equipped overland truck for transportation and game drives

Services of 3 person crew (leader, driver, cook)

Accommodation

Camping

Mikumi National Park (transit only)

Park Entry and Game drive - Ngorongoro NP, Serengeti NP, Chobe NP, South Luangwa NP and Etosha NP. Entry into Victoria Falls National Park

All road taxes and tolls

2 day/1 night Okavango Delta Excursion (camping)

Sossusvlei transfer for Desert Walk
What's Not Included
Sleeping bag - please bring your own

International flights and visas

Optional activities

Local payment - $2100pp, paid in USD

Tipping - an entirely personal gesture
Age Policy
18 and over.Overland Age Policy:To travel on one of our overland family departure safaris children need to be a minimum age of 6 for Southern Africa safaris (Zimbabwe, Botswana, Namibia, South Africa) and a minimum of 8 years old for East Africa safaris (Kenya, Tanzania, Uganda, Malawi, Zambia). If a safari includes both East and Southern Africa then the minimum age will be 8 years old. Please note that they will be travelling with the normal group. These are not separate family tours. For family dates look for the icon next to the tour date online. IMPORTANT: South Africa and Botswana regulations aimed at fighting child trafficking:'All parents travelling with children into or out of SA and/or Botswana may be asked to show the child's unabridged (full) birth certificate, and where only one parent is accompanying, parental or legal consent for the child to travel (eg an affidavit from the other parent, a court order or – if applicable – a death certificate). You should travel with these documents in case you're asked to provide them. There are other requirements for children travelling unaccompanied or with adults who are not their parents.' Tell pax to contact the South African High Commission, South African Department of Home Affairs and/or the Botswana High Commission for further information.
Book with Confidence
Low Deposit

On The Go Tours requires a deposit of 20% to secure a place on this tour, and the final balance is not due till 60 days before departure..

Secure payments

All payments to TourHub are deposited into an externally regulated Trust account.
---
Travel, Your Way
Good reasons for travelling privately
Personalise your trip

Make changes to the itinerary, accommodation, or transport method

Increased safety during COVID

Spend the majority of time amongst your group to reduce exposure to others

Travel more exclusively

Your tour guide can focus all their attention on your group

Travel for a special occasion

Celebrate an important event by only travelling with your friends or family
Learn more