Cherry Blossom Festival - 13 days
13 Days Starting in Welcome to Japan and ending in Tokyo
Visiting: Japan, Tokyo, Matsumoto, Takayama, Kanazawa, Kyoto, Hiroshima, Hakone
Tour operator:
Age range:
16+ if accompanied by an adult.
Special diets catered:
Vegetarians, Please contact On The Go Tours with specific dietary requests
Tour operated in:
English
Trip Styles:
Interests:
Activities:
From:
$5085
$4943 (USD) WINTER SALE @ Tourhub Discount: $142
Tour Overview
ESCORTED GROUP TOUR: See Japan in 2023! Springtime is possibly one of the best times to visit Japan, when cherry blossom trees come out in full bloom across the nation. Take in the highlights, visit some of the country's most beautiful gardens, witness the famous Spring Geisha Dances in Kyoto, enjoy a traditional tea ceremony and sample the crop (if you dare) at Japan's oldest Wasabi Farm.
Highlights
Tokyo - Cruise along the Sumida River, see the cherry blossoms in bloom in Hama-rikyu Gardens, Sensoji Temple, Meiji Shrine and Shibuya Crossing

Daio Wasabi Farm - Taste this unique delicacy and enjoy the spectacular scenery

Matsumoto - Matsumoto Castle - One of the few original and complete castles in Japan, giving a real sense of ancient Japan and how the Samurai used to live and fight

Takayama - Ancient town famed for its narrow streets lined with inns, tea houses, shops and merchant houses. And visit a traditional Hida village on the outskirts of town

Kanazawa - Traditional tea ceremony and see the cherry blossoms at Kenrokuen - one of the best and most beautiful feudal lords' gardens in Japan

Stay in a traditional ryokan - Sampling Japanese hospitality, bathing in natural hot springs and wear a Samue (casual Kimono)

Kyoto - Explore the UNESCO Listed ancient and cultural capital of Japan. Visit Nijo Castle, Sanjusagen-do Temple and Kinkakuji Temple (Golden Pavilion)

Kyoto - Walking tour of Gion Geisha District and watch the beautiful Miyako Odari (Spring Geisha Dances)

Hiroshima - Peace Park, Peace Memorial Museum, UNESCO Listed A-Bomb Dome and Children's Peace Monument

Hakone - Fuji Hakone National Park offering incredible views of the snow-capped Mt Fuji. Explore the region and travel aboard mountain bus, switchback railway, boats and cable cars
Itinerary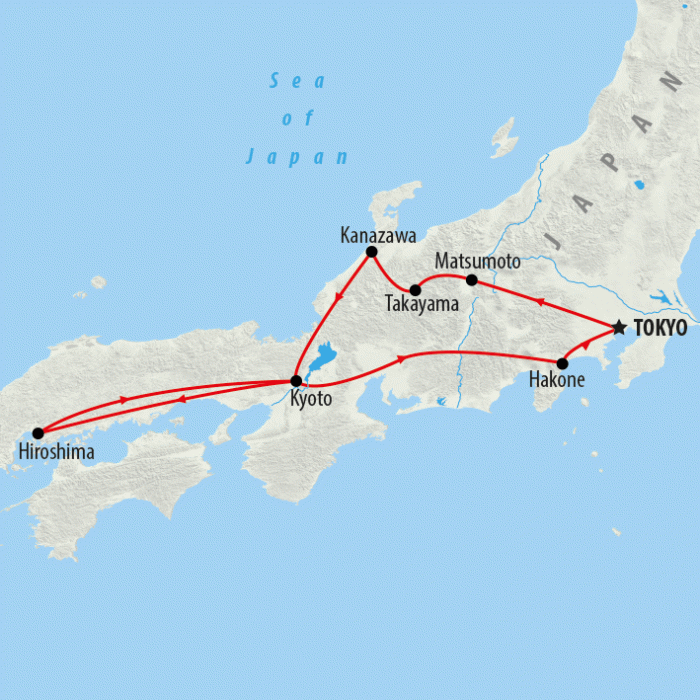 Expand All
Location:
Japan
Meals Included:
No Meals
Upon arrival in Tokyo (Narita or Haneda Airport) you will be met by our transfer representative who will give you your Tokyo Transport Card (referred to as an IC Card) which will allow you to move freely around the city on the subways and train systems and assist you to transfer to your hotel in Shinjuku, one of the most modern districts in the city. A flight arriving to Tokyo before 16:00 would be ideal if you intend to join our Welcome Meeting commencing this evening at 18:30.
Location:
Tokyo
Meals Included:
Breakfast, Dinner
Today we embark on a full day tour of the city by public transport. We start with a cruise down the Sumida River, followed by a walk through Hamarikyu tei-en, a tranquil garden that is just a few minutes' walk from the lively Ginza Shopping District, where we will be able to see cherry blossom trees. Later, we visit the revered Meiji Shrine where the emperor Meiji and his wife are enshrined.
The last stop of the day is the Shibuya Crossing - regarded as one of the busiest pedestrian intersections in the world. It is said that up to a 1000 people converge onto the intersection with every light change. Known as 'the scramble' we'll give it a go then you can purchase a coffee at the second floor Starbucks located directly above and leisurely take in the spectacle from our vantage point. The remainder of the afternoon offers free time for you to further discover this exciting city independently, before our group welcome dinner at a local restaurant this evening.

Location:
Matsumoto
Meals Included:
Breakfast
Tokyo – Matsumoto. This morning we drive to Matsumoto, and upon arrival visit the incredibly beautiful Matsumoto Castle, which is one of the original and most complete of the handful of medieval castles that exist in Japan today. The towering black and white structure holds some 400 years of history, is a National Treasure (1 of only 4 castles) and is the most iconic landmark in the city. The reward for climbing the narrow stairs to the top are the stunning views of the Japanese Alps, Matsumoto City and the swans circling in the moat below, that can be seen from the slim wooden windows (used for archers and gunmen). This evening offers free time where you might wish to try the local specialty – soba noodles.
Location:
Takayama
Meals Included:
Breakfast, Dinner
Matsumoto – Takayama. From Matsumoto we drive to Takayama, a charming town in the heart of the Hida Mountains. Established in the 16th century as the castle town of the Kanamori family, the town is famous throughout Japan for its old town area of narrow streets filled with well-preserved inns, tea houses, shops and merchants houses with latticed windows and overhanging roofs that are characteristic of the Edo period. On our way to Takayama we will stop at the picturesque Daio Wasabi Farm, one of Japan's largest wasabi farms. There is free time to take in the beautiful gardens and fields. The shop on site offers many different options to try of this unique product - wasabi chocolate, wasabi beer, wasabi ice-cream, wasabi juice and much more. Upon arrival to Takayama and we'll drive to the outskirts of the town to visit the fascinating Hida Folk Village, an outdoor museum comprising 30 or so traditional farm houses from around the Hida region, re-built here on the hillside overlooking the town. Tonight, we enjoy a classic Japanese ryokan meal at the inn where we are staying.
Location:
Takayama
Meals Included:
Breakfast
This morning we will explore the town's market stalls, overflowing with fresh produce brought in daily from the surrounding fields. Later, we explore Takayama's Old Quarter, where you can enjoy free time to wander around the shops and perhaps visit a sake distillery to sample the town's famous sake. Here you can also enjoy the 'onsen' or public hot springs, well known for their therapeutic benefits to body and mind!
Tonight, we recommend you head out for dinner to sample some of Takayama's delicious Hida beef at one of the many restaurants or beef burger cafes.

Location:
Kanazawa
Meals Included:
Breakfast
Takayama – Kanazawa. Today we travel to Kanazawa, home to one of Japan's most impressive gardens, Kenroku-en, located opposite Kanazawa Castle. Once part of the feudal lord's garden, Kenroku-en is regarded as one of the best places to see the country's famous cherry blossoms - hopefully in full bloom. In Kanazawa the cherry blossom trees are due to bloom in late March/early April. When in bloom, these delicate soft pink flowers can be seen lining the streets and filling the parks and gardens all over the city.
We then head to Nagamachi District located at the foot of the former Kanazawa Castle – known for its old samurai houses. Upon arrival we will visit the Nomura Family Samurai House. And after lunch, we explore the lively Omicho Ichiba Market, a food market and restaurant area. Our last stop of the day is Kenroku-en, here we enjoy a traditional tea ceremony and free time to sit, relax and admire the beautiful blossoms as the sun sets.

Location:
Kyoto
Meals Included:
Breakfast
Kanazawa – Kyoto. A morning express train takes us to Kyoto, Japan's ancient and cultural capital, where we will spend the next three nights. As one of the most culturally rich cities in Asia, Kyoto is home to 17 UNESCO World Heritage Sites, over 1,600 Buddhist Temples and 400 Shinto Shrines.
Upon arrival we tour Sanjusagen-do Temple, famous for its statues of Kannon. The one thousand life-size statues of Kannon are made of Japanese cypress and are completely covered in gold-leaf. Standing in rows of 10 and each hand carved, so that no two are alike. Our last stop today is the enchanted Fushimi Inari Shrine with its torii gates and picturesque tunnels.

Location:
Hiroshima
Meals Included:
Breakfast
Kyoto - Hiroshima - Kyoto. This morning we depart for a full day sightseeing excursion to Hiroshima, taking one of the fastest trains in Japan (the Nozomi Shinkansen) which reaches speeds of up to 300km on the route. Arriving to Hiroshima we visit the iconic A-Bomb Dome - one of the very few buildings left standing after the blast, the Peace Park and Peace Park Museum, which are a sobering reminder of Hiroshima's devastating past.
We return to Kyoto just after sundown.

Location:
Kyoto
Meals Included:
Breakfast, Dinner
This morning we visit the stunning Zen Buddhist Temple of Kinkaku-ji, known as the Golden Temple which forms part of the Historic Monuments of Ancient Kyoto's World Heritage Site. The top floor of the two-story structure is completely covered in gold and sits beside a small lake where its beauty is reflected in the calm waters. After, we embark on a guided walking tour of UNESCO Listed Nijo Castle, which was built by the first Tokugawa Shogunate in 1603, the exquisite castle is a wonderful example of Momoyama architecture. The later part of the afternoon offers free time for you to explore more of Kyoto's beautiful sites.
Later today we make our way to Gion for a guided walk through the famed Geisha District. This evening, we have tickets to witness the Miyako Odari geisha dances at the Minami-za Theatre. Dinner tonight is at SODOH Higashiyama - keep a look out, as it's very possible to see Maiko (apprentice Geisha) dressed in beautiful kimono walking to and from their lessons.


Location:
Hakone
Meals Included:
Breakfast, Dinner
Kyoto - Hakone National Park. Today a bullet train takes us to Fuji Hakone National Park, at the foot of iconic Mount Fuji, where we will spend the next two days exploring the local area. Arrival to our hotel after lunch and this afternoon is at leisure.
During our stay, we have access to unlimited travel on nearly all the local modes of transport thanks to our Hakone Freepass Card - from mountain buses, trams and switchback rail, to lofty cable cars. We'll also take a cruise across picturesque Lake Ashi to Moto-Hakone to visit the Shinto Shrine of Hakone-jinja, where we are rewarded with the best views of Mt Fuji, Lake Ashi and the Red Torii Gate of Hakone. Here we can also enjoy the relaxing experience of more hot springs.

Location:
Tokyo
Meals Included:
Breakfast
Hakone - Tokyo. Heading back to Tokyo, rather than staying in modern Shinjuku, this time we will be staying in old-town Akakusa, a pretty district famous for its historic Sensoji Buddhist Temple and its abundance of interesting souvenir and craft stalls. After a guided visit of Senso-ji Temple, the rest of the afternoon offers the opportunity to do any last minute sightseeing or shopping. You may also wish to head up to the Tokyo Sky Tree for some final dazzling views of the city.
Location:
Tokyo
Meals Included:
Breakfast
Today our holiday concludes. We offer post-tour accommodation for those interested in staying in Tokyo a little longer, please enquire. Included transfer to Narita or Haneda International Airports by shared shuttle bus.
What's Included
Accommodation

3 & 4 star & traditional ryokans

Breakfast daily and 5 dinners

12 nights 3 - 4 star accommodation (including 2 nights in a traditional Japanese Inn in Takayama)

Airport arrival and departure transfers to tour hotel on day 1 and day 13 by shared public shuttle bus transfers from either Narita or Haneda Airports

Guided sightseeing and walking tours in Tokyo, Matsumoto, Kanazawa, Takayama, Kyoto and Hakone

Day trip to Hiroshima with visits to Peace Park, Peace Park Museum, various memorials and the A-Bomb site

All relevant transfers and transportation - private buses and rail passes - individual or other (including Tokyo Transport Pass and 2 day Hakone Free Pass), and luggage forwarding on day 7,10 and 12

Sumida River boat cruise in Tokyo

Fuji Hakone National Park, with lake cruise, cable cars, ropeways and switchback trains

Ticket to the Spring Geisha Dances (Miyako Odori performance - TBC, please see Trip Notes) and guided tour of the Gion Geisha District in Kyoto
What's Not Included
International flights and visa

Tip for your tour guide. We recommend you allow USD$3-5 per day, per traveller. Tipping your guide is an entirely personal gesture
Age Policy
16+ if accompanied by an adult.
Check out our Q&As
Are the local guides on the tour English speaking?

Are airport transfers included in this tour?

Airport arrival and departure transfers to tour hotel on day 1 and day 13 by shared public shuttle bus transfers from either Narita or Haneda Airports

What Ethical Travel credentials does the tour company have?

Ensuring our footprint is light and that the benefits of travelling reach the local communities you visit is paramount to us. We're proud to say that when travelling with us, the large majority of your holiday funds remain within the countries you visit, supporting local economies at a grass roots level.

How long has the tour company been trading?

Who will be my travelling companions on the tour?

With English-speaking tours, it's not a huge surprise that most on our travellers are from English-speaking countries or have English as their second language. Our group tours cater for everyone from 18 years old to 70+
Will the accommodation included meet local health and safety regulations?
Reviews from Travellers on this Tour
Kara Richards
Cherry Blossom Festival - 13 days
We did this tour for our honeymoon and it was fantastic! I'd recommend this trip to everyone. Our tour guide made Japan extra special. She went above and beyond to find information and recommendations for anything not included on the tour. She was polite, accomodating, very informative and was one of the main reasons our experience was so very special. We look forward to visiting Japan again and would love to have 'Happy' as our host again.
Elizabeth Horn
Cherry Blossom Festival - 13 days
Richard was very engaging, knowledgeable, enthusiastic and flexible. We were lucky enough to be only 3 people on the tour, so he was able to give us lots of attention, answer all our questions and also take us to one or two places where he couldn't normally go with larger tours, so we felt extra privileged. He also laughed at our jokes, which was a bonus....It was great to be with someone who loved Japan so much and was fluent in the language. (We also hope his head is better, after he banged it on a doorway!)
Fatima Naidoo
Cherry Blossom Festival - 13 days
'Happy' (her name in Japanese means happy) our tour guide was incredible. She made this trip interactive, personal and enjoyable. Excellent execution of knowledge and skills. Thank you.
Safiy Karim
Cherry Blossom Festival - 13 days
Our guide 'Happy' was a very organised, helpful, caring and joyful guide for our group. She helped structure our days and gave us advance planning of the following day. She worked out routes to avoid the crowds and also best places to eat etc. She made our tour a success.
Judith Davey
Cherry Blossom Festival - 13 days
The tour was, in a word - Fantastic. Great hotels and in great locations. Also the nights stayed in each hotel was well thought out. Tour content was excellent. Pace was fast but that is how we like it. Cant complain about anything. Many Thanks Judy Davey
Johanne Naseby
Cherry Blossom Festival - 13 days
Thank you so much! It was a very memorable and positive experience for us (and my 60th birthday!). Our guide Mark was fantastic and we had some great conversations with him about Japan and he was able to tell us so much. We enjoyed his company for the whole tour. Mark was very accommodating and helped us with any queries we had. He explained timing, being ready in the mornings, meeting times, dinner arrangements etc very clearly. The 14 days was well paced and we did 4 to 5 hours of walking nearly every day (either with Mark or on our own). Just some feedback for you. Timing for the Cherry Blossoms everywhere we went was spot on! Absolutely phenomenal! By the time we returned to Tokyo on Day 13, there weren't many left flowering so glad we were there when we did. Shinjuku Hotel - 3 nights. great location, lovely modern room, nice breakfast options. Lovely first night dinner with the rest of the group to get to meet them. Sending our big luggage on is a great idea (we've experienced this before), however a couple of people on our tour didn't quite understand the concept of having overnight bags (while being away from the main suitcase) and they were not well prepared. Matsumoto was fantastic. Hotel room was only just okay. Clean but dated Takayama Ryokan was awesome! Dinner was fabulous. Also the breakfast Just a suggestion here though. 1 x traditional dinner in the ryokan is enough. 2nd included dinner was a repeat, we would have liked to have experienced a local restaurant. Kanazawa hotel - location was excellent however, the hotel rooms were not up to the standard. Kyoto and Gion district - lovely. The Miyako Odori was amazing. Included dinner at Mimiu was awesome. Hakone & the Fujiya Hotel!! What a fantastic time we had there with all the history! And the private onsen was a highlight. We didn't get to see Mt Fuji while in Hakone because it was so misty but from our View Hotel in Tokyo we were very fortunate to see her on a clear day! Also another suggestion - include a tour to the Skytree Tower. We did that on our last morning and had lunch there with so many choices. The food hall area was amazing. Many highlights I haven't mentioned but the whole tour was fantastic! Mark was absolutely a delight and nothing was any trouble for him. Hoping to do another trip to Japan. We hear that November is an ideal time to go. Jo & Warren Naseby
Judith & Robert Davey
Cherry Blossom Festival - 13 days
The tour was, in a word - Fantastic. Great hotels and in great locations. Also the nights stayed in each hotel was well thought out. Tour content was excellent. Pace was fast but that is how we like it. Cant complain about anything.
Garth McQuade
Cherry Blossom Festival - 13 days
Our guide Mari was excellent, nothing was too much trouble.
Johanne & Warren Naseby
Cherry Blossom Festival - 13 days
Mark Fujishige was fantastic and we had some great conversations with him about Japan and he was able to tell us so much. We enjoyed his company for the whole tour. Tour was well paced & loved the hotels.
Melanie Andresen
Cherry Blossom Festival - 13 days
Aki was a great guide and gave us a view of more than just the tourist sights of Japan. He took us to local restaurants and shared his deep knowledge of the history of the places we visited - he is clearly very passionate about Japan!
Dates & Availability
Instant Booking Available
Tuesday - Sunday
Mar 26, 2024 - Apr 07, 2024
Book with Confidence
Low Deposit

On The Go Tours requires a minimum deposit of 30% or the full booking value, whichever is less, with the final balance not due until 60 days before departure.
Why book with tourhub?
Safe & Secure
Your money is protected in an external trust until you travel.
---
100% Guaranteed Refunds if your trip is cancelled.
---
The safest way to make overseas, multi-currency payments.
Guaranteed Best Value
Industry leading discounts, we won't be beaten on price.
---
No cancellation or amendment fees from tourhub.
(Operator terms may apply)
Expert Knowledge
Reliable & unbiased advice from travel experts.
---
Direct contact with the tour operator via our messaging service.
---
Inspiration & advice from a community of 6000+ real travellers, influencers & content creators.
Trusted Service
Official partners & licensed agents of 1000+ tour operators worldwide.
---
Don't just take our word for it...
"Tourhub: Friendliness, Professionalism & Integrity I would happily give tourhub a 6* review if I could..."
Similar Tours
Travel Guru Features
Our Reviews